Spending tons of time in the kitchen after a long day is probably the LAST thing you want to do. So what happens? You hit the drive-thru. But when fast food becomes a several-nights-a-week event, it starts to wreak havoc on your budget…and your waistline.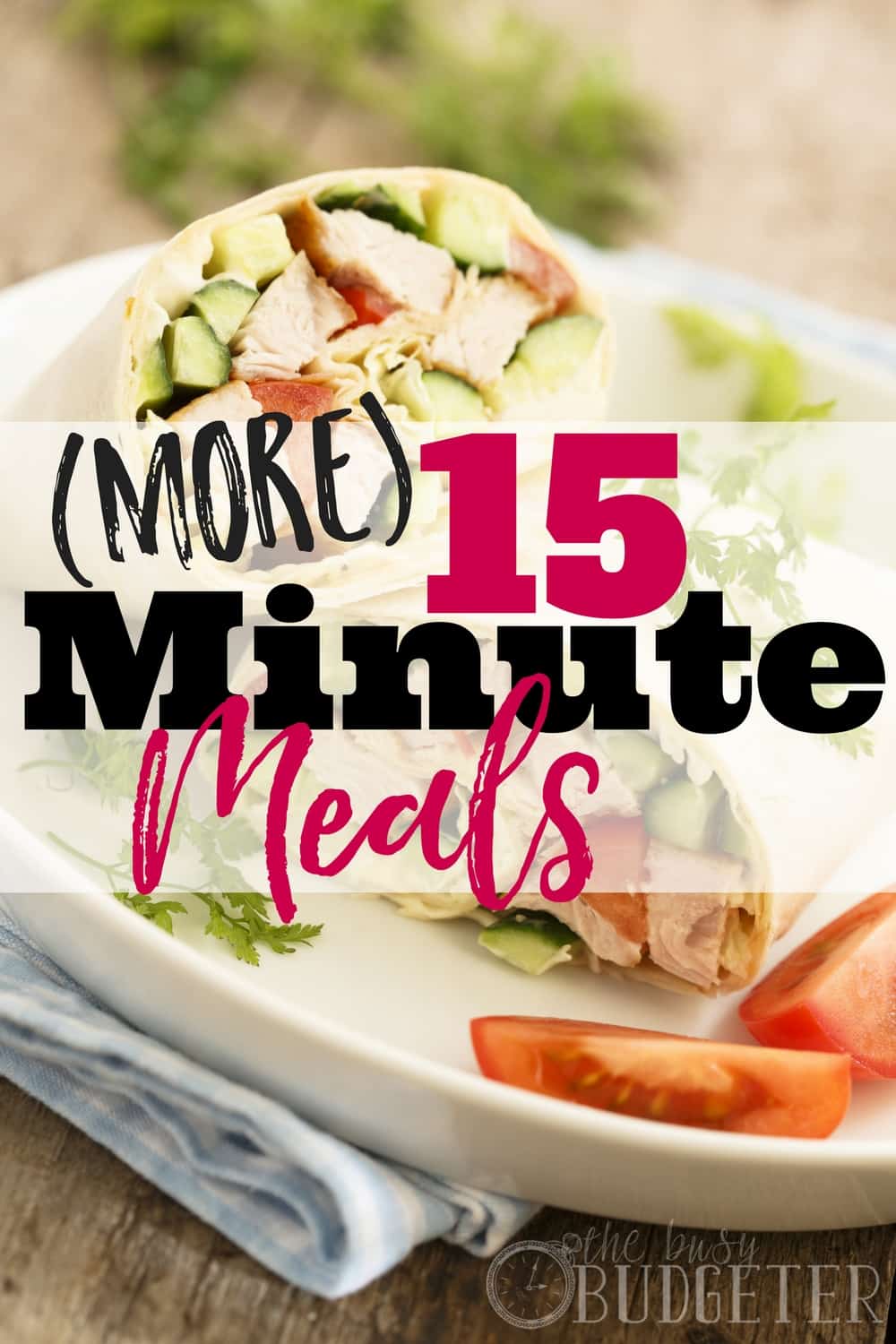 That's why I'm a HUGE fan of 15 minute meals! I love coming up with meal ideas that get me in and out of the kitchen in 15 minutes or less. I get to actually cook something for my family, which makes me feel good, my family feels good because they're eating healthy, and our wallets feel good because we aren't forking over $15-20 (minimum!) every time we hit the drive-thru.
To meet my "15 minute" criteria, whipping up the entire meal needs to take less than the allotted 15 minutes. (Yes, that includes prep AND cooking time!) There's a lot of slow cooker or oven meals I love that take less than 15 minutes just to prep, but I won't add them to this list because, frankly, mornings are busy and unless I plan ahead, I don't remember to do the 15 minutes of prep in the morning anyway.
For these 15 minute dinners, all you have to do is come home, remember you have to feed yourself and your family, go to your pantry or freezer and find most of the ingredients, make and eat. These are all made from simple and cheap ingredients, so there's minimal meal planning involved if you plan ahead.
(Heads up! If you're struggling with meal planning, cleaning routines and home routines the FREE Home Rescue Challenge was made in honor of you!)
So, here are a few more of my favorite 15 minute meals. (You can find even more 15 minute meals by clicking here.)
You'll be amazed just how easy these recipes are! Plus, most of these are pretty open for customization (swap out turkey for chicken, or soy crumbles for beef, for example), so you can get creative if you like. Give it a try—I bet you'll become a 15 minute meal fan, too!
Fifteen Minute One-Pot Lasagna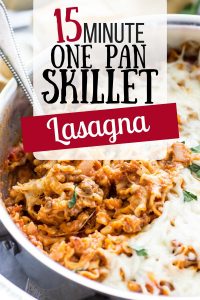 CLICK HERE for an easy, printable recipe card.
This is sort of like Hamburger Helper minus the box. No need to cook the noodles separately. You just throw it all in one pan! It's so easy and good and comforting AND tastes like it took much longer than 15 minutes. (Gotta love that!) Serve it with a salad and a little garlic bread, and this'll quickly become a family favorite.
Ingredients
1 lb ground beef
1 medium onion, chopped
½ cup water
8 oz pasta noodles (I used "Mafalda" noodles but rotini, bowtie, or any similar noodle will work!)
1 14.5 oz can diced tomatoes – undrained
8 oz can tomato sauce
1 tsp garlic powder
1 tsp dried basil
½ tsp oregano
½ tsp crushed red pepper
Salt & pepper to taste
2 cups mozzarella cheese
½ cup ricotta cheese (optional)
Instructions
In a large skillet over medium-high heat, combine ground beef and onion. Cook until beef is browned and onion until soft.
Drain excess grease.
Add water, pasta noodles, undrained tomatoes, tomato sauce, garlic powder, oregano, basil, crushed red pepper, salt, and pepper. Stir well.
Bring contents of pot to a boil. Reduce heat to simmer and cook until noodles are cooked through, about 10 minutes.
Stir in ricotta cheese and 1 cup mozzarella cheese, stirring until cheese is melty.
Top with remaining 1 cup mozzarella cheese. Allow it to melt over the top of the dish, then serve.
15 Minute Meatball Subs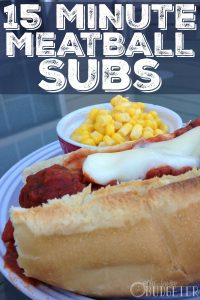 CLICK HERE for an easy, printable recipe card!
Seems like meatball subs would take forever, right? You have to make meatballs and sauce, and then turn it all into a delicious sandwich. In fact, these were always a big-time treat for me, because I used to think you could only get one from a deli where they had time to do all the prep. Well, guess what? You can make meatball subs in no time flat!
Ingredients
4 sub rolls
16 frozen pre-cooked meatballs
1 jar of Bertolli® tomato and basil sauce
4 oz. of mozzarella cheese or provolone cheese
Instructions
Pre-heat the broiler on low (optional for toasted sub).
Combine meatballs and sauce in a medium sized bowl.
Microwave meatballs in the sauce according to meatball package directions.
Spoon meatballs and sauce into sub rolls.
Top with cheese.
Broil for 2 minutes or until bread is toasted and cheese begins to melt.
Enjoy!
The Ultimate 15 Minute Chili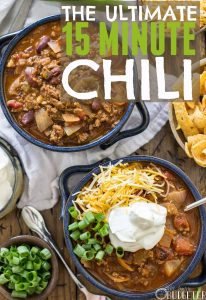 CLICK HERE for an easy, printable recipe card!
You guys, it's chili season! Wait…isn't it always chili season?! There's nothing more fun than topping chili with cheese, corn chips, onion and sour cream. This is the ultimate recipe, too: lots of ground beef and yummy savory flavors your kids will love. Or make it part of a dinner platter. (Not too much spice—but you can totally amp it up if you like.)
Ingredients
1 Tbsp olive oil
1 lb ground beef
1 large yellow onion – chopped
2 cloves garlic, minced, or 1 teaspoon garlic powder
14 oz diced tomatoes, undrained
16 oz tomato sauce
15 oz kidney beans, drained
1 4-oz can green chilis
1 Tbsp brown sugar
1 Tbsp chili powder
1 tsp ground black pepper
1 tsp paprika
½ tsp cumin
½ tsp salt
Instructions
Heat olive oil in a large pot. Add ground beef and onion and cook until beef is browned. Drain off excess grease.
Add garlic, if using, and cook until fragrant (about 30 seconds). If you're using garlic powder instead, skip this step and add the garlic powder in with the rest of the spices below.
Add all remaining ingredients and stir well.
Bring to a boil, then cook 1-2 minutes, stirring frequently.
Reduce heat and simmer, stirring occasionally, for at least 15 minutes (the longer you simmer the better it will be)!
Serve with preferred toppings. (We really like corn chips.)
15-Minute Rotisserie Chicken Meals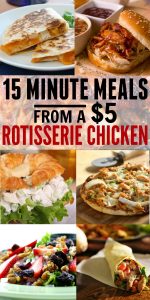 CLICK HERE for an easy, printable recipe card!
Rotisserie chicken meals are so easy and fast! That's why I pretty much ALWAYS have rotisserie chicken on my grocery list. You can usually find it on sale, plus, you can stretch one over several dinners when it's incorporated into meals with other ingredients. They're so simple and healthy and they can go into so many dishes. Add rotisserie chicken to your grocery list and you'll be able to make a whole bunch of meals…like these!
15 Minute Buffalo Chicken Bagel Thins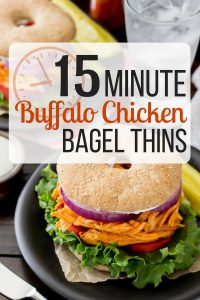 CLICK HERE for an easy, printable recipe card.
Full disclosure: this recipe tastes amazing even if it's not on bagel thins. (You can use buns, bread or sandwich thins, if that's what you have on hand.) Bagel thins have a nice flavor though, and make it a little fun. I LOVE the buffalo chicken. Yet another great use for rotisserie chicken that's super easy, flavorful and tastes like you put a lot of effort into making it all come together. For some reason these sandwiches say "game day" food to me. Maybe it's because they seem like pub or sports bar food, or maybe it's just because you get the yummy flavor of buffalo wings in a sandwich! FTW!
Ingredients
3 cups shredded rotisserie chicken
⅓ cup buffalo wing sauce
Pepper, to taste (up to ¼ tsp)
4 Bagel thins
2 oz cream cheese
4 pieces leaf lettuce
1 tomato, sliced
½ red onion, sliced
Instructions
In a medium-sized, microwave-safe bowl, combine shredded chicken, buffalo sauce, and pepper.
Heat in microwave for 1-2 minutes (until warm), and set aside.
Lightly toast bagel thins.
Evenly spread cream cheese over the inside of the top half of each bagel, evenly dividing among bagels.
Place one lettuce leaf on the bottom half of each bagel. Top with tomato slices.
Neatly heap shredded chicken on top of the tomatoes, evenly distributing meat.
Top chicken with onion slices and then top with cream cheese covered half of bagel thin.
Serve immediately.
Enjoy!
Rotisserie Chicken Quesadillas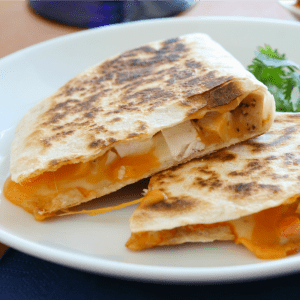 Chop up the chicken, add cheese and extras (black beans, green pepper, onion, and salsa to taste). Place a flour tortilla in a buttered hot skillet on medium high, add filling, layer with another tortilla, turn when cheese is melting and cook the other side to a crisp.
Strawberry Avocado Salad with Honey Balsamic Dressing w/Rotisserie Chicken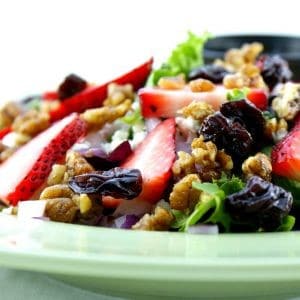 Chop the chicken. Slice the strawberries and avocado. Layer chicken, strawberries, and avocado on salad greens, then add blue cheese and chopped walnuts. Combine equal parts honey, balsamic vinegar, and oil. Add a splash of lemon juice (and poppy seeds if you have them). Mix and dress the salad.
My family absolutely loves this salad dressing. It's so much better than bottled—we make it all the time!
Buffalo or Barbecue Chicken Pizza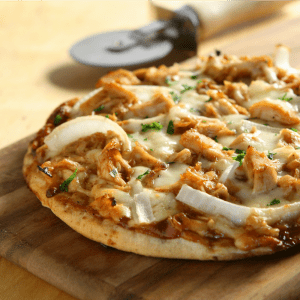 Buffalo Version: Preheat oven to 400 degrees. Coat chopped chicken in hot sauce (we add some melted butter to ours), layer a Boboli pizza crust with room temperature cream cheese, then sprinkle with ranch seasoning (the dry dip kind), then a little mozzarella cheese, and finally the dressed chopped chicken, sprinkle more mozzarella and bake for 10 minutes.
BBQ Version: Preheat oven to 400 degrees. Spread a thin layer of BBQ sauce over a Boboli pizza crust (leaving the crusts without sauce). Sprinkle Monterey jack cheese over crust, add finely chopped chicken and red onion then more cheese. You can add extras as you have available (crumbled bacon is our favorite!) then bake for 8-10 minutes.
15 Minute Sloppy Joes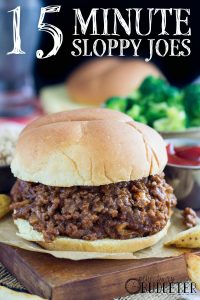 CLICK HERE for an easy, printable recipe card.
Oh, sloppy joes—such a classic, kid-friendly favorite. This recipe comes together so fast and easy, even though the sauce is made from scratch! Just throw it all together and you have a high protein, delicious 15 minute dinner your family will love.
Ingredients
(Serves 4-6)
1 lb ground beef
½ cup chopped onion (about 1 small onion)
1 cup ketchup
2 tsp mustard
3 Tbsp light brown sugar, tightly packed into each spoonful
½ tsp garlic powder
Salt and pepper, to taste (¼-½ tsp of each)
Pre-sliced hamburger buns (4-6)
Instructions
Heat a medium-sized skillet on the stovetop on medium-high heat.
Add ground beef and chopped onion.
Cook, stirring frequently and chopping up the beef with the spatula/spoon as you go until meat is browned.
Drain off excess liquid.
Add remaining ingredients, stir well.
Reduce heat to medium-low and simmer, stirring occasionally, for 10 minutes.
Portion meat onto hamburger buns and serve warm.
More ideas for 15 Minute Dinners
Here's a bunch of meal ideas that can come together in 15 minutes that don't really require a recipe, per se. So many of these are our go-to meals when we need a fast fix from the pantry or freezer. I keep things like oven-ready pizza crust, frozen grilled chicken and bagged lettuce on hand so we can put them together within just a matter of minutes.
Italian Chicken & Pasta Salad
Microwave 2 breasts of Tyson frozen grilled chicken, boil a box of rotini, chop up onions, peppers, and diced tomato, add sliced olives and a bottle of Italian dressing. Chop up chicken and toss in. You can serve it on its own or over a bed of greens.
Freezer Lasagna
I make pans of lasagna on the weekend or for parties, then cut it up and wrap each piece in wax paper and tin foil. The recipe I use takes an hour. It's printed on the back of Sangiorgio Oven Ready Lasagna Package (but you can use any recipe you like or buy a pre-made lasagna). One pan makes enough for 5 servings of 2 people. Just pop it a piece in the microwave and you're good to go. This pairs great with a little green salad and some garlic bread.
Homemade Pizza
I actually use store-brand pizza crust since it's cheaper and tastes better. Just slop on some pizza sauce, mozzarella cheese, green pepper, onions, and pepperoni. Put your oven on 425 and stick the pizza in right away. 15 minutes later…you're done! The great thing is you know exactly what's in it, so you can control the amount of cheese and use fresh ingredients (add extra veggies if you like, or less cheese or healthier sauce). This is another dinner that goes great with a side salad. Simply wrap leftovers in wax paper and foil to store. You can remove the foil and microwave later for a quick lunch or snack (or heat up in a toaster oven)!
Grilled In-Kitchen Tailgate
Fire up your George Foreman countertop grill and get cooking! You can also fire up your outdoor grill (if you have one) and do a little porch tailgating. We buy 6.5 pounds of ground beef at $1.99 pound and 16 hamburger buns for $1.99. We form our own patties, then wrap each bun in foil and freeze. We stick our buns right on the upper shelf of the grill while the meat cooks, and these quick little burgers end up super delicious! I keep the ingredients right in the freezer so we can whip up burgers any time.
Grilled Chicken with Mac & Cheese
Buy a bag of Tyson frozen grilled chicken fillets and heat on stovetop while also making macaroni and cheese per package directions. Serve with salad and topping of choice for chicken. You can even use a little buffalo sauce and mix it right in with your mac & cheese! Easy and the kids LOVE this meal.
Ideas for Sides
I'm a big fan of suuuper simple sides, especially finger-food options. If you need to add a little something to make your meal complete, try these kid-friendly side options:
Cut apples or pears
Fruit salad
Applesauce
Bagged salad
Coleslaw (ready-made)
Baked Beans
Chips and Guacamole (Just mash up an avocado with a whisk, add lime juice, cilantro and onion—that's it!)
Canned or frozen corn
Canned or frozen green beans
Baby carrots and celery with ranch dressing
So, what are your favorite fast and easy 15 minute meals? Are there any here you might try tonight? Let me know!
Update: Are you struggling with chronic disorganization? I know exactly how you feel… 3 years ago I was a mess. I spent tons of money on groceries only to end up at the drive-thru. I've learned something since then… the key to change is keeping it super simple.
If you're ready to finally get this under control, you can sign up for our FREE Home Rescue Challenge and we'll walk you through the 3 simple routines that will change everything about the way you manage your home routines.