Don't you just LOVE getting packages in the mail? I know I do!
But do you ever wonder which monthly subscription boxes are REALLY worth the money?
These days it seems you can order just about anything—from dinner to dental treatments—and they'll arrive at your door regularly. Monthly subscription boxes and membership programs offer great benefits and discounts on fun products.
We tried every monthly subscription box we could find, so you won't have to!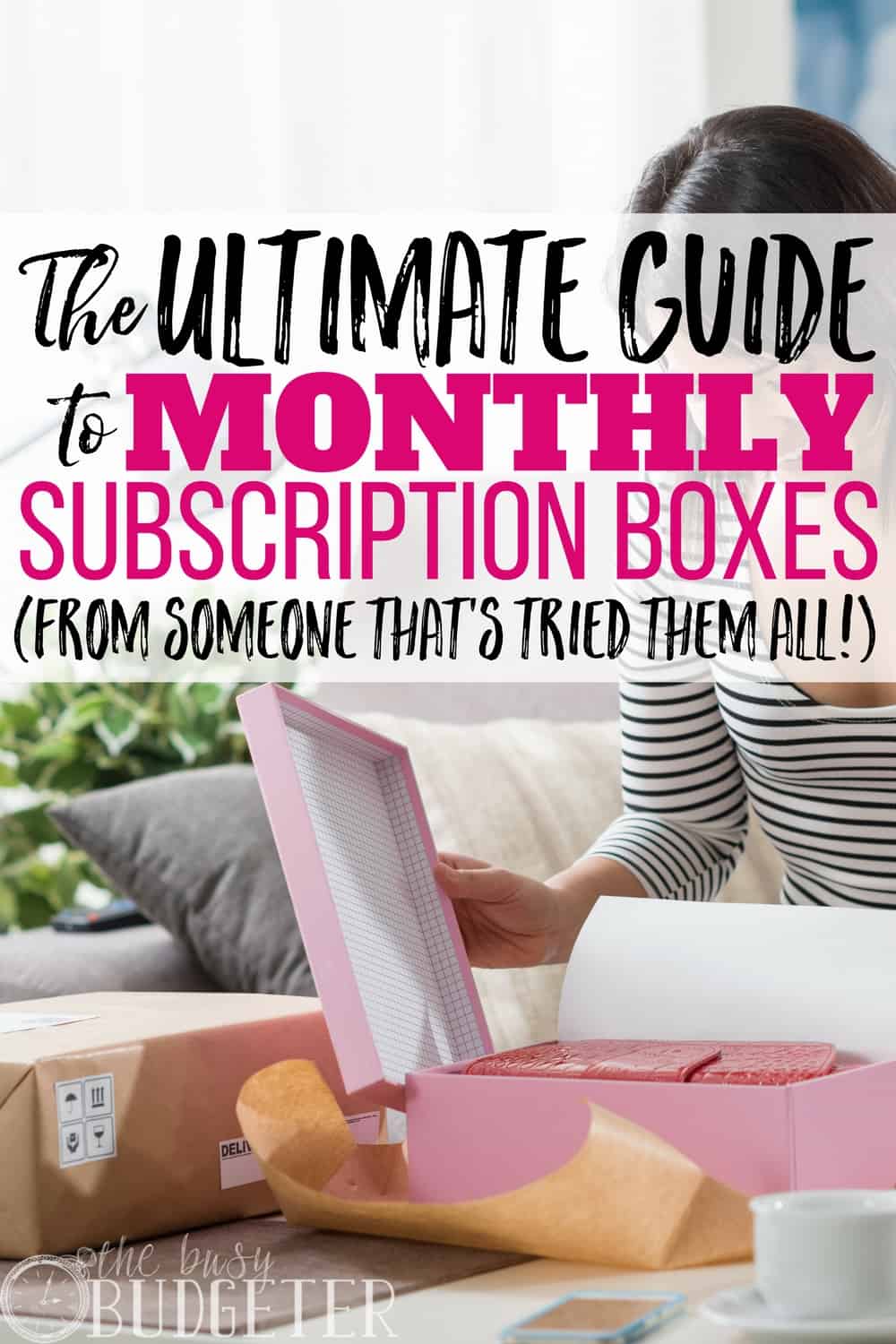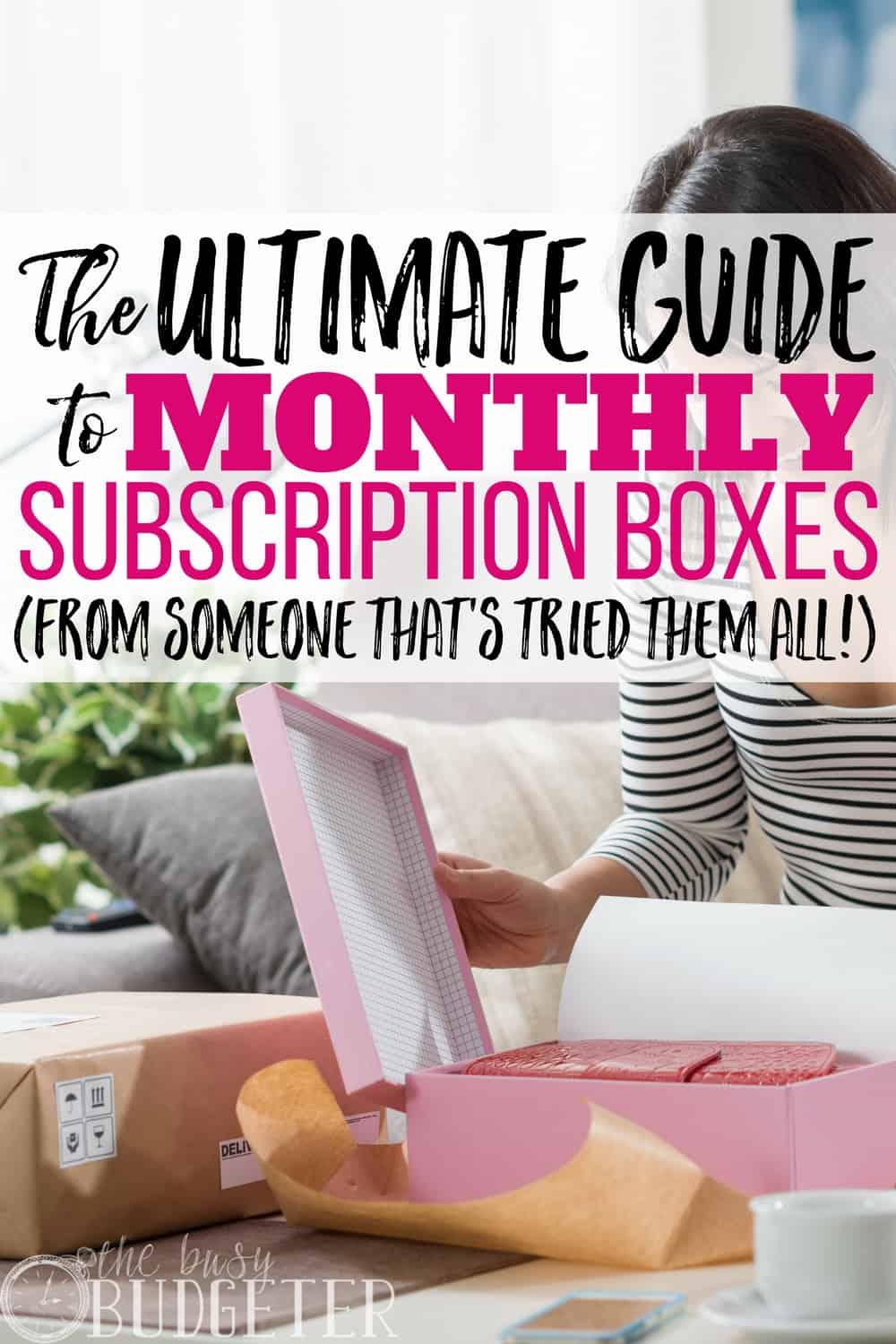 I enlisted the help of my fellow moms and friends help me with monthly subscription box reviews. We went through the all the fun subscription boxes we could find to pick out the best monthly subscription boxes to give you the most bang for your buck.
Before you subscribe to ANY monthly subscription box, I want you to ask yourself: Do I really need this product? Many of these monthly box programs offer fun samples, treats and even clothing and accessories…but in the end, if joining a subscription box service creates more clutter and adds financial strain to your budget, it's not worth the money.
However, if these boxes save you a trip to store or the hassle of picking out clothing or the stress over what to cook for dinner, they're totally worth it. So, be honest with yourself and don't sign up for every subscription box out there.
We reviewed all the best subscription boxes so you can find the best subscription boxes for you and your family!
Food & Treat Monthly Subscription Boxes
The Details: Blue Apron is a meal ingredient delivery service. With each order you get produce, meat and ingredients along with a recipe and instructions.
The Cost: $8.99/serving to start.
The Review: Meh. When I tried Blue Apron, I was excited to give the service a shot. What I found was after over an hour prep and cooking time in the kitchen with two crying toddlers, Blue Apron was NOT worth it for me! The preparation was intensive and the final product wasn't in my family's taste range. This could be a solution to a cooking date night (which my husband and I used to LOVE) but for the cost and effort I could do better with 15-minute dinners or freezer meals.
The Verdict: Save time and money and use and a meal planning service like MyFreezEasy—you'll come out ahead.
The Details: Farm-fresh meats and fish at discounted prices delivered right to your door.
The Cost:Varies by cut. Pork tenderloin at $2.99/lb, chicken breast at $3.29/lb.
The Review:I tried Zaycon Fresh along with several friends and we unanimously loved the program for the prices. HOWEVER, there's a big caveat—you need to fabricate and prep the meat yourself in many cases. This means you get large cuts that you need to trim down and repackage.
The Verdict: Great if you don't mind touching and packaging raw meat. Also, you may need a basic knowledge on how to portion, cut and store meat.
The Details: HelloFresh offers meats, fish, produce and grains for meal preparation in a delivery service to your door.
The Cost:$9.99/serving (minimum of three meals/week for two people or $59.94).
The Review:Our tester reported she really enjoyed her experience with HelloFresh, but again it's a matter of cost and preparation time. If you're confident and experienced in the kitchen (and your family's adventurous) then HelloFresh is a great way to fix dinner without stressing about WHAT to cook. They offer both a family (less spice and more kid-friendly ingredients) and a vegetarian option in addition to the classic plan.
The Verdict:Great for the culinarily-inclined, but you'd save time and money if you opted for freezer meals and a planning service like MyFreezEasy.
The Details: NatureBox is a wholesale snack service. Members can order healthy, whole-food snacks at a discounted price and ship them to your home or office.
The Cost:Membership is $50/year and then the snacks range from $2.69-$17.99.
The Review:Our reviewer loved the snacks, and said she especially liked the freebies and discounted prices on bigger buys. She split the membership fee and box with a family member and estimated she spends $15-20/month on her order. The snacks are all natural, but most are super yummy (and NatureBox offers credit back for snacks you don't like). Portion size, variety and options are excellent. She said the whole wheat mini chocolate chip cookies, vanilla wafers and crème brulee peanuts are amazing along with the caramel white cheddar popcorn.
The Verdict:A fun, healthy option for serious snackers. Consider splitting the subscription with a pal and sharing orders if the price seems too high for your snack budget.
Clothing Monthly Subscription Boxes
The Details: Stitch Fix is a style service. Clothes are curated and delivered to your home, try on what you like, and send back what you don't.
The Cost:Each shipment has a $20 styling fee, which is applied toward any clothing you keep.
The Review:We LOVE Stitch Fix!! The clothing is high quality and they put in effort to cater to your personal style. After filling out a profile you'll review several outfits and types of clothing, then send your measurements and set your preferences, including your budget! Your stylist reviews all your data and will even review your Pinterest boards, Instagram and social media accounts at your request. Stitch Fix sends you a carefully curated selection of 5 items at a time. You can try on the clothes, compare them to the rest of your closet, and see if they really fit and work with your style.
The Verdict:For those who don't love to shop for clothes, Stitch Fix is a great solution! The clothes are quality and fit your personal style. Pieces are out of the price range for some people, but the fabric, cut and value are worth the investment.
The Details: ThirdLove offers amazing bras and underwear made to fit your size and style preference.
The Cost:Bras start at $68. Panties at 3/$27.
The Review:The bras are amazing! ThirdLove's 24/7 bra is so comfortable and flattering and their bras and underwear come in tons of styles and colors. They're pretty and practical. ThirdLove offers a "try before you buy" program. Order a bra, pay shipping and try the bra on before you commit to buying it. If you decide to keep it, you'll be charged for the cost of the bra, if not, you simply send it back. Easy-peasy. These are high quality "grown up" bras for actual women (not just teens and supermodels).
The Verdict:Although they bras are a little expensive, they fit amazingly. This quality underwear is worth investing a little extra.
The Details: Gwynnie Bee offers clothing rentals in size 10-32. Clothes are rented for one wear or several. Simply send them back when you're finished (they do the dry cleaning). If you fall in love, you can purchase the clothing at a discounted price.
The Cost:$49/month for 1 item, up to $95/month for 3. First month is free.
The Review: The clothing we received from Gwynnie Bee was cute, but didn't feel well-kept. Obviously, I understand these pieces have been worn before, but there were little details that were wrong—funny hems, missing belts, and so on. The clothing itself was too expensive to purchase outright, even at the discounted rate and was out of range for clothes I'd buy brand new, let alone used. However, you can use a free month every time you move and it's fun to sign up for a month or two. They offer cute pieces and I love that they cater to a variety of sizes!
The Verdict: Gwynnie Bee is a solid maybe. Try the free month and see how you like the program. Gwynnie Bee's clothing rental is a fun service if you enjoy fashion-y and trendy clothes. They offer great size ranges. You can try a free month by using this link.
The Details: Personal styling for women size 14 & up. Hand-picked clothing pieces curated by your style and sent to your home. Try on and keep what you love, return what you don't.
The Cost:For each box, there's a $20 styling fee credited toward purchases. The average price of each item is around $55. There's a 25% discount for those who keep all five items in the box.
The Review:We loved this service! The quality was amazing. The prices were a little bit higher than discount stores, but the quality was well worth the cost. These are beautiful pieces picked for you. The stylists work to get to know you through questionnaires and reviews of your social media accounts (Pinterest, Instagram and Facebook). If every month is too often, you can space out your orders to a schedule fitting your budget and preferences.
The Verdict:Loved it! We really loved this service. The clothes were well-made, super stylish and fit our taste. Every piece was carefully curated and worth the price. Dia&Co is worth it! One of the best subscription boxes we found!
The Details: FabFitFun boxes offer beauty, wellness, fashion and fitness products and arrive seasonally (four times a year) for members. They include various items from scarves and yoga-wear to jewelry, cosmetics, books and more. Think of this subscription box as the "stuff we love" section in your favorite magazine.
The Cost:Each box is $49.99 and contains items with a total value of $200+. Sign up for a whole year for $179.99.
The Review:So, I hated FabFitFun, but my friend really liked this box. The items are really varied, trendy and interesting, but I didn't necessarily feel they fit with my style. The yoga items weren't any I would use or wear and the smaller items like a zippered pouch labeled "Haute stuff" just wasn't my style. This seemed like a monthly subscription box that might really fit certain women's interest and style but for me it didn't fit the bill. My friend, who loooves magazines and leans a bit trendier thought FabFitFun was great. Both of us felt it was pricey. Even if the items were quality and you liked them, you could find better deals by watching sales online.
The Verdict:Mixed opinions, but overall not worth the price tag. None of the subscription box items were "must-haves" and most of them added more clutter to our lives (which we didn't need).
Jewelry & Accessory Monthly Subscription Boxes
The Details: Rocksbox members receive three pieces of jewelry selected especially for them, based on their profile preferences. Wear the pieces for as long as you like and return them when you're over it to receive three more. If you find a piece of jewelry you love, use the monthly membership fee toward the purchase price.
The Cost: $21/month, which is used toward the purchase price of any piece you receive.
The Review:Rocksbox was so disappointing! The jewelry was cheapy and didn't seem well-made for the price. The jewelry was trendy, yes, but it was low-quality costume jewelry. Honestly, I could pick out better items at Icing or Charming Charlie to go with my wardrobe and I've seen higher quality pieces at Target (where they even carry nickel-free items).
The Verdict:Not worth it! The jewelry doesn't hold up to multiple wearers and keeping the pieces isn't worth the price.
Cosmetic Monthly Subscription Boxes
The Details: Madison Reed is professional, ammonia-free hair color created for you and delivered to your home. This color's multi-tonal and made for your specific color preferences and level of coverage needed. Members cans sign up for regular auto-delivery.
The Cost:$24.95/box for non-members and $19.95 for members. Price of other products such as gloss and root touch-up varies within the same range.
The Review:Oh my gosh, I LOVE this subscription box service! The hair color was super professional looking. The color caught the light and sparkled with highlights like salon color. I love how the hair dye arrives at your door regularly and you don't even have to think about ordering. The product is very easy to apply and the instructions were clear. The color didn't smell like other at-home hair dyes can and my hair felt soft, shiny and bouncy after.
The Verdict: If you dye your hair, this is SO worth it! The product isn't much more expensive than drugstore options, but after using this dye, your hair looks like you went to a salon.
The Details: YouTuber Michelle Phan created ipsy monthly "glam bags" with deluxe samples and full-sized products. These products are the same items stylists use in the YouTube tutorials.
The Cost:$10/month.
The Review:I liked ipsy, I really did. It was a fun monthly subscription box and the small sample sizes are charming… BUT after a few months, those little sample bottles really create a lot of clutter! Unfortunately, when you're getting box after box of tiny items, they seem to take over drawers and spaces in your bathroom. You might find one product you love out of 10 or 15 but then you're left with the rest to either use up or throw away.
The Verdict:Fun for a month or two, but creates a lot of extra clutter. Save the $10 and use the money for a full-size product you really like.
The Details: Five deluxe product samples of haircare, skincare and makeup products with instructions, delivered monthly in a beautiful box.
The Cost:$10/month or $110/year.
The Review:Birchbox was like ipsy: a fun monthly subscription box but ultimately it created a lot of extra clutter. The boxes themselves are beautiful and nice, sturdy packages. You could reuse the box for gifts or repurposed for storage, but if you don't need them you're left with five small bottles AND a little box to clutter your makeup stash. When I find a makeup, hair or skincare product that works, I tend to stick with it…so while trying a bunch of new products is fun, out of 15-20 I found only one or two I would actually use. Then I was stuck with little bottles to use up or waste.
The Verdict:Almost the same as ipsy. Creates extra clutter and your $10 is better spent on items you'll use regularly.
Other Monthly Subscription Boxes
The Details: Kiwi Crates are filled with fun age-based learning activities. There the Cricket Crate (0-2 year-olds), Koala Crate (3-4 year-olds), Kiwi Crate (5-8 year-olds), Doodle Crate (9-16 year-olds art and design) and Tinker Crate (9-16 year-olds STEM learning), each based on different age levels and interests.
The Cost:$19.95/month with multiple-month discounts.
The Review:My friend tried Kiwi Crate and here's what she said: "When my daughter received a box, she was thrilled. I wasn't home, so she called me, screaming 'I got SLIME, Mom!' She was beyond excited. She played with the slime for hours and absolutely loved the kit. She kept the slime in a container so it wouldn't dry out and played with it every day. So the first Kiwi Crate was a hit. The second box contained a very complicated contraption (that sounded cool) but had a lot of parts. So that contraption is still sitting in the box upstairs, so we'll see."
The Verdict: Hit or miss. Yes, most kids love getting monthly subscription boxes in the mail BUT if they don't love the project, then it's $20 wasted. It's probably more fun (and less expensive) for them to pick out a learning project they'll love on Amazon or skip the expense altogether and find creative science experiments to do at home.
The Details: Formerly known as ePantry, Grove Collaborative offers natural cleaning products for your home and body. Products include kitchen and dish soap, hand soap, spray cleaner and face and hair products. Set up automated schedules for regular delivery of your favorite products.
The Cost:There's no cost to join, but the VIP program with free shipping is $39.99/year. Products range in price, but are lower than retail.
The Review: I like the fact these are all-natural products without harsh chemicals and scents (which can bother sensitive people). If you're super into organic and natural cleaning and beauty options, this program might be worth it. The prices are better than Target on items like Meyer soap (which smells amazing)! The automated scheduling is convenient and easy to change if you need to.
The Verdict: This is another one to add to the best monthly subscription box services! I love the automation and the products are great and priced right!
You can get $10 to try Grove Collaborative here.
The Details: SmileDirectClub offers invisible teeth aligners, fitting and treatment plan to straighten your teeth. Typically, there's no trip to the dentist required. You're evaluated online and sent impressions or can go to a SmileShop for a scan (evaluation costs are refundable if you aren't a good candidate). Once your treatment plan is ready, invisible aligners are sent to your home for you to wear regularly. Once you're finished with the treatment process, you can purchase retainers to keep your straightened teeth in place.
The Cost:$95/month for 22 months, which is significantly less expensive than $3000-$7000+ charged by orthodontists for braces.
The Review: Wearing these all the time, well, kind of sucks…and it's hard! The aligners make your mouth a little sore (like traditional orthodontics would) and it's both hard to remember to put them in, and hard to forget about once you're wearing them. That said, if you have a slightly crooked set of teeth, gaps you're self-conscious about, or slacked off on your retainer wearing after a round of braces back in high school, SmileDirectClub is a great cost-effective option.
The Verdict: Worth it as an alternative to braces. If you're planning to spend the money on orthodontics anyway, SmileDirectClub is more convenient and cheaper than trips to the dentist.
The Details: BarkBox is a monthly subscription box for dogs (well, for dogs AND their owners). Each box has at least two toys, two bags of high quality treats and a chew.
The Cost:$21-$29/month plus $9/month for an additional premium toy.
The Review: BarkBox is great if you're a dog person and love to spoil your pet. If you don't put aside $30 in your budget to blow on dog treats and toys each month, then this is probably not the subscription box for you. If your dog is picky, has a favorite treat and a favorite toy, or has allergies to new treats, then this definitely isn't worth it.
The Verdict: Not worth the $30. You could find treats and toys on sale for much less at Target, Walmart or PetSmart. Your dog won't feel left out if he doesn't get a surprise in the mail (I promise).
The Final Verdict on Monthly Subscription Box Reviews!
Getting items in the mail is a lot of fun… but it's also costly. Plus, in many cases, the results and findings aren't any better than you could do on your own.
The best monthly subscription boxes are those which save you time shopping by offering items carefully curated for your taste and preference. The Stitch Fix monthly subscription, ThirdLove and Dia&Co were great options because they provide you with clothes you like, save you a trip to the store, and you can apply any fees toward the cost of your purchase.
The other boxes we liked were Madison Reed and Grove Collaborative, because they both offered products we'd buy anyway, saving a trip to the store or salon. For food, I find that even using a grocery delivery service like AmazonFresh or Peapod and planning with MyFreezEasy is more convenient and a much better timesaver. Ordering food from a grocery service also costs less (as does simply going to the store) and you can buy what your family enjoys.
Overall, monthly subscription boxes are fun, but not budget-friendly. There are a few exceptions, of course, but if you're thinking of subscribing, ask yourself if it's a product you really need and if it's worth paying for the convenience.
What are your favorite subscription boxes? What are the best monthly subscriptions you've found?