This is a sneak peek behind the scenes of my blogging business. I share my income, my pageviews, what's working for me and what's not. You can see all of my blog income reports here…
Update 3/16/2017: If you're looking to increase your blog's income, the FREE guide to Finding Affiliates that Work for You is a MUST GRAB. It even lists all of the top affiliate programs in every niche, organized by commission and topic. Grab it for FREE here for a limited time.
The future of income reports
I've been thinking a lot about income reports and whether or not to continue with them. I'd love to have feedback from you. I can see really strong reasons why I should stop and why I should keep going. I've always been a champion for income reports and never really considered stopping, but as the blog and business changed, I had to consider this.
The easiest way to do this is to explain both positions to you.
I want to keep income reports because…
I made a promise to myself that I would post my income reports every month so that other women could see that blogging is a viable career choice. That promise means a lot to me and isn't something I take lightly. It actually helps me grow, writing these monthly helps me reflect on what went wrong and what went right every month and gives me an opportunity to see where I can improve.
It serves other bloggers- being able to see what's possible and basically follow along my entire journey from the beginning saves you from making the same mistakes that I did. It's kind of like having an edge, I follow other bloggers above me and get that same benefit, so it seems wrong to not pay it forward.
I want to ditch income reports because…
I wonder if I'm really helping you at the level I'm at now. I see a trend where I post what I'm working on, like SEO, and then I get tons of emails from brand new boggers also working on SEO. Which actually doesn't help them much. They'd grow quicker if they focused on Pinterest first. But since I focused on Pinterest a while ago and am no longer talking about it, they're not seeing me talk about that. I guess what I mean is that I feel like there's a disconnect between what you read that I'm doing and what a smaller blogger should do.
This isn't a huge deal because there are tons of larger bloggers that read and benefit from income reports, but statistically, it's going to be more new bloggers and I worry that I'm doing them a disservice.
I should have included expenses by now, but don't really want to alter my schedule to make that happen. As soon as Facebook ads come into play, expenses matter a lot. Prior to Facebook ads, and full-time employees, our overhead was ridiculously low.
And even the expenses we had were really mostly to make my life easier, not a necessity. But higher income means higher expenses. Like in the income report below… I made $86,000, but had over $20,000 in expenses mostly from FB ads, Is $66,000 profit still amazing?
Of course, but I worry that it might look misleading. An easy solution would be just to add expenses. But in order to do that, I would have to completely change the way I do things. Currently, I have a budget I follow and as long as my ads are profitable, we scale them up. I don't actually know my expenses until about a month behind, we're usually right on budget and have tons of leeway if we're not, but this seems like a pain for me.
Income reports actually take a lot of time for me to write up, adding expenses makes that longer. We did post our expenses in a prior income report, but it didn't seem to have any added benefit, which means the extra time doesn't really have a pay-off.
While this information likely benefits a select few people, it wouldn't really help most people. Plus, it may frighten off brand new bloggers who think they would need to spend $20,000 a month to blog, not understanding that new blog only needs about $3.95/month to run.
The last issue is that I no longer focus on pageviews at all, I focus on income. Which is actually a hard transition for me to make, but has meant a huge jump in income. But having to list my pageviews in the income report makes me wish I had focused on pageviews more (which is kind of ridiculous… I realize it's a vanity metric… but there you have it.)
So, after talking your ear off… what do you think? Keep income reports or ditch them? Change them? Why?
Why post an income report?
If you're wondering why I post an income report, it's because this journey was only made possible by other bloggers posting their blog income reports and inspiring me to give it a shot on my own. This is kind of my way of "paying it forward". Plus, I love the fact that I work in the only industry where it's totally normal to post your income every month.
If you are a blogger or end up being a blogger, I would love to see you post your income report too! You can actually link to them in the comments below.
But first… About me…
I'm a full-time blogger. Less than 2 years ago, I had no idea that was an actual thing. To say the last two years have been a wild ride is the understatement of the year.
By a chance of fate, I opened an email from Ruth Soukup of Living Well, Spending Less talking about making a full-time income from blogging and announcing a course she had created called Elite Blog Academy.
I knew nothing about blogging. I didn't understand how I would make money. I didn't know what a niche was, or a target audience. And my computer skills would embarrass an eighth grader.
I didn't even know how much money "full-time blogging" meant. I was hoping for $2,000/month.
I read that email and knew that I needed to try. Nothing scared me more than not trying and then regretting it, always wondering "what if?".
I talked to my husband that night and we took money out of our extremely tight budget to enroll in Elite Blog Academy.
I worked my tail off, took the class extremely slowly (it took me 9 months to complete the class) and implemented every single action step. In 10 months, I was making my "full-time" income of over $2,000. In 15 months, I was making more than I've ever made in my career.
18 months later, I was making over $20,000 a month blogging. And this month I made $86,000.
Elite Blog Academy literally changed my life.
(Heads up: The ONE downside of Elite Blog Academy, is that it only opens for registration once per year for five days, so unless you have almost perfect timing, the only way to get an offer to enroll is by joining the waiting list here).
I can't recommend it enough. It changed my life. You can find out more about Elite Blog Academy here.
If there's one thing that I want to pass on to you, is that I am NOT special. I'm not crazy smart. I don't have a writing degree and I'm certainly not a grammar expert (although a free app called Grammarly certainly helps).
I just love to write and I love to help people and I'm really good at reducing our spending. So, I walk people through the baby steps that we took to completely transform our finances. I'm able to support my family making far more than I ever could in my previous career.
Want to start your own blog?
If that sounds like something you want to do, I can help you make that a reality with step-by-step instructions (for free!). You can find instructions for how to start your own blog here (even if you aren't great with computers).
The best part? Blogging is a super cheap (almost free!) hobby that makes you money! Starting your own blog isn't very expensive! Starting a blog that makes you money while working from home starts at about $3.45/month!
January 2017 Blog Income Report:
This was a solid month for income and was pretty stress-free and easy. Income went up, pageviews went up, I'm back to batch blogging and working ahead of schedule.
Pageviews and Income:
Pageviews: 505,239
Income: $86,438.83
Income Broken Down:
$3,600 Sponsored Posts
$4,744 Ad Networks
$19,300.83 Affiliates
$58,794 My Products (The Pinterest Strategy Guide, The Core Affiliate Strategy, but mostly The 90 Day Budget Boot Camp Workbook)
(further breakdown of my strategy for each category below)
Total: $86,438.83
Step-by-Step Pinterest Strategy Guide
Because I've stopped coaching, I released my Pinterest Strategy Guide in PDF form to you. Which means that you can spend a fraction of the price that coaching costs and get my step-by-step Pinterest Strategy Guide direct to your inbox right now.
The Pinterest Strategy Guide will walk you step by step through implementing the Pinterest Strategy that brought me from $18/month to over $20,000/month. You can get it here.
P.S. It's 5 pages long. It's not a course and it's not overwhelming. It's a super simple detailed checklist of how to dominate Pinterest in only 4 hours of setup and 4 hours a month.
The Core Affiliate Strategy
Like the Pinterest Strategy Guide, the goal of this product is to give you easy-to-follow (and quick) action steps to completely implement the strategy that I use for affiliates. It's only a few pages and walks you step by step through my entire strategy.
I routinely make more than 10k a month in affiliates and this is a common question that I get. You can see the strategy here.
P.S. This is about 15 pages long, and includes a complete launch example. Like the Pinterest Strategy Guide, it's not created to be comprehensive or overwhelming. You should be able to complete it in a workday and start being successful with affiliates immediately.
My goals for January were:
Continue Facebook ads- Rocked it! It was a hard month, and Facebook ads are still not my native language, but we're seeing gains. I took Absolute FB ads, then EBA VIP training, and then a ridiculous amount of a/b testing and time. I wish there was a simple solution, but there's not. It takes a massive amount of time and you need to stick with it. I've been on and off messing with facebook ads for over 6 months now and FINALLY made significant strides.
Book keeping system – On track! This will take a few more weeks but it is almost completed. We created a system that lets full-time employees track their hours worked by project, and all expenses and income get tracked by project. So basically, we can now at a glance tell where our time and money are best spent, helping us make better decisions going forward. It also allows us to track income earned and received each month and bases each monthly budget off last month's income allowing us to reinvest a portion of our extra profits from the month before in the projects that give us the highest return.
Not gonna lie… this budget blogger is totally geeking out over this system.
What worked this month:
**These are the things I'm currently trying. If you need the full resources of the tools that I've used to get me to this point, you can sign up here to get free instant access to the full list of the tools and resources that have worked for me this far. **
Facebook ads- We were able to make them both profitable and scalable. I'm anxious to see what happens during the rest of the year as the "budgeting craze" of January wears off.
12 Week Year- This system is amazing. I'm about 1/3y through my first 12 week year and I'm probably more productive than I've ever been. It has me focusing on just 1-3 goals for the entire 12 weeks which is a huge jump from what I've always done but is working. I highly recommend it! (If you're a brand new blogger, I suspect you'll see more success with the 10 hour time block strategy, but once you have a team and help for your blog… the 12 week year is the way to go.
What didn't work this month:
Every plan I had for the month – We had a ton of stress from the brewery opening (tell me again why we did this?), my dad (who's an instrumental part of my life) was diagnosed with lung cancer, and I wound up in the hospital with Afib for three days (it was my first episode so I had no idea I had Afib).
Facebook groups – Having so much personal stress meant that instead of getting work done, I was spending time scrolling anxiously. I have a saying… If you're flipping between Facebook and email waiting for something exciting to happen…. You have a problem. You could have made something exciting happen if you had just gotten off your phone and got to work.
*That being said- I failed miserably at this all month.
Goals for next month:
Bookkeeping system: Finishing this system is my only goal for the month.
My Income Strategy:
I earn income in three major categories with my blog. I'll run over my strategy for each of them.
Sponsored Posts
Update: The below is still true, but I've stopped focusing on sponsors right now, with the exception of a few brands that I want to build long term partnerships with.
I focus most of my sponsored post efforts on reaching out to brands that I use and love and offering a sponsored post package at a rate that's a little lower than "industry standard" (which is highly debatable).
That lets me increase the "yes!" emails I get in response and ensures that I can count on making a certain amount every month on sponsored posts while still being really picky about which brands that I'll work with. I also go through each of my brand networks (places like Tapinfluence and Clever Girls) to see if there are any assignments that would be a good fit for my blog.
Ad Networks
In general, more pageviews equal more ad earnings. I use Adthrive (you can apply with them once you have 100,000 pageviews) and love them. My RPM (The ad revenue that I get per 1,000 pageviews) bounces between $6.40 and $11.00 depending on the season. (update: actually it's been consistently over $10 since February of last year, which is unheard of! Go Adthrive!)
I increase my pageviews by marketing my blog content through Pinterest. I a/b tested everything on Pinterest for about 6 months until I figured out a system that works for me.
My favorite thing about Pinterest (at least with BoardBooster) is that I spent only 4 hours a month running my Pinterest Strategy. That leaves me tons of time to grow in other areas. You can get a copy of my Pinterest Strategy Guide here which teaches you my system step by step.
Affiliates
I focus on a core group of affiliates that I think almost everyone in my target audience should be using. Since I run a budgeting website, I factor cost into the equation. If something is a great product but is too expensive for my readers, I likely won't add them to the core affiliates list.
Having the core list lets me easily track special sale dates that my readers shouldn't miss and lets me focus without getting overwhelmed with the barrage of affiliate "offers" hitting my inbox daily.
Need help finding affiliate programs that will work for your blog? I have a master list here of the best preforming affiliate programs in every niche that you can get for free here.
To me, the key to affiliate marketing is to never ever promote anything that you haven't used yourself and you don't love. My philosophy is that if you only promote companies and products that you would tell your best friend about enthusiastically, then you're doing it right. You can get the step-by-step action steps needed to implement my Core Affiliate Strategy here.
If you want to see my full list of blogging resources that I use,
you can find them here.
Need a step by step guide on how to start a blog? You can find one by clicking here (you don't even need to be great with computers!).
Update 3/16/2017: If you're looking to increase your blog's income, the FREE guide to Finding Affiliates that Work for You is a MUST GRAB. It even lists all of the top affiliate programs in every niche, organized by commission and topic. Grab it for FREE here for a limited time.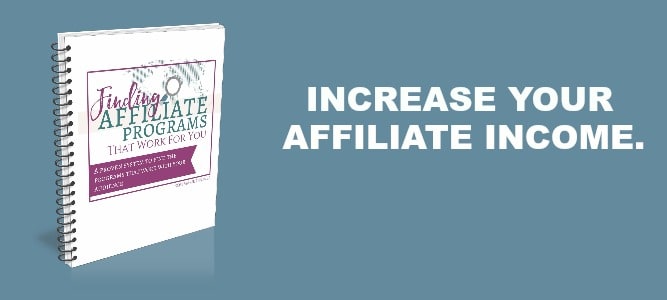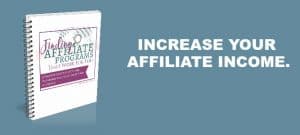 If you publish your own blogging income report, link to it below in the comments so we can all see!
FTC Disclosure of Material Connection: In order for us to maintain this website, some of the links in the post above may be affiliate links. Regardless, we only recommend products or services we use personally and/or believe will add value to readers.