So you've decided to start meal planning? WAY TO GO!
Meal planning is so awesome because it helps you save SO MUCH money, time and energy. Imagine whipping up a bunch of go-to budget-friendly meal plans you can prepare quickly and enjoy without stress. In fact, with a little practice, you'll be able to spend just an hour or two on a Saturday or Sunday preparing a WHOLE WEEK'S worth of food—cutting your weeknight kitchen time down to zip, zero, zilch, nada!
Update: 4/5/20 I know how stressful it is right now to be cooking 2-3 times a day while you're also trying to work, "home school", referee kids, and get your house under control. We created an epic inspiration binder of the easiest cheap meals. These ideas are field-tested by hundreds of thousands of our readers and are guaranteed to help even the most overwhelmed mom stick to a meal plan.
And we're giving it to you 100% free right now so you can use it to help you get through this time. And bonus: You'll end up using it long after the pandemic is over.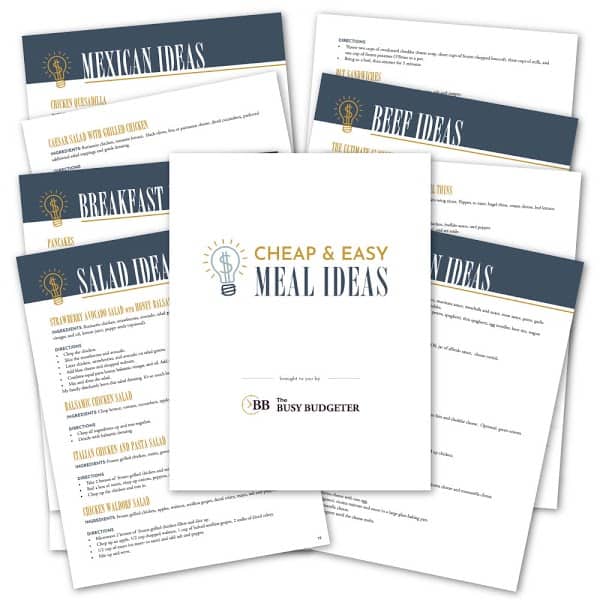 I know—sounds WAY too great, right? I swear it's for real and it's totally going to be OK because in this post, I've collected not only the best FREE meal plans, but the best free BUDGET-FRIENDLY meal plans I've found online.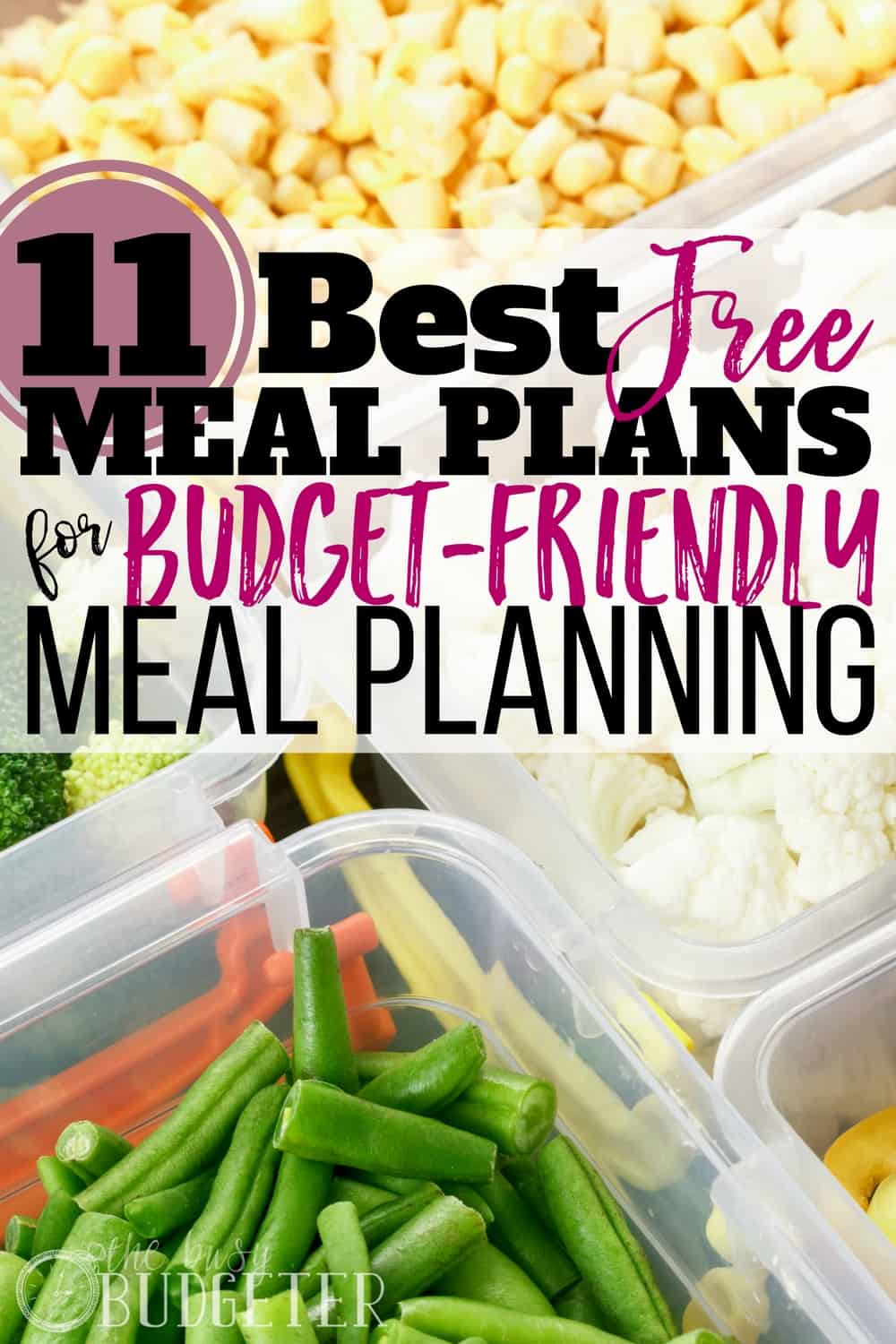 When it comes to meal planning, there's one BIG challenge: coming up with WHAT to make. No matter which meal planning method you follow, sometimes you're still left scratching your head, wondering what exactly to put on the menu.
You might have the ingredients but not the answer.
Well, to make things easier, I've rounded up the best free meal plans (on the cheap) I could find on the Internet. These budget-friendly meal planning options not only provide you with ideas for WHAT to make for dinner, but you'll also get a plan for exactly how to make each recipe—plus, you'll save lots of money in the process.
(Heads up! if you're struggling with meal planning, cleaning routines and home routines the FREE Home Rescue Challenge was made in honor of you!)
When you're meal planning on a budget it can be hard to get creative. (Taco night again??) Plus, most of us aren't gourmet chefs or even short order cooks (although you may feel like it sometimes), so coming up with new, interesting options can be tough.
Check out these budget-friendly meal planning options for inspo. Mix and match any of these best free meal plans or just pick one and carry it out. Either way, there are plenty of delicious options that can make your weeknights way easier. Opt for fast weeknight meals, weekend prep, or other options that fit your schedule.
Just remember: the key to being a good cook is to remember not to take things too seriously. Recipes don't have to turn out perfectly or be uber complicated to taste good. With just a little time in the kitchen, you can cook up a surprising number of yummy meals, even if you're not a great cook (or don't think you are). Most of these easy recipes require very few chef skills and if you can follow basic instructions, they'll turn out just fine.
And if it doesn't turn out? Well, you can always opt for grilled cheese and tomato soup!
So check out these best free budget-friendly meal plans from around the web.
This meal plan is full of make-ahead meals that are the definition of comfort food! It's designed to be budget-friendly and freezer-friendly, and it's full of family favorites. Each meal in this plan can be made ahead and you can prep them ALL in just about an hour on the weekend! Plus, each meal is hearty enough for double servings, meaning that in just ONE hour, you've prepped 10 meals you can toss in the freezer and have at-the-ready for dinner. (There are tons of 10 Meals in an Hour meal plans on Living Well Spending Less, so if these dinners don't appeal to you, definitely scroll through to find the free meal plan that fits your family!)
Meals Included: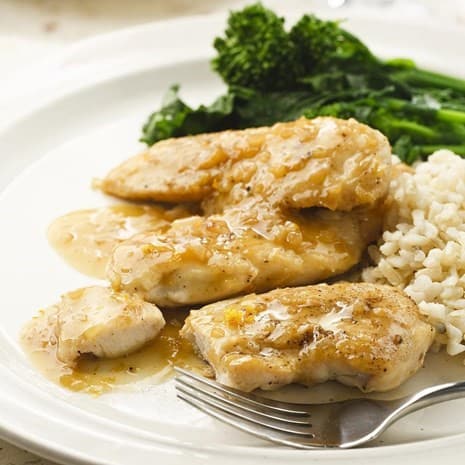 Chicken recipes are perfect budget-friendly dinners and reliable recipes you know your family will love. If you're a fan of Tyson Grilled Chicken, you know how creative you can get with just a couple chicken breasts and some pantry staples! There are 12 meals in this free meal plan and each meal is designed to be healthy, delicious, AND under $3 per serving—that's pretty hard to argue with!
A Sampling of Meals Included (Full meal plan includes 12 meals):

This mom believes that meal planning shouldn't be impossible for a family on a budget—and I totally agree! In this frugal meal planning series, each plan is packed with breakfast, lunch, dinner, AND snack options for an ENTIRE WEEK, plus shopping lists and recipes—all for just about $80 per week! Some of the meal plans even include gluten-free and vegetarian-friendly options.
A Sampling of Meals Included (Dinner Recipes):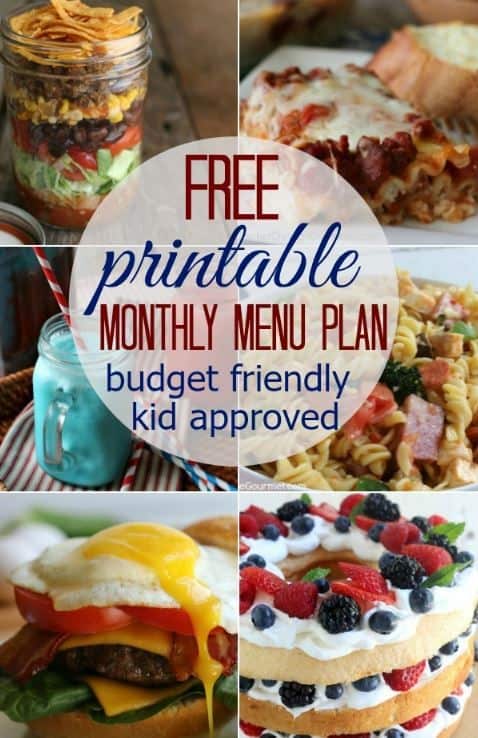 This free meal plan is PACKED with great recipes—and they're ALL budget friendly, kid-tested and approved, and designed with holidays and special occasions in mind! You can get three YEARS of Monthly Budget-Friendly Meal Plans + Printables for FREE on this site. (Wow!) Each month includes dessert options, suggestions for holiday meals and special occasions, and a meal planning calendar.
A Sampling of Meals Included (Meal plan includes 30 recipes):
If there's one thing I love, it's budget-friendly meal planning that doesn't rely on heavy food. Cooking on a budget does NOT mean you have to give up on your diet! This meal plan includes over 100 recipes that all fall under $2.50 per serving and are designed to be super flavorful, delicious, AND healthy. Almost all the recipes are built around ingredients that you probably already have in your kitchen, so take your pick and enjoy!
A Sampling of Meals Included (Meal plan includes 100+ recipes):
This entire-month meal plan is built around 4-5 main ingredients like chicken, ham, beef, or turkey and includes and encourages great ways to use leftovers to cut down on your grocery budget. (Talk about the full package!) Overall, this menu plan for 4 weeks breaks down to a little over $80 per week for a family of four. There are breakfast, lunch, and some dessert options included as well. The Real Food Menus series has a ton of meal plans and budget-friendly grocery shopping advice, too!
A Sampling of Meals Included (Meal plan includes 30+ recipes):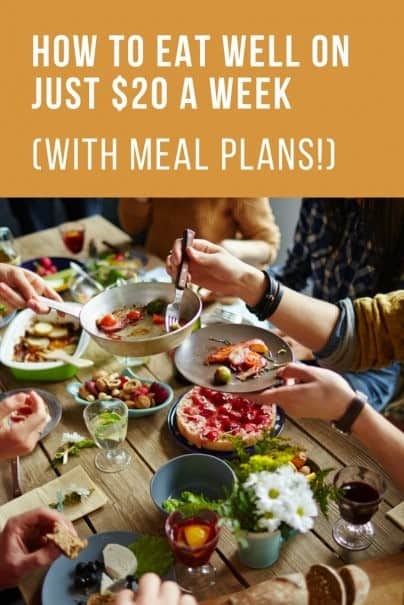 This vegetarian-friendly free meal plan for a family of three is all about making the most of simple ingredients, pantry staples, and some creativity (but not too much) in the kitchen. While two weeks of meals on a frugal $20 budget seems like an impossible task, these meal plan makers came up with an Aldi shopping list and recipes built to keep your budget intact! This meal plan is entirely vegetarian (not for everyone, I get it), so keep in mind that while you can definitely add meat into some of these recipes, it will wind up increasing your budget!
A Sampling of Meals Included:
One of the best free meal plans you can have is one that isn't entirely dependent on seasonal ingredients, weather, or jam-packed schedules. Universal meal plans are perfect for families who don't have time to adjust based on last-minute changes or unavailability of ingredients. Life as a Mom meal plans are just that: universal, perfect for any time of year, and easily adjusted for night-of cooking or make-ahead. Each weekly meal plan includes a grocery list, printable recipes, and a weekly meal planner. Handy!
A Sampling of Meals Included:
Inexpensive, creative, and delicious meals, PLUS a streamlined, minimal shopping list? What more could you want?! This five meal, one dessert meal plan is budget friendly, includes super simple recipes with shopping lists that could fit into one basket (not a cart!), and will impress even your toughest critics. Budget meal planning requires a little extra creativity and this meal plan is definitely not falling short there!
A Sampling of Meals Included: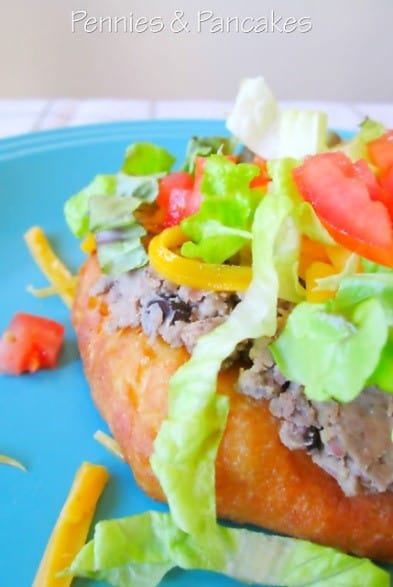 This family of five really knows how to pack a punch in a frugal grocery budget! This 30-day free menu plan includes a shopping list (and recipes!) and an itemized, daily meal breakdown that makes it super easy to stick to budget, follow along, and save money while still coming up with plenty of creative meals for the family! And you know if these meals are approved by kiddos under the age of 10, you've gotta be doing something right!
A Sampling of Meals Included:
While I have tons of meal planning options and recipes here at Busy Budgeter, this free meal plan is one of my favorites because it's really the ultimate money-saving meal plan. Plus, it's a great meal plan if you frequent takeout places and crave your favorite dishes. The leftovers stretch and they include healthy veggies and lots of natural (non-processed) options, which is nice if you'd like to go for healthy dishes. Plus, the protein is totally swappable—if you find a better deal on beef or even shrimp or pork, you can switch it out for chicken in the dishes.
A Sampling of Meals Included:
There are tons of cheap meal plans out there—enough to eat restaurant (or at least take-out level) quality meals every night. You'll save plenty of money by planning ahead and you'll find new ways to feed a family of four for just a fraction of what many of us spend.
If you're trying to save time, money, and find ideas for meal planning on a budget, check these free meal planning options out. I'm sure you'll find something you and your family will love. These best free meal plans might just end up in your regular meal planning rotation!
P.S. If you're feeling like no matter what you do you can't get your house under control (not to mention your budget!) we completely understand. If you are sick of spending all day "catching up", only to have it completely trashed again in a few days, then you should check out our FREE training "Why Your House is Trashed: The 3 Step Shortcut to Transform Your Home For Good With No Extra Time" which will walk you through how to break that cycle once and for all.
The training will walk you step by step through the three foundational routines that will help you manage all aspects of your home no matter how bad your situation is right now.
Implementing this core foundation allows you to work with your personality (and your specific situation) to create a custom plan to manage your dishes, laundry, schedule book, meal planning, budgeting, and a cleaning routine in less than one hour a day. You read that right, ONE HOUR A DAY.
If you want to take it a step further, we can teach you how to automate a ton of stuff in your home (without paying for it), giving you back HOURS of your life (yes, even your crazy life!). Then once you get the foundation set, we move on to more complex skills like meal planning, budgeting, and cleaning.
This is a proven system that's been field-tested by thousands of people. People that have tried everything and could never keep their house clean or stick to a budget.
Like Jenn, who said "I used to struggle with absolutely everything. I married a man with 4 amazing kids and suddenly found myself drowning in dishes, laundry, and cleaning. There was NEVER enough money to cover everything and cooking meals that everyone would eat was impossible."
"Then my dad got cancer and I also became his caregiver. The house and my stress level went from bad to worse overnight. I got the Hot Mess to Home Success course in desperation sitting in an ER waiting room at 3 am. I thought there was no way it could really help me since my situation was so unique with 4 step kids and being a caregiver for my Dad."
"I had probably always been a hot mess, but this was a whole new low for me. Fast forward three months into the course and I meal plan regularly and stick to it (that's never happened before), I use a planner every day, I have no dishes and laundry backed up (!) and I have significantly more time to do the things that matter (like helping my family battle cancer). You don't even realize how much of a difference this stuff makes until it becomes your lifeline. I can't imagine going back to how I used to live and I'm glad I never have to. I'm really grateful for that 3 am purchase!"
If you are ready to get started, you can sign up for the FREE one-hour training "Why Your House is Trashed: The 3 Step Shortcut to Transform Your Home For Good With No Extra Time" here…