Have you ever wondered what items are cheaper to buy than make? We have done the research for you!

Most people try to make everything at home when they're trying to save money. You'd be surprised to know that there are quite a few things that are cheaper to buy than to make!
Update: 4/5/20 I know how stressful finances are right now with stay at home orders and the pandemic. I also know that I'm uniquely qualified to help you. I've helped hundreds of thousands of people get out of the paycheck to paycheck cycle (after trying and failing for years), by teaching them how to work with their unique personality to actually stick to a budget.
I'm giving you access to the insanely popular 90 Day Budget Bootcamp for FREE. Because I know that this program will change every aspect of your life. Take a look around. Because this is the LAST DAY you will ever sit around worrying about money. Let's get to work.
Join the 90-day Budget Bootcamp for FREE here…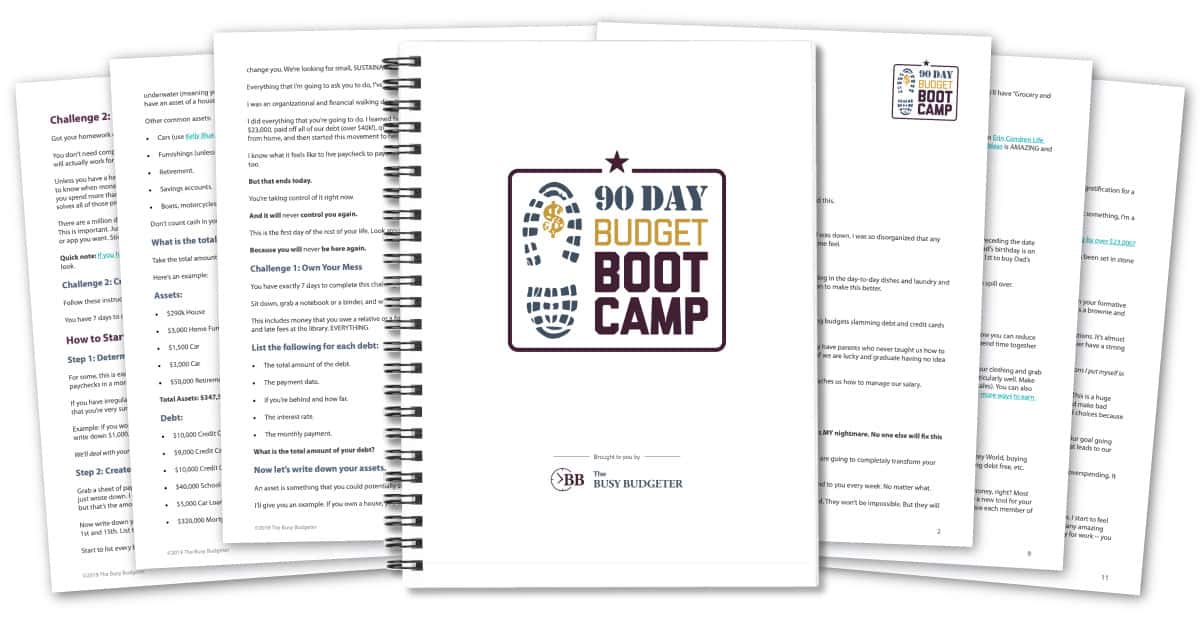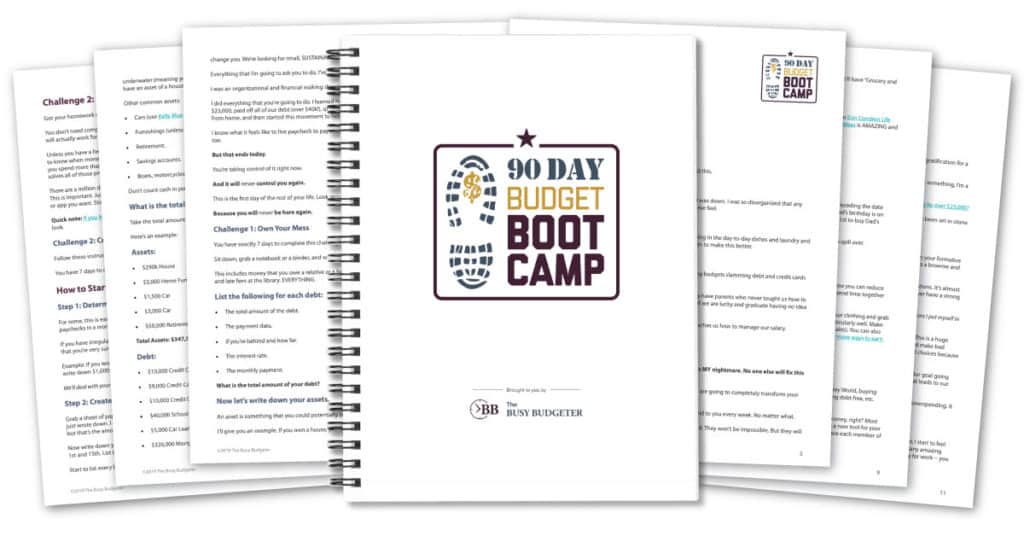 I've spent the last 5 years becoming a DIY-er in order to shovel ourselves out of over $40,000 worth of debt (debt free feels amazing, by the way!). While learning to do things on my own has saved me a lot of money over the years, there were a few things that surprised us.
These things seemed like they would be cheaper to make at home, but in fact, it was cheaper to buy them.
Nothing makes me sadder than spending three hours baking bread only to find out that I spent more money making it than it would have cost to buy it.
10 things that are cheaper to buy than to make.
Bread
Although there are plenty of reasons to bake your own bread, (nothing beats warm bread out of the oven!), this was significantly more expensive to make at home than it was to buy.
If you add up strictly the cost of the ingredients for a no-frills, boring sandwich bread recipe, it's about $.80. But only if you buy the ingredients in bulk (or on sale) and actually use them. If you buy the ingredients in bulk and don't end up using them, then your failed bread experiment can cost you about $20.
The other issue with making your own sandwich bread is having to slice it yourself. When you slice bread using a bread knife, you'll end up with about 8 large, wonky slices per loaf.
You can make those slices smaller and more consistent if you invest in a bread slicer and a Pullman pan loaf (which creates the rectangular bread you're used to seeing in the stores), but again… those can add about $40 to your bread investment.
Then you have to factor in the time it takes to make your bread. It can take 30 minutes to 3 hours to bake a loaf of bread depending on your recipe, and the process can be pretty labor intensive. A bread machine can reduce your labor time… but, again, it can add $60 to your investment.
When you figure that you can get a loaf of sandwich bread with 14-20 perfect slices for 85 cents at Aldi or $1.00 at your regular grocery store, it's way more expensive to make bread at home.
If you love to bake bread as a hobby, you have the equipment and spare time, or if you want to know exactly what's going into your bread, then making it at home may still be worth it. Otherwise, skip the process and buy one instead.
Peanut butter
Making your own peanut butter at home is extremely simple.
Alton brown has the best recipe for it. You drop 15 oz of shelled peanuts, a little peanut oil, honey, and salt into a food processor, give it a few whizzes (that's an actual word right?), and you're done. It's simple enough that even the busiest cook can do it, especially considering the finished product keeps in the fridge for up to 2 months!
The problem is that it costs almost double to buy the peanuts and make your own. Even buying a name brand peanut butter is less expensive than making your own, though, of course, if you're willing to get the cheapest generic peanut butter, then you'll save even more!
Ice cream
I actually love making ice cream at home and we still do it every once in a while with the kids as a fun activity. The problem is that the cream, condensed milk, and other ingredients make this much more expensive than simply buying a quart of ice cream.
Plus, in order to get the same taste, you'll need an ice cream maker. A quality electric ice cream maker starts at $50 and the hand churn ones (which are extremely labor intensive) actually cost about the same. Considering you can get a tub of ice cream for $2.50 (or even cheaper if you hit a sale), it's not worth the extra cost.
If you want to skip the ice cream maker, you can still have a fun activity for the kids by following these instructions.
Beer
In theory, you can take some very simple (and cheap!) ingredients and turn them into flavorful, very expensive beer. After all, hops, grain, yeast, and water are the basic ingredients.
The problem is that there's a lot of skill and expensive equipment required, and the ingredients can be hard to find. It's also extremely labor intensive to make your own beer at home.
After all that work of making the beer, you'll need to find a way to store or serve it. You'll need a keg, a few growlers, or some bottles. You'll also need tops and a way to pinch the tops on.
Then, of course, if you don't have any experience making beer, you may end up with 5 gallons of a beer that you hate, wasting your money and your effort.
Unless you're looking at this as a hobby, then it's almost always cheaper to buy your own beer, even if you love the expensive craft beers.
That being said my husband, Jon loved this so much that he started doing it as a hobby, found out that he had a knack for creating original recipes and turned it into a business, opening a brewery in Woodbridge, Va… so if you're willing to eat the costs as you learn and invest in it as a hobby, I fully support home brewers.
But whatever you do, don't drink Budweiser. Seriously. Have some respect for yourself.
Tomato paste
Tomato paste is one of the cheapest foods around. You can buy a can for less than 50 cents. In order to make it yourself, you would need to get about a dozen tomatoes, red peppers, onion, spices, and garlic.
For about $4 worth of ingredients and a whole lot of time in the kitchen, you could have a 50 cent jar of tomato paste (and avoid a sink full of dishes.)
Totally better to buy this one.
Pasta
To make pasta at home, it would cost about $1.50 in ingredients, but it would take almost an hour of labor-intensive work.
You can save a little bit of time by getting a pasta maker, but considering you can grab a box of pasta from the store for $1, you definitely won't see any savings if you do this. Plus, if your kitchen is anything like mine, you don't have the space for another appliance.
However, cost savings aside, homemade pasta is far superior to the store-bought kind. If you have the time and the desire, it's so worth it to make it at home as a treat or a special experience. For the everyday busy mom on a budget, though, skip it and buy the box.
Single serve sandwiches
We usually pack dinner leftovers for lunch, but occasionally Jon wants to pack a sandwich (usually when he'll be away from a microwave for the day).
We realized after analyzing it that it's actually cheaper for him to go to Subway than for us to buy bread, lettuce, tomato, onion, and sandwich meat at home. He can get a six-inch sub for $3.50 and load it with veggies, then we pack an apple, a bag of chips and a drink to round out the meal.
However, if you're planning to pack sandwiches for a few days, then it does cost more to buy it than to make it yourself, so be sure to keep that in mind.
Guacamole
It took us forever to realize that it's cheaper to buy guacamole than to make it. We use a super simple recipe of mashed avocado, cilantro, salt, and lime juice, and we assumed it was cheaper than any store-bought variety.
But the avocados in the area are $1.50 each. Even on sale, they're usually more than $1. They're hard to buy in bulk because they don't keep long term, and even when you make the guacamole, it won't keep very long in the refrigerator.
We were spending $2-6 for a bowl of guacamole to feed the 4 of us until we finally realized that we could pay 50 cents per 100 calorie pack of guacamole at Costco. For $9.99, you get 20 serving-sized cups that are meant to be frozen easily. So we keep a few in the fridge, freeze the rest, and then rotate new ones in.
We get guac on demand, in portioned amounts with no extra dishes to wash. It's way cheaper and easier!
Pomegranate juice
This antioxidant-rich juice is healthy and delicious! It's also crazy expensive. It usually retails for $6 for 16 oz. We thought making it at home would be cheaper, but we were so wrong.
It costs about $10-12 in pomegranates, plus the cost of a juicer, to make a 16 oz jar. Totally not worth the effort. Skip this one and fork over for the $6 bottle as a treat.
The rest of the time, you can just eat the pomegranate seeds fresh!
Pesto
The high cost of pine nuts makes pesto much cheaper to buy than to make. You can actually make it with sunflower seeds instead and bring the cost down considerably (especially if you have basil in your garden) if you want to make it worth making at home, but we just stick to buying it.
Don't get me wrong: just because these may be cheaper to buy than to make at home doesn't mean that you shouldn't ever make them at home. You may love the experience or the quality of the homemade item may be better than you could ever buy.
But if your sole purpose in making things at home is to save money, skip these items and just buy them. Because at the end of the day, we want to put our effort into things that will save us the most money. Like meal planning. (seriously… you'll save a small fortune).
What have you found to be cheaper to buy than to make at home?
FTC Disclosure of Material Connection: In order for us to maintain this website, some of the links in the post above may be affiliate links. Regardless, we only recommend products or services we use personally and/or believe will add value to readers.