While flipping through the latest issue of Woman's Day, I was intrigued by their claim that we could make homemade ice cream in less than 10 minutes without an ice cream maker. Since I had two of the three ingredients already at home, I figured I'd pick up heavy cream and put it to the test.
This is the recipe as printed in the August 2012 Woman's Day Magazine:
2 cup(s) heavy cream
1 can(s) (14-ounce) sweetened condensed milk
1 1/2 teaspoon(s) pure vanilla extract
Directions:
Using an electric mixer, beat the heavy cream, condensed milk, and vanilla in a large bowl until thick, stiff peaks form, 3 to 5 minutes.
Transfer the mixture to a loaf pan or freezer-safe container, cover and freeze until firm, at least 8 hours and up to 2 weeks.
Results:
Okay, I'm impressed. I'm really, really impressed. No rock salt, no hand cranking, no huge machine to take up valuable real estate in my gadget packed kitchen. The ice cream came out rich and creamy. It's slightly sweeter then store bought vanilla ice cream, but in a better way. Jon talked me out of making smores ice cream with graham crackers, chocolate and mini marshmallows, so we just added semi sweet chips. It's all natural, and has no scary chemicals or preservatives in it. I foresee a future blog post on the dozens of ice cream variations that we've come up with from this basic recipe!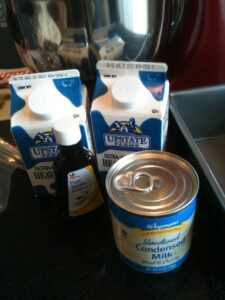 Cost:
Heavy Whipping Cream, 16 oz: $2.35
1 Can of Sweetened Condensed Milk: $ 1.59
Vanilla: Pantry Item
Total Cost: $3.94 for around 12 servings. That's just $.33 cents per serving!
This post may contain affiliate links. If you click & make a purchase, I receive a small commission that helps keep the Busy Budgeter up and running. Read my full disclosure policy here.