Are you tired of having your Sundays suck? Of being overwhelmed with trying to play catch up for the week? Of feeling like you never have time to do the things that you actually want to do? What if you're just doing it wrong?
A few weeks ago, I ran across a post from Living Well, Spending Less about her Sunday Prep Day. She instructed everyone how to set aside 3 hours on a Sunday to prep for the week ahead. Her plan called for cleaning the house, setting out clothes for everyone, and prepping 10 dinners to cook. We realized a long time ago that not making plans on Sunday and using that as a day to rest, spend time with family, and prep for the week ahead makes an enormous difference in the happiness of our family. I loved the way she laid everything out in a step by step guide though. She even included printable hanger markers to place on hangers!
I was hooked. I tried it.
You can find the full instructions here (plus she has great printables included for free to make this easy). The gist of it though is that you dedicate three hours of hard work on Sunday to make your entire week easier. She encourages you to get the other family members involved as well. She has everything laid out in steps so you just follow along and do as she says.
She also makes the meal prep incredibly easy with two separate menu plans for 10 freezer meals that can be made in an hour. Each has a simple to follow step by step list of how to prep your food for the week. Follow along and you'll be done in less than an hour. This means, that not only will you make this week easy, but if you want to continue next week, you'll only need 2 hours to prep for the week since next weeks dinners are made.
The "Promise":
At the end of the three hours, you will have prepped 10 dinners, made 18 breakfast cupcakes, made 20 peanut butter and jelly sandwiches (which freeze and thaw wonderfully), washed and folded two loads of laundry, picked out clothes for the week, signed and sorted essential paperwork, created a meal plan for the week, tidied the house, wiped down the bathrooms, and cleaned the dishes.
What I did:
I prepped for this ahead of time on Friday evening. I printed all of the free printables out (which were pretty impressive) so I would have my step by step instructions ready to go. Then I organized them all on a clip board and added the few things we needed to the printable shopping list. Afterward I went to buy groceries, then came home and created my "days of the week" wardrobe hangers for myself and my husband. This all took about an hour and a half.
None of that stuff was included in the 3 hours to complete, so keep that in mind. However, except for the wardrobe tags, it's all things that I would have done anyway. It actually saved time since the menu planning was already done for me; usually I would need to sit down and spend some time on that.
On Sunday afternoon, we got to work right away. I got my husband motivated, (which wasn't hard because that man adores a squeaky clean house) and I dove right in, following the instructions step by step. I did most of the stuff on the list, but he helped me with the tidying and we passed kids back and forth while we worked.
Did it work?
It did! It really did. We clocked in at 2 hours and 40 minutes to complete all the tasks. We completed everything on the list and we were thrilled with the results. We had the rest of the day to do the things that we actually wanted to do and we went into the week prepared and excited.
What I loved:
I'm a "freezer batch cooker" at heart, so I already knew what to expect; but if you've never done that before this will completely blow your mind. The 10 dinners in an hour is a form of cooking called "Dump Cooking" which sounds gross, but it just means you prep your dinner by dumping all of the ingredients into a freezer bag and freezing them. You can then throw them into the crock pot, the oven, or on the grill when you're ready to cook.
Even though you still have to "cook" dinner, this prep makes dinner incredibly painless since you don't need to think about it. I LOVE it. It's a great transition (and much quicker!) to once a month freezer cooking where everything is actually cooked and prepared, then frozen.
There were almost no dishes to clean up at the end! I just mixed the sauces up in my mixing bowl. I stuck the meat in the freezer bag directly, then I just poured the sauce on top, rinsed the bowl, and then repeated for the next one. In the end, there was really only the one mixing bowl, a whisk and a measuring cup to wash.
I loved that she had two different menus, since I'm the pickiest eater in the world. I made this one, and it was delicious! I also loved having a purpose. Knowing exactly what I needed to do next is extremely motivating to me. It helped eliminate distraction because I knew I wanted to complete this in the time set forth.
Things to think about:
Having help makes this work so much better! Someone to watch little kids while you do the work, or someone that lets the kids watch Netflix and helps you with the work. It's still possible to do it all yourself in three hours even with young kids, but you certainly won't be looking forward to your Sundays!
We failed at PB&J sandwiches. We were supposed to end up making an "crustless" sealed sandwich (like Uncrustables), but our sandwich cutter is really meant for kids and makes these super tiny "dinosaurs" without sealing the edges. I tried anyway just so I could say I did it, but that was a pain. My husband could eat 10 of those dinos before he was full so we ended up just freezing the whole PB&J sandwiches like we usually do. We were supposed to use the crusts of the PBJ sandwiches in the muffins though, so we had to use a spare bag of frozen bread.
Also, consider the size of your family. For the breakfast muffins, my husband and I would eat 2, and my toddler would eat 1. So 18 breakfast cupcakes only lasted about 3 days. It wasn't a huge deal to us, since we also have scrambled eggs, cereal and oatmeal available but just keep that in mind.
Likewise, with the peanut butter and jelly sandwiches: My husband eats two, I eat 1 and my toddler eats 1, so 20 sandwiches lasts about 5 days and the dinners we made really didn't have enough leftovers to take for lunch the next day. Just something to think about if you have your heart on two weeks worth of PB&J sandwiches.
Lastly, don't forget that you'll want to serve sides. We have a small cheap chest freezer filled with frozen veggies that we bought in bulk on sale, so that was easy to whip up, but just keep that in mind.
Was it worth it?
In a word: Yes!
Let's break it down…
Time:
We completed in three hours what we would have spent all day doing (we usually have fun too, but we would have gone between chores and fun). I loved that we were working together to "race the clock". It was easier to get the family involved when it was "an event", and not just me doing chores.
Money:
If you usually meal plan and purchase your groceries from that, you'll save quite a bit! I spent $78 on groceries for the week (plus the extra 5 days of dinners for next week). I shopped at Aldi and many of the pantry ingredients and canned ingredients I already had. If you don't have a stocked pantry, I would expect to pay under $120 for the ingredients (keeping in mind that I'm in Northern Virginia, and that grocery prices differ considerably based on where you are).
This was an awesome plan and one that we happily implemented.
Do your Sundays suck right now?
What would it mean to you to go into the week so prepared?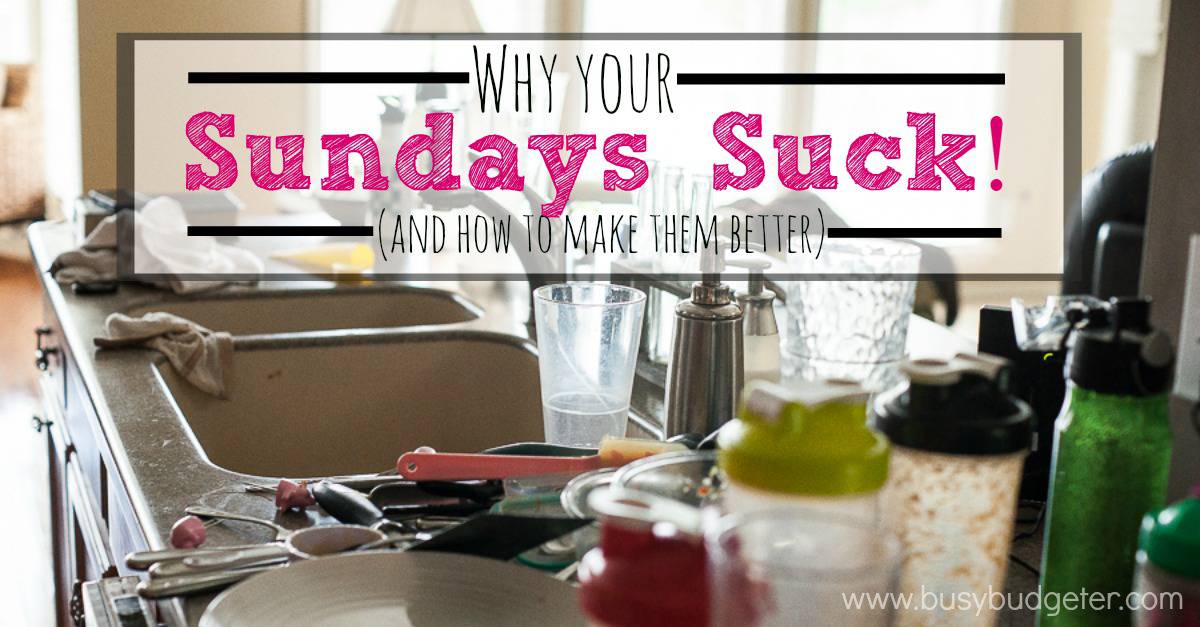 This post may contain affiliate links. If you click & make a purchase, I receive a small commission that helps keep the Busy Budgeter up and running. Read my full disclosure policy here.