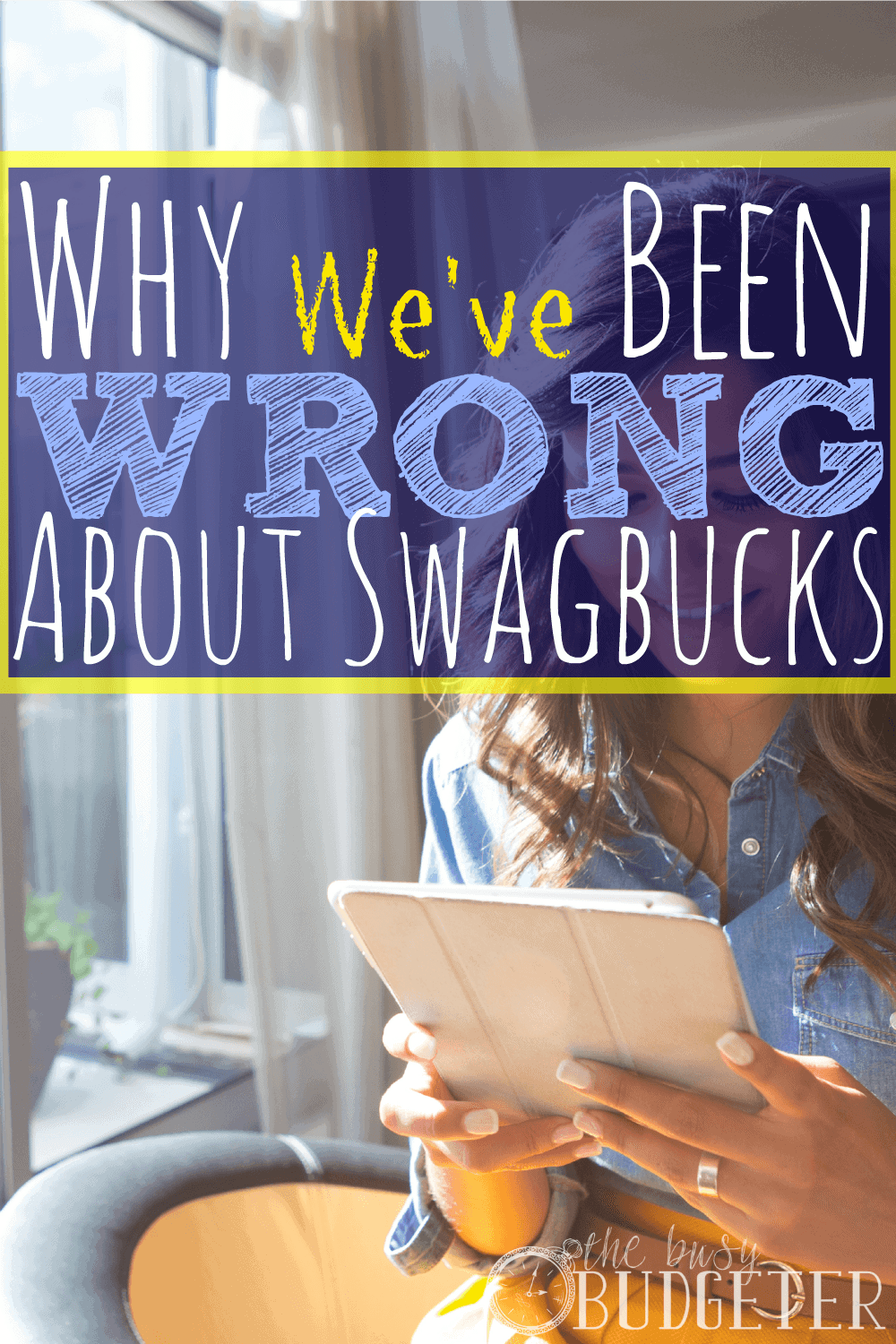 Thank you to Swagbucks for sponsoring this post! All opinions are 100% my own and not theirs (I'm pretty sure they love surveys). 🙂
I've ignored Swagbucks for a long time because I'm not a fan of taking surveys online… I just don't think that they pay out enough to make it worth my time. Over the last month or so, I've been flooded with both reader and blogger emails telling me how they used Swagbucks to pay for everything from birthdays to Christmas. Clearly, if that many of you use and love Swagbucks, then I need to sit down and try again. So I did.
I gave it another shot and was really surprised that I loved it.
What I realized was that I can customize Swagbucks to what my goals are for it. I'm not trying to make a steady monthly payout, but to make a big payout at the end of the year with minimal effort. I'll give you a quick overview of what Swagbucks is, how I use is, and how you can use it to earn gift cards (including Visa gift cards!) and Paypal transfers to pay for things like your groceries, pantry staples or special treats for your family.
Then I'll tell you why I completely changed my mind about Swagbucks and am crazy excited about them!
Will this replace a traditional job? Nope. It's a great option to earn extra money in a few minutes of free time though and is certainly more productive than surfing Facebook 20 times a day.
Here's what you need to know:
What is Swagbucks?
Swagbucks is a website and an app that rewards you with points for doing things like watching short videos, taking polls, surveys, searching the internet and taking part in offers. You can also get rewards points for online purchases that you make at most stores. The points can be redeemed for gift cards (from places like Amazon, Walmart, tons of restaurants or even a Visa gift card that can be used anywhere). If you're willing to let your points accrue for a while, then you can even get a cash transfer to your Paypal account.
How much are SB points worth?
Every SB point is worth a penny. Let me tell you, those pennies can add up quickly. We'll talk about that in a minute. You can cash out SB's for gift cards once you get to about 300 points, for my favorite reward (a $3 Amazon gift card). (Hint: When you get the gift card, apply it right away to your amazon account and it will wait your cart for you until you're ready to use it. For the calculations here, I'll use a Visa gift card as the reward, since that can be used anywhere.
What's the best way to use Swagbucks?
Here's how I think that EVERYONE should use Swagbucks, then we'll talk about how you can add some extra points past this.
When you make ANY online purchases, make Swagbucks your very first stop. Click their link to go to the store you want and make your purchase then. This gives you a certain number of points for every dollar of your purchase. These pay out much better than other popular rebate programs! I had no idea and this is why I'm so excited about swag bucks! I'm earning 20-25% more for my online purchases now with Swagbucks!
Here are a few examples of how you could make $220 for normal purchases:
(Calculations are based on current rates for SB's)
Spend $1,600 on your hotel and flight for summer vacation through Expedia and earn enough points for a $100 Visa rewards card!
Use my method to save 60% off on haircuts, color and highlights by "salon hopping" through Groupon for 8 appointments per year to earn an additional $20 Visa card.
Use Walmart.com (home products like deodorant, toilet paper etc. ships free to home and online prices are identical to the prices in my area) for your home pantry items. Spending $100/month would average about $40 in Visa gift cards in a year.
Spending $500 in a year at Amazon for things like birthday presents and Christmas presents equals about a $20 gift card every year.`
Purchasing your clothes on the popular online designer thrift store ThredUp (This is where I buy 70% of my clothes- I'm an enormous fan!) $400 in a year for your family wardrobe (they sell kids clothes too!) is worth another $20 Visa card.
If you spend $200 in a year for unique low-cost experiences for your family through Living Social deals (we've done things like haunted hayrides and zoo lights where they turn the National Zoo into a winter wonderland complete with sledding) is worth another $20 gift card.
With no extra effort on your part at all, that's $220 that you can cash in for anything (but would be particularly helpful at Christmas if you can restrain yourself).
You can sign up for Swagbucks here in less than 60 seconds (even from your mobile!) but let's go a little deeper into what Swagbucks can do for you…
How else can I earn with Swagbucks?
Search: You can earn SB for doing general internet searches. You can even make it so that the Swagbucks search bar (powered through Yahoo) is your primary search bar. This earns you a few extra SB's (they come in inconsistently, but if you're using it as your primary search bar, likely a few SB's a day will be earned.
Videos: You can earn SB for watching short videos. While the rate isn't very high for the amount earned (3 SB's for the 6 minutes of video I watched today), the videos aren't what I expected at all. I saw popular music videos, recipe how to's, celebrity gossip, and health information. They were much better than I was expecting.
Surveys: Each survey has different SB points, and you have to qualify before you can earn the SB's, but they do give you 1 SB if you're disqualified for the survey. An average survey pays 75 SB (or 75 cents) and takes about 10 minutes to complete.
You can also earn by taking their daily poll and participating in any offers they currently have. You can earn bonus SB by meeting daily SB goals as well.
Who is Swagbucks best for?
SB points for online purchases is perfect for anyone that wants to save money online with almost no additional effort! That's AMAZING. It pays more than any other rebate program I've seen. The other options are perfect to fill in as your nearing a payout (it's nice to have the option to spend a few minutes earning extra points so you can cash out quickly rather than wait until you need to make another online purchase).
If you have more time than money then the other ways to earn are a good option to kill some time and make some spare money. Keep in mind, if you're spending 6 hours a day doing Swagbucks to make extra cash, you're doing it wrong. You can have a much higher rate of return by starting your own side business. Plenty of readers have fun with this in their down time though. One of my readers that wrote in stays at home with her children and has been making $30 in gift cards every month pretty consistently and loves it.
Who is Swagbucks not for?
Well, I think EVERYONE can benefit from getting Sb's for online purchases. It's no additional time and has a great payout. For the rest of it, if you're self-employed then just stick with the online purchases. Your time will pay off at a much higher rate if you concentrate on your business and just use Swagbucks for the online rebates.
How can I make a steady income with Swagbucks?
Figure out what you want Swagbucks to do for you and then calculate it out to make sure you hit that goal.
You can use my example of how to get $220 in gift cards every year, then leave sticky notes on your computer so you remember to use it. You can also add the Swagbucks plug-in to your Chrome browser that will make sure that everything you buy that has Swagbucks associated with it will credit your account accordingly.
Or you can use the goals task bar to keep you on track for 30 Swagbucks every day (then get a bonus of 3 points). If you did that every day, you would be at about $10 a month (not counting in any online purchases).
How can I start Swagbucks with the most money?
Swagbucks has been around for over 7 years and just paid out over $100 million in gift cards and cash paid out to its members! They're giving away tons of SB's that you can use to get free gift cards or even cash back!
Here are a few other ways that you can get major points today to celebrate:
Special offers:
The Work of Millions Swag Code Extravaganza!
Discover = Earn 100 SB get a 100 SB Swag Up

nCrave = Earn 125 SB get a 100 SB Swag Up

Answer (Surveys Only) = Earn 150 SB get a 100 Swag Up

Watch Mobile = Earn 200 SB get a 100 Swag Up
You can find each of these categories on the left side of your dashboard to earn points.
You can also watch this video to get a little more insight about how you can make Swagbucks work for you. (Holiday Shopping Guys!! This will be huge for us this Holiday Season!)
There is no limit to how many SB you can earn and they never expire.
It's Simple, It's Free and It works.

Fun Fact: Sign up takes less than 60 seconds and can even be done from your mobile phone!
Do you use Swagbucks? What do you use your gift cards for?
This post is sponsored by Swagbucks and may include affiliate links. All opinions are my own.
This post may contain affiliate links. If you click & make a purchase, I receive a small commission that helps keep the Busy Budgeter up and running. Read my full disclosure policy here.