This is a sponsored post written by me on behalf of Navy Federal Credit Union for IZEA Worldwide. All opinions are 100% mine.
Savings is an important topic in our home each month but April is Military Saves Month so I'm sharing a few ways to help build savings and reach your goals.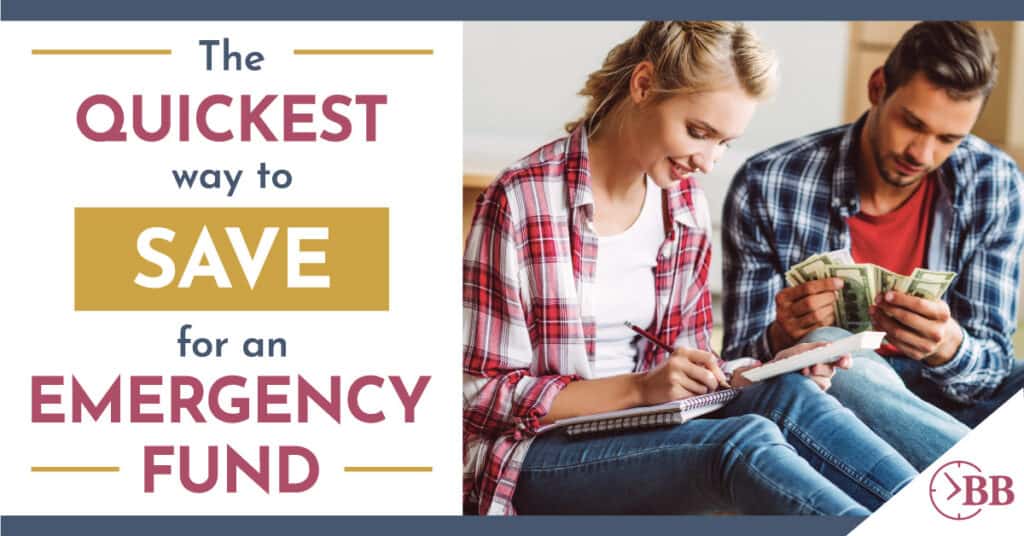 Saving at least $1000 for an emergency fund seems like an overwhelming prospect, especially when you live paycheck to paycheck… so it inevitably gets put off over and over.
Which means you never have that money there to rescue you in a crisis, because emergencies compound and make your paycheck to paycheck situation worse over time.
It's a nasty cycle, and one that's easy to fall into: so if this is you, take heart in knowing you are far from alone.
But what if I told you that with a little creativity and dedication, you could easily have $1000 or more in your emergency fund by next month?
I'm not joking.
We did it, and I'll tell you how you can do it, too.
The Quickest Way To Save For An Emergency Fund
Declutter and Sell
There's a good chance you have a ton of stuff in your house that you aren't using much anymore. It's not only taking up your valuable space, but they could be used to finance your emergency fund.
Books, clothes, toys, furniture, jewelry, movies, video games, kitchen appliances (though – tread with caution here because you may use them more in step two!), and more can be easily and painlessly sold through places like Facebook Marketplace and Mercari.
When we did this, we were shocked to come up with the first $1500 of our emergency fund goal in just a few weeks.
This not only helps make sure you have money for an emergency but also makes your living space far less cluttered and much more livable.
I call that a win-win.
Even if you don't make what we did, even if you're only able to use this tip to set aside $100-200 in an emergency fund, it still puts you way ahead of having zero.
But I bet, once you get started you probably have more to declutter and sell than you think so right now!
Reduce Food Expenses
Food is one of the easiest expenses to reduce when you're first looking to get out of debt, especially if you eat out or get take out a lot.
If you and your spouse are eating out at lunch every day and you work five days a week, that's $400 a month (at least!) that could be reduced to $150 or less by brown bagging every day for a month.
Could you challenge each other to packing lunches every day for a month?
If you only commit to that change for a month, you'll still get ahead by getting your emergency fund in shape – even if you have other habits that need to be changed over time.
Plus, you'll probably find yourself feeling healthier by making homemade meals more often!
Cut Cable
If you're still using cable to watch your favorite shows, you can save a lot of money each month by switching to a streaming service like Netflix or Hulu instead.
This is especially true if you already have Amazon Prime since the membership includes their streaming service.
It might be a big change to your routine, but trust me it'll be well worth it!
If you have several monthly subscriptions, you may also want to look at those and see which you really need.
Reduce Your Rent
This may sound like a tall order, but it might be simpler than you think!
Ask your landlord if there are any odd jobs you can do or improvements you can make to your place to reduce your monthly rent. You might be surprised!
There's a good chance they'd appreciate help with maintaining the lawn, removing snow in the winter, or spraying for pests, just to name a few possibilities. A few odd jobs could result in a monthly decrease to your rent.
Even if it's just a one-time decrease, any little bit can help you reach your goals quicker.
Negotiate Your Bills
Internet, phone, and cable providers are known for offering special deals to new customers, which is awesome, except if you're not a new customer.
Because of that, it wouldn't hurt to call and ask them to give you, their loyal customer, some of these same deals.
If you can get the same things you're used to each month but not have to pay as much, why wouldn't you?
It can be awkward to call and make the request, but you never know until you try.
Commit To Making All Your Payments On Time
It's such a small thing, but if you can get better organized and pay bills on time, you'll end up saving a ton of money on things like late fees.
Which is great, because nobody likes paying excessive fees when they don't have to.
Again, this falls under the category of, if you can get the same thing for less money, why not make it happen?
The best thing about this method is the hidden long-term results.
Build as You Go
By making these initial commitments and seeing how they work for you, you may feel more inspired to do other things that help you pay down debt and increase your emergency fund.
You might realize it's not so bad to bring your own lunch. Maybe that you even prefer it.
You might make more of an effort toward meal planning and saving money each month in your food budget instead of just the first month.
Maybe you find your own knockoff recipe from a favorite restaurant meal and start making it at home regularly instead.
You might find even more things to declutter and sell to pay off your credit cards.
You might just find that progress toward financial security is slightly addictive and find more sacrifices you're willing to make your dreams come true.
And in the end, that's the secret sauce behind this method for saving an emergency fund: a quick win that inspires you.
Because when we did this, all the things we thought would be so overwhelming turned out to be not a big deal at all.
When we committed to doing it, we were surprised by how quickly it got done.
That commitment rolled into hundreds of others, which ultimately led to us paying off all of our debt over the next 18 months.
If you want to get started, I encourage you to take the Military Saves pledge this month. It's the first step to saving big and Navy Federal Credit Union can help. Learn more about Military Saves and special offers to kick-start your savings.
When you start small and aim for a quick win, like taking the Military Saves Pledge, you never know where it will take you!
*Navy Federal Credit Union is Federally Insured by NCUA.