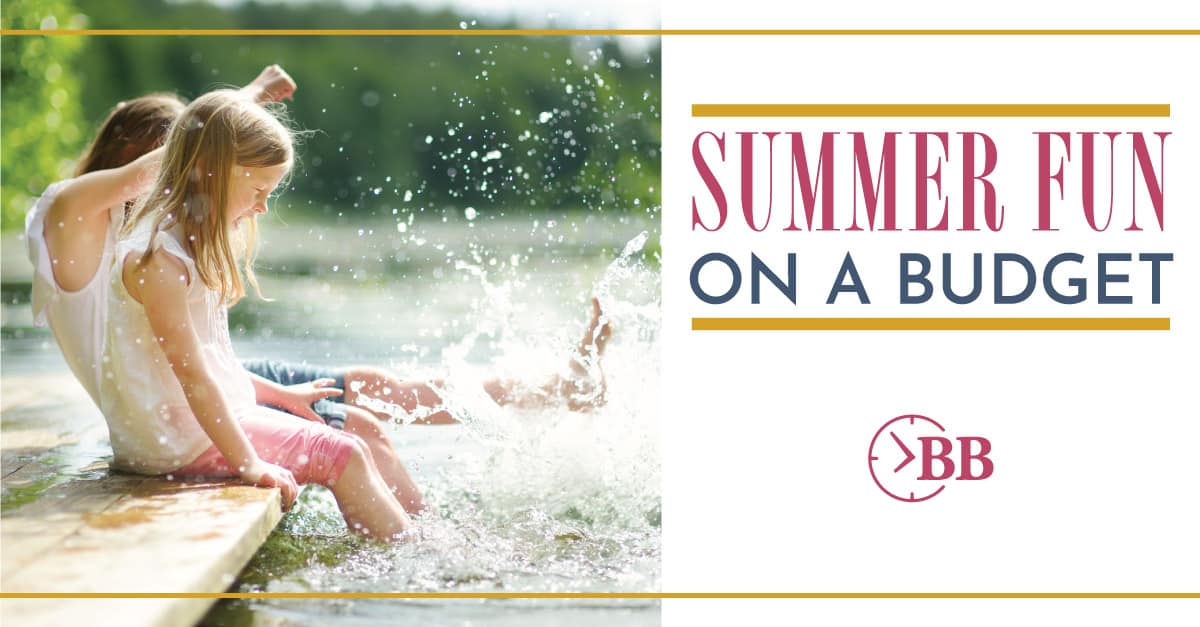 This is a sponsored post written by me on behalf of Navy Federal Credit Union. All opinions are 100% mine.
At a time when so many people are going on vacation, putting out money for theme parks, and generally living it up, it can feel really sad to be on a budget.
I get it.
But, those expensive things? They're definitely not the ONLY things to do this summer to have fun. Seriously, with the nice weather, there are actually tons of budget-friendly options! They just require a little creativity.
And, honestly? Sometimes the extra creativity makes those things that much more memorable.
If you need help getting started, here are the best cheap or free ways to have fun this summer as a family.
Summer Fun on a Budget
Family Game Night
Whether you like playing board games or video games, this is always a crowd favorite. Gather up a few games, make or buy some cheap snacks (hello Dollar Tree!), and spend the evening playing games as a family.
Worried your family will end up getting too competitive and start squabbling? Try a collaborative game like Oregon Trail, where you all play against the game itself. There are lots of collaborative games like this available, though!
Don't count this out if you have small kids, by the way, you can just enjoy playing with a game with the preschool crowd rather than trying to follow the rules. Monopoly is great for this with its fun little pieces!
Bowling
On the topic of family game night, bowling is a surprisingly cheap thing to do all summer long through the Kids Bowl Free program. It's a national program where each of your kids can get two free games every day all summer long at participating bowling alleys including weekends.
And I use the term "summer" loosely since our program goes from April to September. Sweet, right?
There's no registration fee and you don't need to pay anything except shoe rental (usually $1 – $2, but you can also buy cheap bowling shoes on Amazon if you end up going frequently.)
If you want to bowl with your kids, it's super affordable with the family pass, which is only $29.99 to have four adults bowl free all summer long.
Go Hiking
Don't be intimidated by REI ads or anything; exploring nature doesn't have to mean dropping a ton of money on equipment! All you need is some decent shoes, sunscreen, and maybe a baby carrier for the tiniest legs.
If you're not sure where to start, check out if there's a chapter of Free Forest School or Hike It Baby in your area. They're groups specifically for getting families with young kids out playing in nature.
In any case, don't feel like you need to be hardcore or anything. Find something pretty, two miles or less – and enjoy the journey more than the destination (especially when you've got kiddos with you!)
Geocaching
Geocaching is awesome – basically a real-life treasure hunt. You get clues and coordinates, and then go out and try to find the treasure.
The only rule is that once you take the treasure, you have to leave another in its place.
While most treasures are things like coins or tokens, it's not unheard of to find high dollar gift cards from a benevolent treasure hunter.
It's completely free and a ton of fun! You can find out more about geocaching and how to start in your area here.
Water Play
With the hot weather, playing in the water is basically a must. Whether you go to the pool, a beach, run through the sprinklers, make a homemade Slip n' Slide, or visit a splash pad, this is a super fun, super cheap option this summer.
There's also lots of fun cheap ideas here: https://www.parentmap.com/article/best-diy-water-play-ideas
Go Yard Sale-ing
Yard sales are the best! I love finding things for just pennies or a few dollars that I would have spent a small fortune on. We've bought everything from a Pottery Barn chair to a $300 kids ride on train and track system at yard sales (for about 98% off retail might I add!).
Plus, kids have fun. If you give a kid a few dollars and bring him yard sale-ing with you, he'll love yard sales forever and ever. He'll be poring through batman figurines for 10 cents each for an hour while you try to drag him to the next sale. (Ask me how I know!).
Family Movie Night
Who doesn't love family movie night? It's easy to make happen with a movie on Netflix, a Redbox, or rent a movie through Amazon. Popcorn is super cheap and easy to make, and you can get movie box style candy for $1 each at Walmart, which is a huge bargain over movie theater concessions.
You can make this even cheaper by borrowing a movie from the library or even from a friend!
If you live near a military base, you should also know that Navy Federal Credit Union sponsors free family movie nights at select military bases, which is kind of awesome! Here is the upcoming schedule:
See all the ways you could earn and save with Navy Federal Credit Union. If you're part of a military family or are affiliated with the DOD, you can become a Member at Navy Federal Credit Union. become a Member
Make Homemade Treats
Sure, getting treats from the ice cream truck is fun, but have you ever made ice cream in a bag? It's super cheap and kids love making it themselves.
But don't stop there! There are lots of other treats that are fun to make with your family, like popsicles, icebox cakes, ice cream sandwiches, and more.
All in all, I hope this helps you have fun with your family this summer without feeling like you have to spend a fortune!