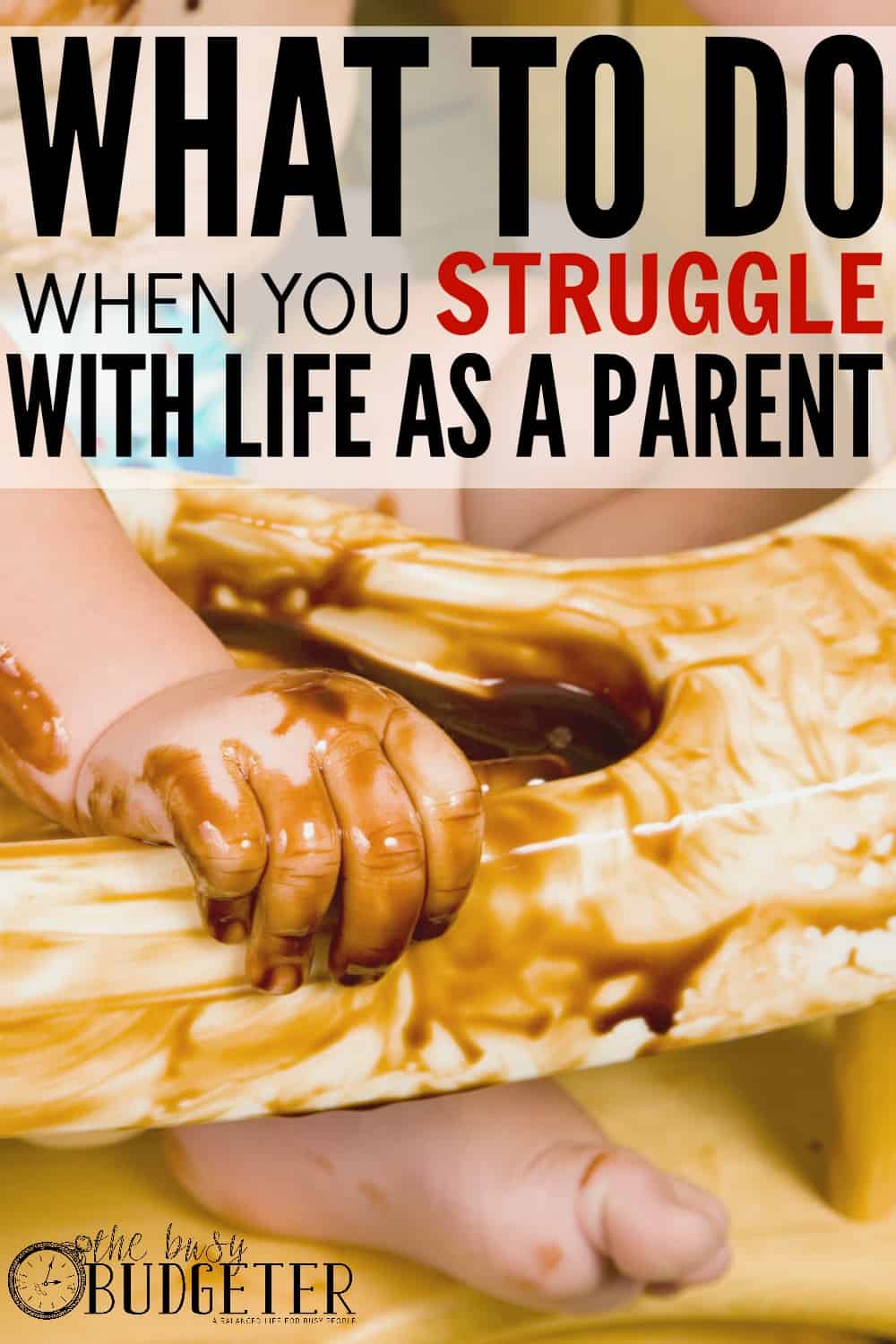 What to Do When You Struggle With Life as a Parent
Ever have a day where you feel like a mom failure? Then feel worse when you see your favorite blogger or friend with their picture-perfect life?
Here's the thing.
You don't see the whole picture.
I got a letter from a reader named Anna yesterday that made me feel about 2 inches tall. It was sweet when you read it, but it still made me feel terrible.
Anna said that felt like a complete failure. She has twin babies, and her husband comes home to "dirty babies, a dirty house, and a crying wife" every night.
They're so much in debt and they can't even get to the point of creating a budget, much less actually sticking to it. She said she loves my blog, and it usually gives her hope, but lately all she sees when she reads my posts is how she sucks in comparison and it makes her want to stop trying.
Totally not gonna lie. It made me cry. Not cute "I have sympathy for you tears", but ugly cry "I know exactly what you mean! I suck too!" crying.
I have to tell you some harsh truths about bloggers. I feel like I'm telling you that Santa Claus doesn't really exist here.
Bloggers don't tell you the whole story. Neither does Pinterest, or magazines or TV shows.
I only tell you about my wins. I realize that you're busy and don't have time to hear about my whole life (or even have an interest in that!) so I keep posts and emails to the topics and things that I feel confident will inspire or teach you something.
I know my strengths and that's what I blog about. I rock at budgeting, at becoming organized when you weren't born and raised that way and making money from home.
What you don't see is that there are so many things that I "suck" at. There are so many times when I feel exactly like Anna and I hate that I gave her the idea that I'm somehow doing better than she is.
What You Don't See…
What you don't see is that every single night at 6pm, when my 1-year-old is screaming because… I don't even know… the witching hour maybe? My 3-year-old is screaming because he can't eat animal crackers for dinner, my husband is yelling because I'm giving in to my 3-year-old (I know! I know! I'm working on it!) and I'm ready to scream because this is NOT my image of a picture perfect family dinner.
You don't see me struggling at the gym (and if we're being totally honest, eating brownies at 11 pm), because I gained 80 freaking pounds between both of my children. That's like a person. I gained a freaking person (a skinny person, but still!).
You don't see me showing up to preschool with unbrushed hair, in yoga pants and clothes that don't match covered in spit-up holding a screaming baby (which I gave a lollipop to because I'm desperate and weak).
Parenting is really hard for me. I'm a helicopter parent by heart and struggling to set and keep boundaries. There are a million times a day that I feel like a complete failure.
To make it worse, I see my friend Kari… who shows up to pre-school looking like a model, always knows the right thing to do and whose house looks like a showroom despite having 3 kids under 5.
To Anna, you aren't alone. Don't ever look at me, or anyone else and think you're not enough. You're more than enough. You can't compare your real life to my highlights reel (because that is totally what a blog is).
You are more than enough.
Your kids are so blessed to have a mom that cares enough to try. No matter how bad your day is going, they are so lucky to have you.
Repeat after me.
"I had a bad day. I'm not a bad mom."
I love my kids to pieces and you do too. Instead of listing the things you did wrong, list the things you did right.
My kids are loved.
They're safe.
They have a roof over their heads, food in their stomachs and clothes on their back.
If their biggest problem in life is a mom that gives in to animals crackers before dinner and looks like a homeless person when dropping them off for pre-school (or whatever atrocities you think you've committed against them), they're probably destined for a pretty awesome life.
When you feel like you're drowning in life as a parent. The most important thing you can do is to flip your perspective. Don't list the things you're doing wrong. List the things that you're doing right.
Stick with it Momma, you're doing awesome.
When do you struggle with life as a parent?