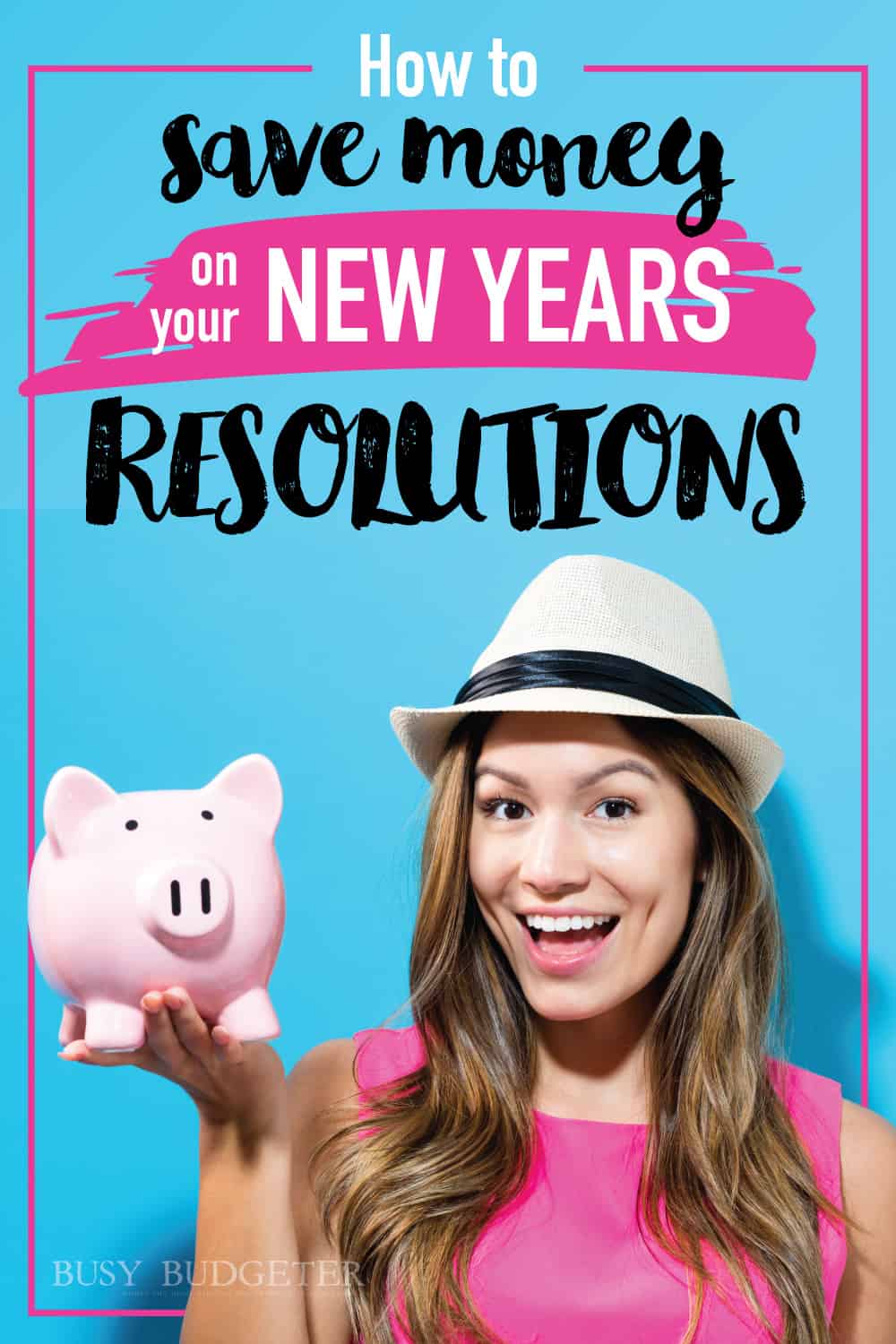 This is a sponsored post written by me on behalf of Navy Federal Credit Union for IZEA Worldwide. All opinions are 100% mine.
Can you believe it's already time to start thinking about New Year's resolutions again?
No matter how you did on this past year's resolution, you get to start again January 1st.
Of course, you want to be careful not to blow your budget on your resolutions, especially when it comes to stuff you're new at and can't really guarantee you're going to stick to. You don't want to have a bunch of unused stuff staring you in the face at the start of next year and realize you wasted a bunch of money you didn't end up doing anyway.
So this list will not only help you narrow your resolution down to a goal you'll actually stick to, but also help you save money on the top 7 resolutions people make each year.
How to save on your resolution to…
Eat healthier.
Make a concrete plan to eat healthier: does that mean you want to eat more produce? Less junk food? More protein? Whatever that looks like for you, make that your specific goal – that way you'll know where to put your money.
By the way, make sure to start small. Don't buy a bunch of veggies you have no particular plan to use if you're not used to doing so because you'll end up throwing them away in a week. Trust me, I know!
If you want to eat more produce, start by buying the stuff you know you like and can easily incorporate into meals or snacks. After that, you can maybe start to branch out with one new thing a week. That way, you don't end up with a bunch of completely new stuff you're too intimidated to actually use.
One great way to eat healthier when you're used to eating fast food is through making use of a meal planning service like FreezEasy. It's seriously foolproof and takes almost no time at all to implement, plus the meals are amazing! You won't even miss fast food, and you'll incidentally save a ton of money.
Even if you just meal plan using recipes on Pinterest or our 15 minute meals, you'll probably end up eating a lot healthier than you would have otherwise.
Get more exercise.
Again, make a concrete plan. Do you want to exercise every day for twenty minutes? Three times a week for an hour? Why do you want to do it – is it to lose weight or just to get active and feel better? Again, this will change what you spend your money on.
You can go for walks or runs pretty much for free (barring shoes, but even then you don't have to spend a fortune). There are also lots of free workout videos on YouTube you can try out.
If you want something a little more structured, there are at-home exercise subscription services like DailyBurn or Beachbody that give you workouts plus meal plans so you know exactly what you're doing.
The most expensive option, of course, is the gym, so think hard before you commit to a membership. Will it really get used, or are you more likely to pick up weights at home while you're watching TV?
It depends on who you are, really, because some people thrive working at home. Others get distracted by laundry, dishes, and all the other cleaning stuff they have to do instead. Wherever the money will be used best for you, put it there.
Save more money.
First of all, ask yourself a few questions: why do you want to save more money? What does it look like to you? What's your biggest non-essential expense each month and how could it be reduced?
Again, this is something you're probably going to want to take baby steps with so you don't burn yourself out, but the top 3 suggestions I have are:
Go on a spending freeze: a great way to kickstart a new budget in a fun challenge-y sort of way

Eat out less: This is one of the top expenses for most people, and adds up to a lot of unnecessary money spent each year.

Brutally assess your budget: Do you really need to be spending so much on what you're spending? Assessing where you are first thing is a great way to figure out what your goals need to be and what you need to change in order to reach them (like some extra blow money).
If you're ready to focus on ways you can save, you can start here… See all the ways you could earn and save with Navy Federal Credit Union.
Focus on self-care.
Maybe you're wanting to commit to getting more sleep each night, or taking more bubble baths, or getting salon services like massages or a regular manicure and pedicure. Any of these goals can be super expensive or super cheap, depending on how you make them happen.
Getting more sleep is inexpensive – just requires a little planning.
More bubble baths? You could certainly go all out and buy the expensive spa stuff, or you could DIY it instead pretty easily. Even bath bombs are pretty easy to make, and spending a little money on the supplies like a mold and stuff is going to be way cheaper than a Lush run.
When it comes to salon services, you have a few choices. You can either DIY them by doing your own nails or swapping massages with a spouse, or if you really love going to a salon, you can do them less frequently or go to a training school. Both are cheaper alternatives to going to high-end salons for your "me time".
Regardless, no matter what's most important to you when it comes to self-care, you can work out a way to fit it into your budget.
Read more.
Hi there, fellow bookworm! I love reading, and yet sometimes life gets so busy, it's hard to fit in.
Nonetheless, I definitely used to spend a ton of money on books at Barnes and Noble. I loved the brand new, hardcover copies of books – yep, the most expensive option. Hitting up the library instead easily saved me over $2000 a year!
With that in mind, if you want to read more, I definitely recommend hitting up your local library to see what they have. Even if you prefer eBooks to paper copies, most libraries now have services to allow you to check out electronic books through your Kindle/phone/other device.
Don't think reading more means you need to put out money upfront. Even if your local library doesn't have a book you want to read, you can usually either request they purchase it or get it through an interlibrary loan.
That being said, if your goal is to read more books to your kids specifically, skip the library and go to a thrift store instead! You'll save lots of money on fees when your kids rip them or spill juice on them – speaking from experience here.
Make new friends.
Luckily, this one is probably one of the cheapest on the whole list (well, aside from saving money, because its a cheap resolution in and of itself… but I digress)
Connecting with new friends doesn't have to take much money. Check out events at a local community center that sound interesting to you, join online or local groups for stuff you're interested in, even check out sites like Meetup to find people locally who want to hang out and talk about stuff you like.
You can even just go outside more regularly, whether that means going for a walk or (more expensive option) going to a coffee shop to read instead of reading cozied up in your bed. It makes for way more opportunities to meet new people while also possibly hitting another of your goals!
Learn a new skill/hobby
Maybe this is the year you want to learn Spanish or be able to knit your whole family scarves for Christmas or something fun like you want to learn to juggle. Whatever the case may be, there's a way to save money on it.
One of my favorite resources for free lessons is YouTube – you can learn how to do pretty much anything there, like the family who built their own house through YouTube tutorials. If they can do that, you can definitely learn to play Smoke on the Water on guitar with them.
If what you want to do requires a little more intensive training or you just want a more guided approach, check out Groupon for classes or tutors near you at a deep discount. I've even seen discounted Rosetta Stone memberships on there if you're interested in learning a new language.
That reminds me, be sure to talk to the people at your local library about the stuff you want to learn. They might have an interest group for it, or in the case of language learning, they'll probably have books/CDs or some even offer free access to Rosetta Stone with your library card.
Your library isn't just for books anymore!
Regardless of what your goal is this year, it doesn't have to break your budget. Become a Member of Navy Federal Credit Union and learn about managing your budget in the new year.