Always running late is a classic symptom of being a hot mess. (So is not showing up or forgetting about appointments, but that's a different hack).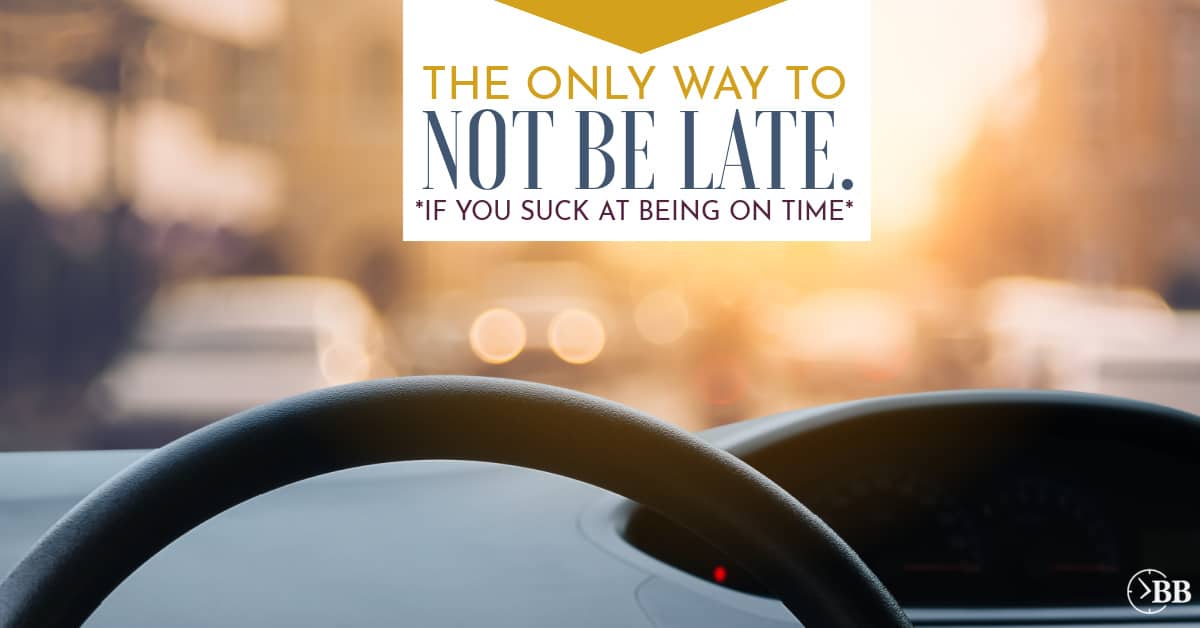 Sometimes running late is slightly embarrassing (like when you leave a friend waiting for you at brunch for 10 minutes), sometimes it's a HUGE DEAL (like when you miss a plane or are chronically late for work), and sometimes it's fine… but you still feel stressed and flustered on your way there.
I get it.
In my hot mess days, I had a long history of being late to everything (on the occasions I actually remembered to go).
Once I learned how to work with my personality (instead of against it) and completely transformed my home (and life!) in a few short months using bare minimum effort on a consistent basis… I'm the person that's there 10 minutes early.
And it's not just me. This has worked for almost everyone that's tried it.
Of course, learning the planner system that works with your unique personality helps a lot because then you know you won't forget about events.
But there's one extra little hack that will teach you how not to be late for good.
Every event you put into your planner, write down the time you need to walk out the door. NOT the time you have to be there.
So, if your daughter has gymnastics at 5 pm every day, and it takes 20 minutes to get there…
Log it in your planner as "4:30pm- gymnastics."
*Note: you always want to leave 5-10 minutes before the needed travel time because life happens. This gives you a buffer if you need to get gas, run into traffic, someone forget shoes*, etc.
Pro tip: Keep something in the car that you look forward to doing. Something to occupy you for those few extra minutes while you wait at your appointment. Most people just scroll their phones. But we've had readers keep a journal and pen, or a book or magazine in their car.
This is such a simple switch but it works immediately for almost everyone.
Try it and tell me how it goes?
P.S. If you don't consistently use a planner right now, I can fix that. Guaranteed results for free. 🙂
You can use any planner in the world, (we have a popular one for total home and life management ) but this system literally works with even a dollar store planner.
Works on even the toughest cases of chronic overwhelm.
*P.P.S. Please tell me I'm not the only mother of a child that will walk out to a car without shoes? Seriously. Who does that?