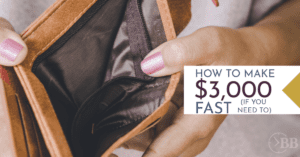 When my husband and I discussed how we could possibly live on a single income, we had the number $3,000 stuck in our minds. That was about the amount it would take (per month) to bridge the gap between "our income" and "his income." It would give us enough money for me to stay at home with our baby and keep paying along on our bills…but we had NO idea how to make $3,000 fast.
Update: 4/5/20 I know how stressful finances are right now with stay at home orders and the pandemic. I also know that I'm uniquely qualified to help you. I've helped hundreds of thousands of people get out of the paycheck to paycheck cycle (after trying and failing for years), by teaching them how to work with their unique personality to actually stick to a budget.
I'm giving you access to the insanely popular 90 Day Budget Bootcamp for FREE. Because I know that this program will change every aspect of your life. Take a look around. Because this is the LAST DAY you will ever sit around worrying about money. Let's get to work.
Join the 90-day Budget Bootcamp for FREE here…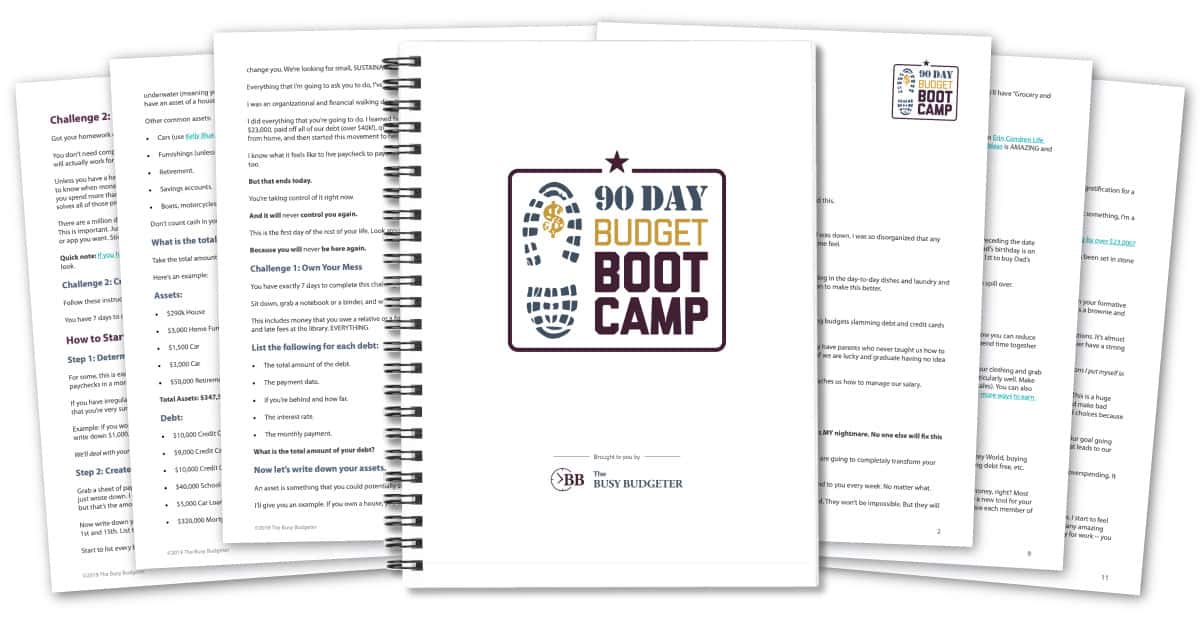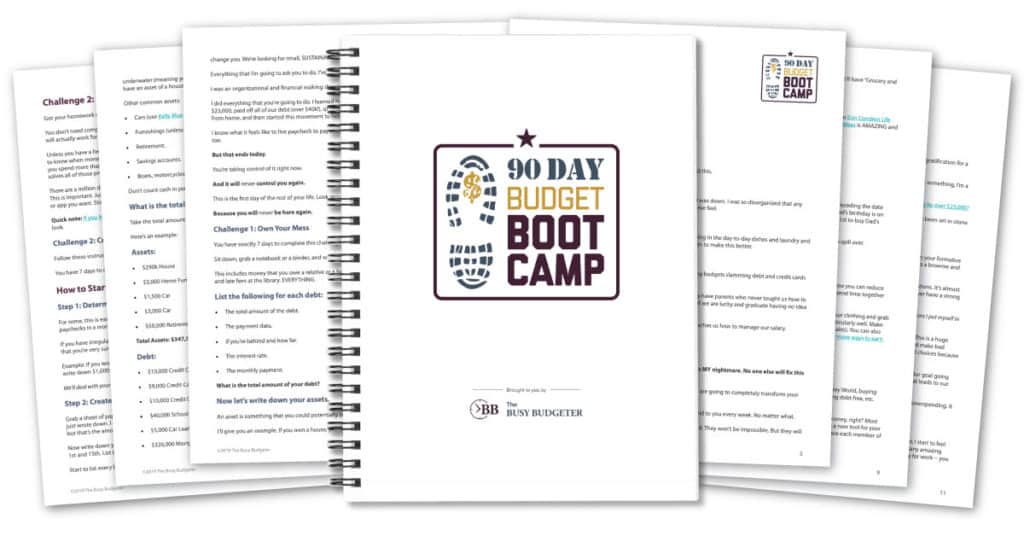 I'll tell ya, the thought of bringing home $3,000 on my own (without a solid 9-to-5 office job) was pretty darn scary. At most jobs, you know the company could go under or something crazy could happen and you'd get fired. But for the most part, it's stable. You go to work and you get a paycheck. Done and done. As long as you do the work, paying YOU is your boss' worry.
But figuring out how to earn money from home on your own? Now THAT'S quite a bit more complicated! You're responsible for making income happen. There are lots of ways to earn money from home, but not all of them seem reliable or even possible for some. Plus, what if it doesn't happen right away?
After all, even if you have a plan (mine was to do childcare from home, blog, and work on user testing), there's going to be a lapse between the time you leave your job and the time you get your new job set up.
There's always those fears and doubts to battle, too. Like, what if I can't do this? What if we fail? What if we can't pay our bills? $3,000 seemed like so much money to generate, especially in those first few months. I decided I didn't mind going without and cutting back a little (temporarily)…but life's too short to live too tightly, especially when you're married to someone who's not quite as frugal!
We knew we'd need to generate a little extra money right away, before regular childcare payments came in. I was just starting to turn a profit on my blog, but not enough to rely on. I could do user testing, but that would only generate a few hundred dollars. My husband could pick up some extra work, but with a new baby, we'd hardly see each other.
So we came up with a plan of how we were going to bridge that gap, and we figured out how to make $3,000 fast!
Sell Your Extra Stuff
Since I was facing a little time at home with our new infant, it was a perfect time to do some organizing and "nesting." When I first got married, it took me a while to realize that I was lacking in some basic life skills. Things like letting the dishes pile up and leaving the bed unmade were basically making me feel like I was in constant disarray. I felt totally overwhelmed.
One day it finally clicked. I realized that if I just did the basics like dishes and laundry regularly, I wouldn't get so overwhelmed when they piled up. It was a hard habit to break and it took me awhile, but one of the main things I learned along the way is that it's easier to stay organized if you have less stuff.
Even with this less-is-more mentality, we had amassed quite a few things around our house we just weren't using. Videogames, DVDs, collectable items, toys, books, and clothes that didn't quite fit or weren't our style anymore.
I did a HUGE cleanout. I organized closets, the basement, the garage, and all of our storage. I was able to take all of that "stuff" that we no longer needed and post it up on Craigslist, eBay and Facebook. We were able to make almost $2000 pretty quickly, just from selling stuff we didn't need.
Look around your home and go through anything you think you might be willing to part with. Gently used purses, coats, shoes, sports equipment, kids items, tools and yard equipment—ALL of it can find a new home and help you bring in some money.
If you have big furniture to sell, try Craigslist or list it on your neighborhood group or Facebook. This also works well for bulky items like lawn care tools, small appliances, and kids' toys.
For smaller items, you can try eBay, which works especially well for high value items such as jewelry, purses and collectables. Sports memorabilia goes fast on eBay, and so does anything vintage.
If you want to sell clothes, you can try Poshmark, threadUP or DePop or use eBay. When selling clothes on eBay, listing them in batches by size, color, or "lots" of similar items can be a good strategy to make them move quickly.
Thrift and Re-Sell
For a while I tried "eBay-ing" thrifted clothing. I'd look for brand name items, like jeans, concert t-shirts, and tops in good condition. It meant regularly visiting thrift stores and sorting through a lot of not-so-great stuff, looking for items that I could sell for some money. I didn't love it but it was profitable and paid me about $2,000 over the two months that I did it.
That said, I know quite a few people who DO love looking for items at garage sales and yard sales, or at thrift stores. Some of these items can be refurbished or "upcycled" into something incredible, then resold for extra cash. If you're creative, good at basic repairs, or familiar with refinishing furniture, you might really love this idea.
With furniture, you can refurbish it and sell it on Craigslist or even at local consignment shops. Looking for items that have good "bones" or structure, or are made from quality materials can really help. Sometimes with a little sanding and some stain, you can take a curbside find from trash to treasure.
As for other items, if you want to try your hand at thrifting for collectibles, or designer clothing and accessories, keep an eye out for quality items that need little repair. Watch for designer names and always be very honest in your presentation of these items online. If they have a little chip, tear or other flaw, document it clearly and be upfront about it.
Virtual Jobs
I've tried a number of virtual jobs and the two I really enjoyed were mystery shopping and UserTesting. TrendSource offers mystery shopper positions where you simply get paid to shop! It's easy and enjoyable. When I first started working at home, these were my go-to jobs.
If you love writing, but you aren't ready to take the plunge into blogging, or if you just haven't started earning income on your blog yet, you should consider freelance work. You could also become a virtual assistant or try your hand at surveys and games through InboxDollars or Swagbucks. You can also sell your services and talents on Fiverr.
My virtual jobs brought in about $200 per month, with very little effort. Basically, I'd just click around during naptime or while the kids were playing and I was able to earn some extra money, which helped us close up the deficit in our income.
Longer-Term Strategies
So, after figuring out a few ways to make that $3,000 per month happen in the first few months, I was able to start earning about $2200 per month from babysitting kids from my house. That job gave me a steady income I could rely on, while still allowing me to pick up a few of the side hustles mentioned above.
For other people, maybe childcare isn't your preferred strategy. But perhaps you have experience with marketing, so you could start a consulting business. Maybe you have an accounting background and you'd like to do taxes from home. Perhaps you have a skill you can teach, or maybe you love working with the elderly or with animals. Whatever your niche and talents, find a way to use them to work toward creating a job you love.
Although I started out doing childcare, the biggest long-term strategy was working on my blog. At the time I started it, I was just trying to find ways to make up the difference between my childcare income and my former salary. Nowadays, it's grown into SO much more.
You won't earn $3,000 overnight when you become a blogger, but if you do your research, stay true to yourself, and use your resources, it can happen. When I first started, I never dreamed I would enjoy it as much as I do or make even close to the income I make from blogging. Not only that, but it's been one of the easiest jobs I've ever done. If I can do it, I promise you can, too.
If you're ready to start a blog, it helps to plan a few months in advance so you can bring in some money and bridge the gap. One of the best guides I picked up on the subject of blogging was The First 10 Steps to a Profitable Blog. Then, when I saved up enough, I joined the Elite Blog Academy, which helped me learn from other bloggers and figure out how to earn money blogging.
I joined Elite Blog Academy (affectionately called EBA by it's students), which brought me from $18/month to full time income with my blog in just 10 months. Within 18 months, I was making over $20,000 a month from my blog. EBA taught me in a stupid simple way that let me see success without getting overwhelmed by the process.
Fair warning though, the downside to EBA is that it's only available for 5 days a year, without getting on the waiting list here– it's unlikely you'll even have a chance to get into the class.
I'm not a tech-savvy person and I never even thought of myself as an entrepreneur. I just had a goal: I really wanted to stay home with my kids, so I knew I needed to figure out ways to earn money to help make that happen.
Even a goal of $3,000 is achievable in a short amount of time. Look at what you have that you can immediately part with, set up your longer-term strategy, and get to work. You'll be amazed at what you can do!
Let me know what side hustles you've found and what other income sources help you bridge the gap and meet your financial goals!
P.S. I tried to keep this short and helpful for someone trying to make $3,000 fast, but have a super in depth complete guide to making extra money that you should probably look through here.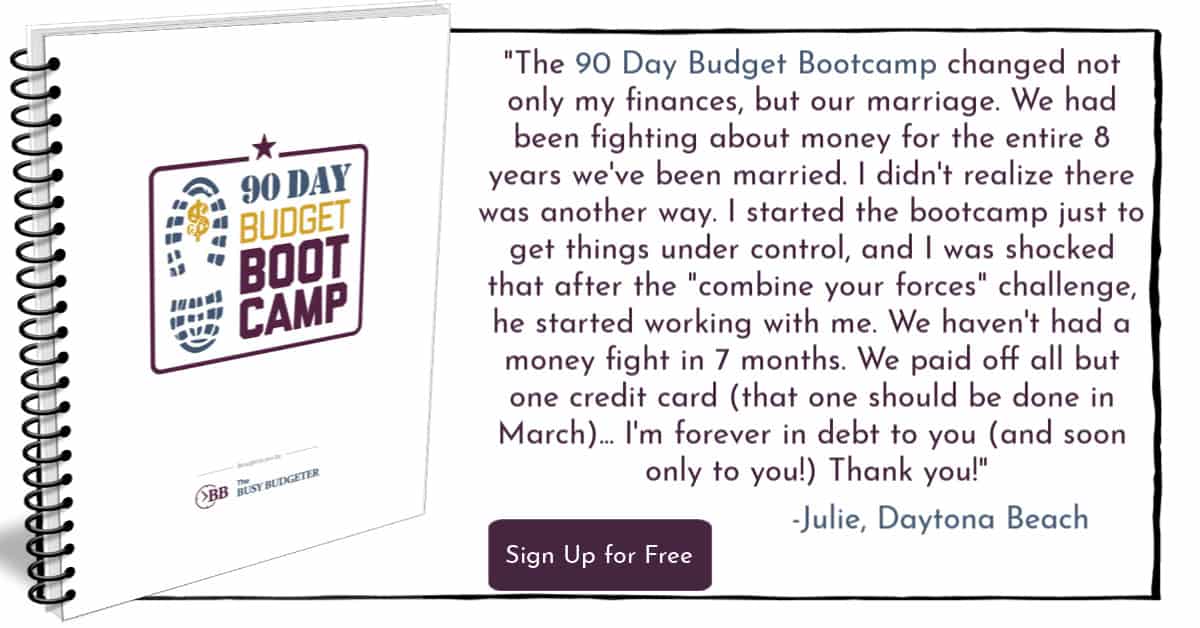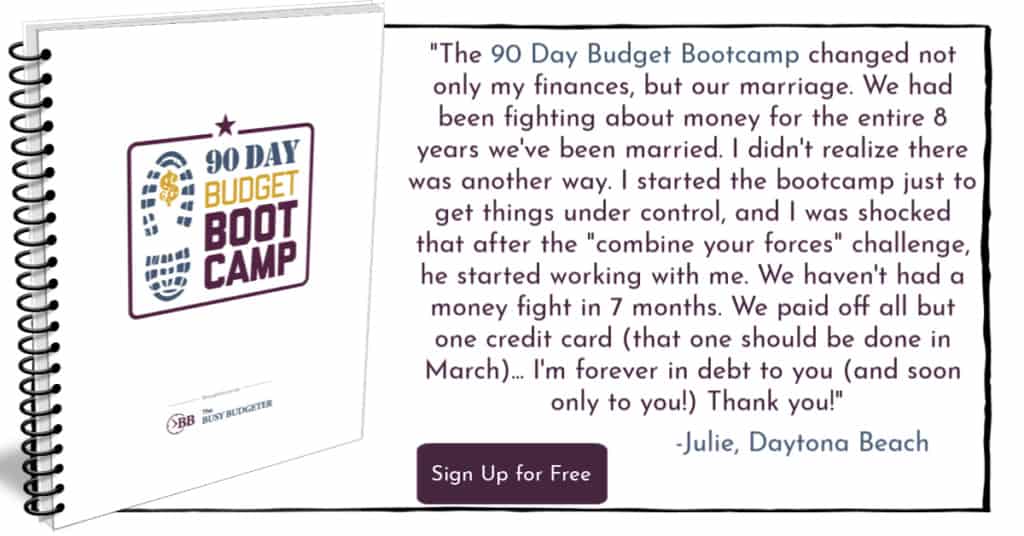 P.P.S. While it won't make you extra money in the traditional sense, if you struggle with budgeting and spending money that you probably shouldn't- then the 90 day budget boot-camp is life changing. We teach you proven hacks to actually sticking to the budget using your unique personality. Plus it's free for a limited time. 🙂 You can sign up for the 90 Day Budget Boot-camp here.