This is a guest post written by one of my best friends, Diona, who shares my love of bargain hunting and recently discovered how to get the cheapest printer ink.
My printer sat in our office for an entire year all alone. It sat untouched, unloved and collecting dust because it was out of ink. There was no way I was goofing up my budget on printer ink. I had more important things to buy.
Sure there were lots of times when I really wanted to print something out. I've passed up printing out monthly planners, pictures, recipes and new patient forms. I refused to pay the high dollar prices for ink. So, I did without.

I really tried to convince myself that having "printing capabilities" wasn't a household necessity. Does everyone have printers? I haven't taken a poll, but most of my friends have one. Ok, all of my friends have a printer and some of them can print via Wi-Fi.

My husband and I decided we would revisit the idea of getting the cost of printer ink into our budget. We have a Hewlett Packard Ink Jet (love this printer by the way) that takes #920 cartridges. Best Buy had the color package for $28 and the black XL ink for $35. This highway robbery for ink should be addressed by the President!
One day I was surfing around Pinterest and I see a "life hack" about printer ink. Costco lovers, I'm about to tell you why
your membership just got paid for by your printer. People, you can take your empty cartridges to the Costco Photo department and get them refilled while you shop, in about an hour. You're only going to pay about $10 per cartridge!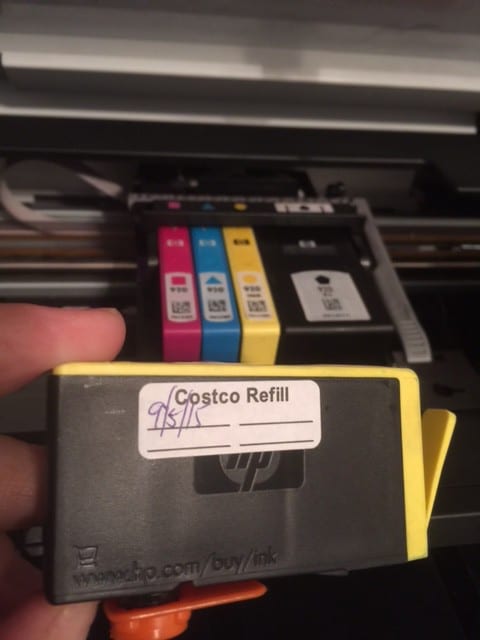 When I found out this little tidbit of information, my husband and I raced up to Costco and became Gold Star Members for this reason alone. I absolutely felt like I had won some kind of ink lottery. My head was spinning from all the printing possibilities.
But wait a minute! What if the quality isn't the same? Will it fit in the printer the same as before? What if I flat out just don't like what Costco sold to me? So I went online to find out!
I looked up the Costco Photo Center at costcoinkjetrefill.com. There, I found answers to every single question I had. They even had answers that I didn't even think to ask questions for like, "will using a refilled ink cartridge affect the warranty of my printer? No." There is a FAQ/Tips tab that has most of the information you could possibly ever need about your ink cartridges. It was so easy to find, what's the catch I wondered?
No bait and switch here. They clearly spell out what brands they are able to refill. You can search by printer, by cartridge or by brand to find out if Costco is able to service your type of ink jet cartridge. There is also a section that troubleshoots for you.
Now be aware that using a refilled cartridge may confuse your printer. If you experience any hiccups in using a Costco
refilled cartridge, refer to their website and look under the support tab. I love this feature because I like to try to find the solution on my own most of the time. The easy to navigate site is perfect for the folks who need to know an answer but don't necessarily want to call the store right away.
Here's what my experience with this whole process was. We joined Costco as Gold Members for $55. I turned in my three cartridges to the photo clerk. A pizza and an hour later I picked up my ink. When I got home, I immediately went to try out this new ink that I'd just joined a warehouse club to get!
After installing the Yellow, the panel screen gave me an "!" meaning there was an issue with my yellow ink of which I ignored. I found a suitable picture of a banana to test out the yellowness and hit the print button. My printer beeped at me and proceeds to print out a perfect picture of the banana. I felt victorious.
Friends, I haven't even told you the best part of this whole ink experience. As luck would have it, the ink was on sale. Valid now thru Sept 27th 2015 there is a $2 off coupon limit 2 cartridges. I paid under $20 for my three ink jet cartridges! You can find more info here.
I'm guessing this isn't rocket science, but the savings will offset our membership cost. My husband could use the printer for work-related printing and I plan on doing a bit of homeschool printing for my toddler. Is having a reliable source of ink for my printer going to cook my supper for me? Um, well no. But it could print out the yummy pot roast recipe that will have my family singing my praises!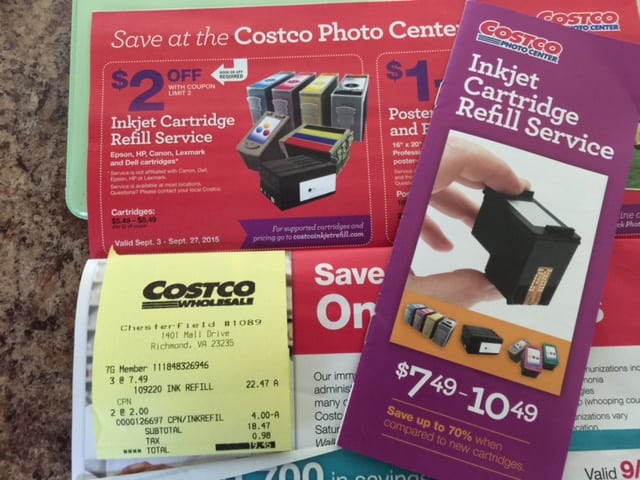 What do you use your printer for?

Diona Culbertson is married to a Medflight pilot and is a stay at home mom of a super busy 1 year old. She is on a mission to find the perfect recipe for chocolate chip cookies and pot roast. When she's not cleaning up cereal or finger prints her hobbies are gardening, sudoku puzzles and baking. She is interested in becoming a writer.
This post may contain affiliate links. If you click & make a purchase, I receive a small commission that helps keep the Busy Budgeter up and running. Read my full disclosure policy here.disclosure policy here.