Ever tried to make a DIY family command center in your house?
They were all the rage for a while on Pinterest when millions of people set them up with very optimistic plans to use them every week…
They were set up with good intentions but most of them were abandoned when more important projects came up.
Because while the concept of a command center is great….
One dedicated wall to lay out your week and get everyone on the same page…
In practice… It's one more thing to update and maintain on your to-do list and it's less effective than using a planner (something else people struggle with maintaining unless they're lucky enough to have learned this trick).
But the biggest issue?
Who in their right mind wants to stand at their wall and update their entire week in dry erase marker?
Ain't nobody got time for that.
While it might sound like I'm anti-command center, I'm not.
Far from it.
I have a command center and have used it for years. It doesn't replace my planner (this easy planner routine was life-changing for me after years of never being able to stick to using a planner).
Here's the secret to setting up a command center…
That actually works

Is unique to your family

That's easy to update
Clipboard Command Centers
I use clipboards (These are my current favorite) in my command center because it makes it so easy to use and update. Plus, you just grab them off the wall and take them to the couch to work on.
You can easily mount them anywhere with 3m hooks (I use these), so there's no waiting to convince someone to hang them for you…
You can be up and running in minutes.
If you want to work with dry erase, you just take the printables to the office supply store (like Staples) and get the sheets laminated for a few dollars and invest in extra thin Expo markers.
Then just stick them right on the clipboards.
What I put up on our command center has changed frequently over the years as our family has changed, but right now…
My DIY FAMILY COMMAND CENTER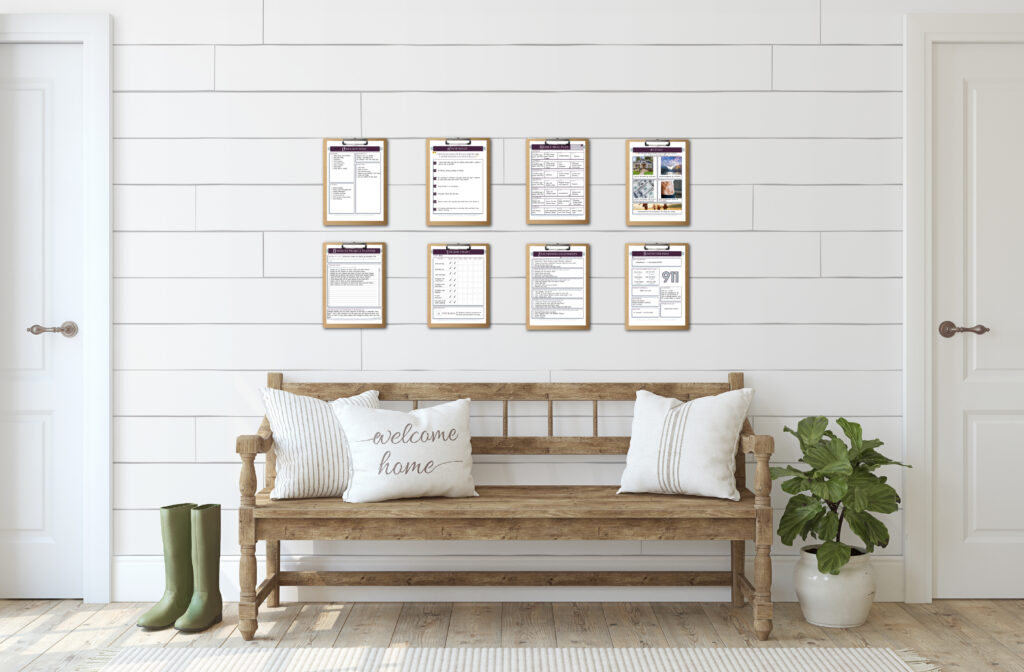 A monthly calendar – To see the overview of the entire month and so that the kids can see what's coming up and what we're doing without going through my planner. I used to use the Command Center Printables Calendar but upgraded when I found the Erin Condren dry erase calendar because the dry erase board is separate from the frame.
It's easy to pull out every month and move it to the table to update. Plus, Erin Condren sells photo circle magnets, number circles, and magnetic labels so I get have my calendar filled out with just magnets.
My dinner inspiration chart- This just stays there so I can easily make meal plans knowing all fo our favorite basics without needing to think about them.
Our weekly meal plan – Note:
You can also save these with shopping lists and then rotate them through for ridiculously simple meal planning.
Our goals- I love having our current goals written down where we can easily see them every day.
Kids chore charts- We laminate these and the kids check off their chores every day with an Expo marker (that I keep attached to their boards to make it easy. I get expo click and then attach it with bracelet floss to their clipboard).
(Chores not done = no screen time).
Babysitter info – I laminate this and have all of our numbers, our neighbor's numbers, emergency numbers, our home address (because most babysitters will have no idea your address if they need to call 911) always up so I never have to remember it and don't need to worry about it.
But… a command center is unique to your family. The things that you include in your DIY family command center may be completely different than mine.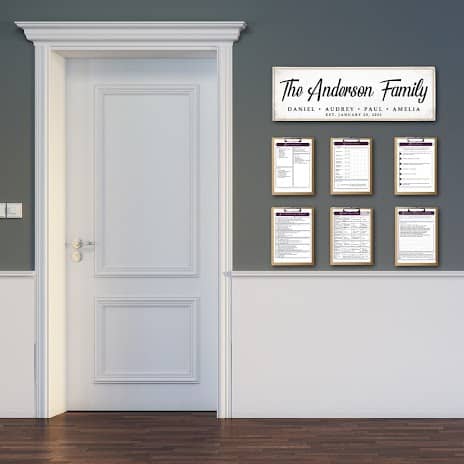 We have an entire Command Center Printables system available that includes 39 pages of directions and printables to build your unique clipboard command center.
Not only does it have 20 printables designed to get everyone on the same page and help organize your life, but it also includes step by step directions of how to build a command center that will work for your unique family.
It usually retails for $27, but for right now, you can get it for just $8.97!
You can grab the Command Center Printables here…
Here's what you need to know…
The

Command Center Printables system

is our printable system that

teaches you step by step how to set up a gorgeous functional DIY family command center that you'll actually use in your house.

It's not included in any other program or system that we sell,

it's a stand-alone product that complements and works with our other programs and systems.

The system is meant to instantly get your entire family on the same page and set up your weeks for easy wins.

You can set up your command center in less than 2 minutes.

It's easy to reposition and requires no drilling, nails, or DIY skills. Literally, ANYONE can set this up.

It's a printable system with free updates,

so any additional printables that are added to the system in the future, you get them for free (That's an introductory offer only available for the next few weeks.)

You'll also need to purchase clipboards that you love (which can be found for a little over $1) and 3m command hooks (about $5), both available at Walmart, Amazon, Staples, or Target. A supply list and step-by-step instructions are included with your

Command Center Printables

.

It's backed by a 100 day, 100% money back guarantee. 🙂
Does this system come with clipboards?
It doesn't! We want you to use clipboards that work with your own personal style. But we do give you step by step instructions for setting the entire system up (no DIY skills needed).
Is this shipped to me or do I print this at home? (What if I don't have a printer?)
To keep costs down and to make sure you have lifetime access with free updates, this is a printable system. This is GREAT news for you because it means you pay for the system once. And you can use them over and over again with no additional costs!
If you don't have a printer, we suggest you send the file to an online discount printer service (the current cheapest one we could find is Lulu's printing) to have this printed and shipped to you for just a few dollars.
I have your other programs, is this included with one of those?
Nope! Command Center Printables is separate from our signature program Hot Mess to Home Success and isn't included in that or any of our other products.
Does this replace using a planner?
It doesn't! Or at least, it shouldn't. Your new command center will work with your planner giving you a permanent and easily visible space to help get everyone on the same page. But you'll still need a planner to plan ahead.
Can I see what printables are included? (What if I need one that you don't have?)
Absolutely!
The Command Center Printables include:
Daily Routines

15 Minute Project Planner

Budget Meeting

Daily Plan

Monthly Budget Overview

Brainstorming Page

Easy Dinner Cheat Sheets

Errands List

Babysitter Info

Weekly Schedule

Goals List

Grocery List

House Rules

Breakfast Planner (Monthly)

Lunch Planner (Monthly)

Dinner Planner (Monthly)

Chore Chart & Rewards Chart

Weekly Meal Plan
We have a request system in place for the pintables you'd like that we don't currently have. Plus, future updates to Command Center Printables are included in the current purchase price.
Do you have a money back guarantee?
Yes! We have a 100 Day, 100% money back guarantee. No questions asked.
Grab the Command Center Printables Here for just $8.97 (66% off!) PLUS GET FREE ACCESS to ALL FUTURE UPDATES)!
Free Home Management Help
If you need more help than just setting up a family command center, then I can help with that too. If you need a super fast (and free) way to get your house under control that EVEN YOU will be able to keep up with (No matter how many times, you've tried and failed before), you can get Trashed to Total Home Transformation for free right now. This is the starter program for Hot Mess to Home Success and will help you get your trashed house clean and organized (even amid all the crazy that is your life). It uses your unique personality and bare minimum effort so that you can see results before Hot Mess to Home Success opens for enrollment next year.
Grab it now though, before the offer's up (I'll update this when that offer expires). Grab Trashed to Total Home Transformation here…