Spring is finally here! Flowers, sunshine, and suddenly Easter is already right around the corner!
Springtime brings that GREAT fresh feeling into our home every year – I just love it. What better way to liven up our homes after a long winter than with some fun DIY Easter crafts?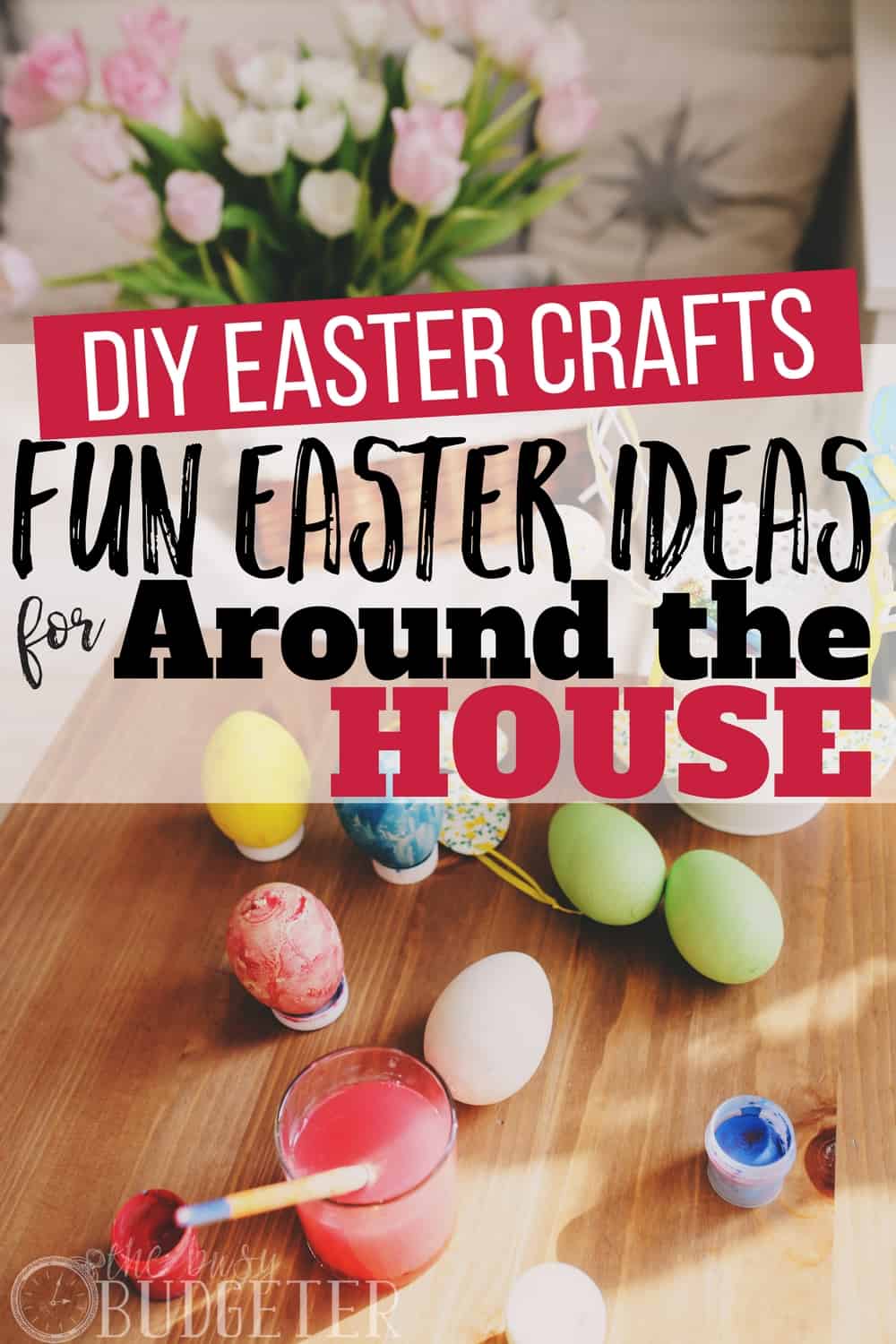 Springtime is a great season because it lifts everyone's spirits. And what else happens in Spring? That's right, Easter! The Easter holiday is the perfect time for fun, colorful decorations, Easter egg hunts, candy, and super-cute bunnies.
You all know that I just LOVE anything and everything DIY. So obviously I'm a fan of DIY Easter crafts. Every year, I look forward to all of the beautiful, creative, and fun ideas people come up with for Easter home decorations.
If you're like me and love FUN DIY crafts, this list is perfect for you! I've pulled together some of my favorite Easter craft ideas that are easy to make, totally affordable, and they'll look great around the house this Easter!
So here you go! Here's my list of DIY Easter crafts and fun Easter ideas and decorations for around the house.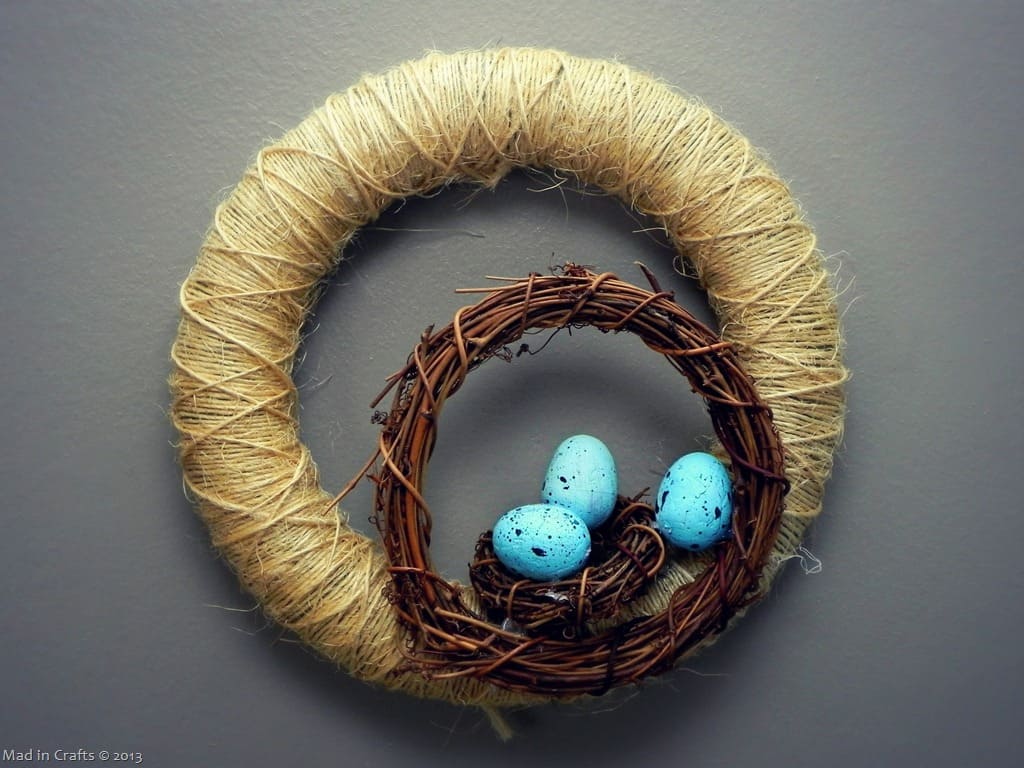 This wreath is the perfect addition to any door or wall in your home. You can get ALL the materials you need from the Dollar Store and it's super easy to put together! The style is elegant and rustic, but still so perfect for pretty much any type of home décor you already have.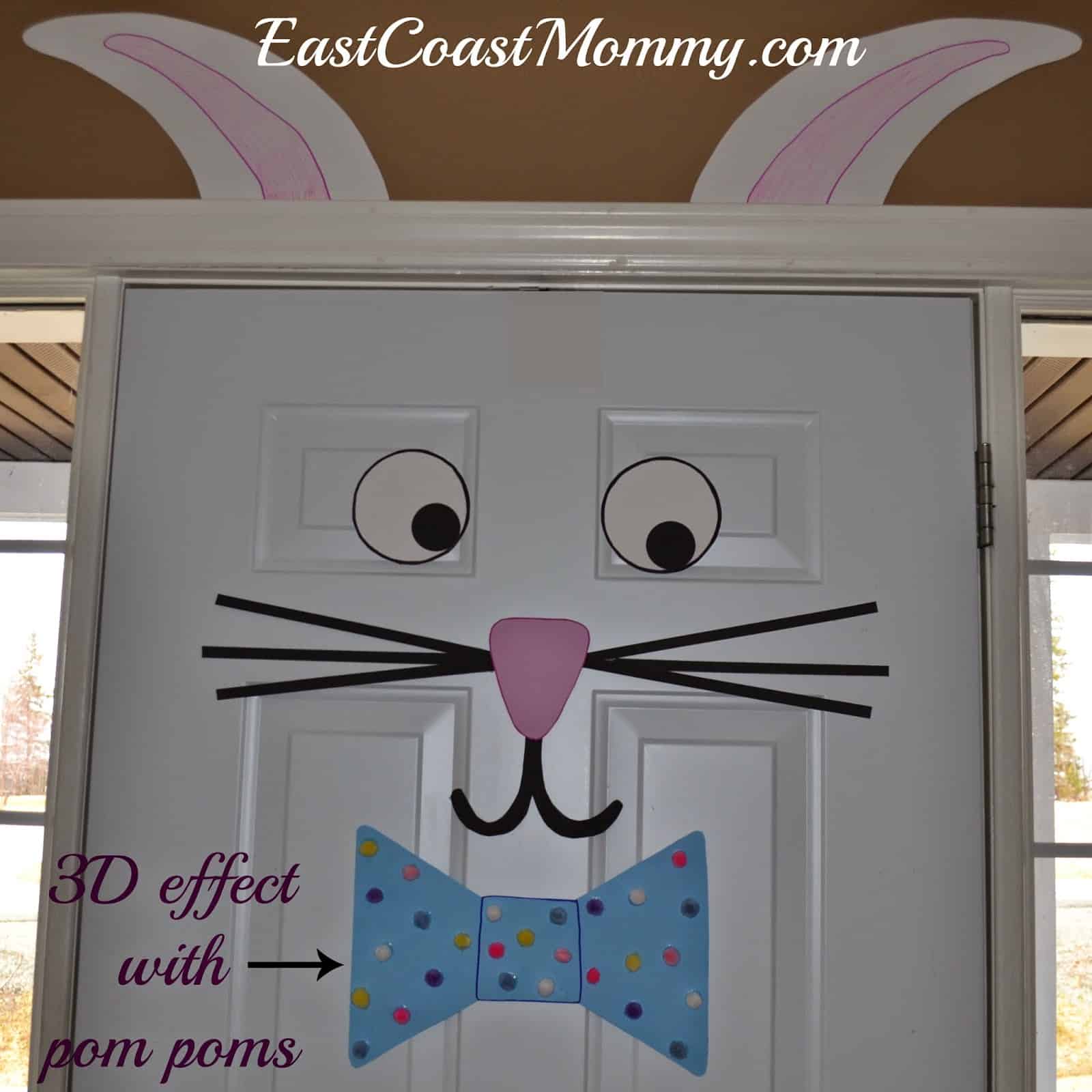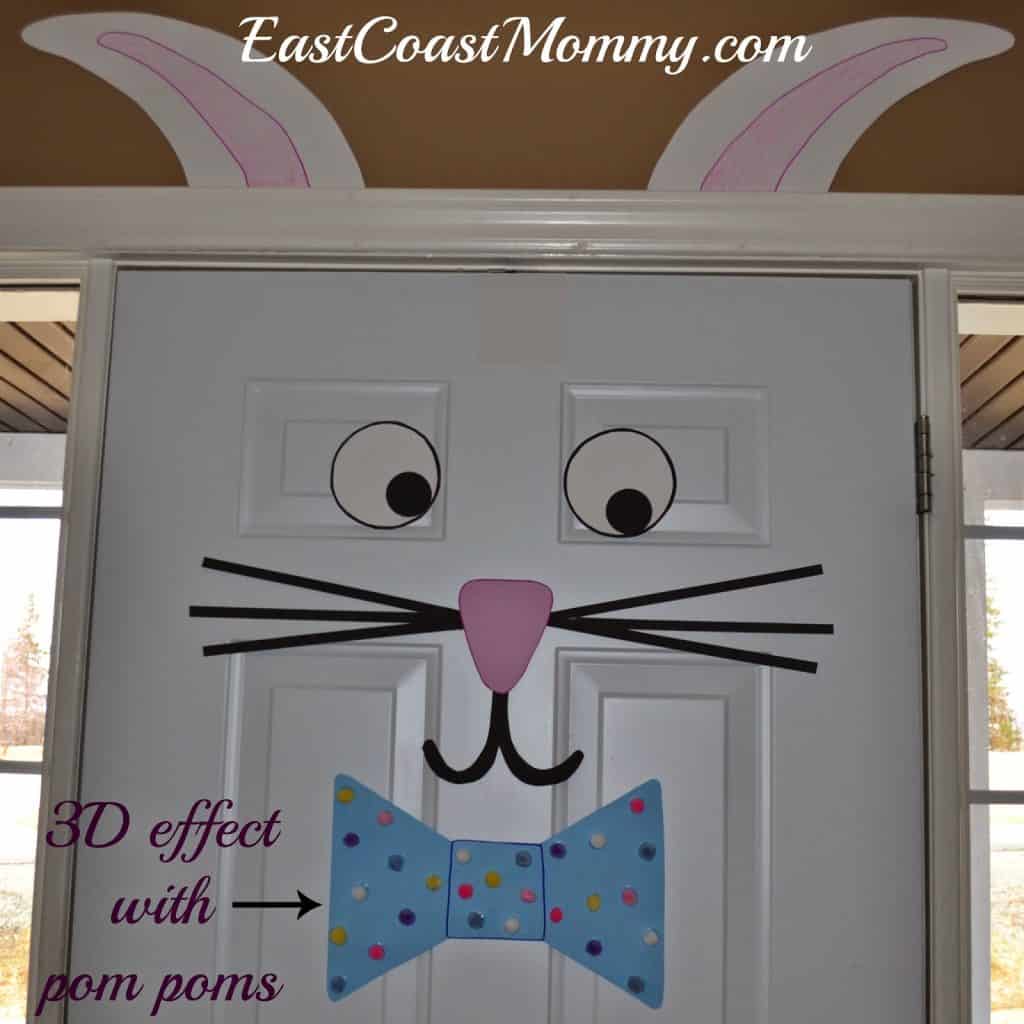 How cute is this?! This project is perfect for your kids to join in on – and there is SO much potential to get creative. All you need is some construction paper, markers, and some tape. That's it! Help the kiddos cut out bunny ears, bow ties, and whiskers galore for the bunny face. Give each door in your home a fun addition that welcomes everyone home with a smile.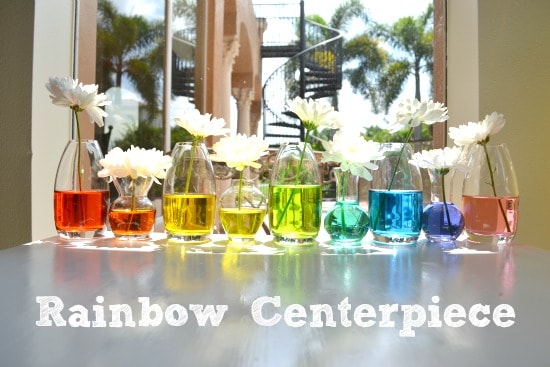 Easter's bright and beautiful colors and Spring's lovely flowers come together in this simple DIY Easter craft. All you need is some clear jars, food coloring, and flowers. Simply add water to the jar, add food coloring to the water, and mix! Pro tip: You could use a white flower like a carnation and the flower will absorb the colored water, changing the color of the petals! Awesome!! It's perfectly safe for the flowers and the kids, and it adds a beautiful touch to any table.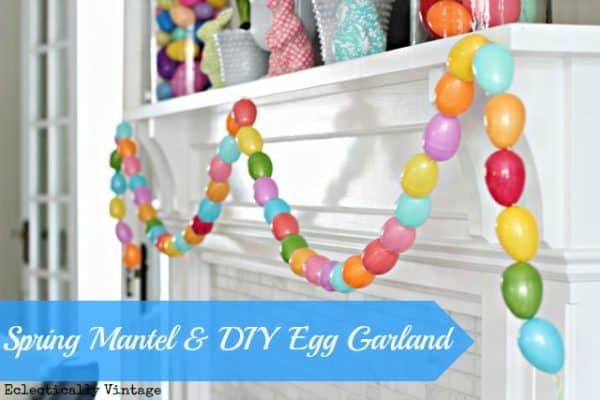 I LOVE the look of this garland hanging over a mantel piece or around a door frame! All you need are those cheap plastic Easter eggs – you can get a large bag from the Dollar Store, Target, or any crafting store around this time of year – and some yarn. String the eggs together and voila! You can even add and leftover eggs to glass (or plastic) vases for added décor around the mantle.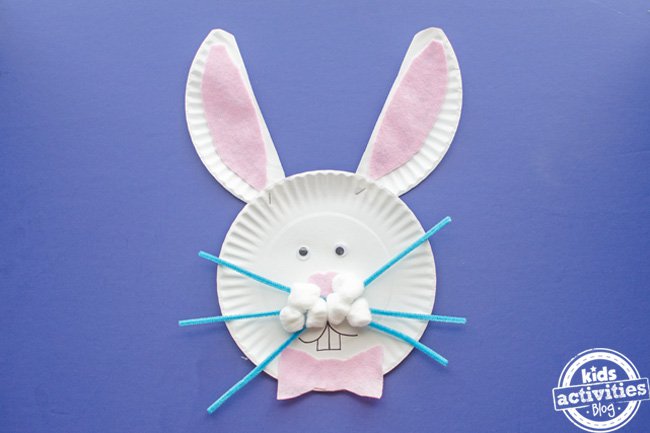 If you're the kind of mom who loves hanging your kids' crafts up, then this Easter Bunny plate project is perfect for you. There's a good chance that – if you have kids – you already have everything you need for this on hand. Some paper plates, cotton balls, pipe cleaners, and some glue – that's it! Your kids will love making these adorable bunnies and they'll be super proud when they see them hanging up around your home.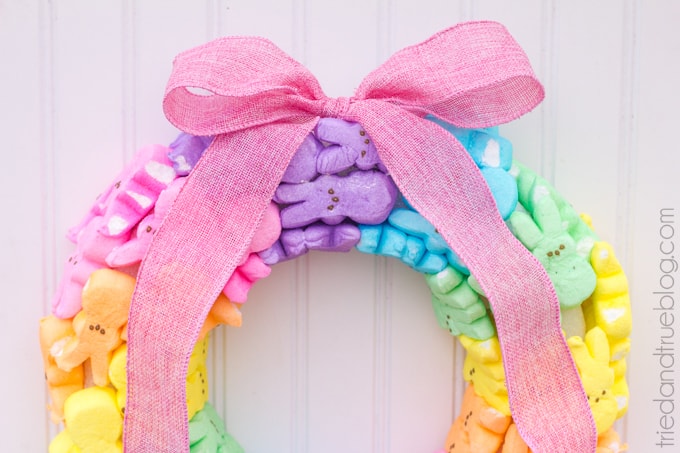 Ahh, Peeps. The ultimate Easter candy. You either love them or hate them… but one thing's for sure: There are TONS of crafts you can make with them! You can find Peeps almost anywhere this time of year – and you can use either the bunnies (like this one) or the classic chicks if you can find all assorted colors. To make the marshmallow treats easier to work with, leave them opened for a few days to dry out (if you can stop yourself from eating them all first)! They're much easier to work with when they aren't sticky!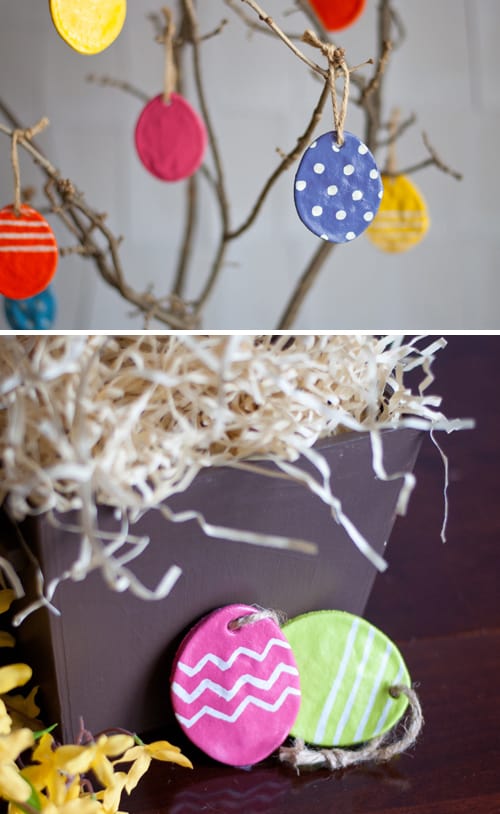 This craft takes me right back to the good ol' crafting days in school! This salt dough is a traditional, 3-ingredient recipe that moms have probably been using forever for crafts and DIY magic. Mix salt, flour, and water together until a dough forms. Then all you have to do is bake the egg shapes and decorate however you like! These ornaments are the perfect Easter decoration but what's really great is that they can last for years and can even be reused as fun, personalized Christmas ornaments for the family tree. Your kids will love decorating their own!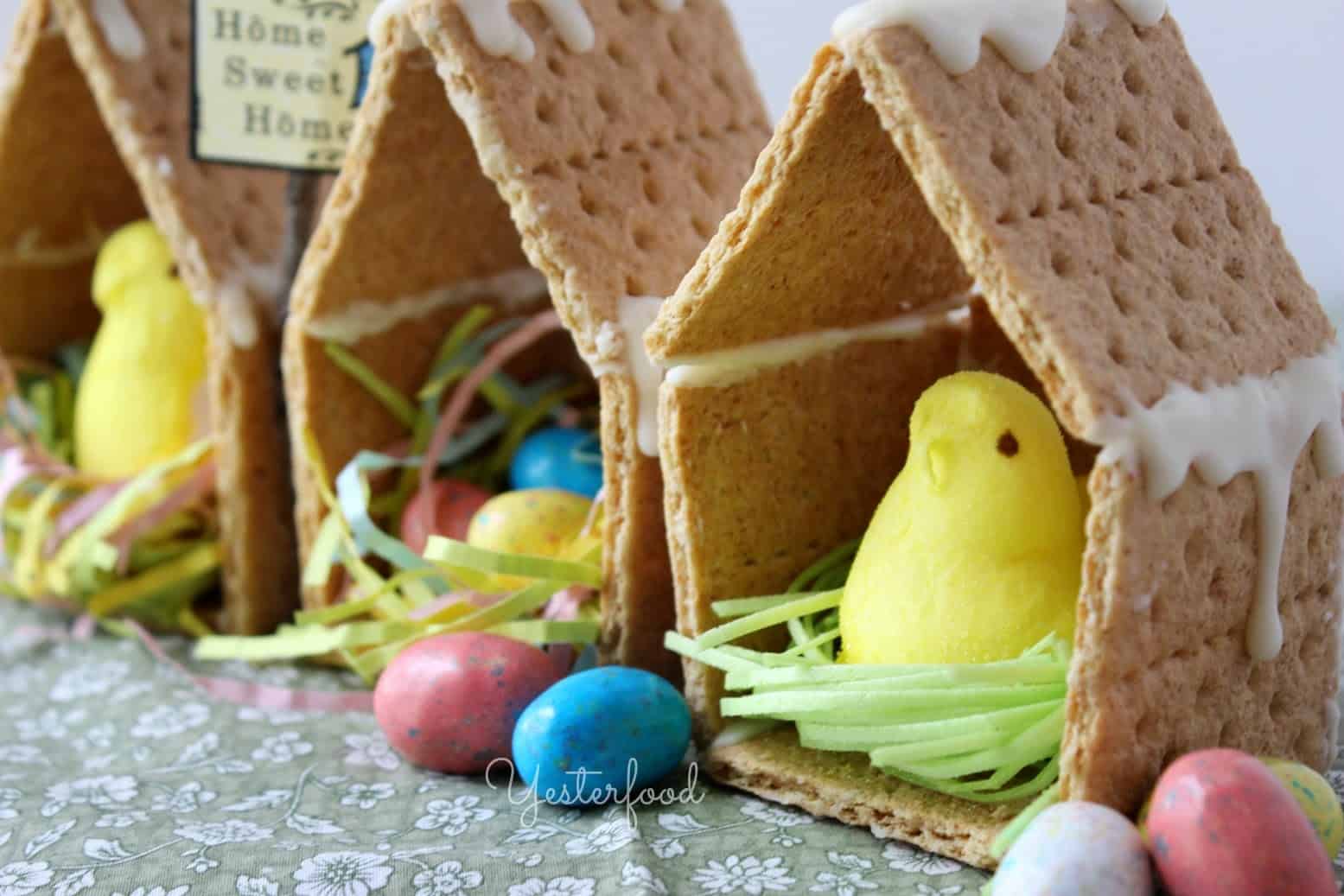 We've all heard of Gingerbread houses… but Peeps houses? Yes – you heard that right! These little graham cracker houses are adorable AND tasty, and an awesome DIY Easter craft for your kids. It might get a little messy, but some parchment paper will keep any surfaces protected. They keep well for several days and they're tasty little treats that are super fun to make.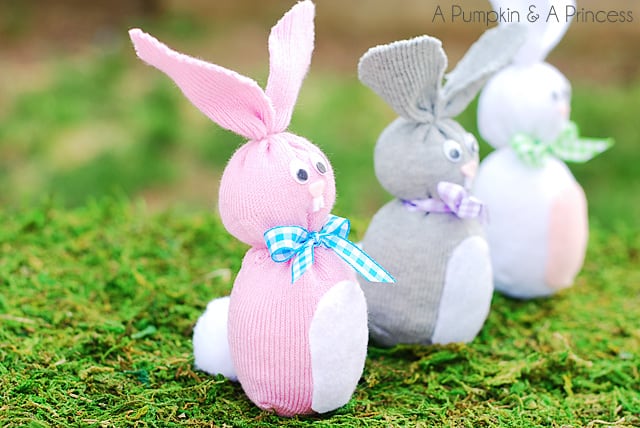 Have a few mismatched socks laying around? Of course you do – who doesn't?! Now you've got a use for them instead of just tossing them in the trash. These sock bunny dolls are the perfect last minute DIY Easter craft that would make a perfect gift for kids or addition to an Easter display. You only need a few simple crafting materials, like felt and ribbons, and you're ready to go!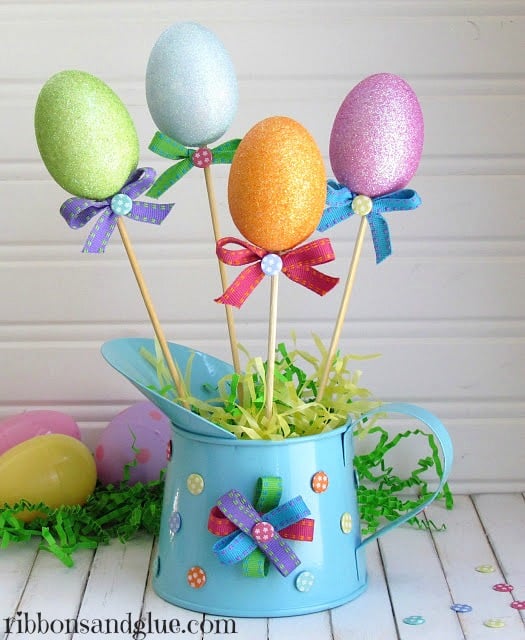 Add some mess-free sparkle to your home with this Dollar Store Easter Centerpiece. It cost LESS than $3 for all the materials needed to make this glittery egg centerpiece – and it's super easy to put together. There's so much opportunity to customize these colors to match with your home décor and you can use any vase or any other container you have on hand for display.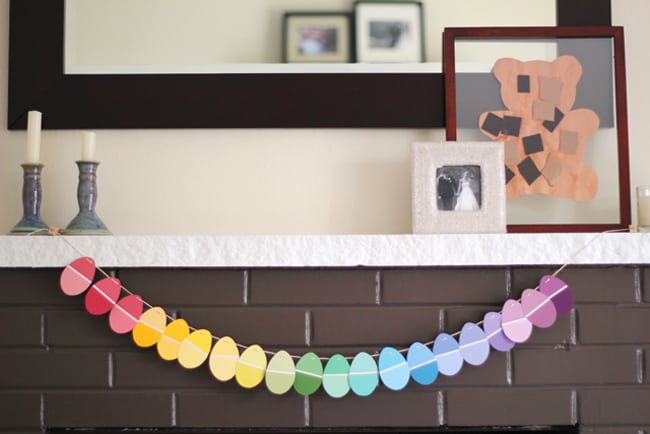 Paint chips and cards always look so pretty lined up in endless rows at the hardware store. If you've ever gone to just look at color options and schemes, you've probably walked away with a decent sized stack of paint chips cards! This Easter egg garland is the perfect colorful addition to a mantel piece, door frame, or even a window decoration! Use pastels and light colors to inspire the Spring spirit, or brighten it up with bold and beautiful colors to bring some life to your home.
DIY Easter crafts are the perfect way to get into the spirit of Spring, and with so many fun DIY ideas, you can start just about anywhere! What are some of your favorite Easter decorations to make? Leave a comment with any DIY Easter crafts or any other fun Easter ideas below!