Creamed corn is hands down one of my favorite side dishes. It can work with so many entrées, appeals to almost everyone and is pretty cheap to make! This recipe freezes beautifully, so make a triple batch and freeze in gallon bags (leave one inch of head room for expansion) to enjoy later. You can also freeze these in one cup portions to pack with lunches.

Cheap & Easy Homemade Creamed Corn Recipe (Freezer Friendly!)
This is a cheap and easy side dish to whip up for almost any entrée! It's freezer friendly and cost effective!
Ingredients
3 cans of corn kernels, drained (you can substitute frozen corn if you cook first)
3 tablespoons butter
3 tablespoons flour
1 cup milk
1 cup heavy cream (if not on hand, omit heavy cream and use 2 cups of milk)
2 tablespoons sugar
⅛ teaspoon black pepper
⅛ teaspoon paprika
Instructions
In a saucepan on medium high, melt butter.
Add flour and whisk until it becomes a paste and bubbles.
Add heavy cream and milk, whisking until thick and creamy, about 8 minutes.
Whisk in sugar, salt, pepper and paprika.
Stir in corn, and continue cooking 3 more minutes.
Cost of Dish: $3.14; shopping at Aldi's and Wegmans, assuming you have salt, pepper, flour and paprika on hand.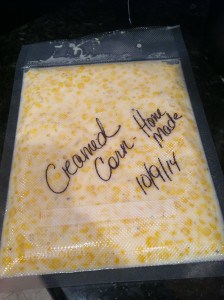 If you've been on the fence about buying a food saver, check out the link below. We purchased the seal a meal a few weeks ago and have been thrilled with it. The bags are cheap (we create our own out of the rolls), and you can seal leftovers on a paper plate making the easiest TV Dinners ever!
This post may contain affiliate links. If you click & make a purchase, I receive a small commission that helps keep the Busy Budgeter up and running. Read my full disclosure policy here.