This is a guest post from my friend Kristen who created the most amazing busy boxes I have ever seen. Like most of us, Kristen was looking for creative ways to keep her kids active and engaged in learning once school was out and summer began.
A bit of research on Pinterest, a trip to the dollar store and $60 later…Kristen created the most amazing busy boxes equipped with fun and exciting activities that the kids loved!
If you're looking for some activity ideas to keep your kids learning all summer long, these busy boxes are an incredible budget buy and a fun way to make that happen.
Update: I know how stressful finances are right now with stay at home orders and the pandemic. I also know that I'm uniquely qualified to help you. I've helped hundreds of thousands of people get out of the paycheck to paycheck cycle (after trying and failing for years), by teaching them how to work with their unique personality to actually stick to a budget.
I'm giving you access to the insanely popular 90 Day Budget Bootcamp for FREE. Because I know that this program will change every aspect of your life. Take a look around. Because this is the LAST DAY you will ever sit around worrying about money. Let's get to work.
Join the 90-day Budget Bootcamp for FREE here…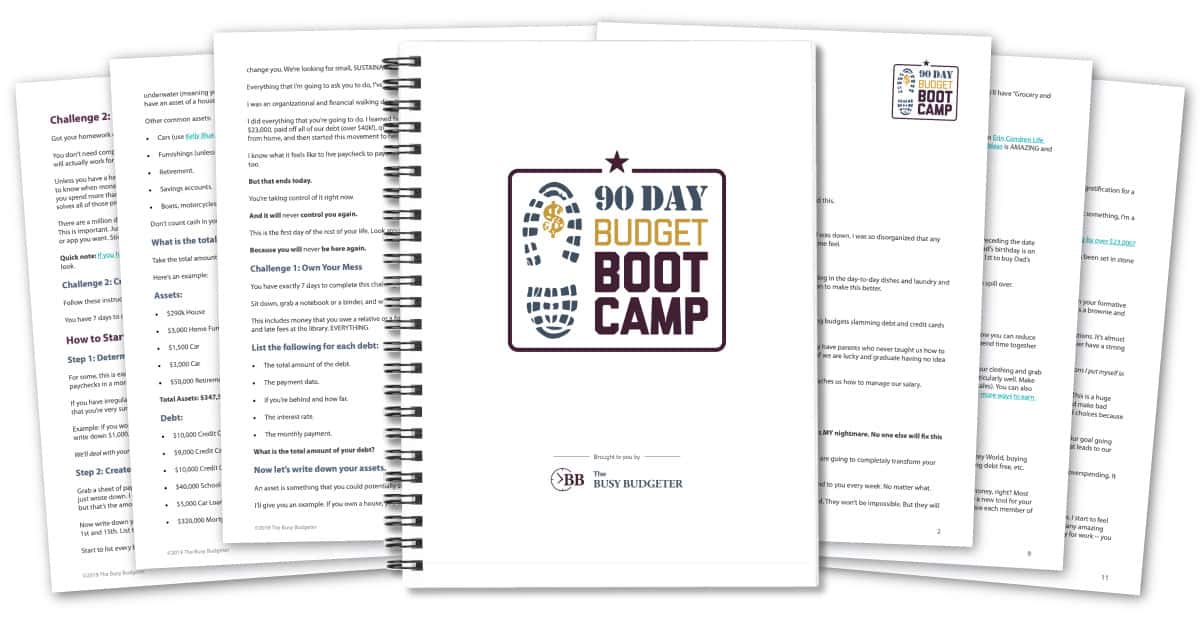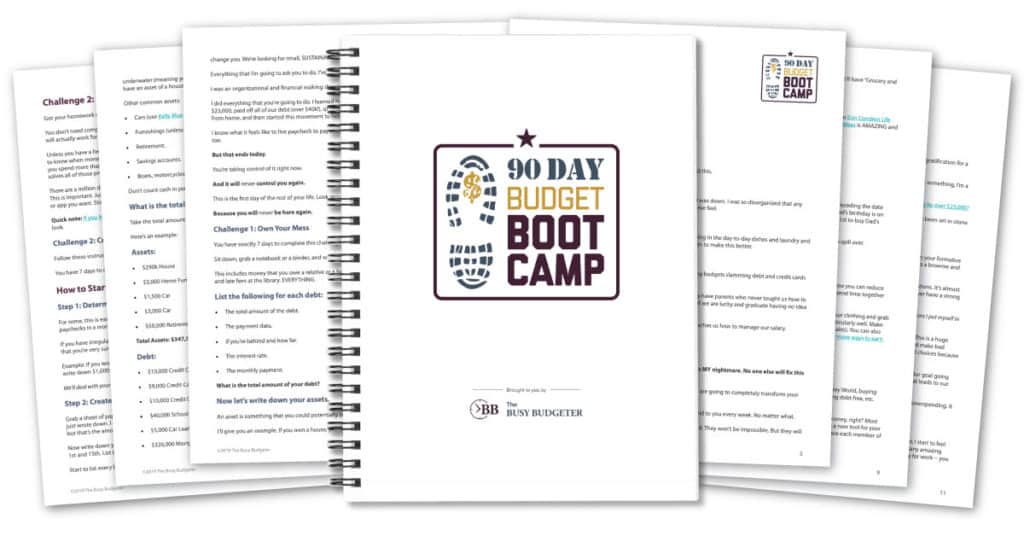 Here's what Kristen had to say…
Digital Learning has finally ended (thankfully!). But, I still wanted at least one activity each day to give my kids a break from their screens. Plus, I needed an incentive to get my oldest child to read or practice his math facts.
I researched daily summer calendars, busy boxes, subscription boxes, etc. and could not find anything simple enough to stick to, that wouldn't require a lot of prep work, or be affordable enough to provide daily activities for a month.
So, I took a few ideas off Pinterest, put on my mask and headed to the local Dollar Tree. An hour and a half and $60 later, I came home with enough items to make 20 activity boxes for my 8-year-old and 4-year-old boys.
This was equal to one activity a day for a month.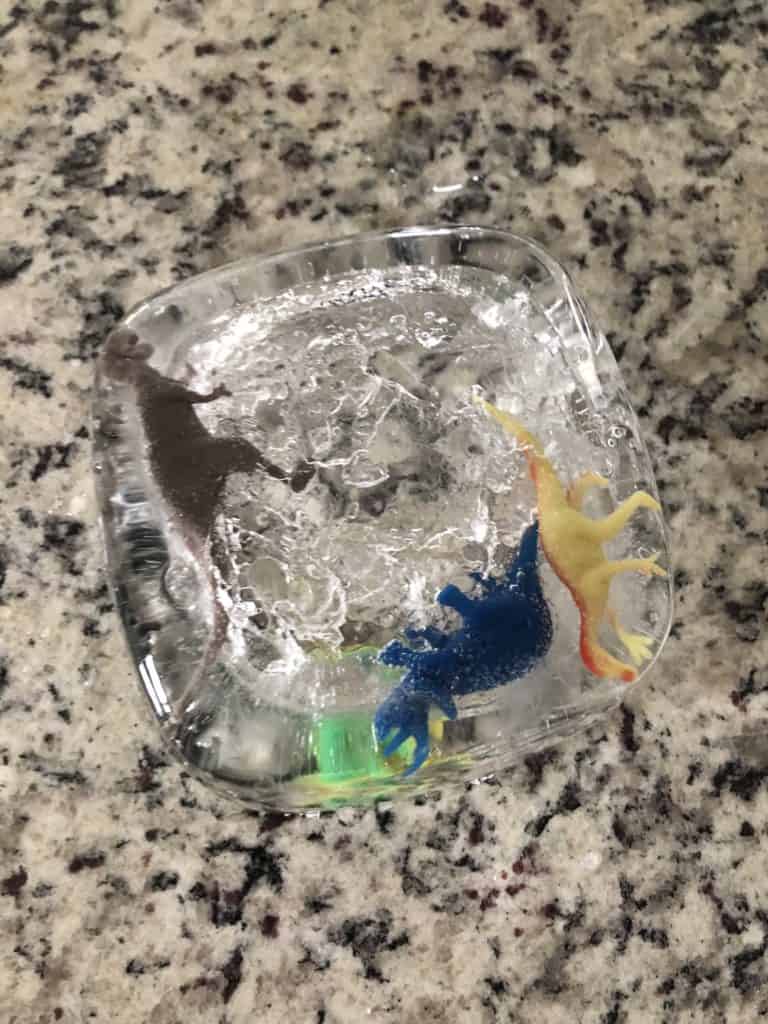 Exact shopping list for our busy boxes…
The Basics
Five clear storage containers with lids. Label each container M, T, W, TH, F.
2. Pre-K flashcards – Letters and Numbers (1 set of each)
3. 1st-2nd grade flash cards – Money (1 set)
4. 3rd-grade flash cards – Multiplication (1 set)
Build It
Wood Shop Kit (1 race car, 1 sailboat)
Puzzles (1 – 100-piece puzzle, 1 – 48-piece puzzle)
2 Foam Glider Planes
Marshmallow Towers (1 bag mini marshmallows, 1 pack toothpicks).
Create It
Paint a Piggy Bank (1 race car, 1 frog)
Canvas Painting Kit (1 underwater scene, 1 dinosaur scene)
Pop Outz Color and Play Activity Kit (1 TMNT, 1 Transformers)
Activity Book (1 Learn to Draw Dinosaurs, 1 Paw Patrol color/activity book)
Race It, Grow It, Dig It
Grow your own aquarium (2 packs each for a total of 4 sea creatures each)
Grow your own crystal (1 kit each)
Race It – 1 Hot wheels car each and 1 pool noodle each (cut pool noodle in half to create a race track to race Hot Wheels cars, and
Dig It: 2 packs of mini dinosaur figures, freeze in a container of water overnight and allow kids to chip at the ice to remove dinosaur figures.
Glow It & Fly it
Glow Stick Finger Rocket (2)
A Glow stick Cyclone flyer (2)
Glow Stick Ring Toss Game (2),
Kites (2)
Water It
Water Sling Shooter (2)
A Water Balloon Toss Game (1 pack water balloons, 2 colanders) One kid 1 holds colander over his head while kid 2 tries to throw a water balloon into the colander, switch. Keep going until all water balloons are used.
Water Balloon Pinata (1 pack water balloons, a plastic bat, string) tie water balloons to string and take turns trying to break the balloons using the bat.
Sponge Ring Toss (3 packs sponges, chalk) Use chalk to draw circles on concrete. Assign point values to circles. Cut each sponge into 4 pieces. Wet the sponges and aim for the chalk circles. Add up scores.
And that's it.
These busy boxes are really just learning boxes that are fun, exciting, and engaging. Win/win/win.
You can find more cheap activity ideas here…
What's in your Busy Box?