If you don't already know what you want to be for Halloween, let me help you decide. Because we have some easy costume ideas for adults that you'll love.
For your kids, I assume that everyone does what I do and either takes them to the "good" thrift store where everything's organized by size and let them pick any outfit they want. Or, lets them choose a costume on Amazon or Target so it's one and done.
Hint: Inflation has not been kind to Halloween my friends…
Costumes are running an average of $36 this year for kids. (They're about $15 at the thrift store, but you'll want to go now. The earlier the better).
You can save money by DIY-ing a creative costume.
DIY Costumes
This is my favorite list for cheap and easy DIY costumes, but you'll need to spend a little bit of time on it (though some of them are less than 10 minutes of work, like the DIY little bandit costume).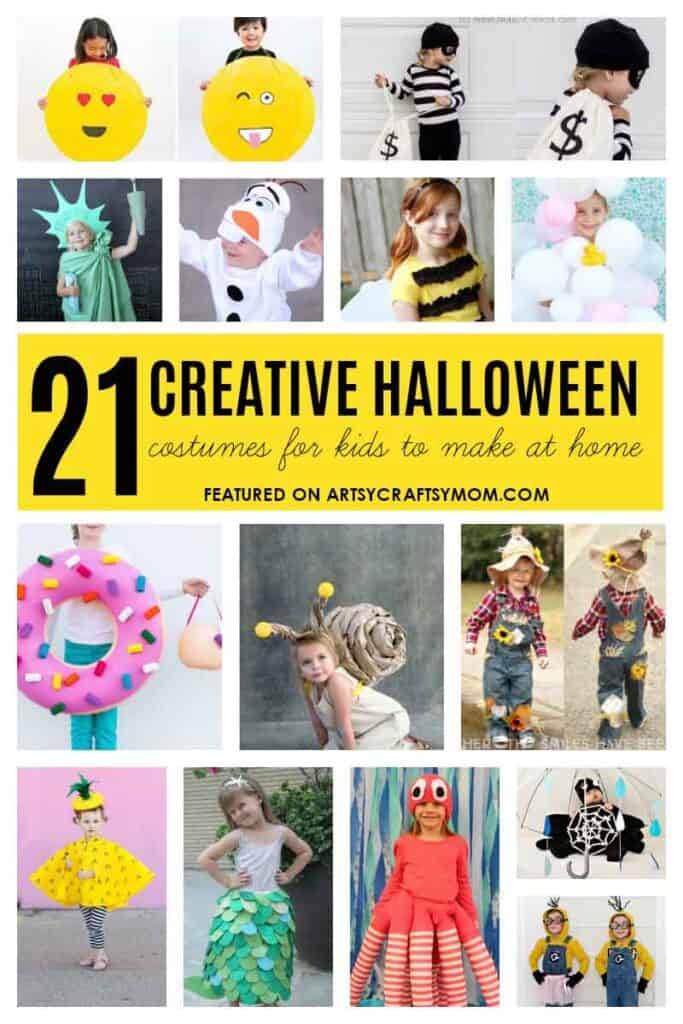 I usually skip the DIY costumes because finding specific pieces for a costume if you don't already have it is a pain (like the black and white striped top in the little bandit costume). I'm going to have to find that online (and it's likely going to cost me $8-$12 to buy it).
So if I can just budget the whole costume, I do it and call it a day because by the time I find all the pieces of a DIY costume and take the time to put it together, I'm likely only saving $10-$15.
And then my kids are going to be like "I don't want to be a snail! I want to be black widow!"
Ready to learn more workarounds to your impulsive personality? It's a lot easier than you think! Let's get started with the "90 Day Budget Bootcamp" a step-by-step budgeting program that teaches you how to work around the personality you have and actually stick to a budget.
You can get access to the 90-day Budget Bootcamp for FREE here!
If you're into family costumes, this is by far the best cheap and easy family costume list. The standout is obviously the family of zombies where for $10 of fake blood and a makeup kit (which you can grab at Walmart) you have an epic costume for the entire family.
Easy Costume Ideas for Adults
So let's talk about adult costumes.
I have a few strategies for this that have never led me wrong.
Now, the adults in my group wear matching Halloween onesies and live our best life ever. I'm seriously hoping this never gets old because they're SO COMFORTABLE.
If it's warm we just wear the onesie. If it's freezing, you can put long underwear underneath it and all night long, you'll be super comfy. And this transitions well to longing on the couch after dark teaching the kids about taxation through candy payments.
Plus we can wear them over and over again in October. It's a fun tradition and we can use them year after year.
My other favorite strategy for adult costumes is to skip paying $40 and invest in clothing you love.
Want a leather jacket? A cropped camisole? A white ballgown? Be Buffy the Vampire Slayer.
You can get your favorite character's iconic outfits by doing a Google Search for the name of the show, the name of the character and, the outfit you're looking for. (Here's a search for Buffy the Vampire Slayer in her white ballgown and leather jacket).
You can usually think of a character for any article of clothing you want.
Black leather pants? You should be Sandy from Grease.
The benefit here is that instead of dropping money on a costume that's now cluttering your closet, you're getting something you're excited to wear more than once.
This works for couples too.
Super easy costume ideas for adults…
Tom Cruise and Kelly Mcgillis from Top Gun

(you can get actual flight suits which make awesome coveralls for about $60 from an Army Surplus Store but don't overlook their outfits in other scenes- bomber jackets, jeans, and white t-shirts).
If you need to stick to a seemingly impossible budget this Halloween, this Dollar Tree costume video has such good ideas and the bag of Jelly Belly's costume is only $2!
I'm all about Halloween, but for me it's the traditions and not the costumes that make it my favorite holiday.
Every year we do a Halloween walk (complete with glow sticks) where we walk around and look at all of the Halloween decorations in the neighborhood. While we're walking we eat brookies (brownie cookies that are disturbingly good) and drink apple cider. We even have an official ballot where we give out Halloween themed gift bags that we call "Boo Bags" to our 1st, 2nd, and 3rd place winners.
Did this help at all? What are you doing for Halloween this year?
Update: 10/22 I know how stressful finances are right now. I also know that I'm uniquely qualified to help you. I've helped hundreds of thousands of people get out of the paycheck to paycheck cycle (after trying and failing for years), by teaching them how to work with their unique personality to actually stick to a budget.
I'm giving you access to the insanely popular 90 Day Budget Bootcamp for FREE. Because I know that this program will change every aspect of your life. Take a look around. Because this is the LAST DAY you will ever sit around worrying about money. Let's get to work.
Join the 90-day Budget Bootcamp for FREE here…