Ever since I discovered "once a month freezer cooking", I've become a little freezer crazy. It's understandable. I went so many years not fully understanding what a freezer could do for me. I seriously used to keep a few cartons of ice cream and some waffle fries in our freezer. Now I have a deep freezer stuffed full of breakfasts, lunches, dinners, desserts, leftovers, you name it.
Update: 4/5/20 I know how stressful finances are right now with stay at home orders and the pandemic. I also know that I'm uniquely qualified to help you. I've helped hundreds of thousands of people get out of the paycheck to paycheck cycle (after trying and failing for years), by teaching them how to work with their unique personality to actually stick to a budget.
I'm giving you access to the insanely popular 90 Day Budget Bootcamp for FREE. Because I know that this program will change every aspect of your life. Take a look around. Because this is the LAST DAY you will ever sit around worrying about money. Let's get to work.
Join the 90-day Budget Bootcamp for FREE here…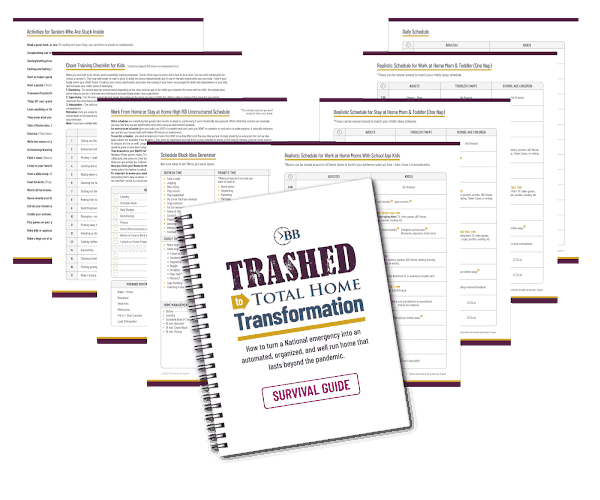 Still, there are a few things that just seem wrong to me. Like freezing milk; I keep hearing that it can be done, then I hear that it can't be done. So which is it? Can you freeze milk?
I decided to find out for this week's Worth It Wednesday. Every Wednesday, I take an idea I found on the internet and put it to the test to see if it works and if it's worth it. So, here's how it went…
I researched enough to know that I couldn't take a full jug of milk that's sealed and freeze it. Anyone that has experience with freezer cooking knows that when you freeze liquids you have to leave a little extra room to expand. So I poured my two year old a cup full and froze the rest. I froze both fat free and 2% milk.
My ultimate hope for this was that once frozen and unfrozen, the milk would still be good to drink straight from a cup. If that doesn't work, then I would still call this a success if you could use the frozen milk in cooking (like the worlds best mac and cheese, or mashed potatoes).
If it could be drank straight from the cup, that would save me both time and money. When you freezer cook, the only thing you really need to go to the store for is milk, since I've figured out that bread freezes beautifully. If I could get the milk to freeze and thaw successfully, then the potential time savings are limitless. It would completely revolutionize the way that I shop and cook.
You should know though that I'm extremely food safety conscientious. I've never, ever, eaten food that was even remotely questionable and the FDA Food Storage Chart is the number one bookmark in my web browser. My point being, if you're reading this thinking that you would be squeamish drinking milk that was frozen, I get you. I know exactly how you feel and that's exactly why I did this experiment.
If I end up liking the frozen milk and will drink it, then you will too. I'm positive.
Was it worth it?
Not to me, but it may be to you… so read on…
For me, it didn't taste the same. I wouldn't drink it from a cup. That being said, My 3 year old didn't even notice. I couldn't tell the difference at all when you cook with it (I made homemade mac 'n cheese).
There are a few things to keep in mind…
It doesn't taste exactly like it does fresh. Although the frozen milk wasn't terrible tasting. I'm just pretty picky and I wouldn't drink it routinely.
The fats separate when it's frozen. It will need a good shake before every use.
Don't freeze milk that's past it's selling point. It can be safely frozen for up to 3 months, but it's best when you take it home and stick it right in the fridge.
Use a permanent marker and label it with the date you froze it and the time left until the use by date. (For example. If it's July 1st, and your milk expires July 5th, and you freeze it, write "July 1st 2015 – 4 days left", then when you thaw it, write the date you thaw it so you know how many days you have left to use it.
It takes a surprisingly long time to thaw. Mine took 3 full days.
With all of that in mind, I don't think it's worth it to freeze milk routinely. I was hoping to grab milk on sale, or even at a good price, keep it in the freezer and eliminate a weekly grocery trip. The taste bothered me enough that I wouldn't want to use this milk in my morning cereal. However, I'm super picky.
Even though I didn't drink the milk, I would have no problems doing this for the kids and for cooking. The difference in taste is just from the fats separating. It's still safe to drink, it just tastes a little different. Not bad, just different.
I would however, freeze milk if we have too much and I can see that we won't be able to use it in time.
So, unless you aren't picky… I wouldn't go out of your way to freeze milk, but keep it in mind as an option if you need to.
Do you freeze milk routinely?
This post may contain affiliate links. If you click & make a purchase, I receive a small commission that helps keep the Busy Budgeter up and running. Read my full disclosure policy here.