I grew up in a small house. In fact, it was only about 1,000 square feet—super tiny by today's standards. I've lived in 300 square foot apartments and 3,000 square foot houses and honestly, the smaller spaces can be really cozy and nice! (…especially when you decorate for the space.)
If you're living in an apartment right now, you might be thinking, "But I'm renting! My apartment doesn't really feel like home because it's not MINE." …Or, "My apartment is so small it's hard to decorate. It just ends up feeling cluttered."
Don't worry! Apartment decorating on a budget is totally possible AND totally worthwhile, especially if you're trying to make your tiny apartment feel more like home.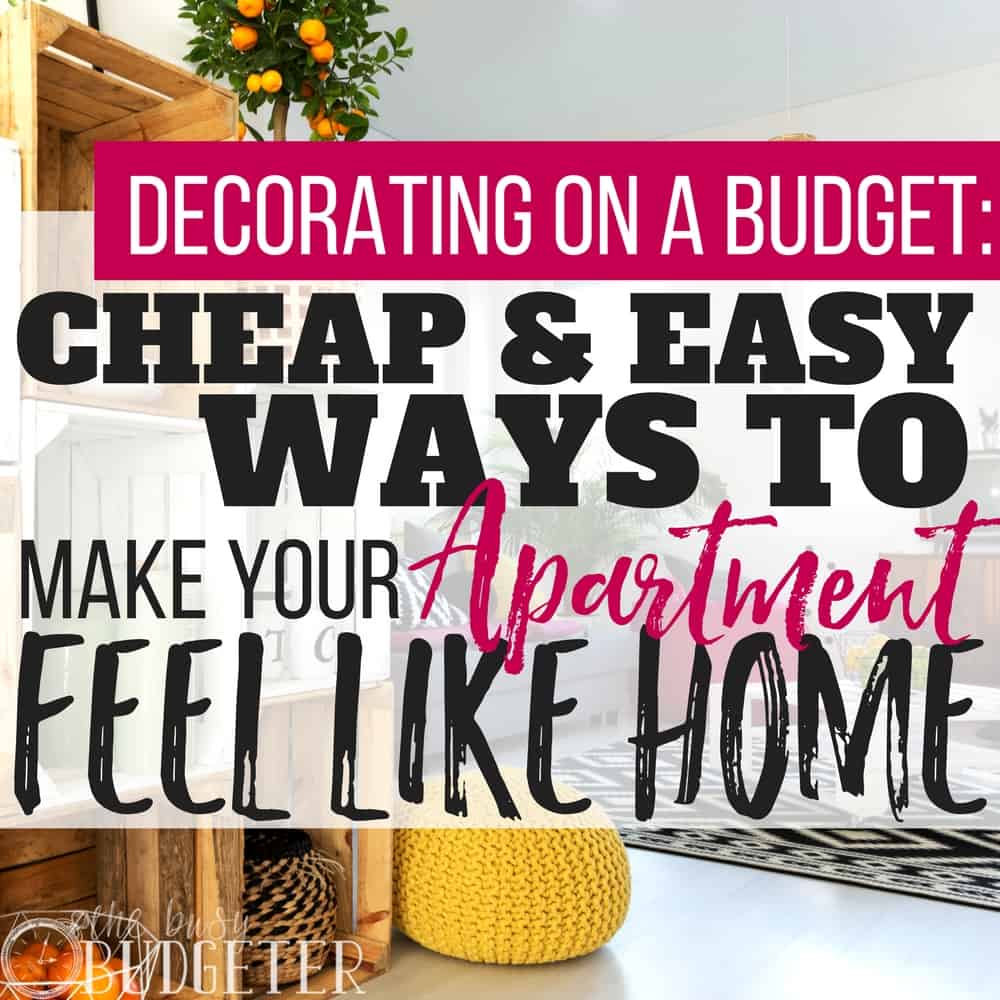 When my husband and I have lived in larger spaces, I'll be honest, we spent less time together. He's in one room working on his stuff and I'm in another. We feel more disconnected.
When we're in a small home, well, there's "nowhere to hide." We spend time together because even doing normal day-to-day tasks means we're almost always in the same space. This sense of cohesiveness is one of the many benefits of living in a smaller space.
Smaller spaces, like apartments, are also easier to clean. (BIG plus!) They're also often much cheaper so you save money on housing. If you're working to save up for a house, there's definitely no shame in renting. You'll make progress financially and avoid the headaches of homeownership.
Another awesome feature of renting is getting to meet new people, especially if you're in an apartment complex. If you own a home, neighbors might keep to themselves or stay on their side of the fence. Ignoring a neighbor is much harder if you're sharing a wall. This is tough sometimes, but also great because you really get to know those around you.
So, if you dwell in an apartment or a small rental, embrace it! Apartment decorating on a budget will help your small space feel more like home. Use these budget-friendly apartment decorating tips to add "personal flair" to your space. One day soon you'll be calling your apartment "home sweet home!"
1. Keep Your Apartment Clean
When I lived in a small apartment, I could literally clean the entire place quick, top to bottom in about 20-30 minutes. It's just WAY easier to keep a small space clean.
Schedule a set time each week to do your deep cleaning, plus a set shorter time each day to do the "maintenance" cleaning. Daily maintenance basically consists of keeping up with laundry and dishes. In a small space, smelly laundry and dirty dishes wreak havoc fast, so just keeping up on these two actions (dishes and laundry) will help your apartment feel much more put together and clean…plus, you'll feel MUCH more in control of your space.
During your "deep cleaning" time, put on music and gather your supplies. Plan on 1-2 hours to clean a small apartment thoroughly. Aim for a consistent time each week—Thursday nights, Saturday mornings, etc., and don't allow any other activities to interfere with your appointment. Each night, take a few minutes to ensure dishes are clean and put away and pick up your space. This takes 10 minutes or so per day, but the effort will majorly impact the overall feeling of your apartment.
If you don't have a laundry facility in your apartment, you may need to limit your laundry to once a week at the laundromat. Stay caught up on the wash by blocking out time on your calendar and using that time to also do an activity you really enjoy. This might mean playing a videogame on your laptop while your laundry runs or spending the time catching up on social media. Whatever your "laundry activity" is, I want you to choose an activity you really enjoy (like a magazine or book you want to read) and only allow yourself to do the fun activity at the laundromat. This will keep you committed to returning there each week.
2. Adopt a "Less is More" Philosophy
Apartment decorating and putting together a beautiful look for your own place is fun and exciting. The great news is you hardly need much furniture or decorative stuff. In fact, your apartment will look more cohesive and pulled together if you adopt a "less is more" philosophy.
In a small space, it's easy to get really cluttered, so clean out often. Keep only the items you use on a regular basis, particularly if your storage space is limited. Less storage space means you don't need to take up room with clutter you use once a year or less. Instead, clean out and pare down as much as possible.
If you're having a tough time decluttering, do a quick sort:
Set a timer for 20 or 30 minutes and pick a space to tackle.
Pull out items and make a fast decision—yes or no?
If you don't love the item, use it regularly, or if it's shabby and falling apart, replace it or get rid of it.
Using a timer will help keep you from getting stuck deciding on a certain item.
When you're finished cleaning out, post anything you want to get rid of on Craigslist or sell on eBay. You might be surprised at how much money you can earn on your old clothing and other items taking up space in your closet. Posting is easy and you'll earn money to buy stuff you'll actually wear and use.
3. Try Dollar Store Organization
If you're looking for ways to keep your apartment organized, don't forget about the dollar store. Find incredible organization tools—bins, boxes and storage containers—for cheap! The organizers often come in bright, fun colors. You'll feel really inspired to organize when you buy matching containers to corral products and accessories in your bedroom or bathroom.
There are plenty of ideas out there for organizing with dollar store hacks as well—use shower curtain rings to organize scarves in your closet, use a shoe container to organize small accessories on the back of your door, and use magazine holders to organize paperwork, books and even lids for pots and pans.
Having a small space means staying organized is really important. Use these tools from your local dollar store to take your organizing game up a notch. Use vases and bottles to organize small stuff in your bedroom or kitchen. You'll find drawer and craft organizers and tons of small containers at the dollar store as well.
Dollar store deals are the perfect way to start apartment decorating on a budget. Get creative and find new uses for the great tools you'll find for cheap!
4. Shop IKEA & Vintage
Furniture and decorative accessories for your apartment don't need to be expensive. One of my favorite places to shop for my apartment decorating needs is IKEA. They really understand small-space living and offer so many solutions and tools to help you maximize your small space. If there's no IKEA nearby, you can order their products online.
Watch for second-hand furniture and décor at rummage sales, on Craigslist and at thrift stores as well. Don't go overboard. Buy only quality and well-made items. Think of how the piece will work in your space now and think of a purpose for the item in the future as well. Buy for your needs rather than your wants. Buying kitschy, cute vintage decorations is fun, but when space is limited, too many knickknacks make your house feel cluttered and stressful rather than cozy.
When shopping vintage and responding on Craigslist, don't get too hung up on the color and finish of pieces. Paint them, cover them with a scarf or give them a facelift with decoupage or fabric. The chances of finding the PERFECT item are slim, but the chances of finding an item to work with are very high. Look for furniture with simple lines, fun features and neutral colors. Accessorize with bright, colorful pillows, lamps and small items to pop the room.
5. Find Double-Duty Furniture & Appliances
When space is at a premium, you need furniture to do double duty. Look for ottomans with built in storage, futons transitioning from a couch to a bed, or tables to fold up and push against the wall. Always look at the practical applications first and then buy only what you need.
Chairs and seating are tough in small spaces, but you can maximize limited seating with tables, benches and other sitting-friendly pieces. When you live in a small space you might not entertain too often, but when you do, guests won't mind lounging around on pillows or using a footstool as a chair option.
With kitchen space at a premium, kitchen appliances must do more. Avoid bulky, hard-to-store appliances good for only one task and instead, watch for simple appliances to serve multiple purposes—a countertop grill doubles as a sandwich press. A toaster oven is a toaster, a small oven and helps you cook without heating up your big oven (a feature you'll appreciate in the summer).
Always keep an eye out for tables with storage and seating options. Many times, storage is tough in small spaces with limited closets. A bench built to sit on that also holds living room clutter will help your space feel cleaner and more open.
The key to apartment decorating on a budget is finding functional furniture for a great price. Always keep an eye out for these bargain deals to help make your space feel more like home.
6. Decorate Your Walls
A common apartment complaint is you can't paint the walls or decorate—you risk losing your security deposit. (Not cool.) However, there are PLENTY of ways to hang decorations and art AND keep your security deposit. Look at fabric, tapestries and even removable peel-and-stick wall décor.
Hang up cute decorations with poster putty and monkey hooks or use command strips to hang pictures without leaving a trace.
Inevitably you'll run into wear-and-tear on your walls, but you can minimize the damage by opting for mirrors and large framed art you can "lean" against the wall rather than hanging up with big nails. Add felt pads on the legs of furniture and use caution when moving furniture across the floor.
Apartment managers expect to see a few signs of use in your apartment. Even though you're renting, use care when moving furniture and hanging up art to protect the walls and floor. A little caution will go a long way toward getting your security deposit back.
7. Keep Things Easy, Light & Neutral
In a small space, it's easy to go overboard. Even if your style is more bohemian and eclectic, keep decorations minimal and light colored if you want the space to feel larger and more open. Heavy curtains, drapes and window coverings might help keep out the bright morning sun (and prying eyes of neighbors across the courtyard) but they also give your apartment a small and dark feel, so let the light in!
When you buy furniture find small and simple pieces. You want to buy furniture to transition to a home or another apartment later on. Look for quality, lightweight and easy to move pieces. For larger furniture like bookcases, entertainment centers and drawers, look for neutral colors—accessorize with bright knobs, pillows and other items to add accent colors.
If you want your small space to really feel like a home, explore your personal style. Do you like clean, modern lines or do you prefer cute country prints? With a smaller space, change up the look with a few adjustments. Playing with style is much easier to in an apartment than in a large home.
I want you to embrace apartment living! It's seriously fun and you will really enjoy your small space. I look back at the times I've lived in smaller spaces and I actually it! Apartment decorating on a budget forces you to get creative! Keep your space clean and organized. Avoid clutter and find ways to add sparks of your personality and the items you love. And most importantly HAVE FUN with your apartment decorating adventures!
Enjoy apartment life! What are some ways you help your small space feel like home? How do you make your apartment more comfortable and inviting? Do you find apartment decorating on a budget to be a challenge?