Each Week, I sit down with my schedule book and plan out this weeks meals. Breakfasts are serve yourself from pre-made options, and snack bags for lunches are separated into snack baggies on shopping day (Sunday). I just grab 3 snack baggies for each of our lunches to toss in. We both pack our lunch every day, but I avoid luncheon meat since I'm pregnant. I often take leftovers from the night before since I now have a desk job with access to a microwave. I shop on Sundays, and then do food prep that day for the week. I share our menu for the week for those that are new to menu planning. If you have no idea what to do for the week and would like to steal some or all of our plan… I promise not to prosecute:-)
As always, I feel it's important to note that this is not the healthiest plan to follow. It's a great plan for us, because it's breaking our addiction to fast food and other unhealthy habits, and it's cut our food budget by about 50%. Slowly, we're making substitutions that will lead us to a healthy cheap meal plan. Rome wasn't built in a day and all that jazz.
"Recipes" for all menu items can be found here and here.
MENU:
Breakfast Options for the Week:
Heart Healthy Pancakes: We normally use the instant heart healthy mix by Krusteaz, but Jon has informed me that he can't ingest "instant" pancakes. He's been kind enough to offer to make me Pancakes from the Joy of Cooking Cookbook. You can find the recipe here.
Apple Cinnamon Muffins- Made from a mix we have in the pantry. These are to replace the bagels and cream cheese for Jon to take to work in the morning.
Milk and Cereal: Self Explanatory.
Heart Healthy Pancakes wrapped around a link of turkey sausage for Jon on the way to work.
Reminders:
Sunday: Batman in the morning, lunch right after at home.
Add a pencil sharpener to list. Check Target back to school sales- If notebooks are a good price, head there to get sharpener and grab notebooks too.
Depending on how Saturdays Freezer organization project goes- make another freezer casserole for baby's arrival.
Add snacks for hospital to grocery list and add to maternity bag for Jon.
Add 3 or 4 small HEALTHY snacks for mini fridge downstairs. (This is because I'm starting to get really really hungry and really really tired at around 8pm. If I have carrots and apples and string cheese available without having to trudge back up the stairs, I'm in a much better position to not call pizza hut.)
We're out of ketchup:(
Sunday:
Breakfast: Scrambled Eggs, Home fries, Sausage, Banana
Lunch: Wegmans Salad Bar (we've got movie tickets for 10:30 am, so we'll head to do the shopping right after, but we're going to be starving.)
Dinner: Renee Wilson's BBQ Chicken Stuffed Potatoes (Thanks for the comment Renee!) Recipe copied from comments on "3 Weeks of Cheap, Easy Dinners", with green beans.
** Jon makes Pancakes and freezes them**
** I make Apple Cinnamon Muffins and brownies**
**Freeze Hamburger Buns**
** Make Taco Seasoning Mix… Found here**
Can you stand another recipe idea? My family loves this and it is fast:
(To serve 2 adults and 2 kids)
Boil 3 medium sized chicken breasts (or the equivalent amount of bone-in chicken if you prefer). While those are going, microwave 4 medium potatoes (usually 4-5 minutes, turn and repeat). When the chicken is finished cooking, shred and mix in BBQ sauce. Cut open the potatoes (dress with butter, salt and pepper if you like), and top with BBQ chicken. Sprinkle with cheddar cheese if desired. I usually serve this with some green beans or broccoli and it goes over very well. And it is fairly healthy, particularly if you go easy on the butter or use a light alternative. Thank you for the ideas!
Monday:Lunch:
Jon- Ham and Cheese, Leftover Chicken and Potatoes
Rowy – Leftover Chicken and Potatoes (T.V. Dinner as back up), Clementines
Dinner: American Style Mediterranean Plates : cubed grilled chicken (use Tyson's frozen if you don't have extra from Sunday), bbq sauce in a dip cup, cubed pears, cubed apples, cubed pineapple, super yogurt, vanilla granola, baby carrots, fresh broccoli, southwest ranch dip, hard roll with butter.
Tuesday:Lunch: Leftover Mediterranean Plates
Dinner: Chicken Salad Sandwiches, Apples, yogurt and granola.
Wednesday:
Lunch: Italian Chicken and Pasta Salad
Dinner: Swedish meatballs with Egg Noodles
Thursday:Lunch: Italian Chicken and Pasta Salad
Dinner: Soft Tacos, Salad with Southwest Ranch
Friday: Lunch:
Jon: Ham and Cheese Sandwich, or leftovers.
Rowy: Leftover Tacos (T.V. Dinner as back up)
Dinner: Grilled Steaks and Macaroni and Cheese
Saturday:
Breakfast: Milk and Cereal
Lunch: Hamburgers, Baked Beans and Carrots
Dinner: Slow Cooker Terriyaki Chicken Thighs (from Taste of Home): Recipe can be found
here
.
Served with stir fry vegetables and rice.
Downstairs Snacks for Mini Fridge:
String Cheese
Carrots and Ranch Dip
Hummus and Pita Chips
Apples
** Also bring down a selection of napkins, small paper plates, and plastic spoons from kitchen stockroom**
Snacks for Jon at Hospital:
Cheese its
Beef Jerky
Donut Sticks
This is Jon's List – If anyone has any ideas on stuff to pack- let me know!
SHOPPING LIST
Clementine Oranges, 2Lb Bag 3.99
Extra Large Green Peppers 1 Lb 1.99
Golden Pineapple 3.99
Small Celery 1.69
2 bags of Wegmans Baby Carrots- 2.60
Wegmans Fresh Garden Salad – 1.29
D'Anjour Pears -1 Lb 1.79
Fuji Apples 1 Lb – 1.79
Russet Potatoes – 4 Lbs- 3.16
T Marzetti Veggie Dip, Southwest Ranch- 3.29
Cleaned and Cut Broccoli Florets 2.00
White Onions 1 Lb – 1.49
2 Loaves Wegmans Homestyle Bread – 1.60
Wegmans Hamburger Rolls 18 pack- 1.99
Banquet Turkey Sausage – 1.29
Wegmans Club Pack of Chicken Thighs 6 Lbs- 6.00
Wegmans Ground Beef Club Pack 12.00
Stacys Pita Chips- 2.79
BP Ground Ginger (International Aisle)- 1.99
UPstate Farms Buttermilk- 1.69
Eggs Club Pack- 36 eggs- 2.53
Wegmans Provalone Cheese- 2.49
Wegmans Fat Free Milk – 2.51
Hummus Roasted Red Pepper – 1.99
2 bags Wegmans Sharp Cheddar Cheese – 3.60
Wegmans Taco Tortilla .99
Wegmans Super Yogurt Vanilla- 3.79
Wegmans String Cheese – 12 sticks- 3.79
Wegmans Thin shaved Ham – 2.99
Healthy Choice Cafe Steamers – General Tso Chicken – 3.29
Tyson frozen chicken Breast Fillet- 6.99
Healthy Choice Top Chef Cafe Steamers – Ricotta and Spinach Ravioli and Chicken Marinara – 3.29
Wegmans Rainbow Rotini – 1.19
2 bottles of Heinz Tomato Ketchup 40 oz- 1.99 (buy 2, because for limited time, 40 oz is same price as 20 oz)
Wegmans Brown Sugar BBQ Sauce – 1.99
Wegmans Italian Dressing- 1.69
2 Bottles Wegmans Creamy Ranch- 1.69
Wegmans Apple Cider Vinegar – 1.89
Wegmans Macaroni and Cheese- .39
Jack Links Original Beef Jerky- 5.49
Ritz Bits Cracker Sandwiches with cheese – 2.99
Wegmans Cinnamon Squares Cereal- 1.99
Little Debbie Donut Sticks – 1.99
Beef Gravy- .99
Sour Cream- 1.39
Total Cost: $119.96
ALREADY HAVE AT HOME:
Flour
Baking Powder
Salt
Oil
4 Eggs
Butter
Apple Cinnamon Muffin Mix
Home Fries
Hamburgers
Vanilla Granola
Wegmans Shaved Ham
Frozen Dinner Rolls
Turkey Meatballs
Egg Noodles
Sour Cream
Frozen Steaks
Baked Beans
Stir Fry Vegetables
Rice
Frozen carrots
Frozen broccoli
Frozen Cauliflower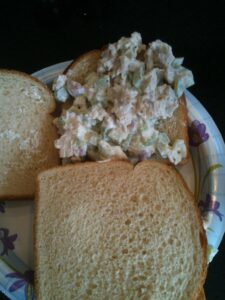 Chicken Salad Sandwiches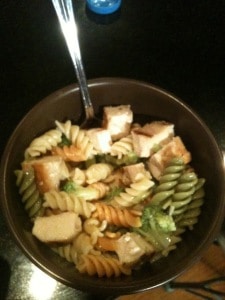 Italian Chicken Salad
Mediterranean Plate
This post may contain affiliate links. If you click & make a purchase, I receive a small commission that helps keep the Busy Budgeter up and running. Read my full disclosure policy here.