After paying off over $40,000 in debt in Northern Virginia (and dating while I did it!), we put together a list of free and cheap date ideas in Northern Virginia that will blow your mind!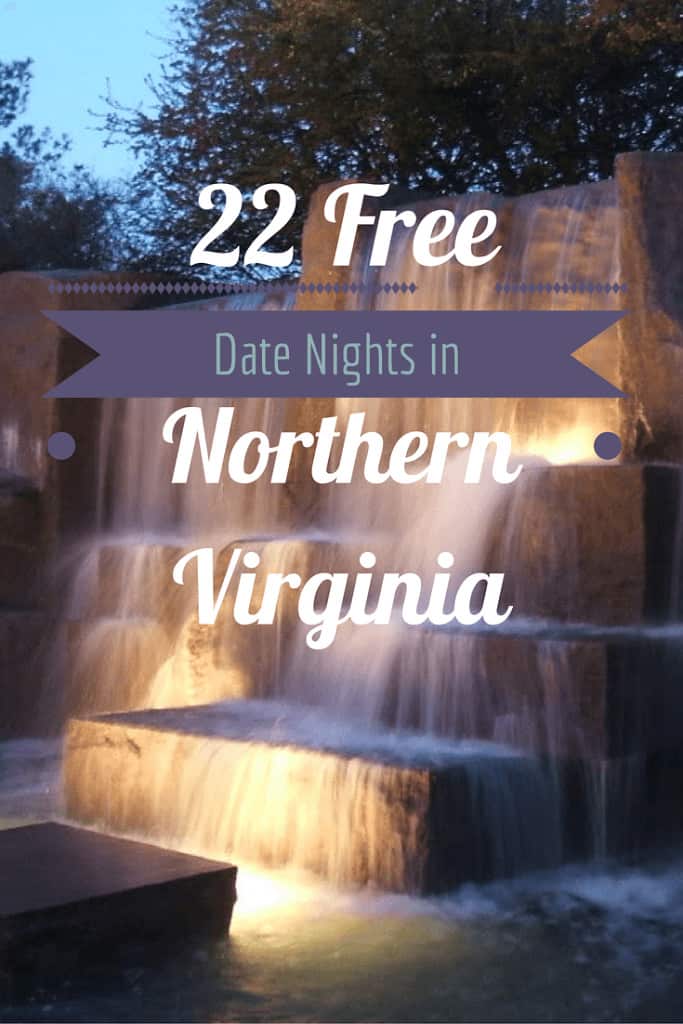 FDR Memorial at Sunset: Washington, D.C.
Let's face it… Northern Virginia is not a cheap place to live. Friends from out of state gasp at how much we paid for a 900 square foot townhouse. If you commute to work (which is likely to be a half hour or more!), you're going to spend a fortune in gas from the constant braking/ accelerating thanks to the traffic on our lovely interstate system.
But there's a beauty here too. I love this place. I love the access that I have to so many amazing places. If you look out of the ordinary there is so much for this area to offer you, especially in the name of cheap love! (That didn't sound right did it?)
Whether it's your first date (don't be boring and do the dinner thing!), or your 7th anniversary and you have 6 kids, try out a few of my favorite date ideas in Northern Virginia!
Date Ideas in Northern Virginia (either free or cheap!)
Game night and picnic at Heroic Aleworks in Woodbridge, Virginia:
This is one of our favorite date nights! This brewery doesn't sell food but encourages you to order delivery, pack your own, or use the BBQ Food truck they have there on the weekends to bring your own food while they provide beer. They have bottled waters for 50 cents, high rated craft beers starting at $5, and draft root beer for $3. Where they really stand out is free entertainment. They have tons of tables and space, a free arcade machine and board games at no cost.
We LOVE getting a babysitter and heading here with our best friends for a double date game night. The boys usually spend $15 in craft beer and are thrilled, we pack chicken salad sandwiches, chocolate chip cookies and fruit salad. We spend 2-3 hours playing monopoly, trivia, risk or even some of the lesser known geek games.
It's our favorite date night. 🙂 You can get the hours and special events at Heroic Aleworks here…
Is it a little lame? Sure. Are the shoes pretty goofy? Yup. But it's also an absolute blast! Cosmic bowling is when the lights come down and the glow in the dark features come out. They even have glow in the dark balls!
If you're looking for date ideas in Northern Virginia for a playful, slightly goofy date, this is your best bet.
We did this not too long ago. Pack up a picnic, beach chairs or camp chairs and take them out to the airport. It's a small airport but fairly busy. Set yourself up in the grass before sunset and pack a blanket to keep warm.
Take it from a pilot's wife. If you're looking for date idea sin Northern Virginia for a flying enthusiast, this is your best bet!
Potomac River Waterfront Park at sunset:
Geocaching:
This is hands down the best date ideas in Northern Virginia if you're dating an outdoor enthusiast.
You'll enter a real life treasure hunt where you follow the instructions that will lead you to the treasure. The treasure might be anything from a log book to an Xbox. I should mention that geocaching rules state you must leave something of equal or greater value if you take the treasure.
You'll have no idea that you're in the middle of Northern Virginia. They have ponds and deep woods and the bathrooms are all clean (am I the only one that thinks about these things?) This is also several beautiful spots for a picnic.
Head to Ikea to plan your dream home then stay for hotdogs! IKEA is like my vacation home. Seriously, I'm there that often.
Besides the $.50 hotdogs, we love the showroom. We love walking through and planning what our future house (you know, the house we'll have once our babies learn not to destroy things and we have enough saved that we feel comfortable spending money on decorating) will look like. I
If you're looking for date ideas in Northern Virginia for a girl that you've been seriously dating for a while, this is your best bet. (I wouldn't attempt to plan this one for a guy).
If you're looking for date ideas in Northern Virginia for a health enthusiast, this is your best bet!
Tough week at work? Sick of traffic? Drop the kids off at the babysitter's house and stay in. You can plan an amazing meal right into your grocery budget. Make it something that's a little time consuming but well worth it.
My dream cooking date night meal would be sweet and sour pork with vegetable eggs rolls, fried rice, fortune cookies and pistachio ice cream. All done by hand.
You can do some of the food prep work ahead of time if it helps. Cooking together is fun, sensual, and builds team work skills (which really, team work skills is pretty much essential to a good marriage).
If you're looking for date ideas in Northern Virginia for someone that loves to learn new things, this is your best bet.
If you're looking for date ideas in Northern Virginia for a sports enthusiast, then this is your best bet!
If you have a bit to spend and want to splurge (a little!), try the Ingham Family Mystery Gift Challenge. Each of you is given an envelope with the exact same amount of cash. It can be anything from $3.00 to $50.00, hit a mall (Potomac Mills is kind of big for this!) and coordinate your cell phone clocks.
If you're looking for date ideas in Northern Virginia for a military member, this is your best bet.
If you're looking for date ideas in Northern Virginia for an eclectic movie enthusiast, then this is your best bet.
If you plan to head up to see the cherry blossoms, take a good camera (or at least an iPhone) and check out some of the free monuments. The weather is normally beautiful this time of year (March/April) and it's the perfect time to play tourist. You can use the metro and pop on and off to see what interests you most.
Those are my best date ideas in Northern Virginia! What's your favorite?
This post may contain affiliate links. If you click & make a purchase, I receive a small commission that helps keep the Busy Budgeter up and running. Read my full disclosure policy here.