When we were paying off our debt, we turned to a list of simple gift basket ideas to create simple, cheap gifts for everyone on our list. We liked these gifts so much, that long after the debt has been paid off, we still give gift baskets for almost every occasion.
Update: 2/21/22 You asked for it and I'm delivering! Starting NOW, you can grab the Trashed to Total Home Transformation Program For FREE!
It teaches you step by step how to work with your personality to not only set up home routines that will work (no matter how many times you've failed in the past), but that you'll stick to… no matter how messy you are!
We've taught hundreds of thousands of people how to use bare minimum consistent effort to completely transform their home (and life!). You're up next.
You can get your Trashed to Total Home Transformation Program here for FREE…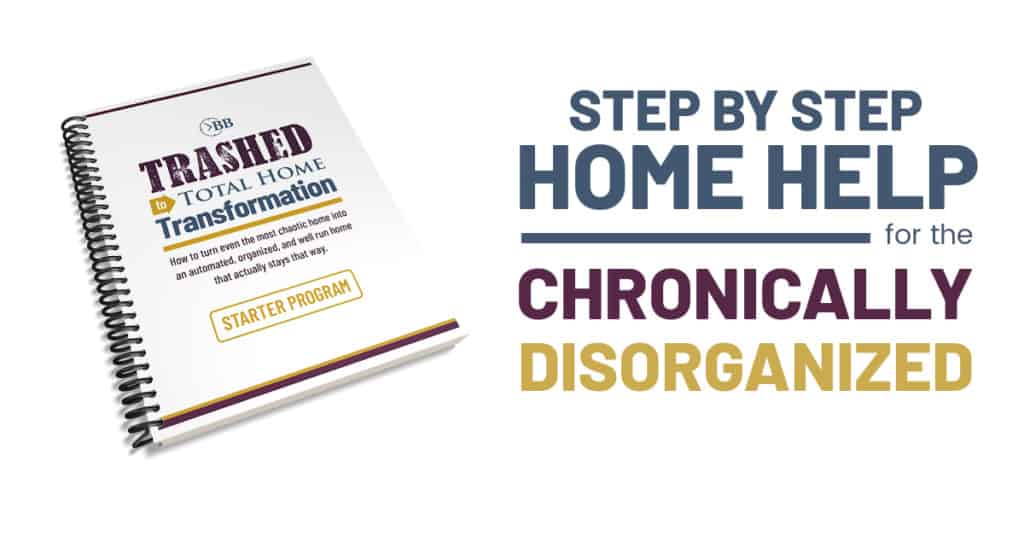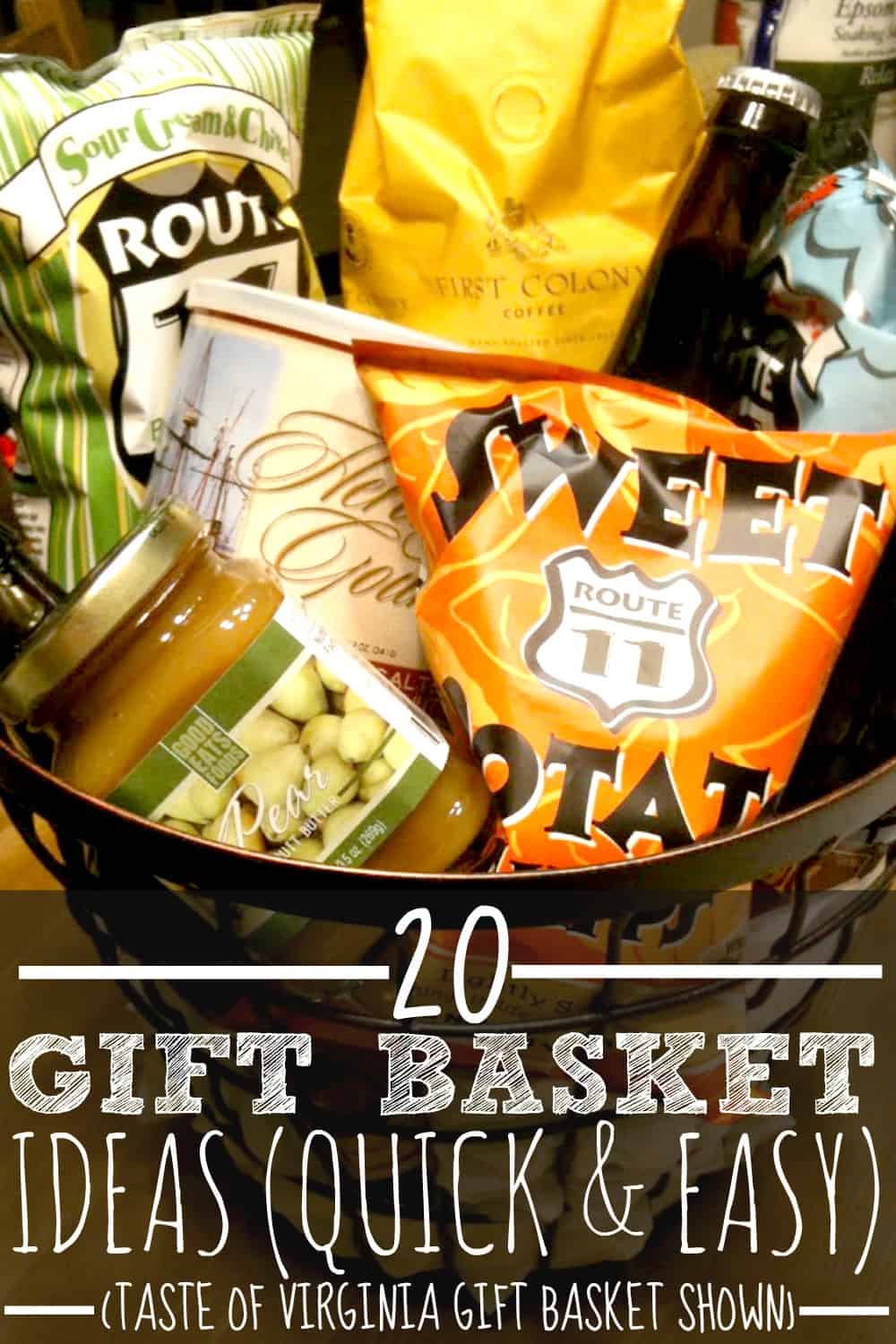 20 Gift Basket Ideas For Every Occasion.
I adore gift baskets! Not only are they cost effective, they look beautiful and can be personalized to anyone. If you've been giving gift baskets for awhile, you can also add the materials to your stockroom list. You would essentially be making a gift stockroom when you see really good prices or bargains.
For more information on how I establish and maintain my home stockroom (or supply closet), click here.
You can put gift baskets in anything, boxes from Costco covered in wrapping paper, shipping boxes if you plan to mail it out, organizing totes from the dollar store, or baskets from Homegoods or TJ Maxx. Keep your eyes open and when you see a basket that's a great price, snap it up.
When I started giving gift baskets, I purchased an enormous roll of cellophane wrap from amazon to wrap the baskets in. I can then just tie off the tops with ribbon. The cellophane was a great investment for me and considering how much I've used it and how much I have left, I suspect that this will last until I'm 50. You can get your very own giant roll of cellophane from Amazon here.
Always include a letter or a note with your basket. We have few opportunities in life to tell someone what they mean to us. About 20 times a day I look at someone or talk to someone and think about how much I adore that person's personality or how much I admire a particular trait of theirs. If we just took that rare opportunity to let them know, it would encourage them to keep being awesome.
GIFT BASKET IDEAS:
1. Travel gift basket idea.

2. Best of "Virginia" gift basket idea (or wherever you happen to live):
Fill a basket with your local favorite products. For us, It's Virginia Diner peanut selections, Dominion root beer, locally made honey, organic soap, Edwards or Smithfield hams, Route 11 potato chips, or even a dogwood tree (Dogwood seeds are a super cheap way to give a dogwood tree) if the recipient has a green thumb!
3. Welcome baby gift basket idea:
Fill a basket with often overlooked helpful items to get mom and dad through that first week or two. Include a 15-minute dinner "recipe" and ingredients (you can even do a pantry meal so you don't have to refrigerate).
If you have the option of delivering something cold, whip up an instant freezer casserole. Try this one for Chicken and Wild Rice Casserole by clicking here. Other good options for this are food, snacks, sleep masks, and accessories to help with breastfeeding like cooling pads, nipple pads etc (make sure Mom's breastfeeding first, you wouldn't want to hurt someone's feelings with a gift).
Other good options for this are food, snacks, sleep masks, and accessories to help with breastfeeding like cooling pads, nipple pads etc (make sure Mom's breastfeeding first, you wouldn't want to hurt someone's feelings with a gift).
Hint: A Netflix subscription makes new moms super happy! We called ours the 3 am lifesaver.
4. Dinner and a movie night gift basket idea:
Find an old, amazing, but often overlooked movie (we got this one last year and loved it!). Be prepared to spend some time searching through Walmarts $5.00 movie pile.
If there is a particular movie that you shared in the past, grab that one. I have tons of movie associations! Buffy the Vampire Slayer with my sister, Angus and Clueless with my Dad (he's clearly an awesome guy), The Cutting Edge and Dirty Dancing with my Mom, The Notebook with my friend Blake, (who is quite possibly the only man who loves the Notebook more than any girl), and Tin Cup and Finding Nemo with Jon.
Pair it with a recipe and all of the non-perishable ingredients for the recipe. Obviously, popcorn is a must here. If you're putting together a few gift basket ideas at a time, I buy the really fancy glass bottles of specialty root beer and separate them into gift baskets, so out of a 6 pack, you can do 3 baskets.
5. Pasta night gift basket idea:
Fancy imported pasta
Fancy pasta sauce
Italian spices
An extra that you think they could use or don't have like a quality colander, a cool apron, an Italian cookbook.
The best spot to find the ingredients for a basket like this is "Home Goods", "T.J. Maxx", or stores like it.

6. Spa night gift basket idea:
Spafinder gift card
Eye Mask (maybe a cooling one with gel in it?)
lavender potpourri (again… you can make this yourself)
Nail Clippers
Tweezers
The perfect nail polish shade (go for something daring – she already has a pile of reds and pinks, go for a trendy color like OPI's Lincoln Park after Dark.)
Body scrub, loofah etc.

7. Car care kit gift basket idea:
Car trash bin (I make mine using these food storage containers with lavender scented small trash bags lining the inside).
Hand Sanitizer
Wet Ones (to be fair- I'm a total germaphobe, this may not be "car care" to anyone else.)
Car wash soap, wax, glass cleaner, interior wipes, tire "black" spray, wheel cleaner. (Amour All makes a car care kit you can find here).
Air fresheners (skip the trees and go for something that presents a little better like these from Febreze.)
If the recipient is the type to appreciate attention to detail, include a small accordion file and label the files for car maintenance receipts, fuel receipts, insurance and registration etc. (by "appreciates attention to detail"… I mean borderline OCD).
8. Project gift basket idea:
This is my favorite by far. Search Pinterest and find an awesome, useful project. Print out the tutorial on high quality paper (if its small enough, get crafty and mount it on cardstock with border and embellishments). Buy all of the materials needed for the project and include them in the gift basket.
This is like my dream come true. I ADORE projects, but it's hard to justify the costs and the errands to gather the materials. Pinterest is chock full of amazing fun projects that can make the start of some pretty cool gift baskets.
9. Feel better gift basket idea:
Fill up a gift basket with things that are guaranteed to make someone special feel better.
Chicken Noodle Soup (Try Progressive so they can just heat and eat).
Chocolate Bars
Advil
A book in their area of interest (I'd still buy it used, but people know me and wouldn't take offense to this).
Lysol Wipes (again- I'm a germaphobe, this may not be appreciated by everyone)
Ridiculously super soft tissues (the ones that you would never buy for yourself)
Sore throat lollipops (found in the children's aisle, they taste so good!)
Trashy Magazines (the ones that are highly entertaining but you actually lose brain cells as you flip through them, like the National Enquirer.)
10. Our story gift basket idea:
Fill up a basket with an odd collection of things that you share with the recipient- I'll give you two examples to help:
My Sister:
Buffy the Vampire Slayer music CD (because we both love Buffy)
a make up bag filled with make up (because she would have $5.00 to her name as a teenager and spend it on make up for me)
travel brochures from a travel agency (because we're working on an "Around the World in a Year" project and she can cut them up and use the pictures)
a bag of change (because we both have giant water bottles that we collect change in)
Tropicana Casino chips or a book about playing craps (we go to the Tropicana every few months)
a small piece of cardstock, trimmed and embellished, with a list of the songs that remind me of her ( I'm pretty sure "She's a Wild One" was written for her).
My husband, Jon:
Super Mario Brothers video game (because we used to play that for hours and now I miss it).
Legally Blonde the Musical on DVD (because our first marital fight went down because I wanted to play Call of Duty: Team Death Match and Jon wanted to watch Legally Blonde the Musical streamed from YouTube.
Snyder's Honey Mustard Pretzel Pieces (we're obsessed)
a note that tells him I signed up for 100 free samples to be mailed to him (Jon's favorite thing in the world is getting the mail and finding something other than bills)
a (used) book on a casino table game that he doesn't know (he's perfected craps)
a small bottle of sweet tea vodka (You'll have to trust me that this was a funny story)
an IOU for me to taste any mystery meal concoctions (Jon's an inventive gourmet cook, and I'm a chicken fingers kinda girl…. this one is a big deal)
an iTunes gift card with a list of songs that we share (I actually just did this as part of his birthday gift, it started with songs from when we were friends, then when we were dating, married and it ended with a nursery song).
11. Nostalgia gift basket idea:
The idea behind this basket is to go out and collect items that were popular a long time ago and hard to find now. The items should be useful and sorely missed.
Things like candy and non-perishable foods are great but think beyond the obvious. For someone my age (34), a few good choices are hackey sacks, Rubik's cube, Garbage Pail Kids collectible cards, etc. Jon found out that I still have The Baby Sitters Club books hidden in my room , and got me "The complete guide to the Babysitters Club". That was more romantic to me than any other gift I've ever gotten in my life. A few more ideas are Pogo Sticks, Slip-n-Slides, and Ring Pops.
12. Road trip gift basket idea.
Atlas (because you never know when your iPhone will lose service)
An Entertainment Book (filled with coupons etc for travelling)
A backseat organizer for toys snacks etc.
A box filled with a variety of snacks and drinks
A small cooler to hold drinks
A warm small blanket
Magnetic Board Games or age appropriate distractions for kids.
13. Gardening gift basket idea:
A variety of seed packets
A carrying bucket
Liquid Fertilizer
Peat moss containers to start seeds
Garden ID Spikes to identify plants (you can make these yourself too!)
A book on square foot gardening
14. Organizing gift basket idea:
Be careful with this, only give a basket like this to someone that you know shares an interest in this or someone that you're very close to. You could hurt someone's feelings if they thought you were trying to say that they were unorganized.
Stick to a particular project or area- Pantry, Laundry Room etc. Buy containers, make chipboard labels with ribbon attachers, include project idea pictures etc.
I once did a fly lady gift basket (a double gift because I got to support my favorite blogger by buying her projects), that included all of my favorite products from her.
15. School gift basket idea:
Mom was famous for making these when I was a kid. They were always a big hit.
Fill a bucket or pail (or lunchbox!) with every school supply imaginable. Don't forget fun things like crayons, markers, cardboard, safety scissors, and paste. Mom would hit the sales during the back to school sales and stock up so she could make plenty of these throughout the year.
16. Picnic gift basket idea:
Fill a picnic basket with a waterproof lined blanket.
Paper plates
Paper bowls
Plastic cups
Plastic utensils
Freezer ice packs
Collapsible cooler
Trimmed, embellished cardstock with picnic menu ideas and great places to go to.
Salt and pepper shakers
Wet Ones
17. Video game gift basket idea:
Microsoft xbox points gift card
Glass bottles of root beer.
Crunch n Munch
18. Journaling gift basket:
Stationary
Wax and seal kit ( I love these!)
If they own a home, get them a designed address stamp and an ink pad (again, one of my favorite things ever… I'm always looking for an excuse to write someone a letter! I got mine from here for $26.50, but if you search around, you can find a better deal. That purchase was made pre-frugal.)
19. Sewing kit gift basket idea:
Fill a sewing basket with needles, patches, threads of different colors, a pin cushion, pins, a fabric marker with disappearing ink, a wire threader, an assortment of basic buttons, and and a wrist wrap with a pin pad on it. If they have a sewing machine or they are an avid sewer… you can add some more advanced things.
20. Scrapbooking gift basket idea:
You've seen the prepackaged scrapbook kits before. This is the same idea, only your going to put together the materials for your own and it will be about a million times better.
Choose a theme, grab a scrapbook, colored patterned paper that compliments each other, stickers that go with the theme, etc. If they are new to scrapbooking, include a paper trimmer, a hole punch, a corner punch, scrapbook glue, and paper scissors.
What are your favorite gift basket ideas?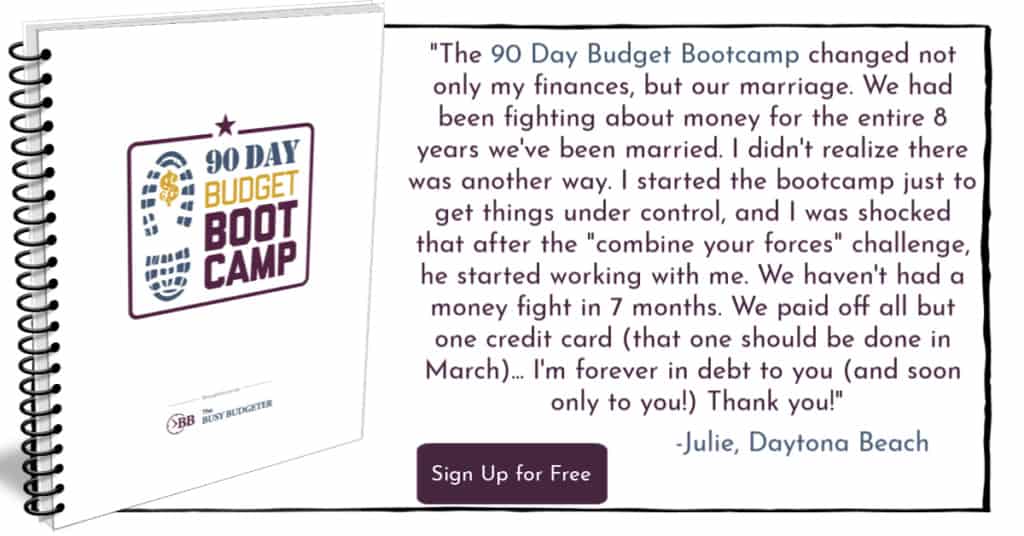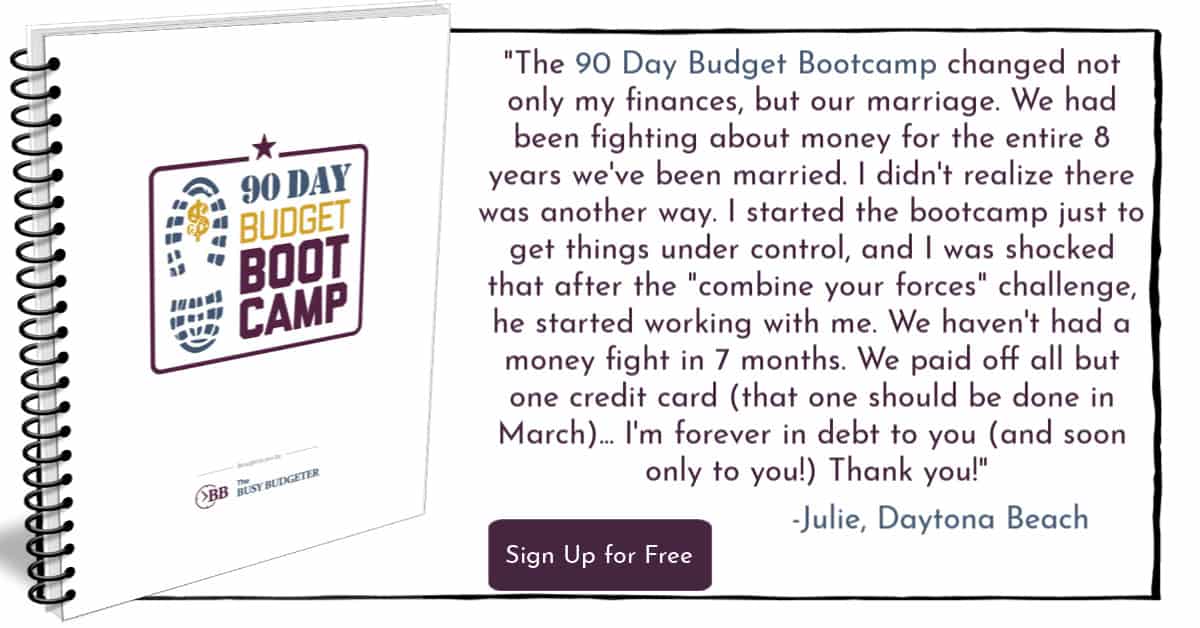 This post may contain affiliate links. If you click & make a purchase, I receive a small commission that helps keep the Busy Budgeter up and running. Read my full disclosure policy here.