This 15 minute easy beef stroganoff is a simple comfort food that's inexpensive to make and is ready to eat in under 15 minutes!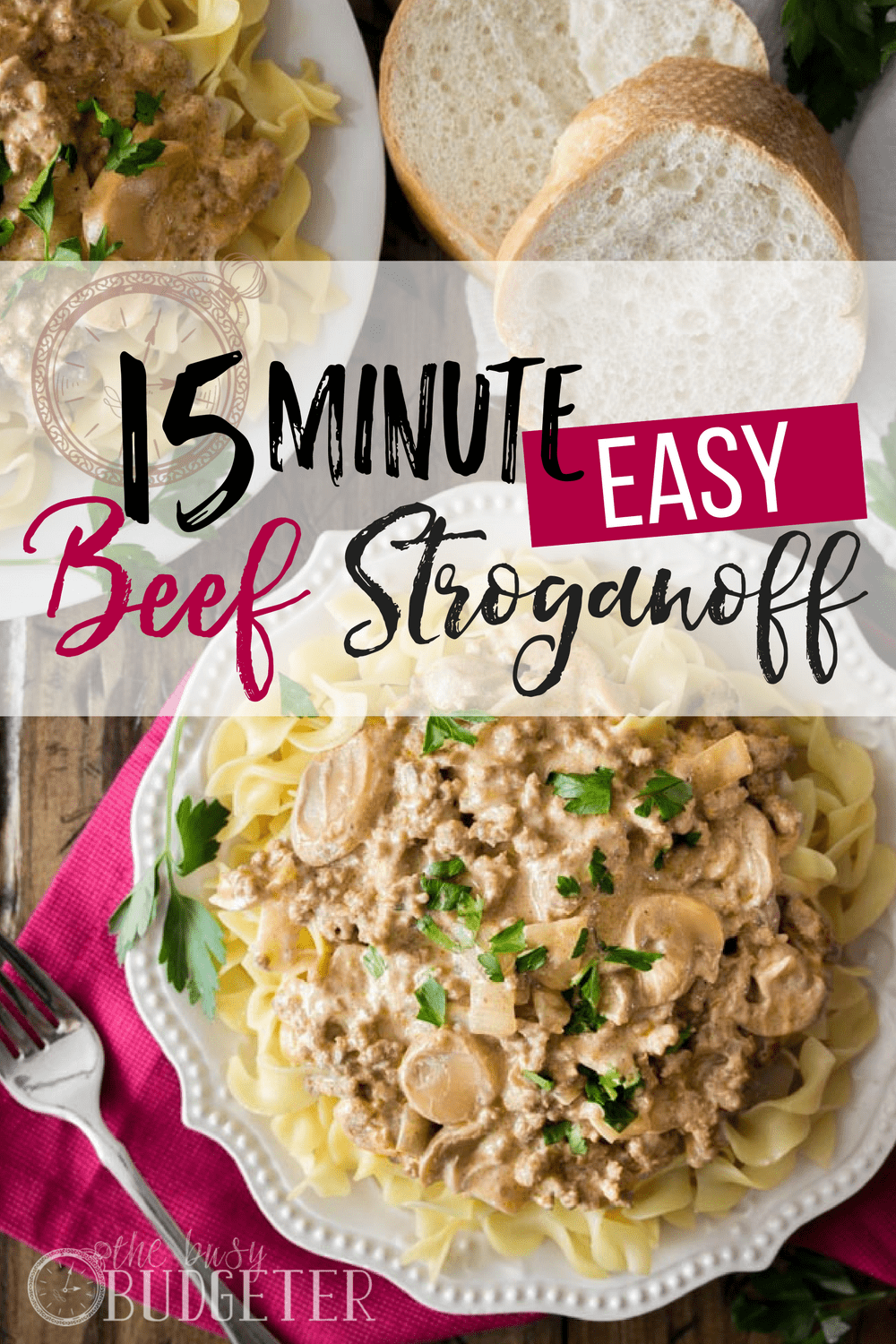 Ok, before we go any further here, there's something we need to discuss right off the bat: Beef stroganoff (and perhaps even particularly ground beef stroganoff) isn't the prettiest dinner plate at the party.
It's just not, I admit it.
Update: 4/5/20 I know how stressful it is right now to be cooking 2-3 times a day while you're also trying to work, "home school", referee kids, and get your house under control. We created an epic inspiration binder of the easiest cheap meals. These ideas are field-tested by hundreds of thousands of our readers and are guaranteed to help even the most overwhelmed mom stick to a meal plan.
And we're giving it to you 100% free right now so you can use it to help you get through this time. And bonus: You'll end up using it long after the pandemic is over.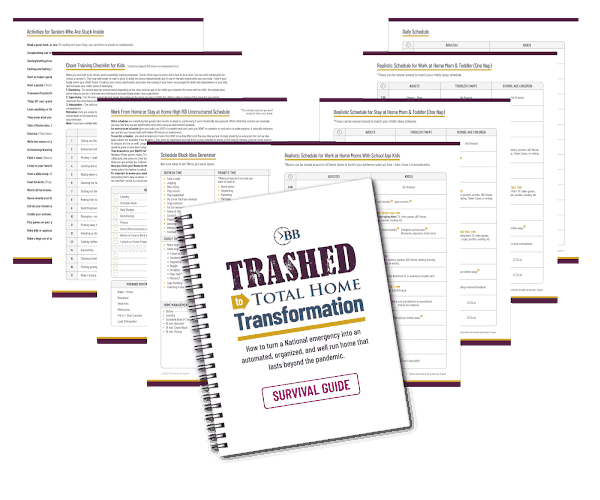 But what it lacks in appearance, it makes up for in flavor and taste. This easy beef stroganoff is one of my family's top ten comfort foods (this 15 minute lasagna makes the list too, FYI).
This dish is an ultimate comfort food — it's hearty, warm-you-to-your-toes, and delicious.
It's also one of my personal favorites, mostly because of how inexpensive the ingredients are, how simple it is to make, how quickly I can get it on the table, and how easy the clean-up is.
Let's walk through it, shall we?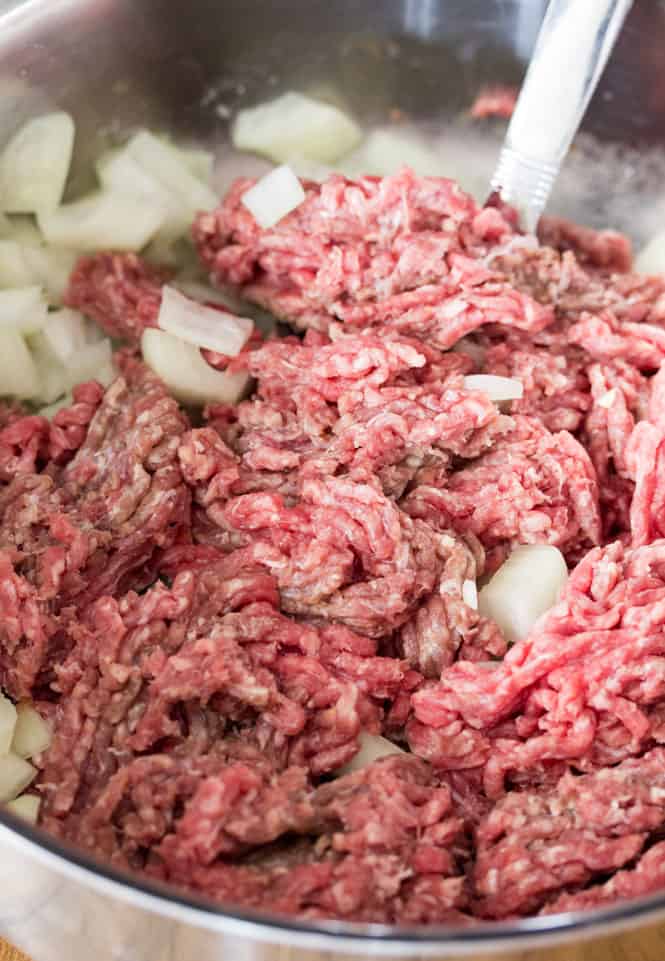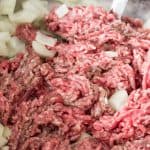 We start with adding just ground beef and onions to your skillet — cook until your beef has browned and your onions are translucent.
I love using ground beef here for this stroganoff rather than any other cut of meat because it's so inexpensive in comparison, and it's ridiculously simple to cook. Also, with all of the flavors that we are going to be adding into the mix, there's absolutely nothing wrong with using ground beef rather than something more expensive, such as steak.
This is comfort food as it should be — comfort food without any fuss.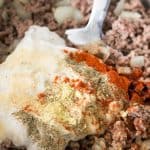 Next, add your beef broth, cream of mushroom soup, and spices. Add your mushrooms as well, and stir everything up nicely until it's well-combined.
Increase the stovetop heat to medium-high, and bring everything to a simmer (bubbling, but not a full boil) — allow the mixture to simmer for about 5 minutes, stirring occasionally.
Meanwhile, as the stroganoff is cooking, prepare your egg noodles according to the instructions on the package.
The egg noodles should only take about 10 minutes to cook, but if you start them early and they happen to finish before your stroganoff is ready, add a small amount (like a teaspoon) of olive oil to the noodles to keep them from sticking together while the stroganoff finishes.
Once you've begun cooking the egg noodles, return to your simmering stroganoff and add sour cream.
The addition of sour cream adds an extra dimension of flavor to the ground beef stroganoff and makes it nice and creamy and ultra delicious.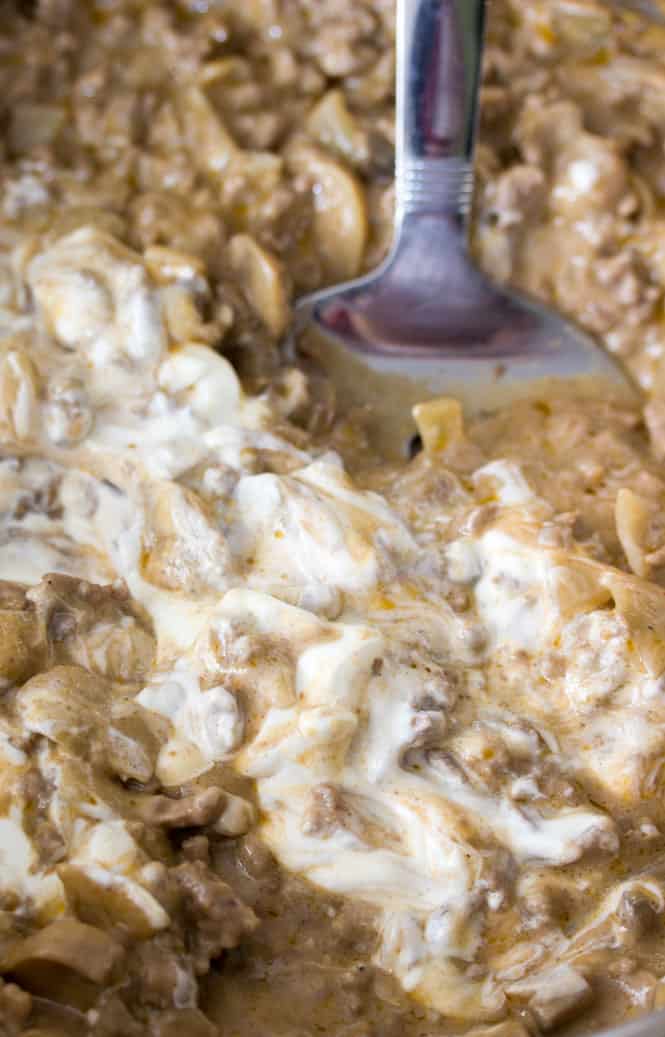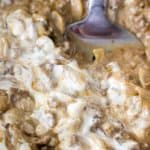 Make sure to stir it up well!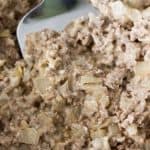 Like I said — this easy beef stroganoff is admittedly not the prettiest pony in the stable, but good food doesn't always have to be beautiful!
You can serve your beef stroganoff either of two ways: either portion out your egg noodles onto plates and prettily pile the stroganoff on top (topped with fresh parsley for that fancy factor), or just add the egg noodles straight into the ground beef stroganoff (if your skillet is large enough) and mix everything together.
We usually do day one of this meal the first way, and then lump all of the leftovers together in one bowl to enjoy the next day! Enjoy!
Whats your favorite comfort food?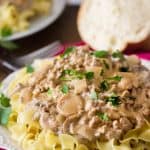 15 Minute Easy Beef Stroganoff
This 15 minute easy beef stroganoff is a simple comfort food that's inexpensive to make and is ready to eat in under 15 minutes!
Recipe type:
15 Minute Easy Beef Stroganoff
Ingredients
8 oz wide egg noodles
1 Tbsp butter
1 lb ground beef
1 small onion, chopped (about ½ cup chopped onion)
10-oz can cream of mushroom soup
½ cup beef broth
4-oz can sliced mushrooms (drained)
½ tsp garlic powder
½ tsp ground black pepper
¼ tsp paprika
¼ tsp ground mustard (optional)
⅔ cup sour cream
Instructions
Prepare egg noodles according to instructions on package.
While egg noodles are cooking, prepare your beef stroganoff:
Melt 1 Tbsp butter in a medium-large skillet over medium heat. Add ground beef and onion and cook until beef is browned and onion is translucent. Drain well.
Add cream of mushroom soup, beef broth, mushrooms, and spices.
Stir well & bring to a simmer.
Reduce heat, add sour cream and stir well.
Portion egg noodles onto serving plate and top with stroganoff. Top with chopped fresh parsley, if desired.
Enjoy!