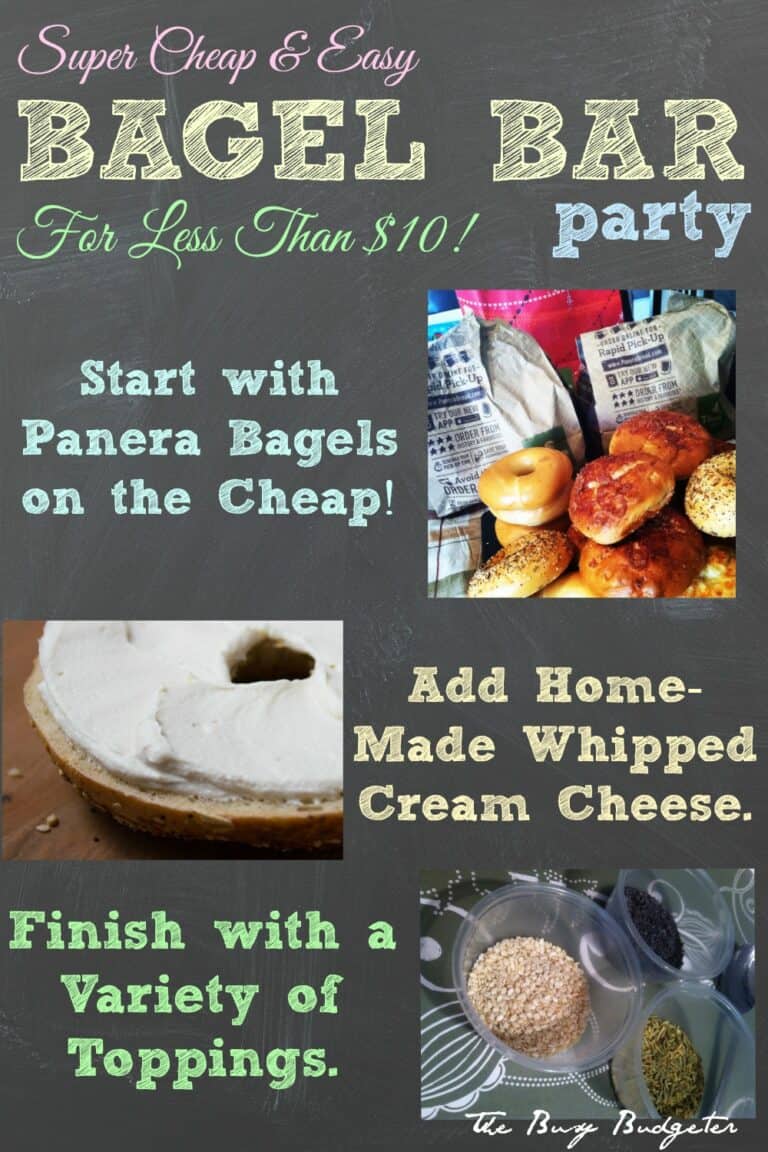 Intensely Flavorful Bagels

Entertaining doesn't have to be expensive! Whether it be a brunch with friends, a kid's birthday party or just a fun breakfast for your own family, a bagel bar is a great idea. The concept is simple. Good quality bagels, a homemade whipped cream cheese, and an assortment of toppings that range from fun to sophisticated. We did this a few weeks ago when my big sister came for a long weekend with her family and our parents. That's 11 people in our house for the weekend! It should have been chaos but it was an absolute blast. We went to see the Christmas lights at the National Zoo, took a family trip to the thrift store on discount day (you see why I love these people right?) and watched while my husband turned my 12 year old soon-to-be nephew into a Dayz video game addict. We're incredibly blessed to have family like that. They've come down to see our son with an 8 hour drive almost every month since he was born. He's now 2 ½ years old. If I have one goal in life, it's to be the type of parents that my parents are. That doesn't really have anything to do with bagels, does it? Back on topic… Let's break this party down…
The Bagels:

My favorite cheap bagel deal is at Panera Bread's Bagel Tuesday. For just $6.99 (or $0.54 each), you get a baker's dozen of bagels in flavors of your choice all day on Tuesdays at participating locations. Depending on your location, a signature bagel is usually around $1.50 so this is a fantastic deal! Bagels freeze really well, so I usually pick up 2 or 3 dozen, and freeze them at home in gallon freezer bags stored by type (That way I can easily pull out the asiago cheddar bagels when I'm looking for a side to serve with my cheddar broccoli soup). For comparison, this price beats my local grocery store price on a bakery bagel by $1.70 for a baker's dozen and the quality is amazing.
When I set the bar up, I toast the bagels in the oven (put the cinnamon sugar bagels in the regular toaster though so they don't burn as easily or just leave untoasted). If the bagels have been frozen and you don't want to toast them, just let them thaw overnight and they're as good as fresh. Cut the bagels into quarters, so people can mix and match bagels flavors and toppings. If you want to go super fancy (and really, who doesn't?), arrange them on a platter by flavor with the cream cheese bowl in the middle. You can label the bagels if you'd like with cut paper glued around a toothpick.
Cost for Bagels for 10 people: $6.99

The Cream Cheese:

Tanta Helen used to make this cream cheese dip with mini bagels for pretty much every family gathering. It was her signature dish and was very much anticipated by this carb lover! Not only is it ridiculously easy, but it's also cheap and looks pretty impressive.
I buy either a club pack of Wegmans Cream Cheese (4 blocks of cream cheese, 32 ounces total) for $4.99 ($1.25 each) or grab Happy Farms cream cheese when it's on sale at Aldi for $0.99 (regular price is $1.29). For this recipe, I usually use a block of cream cheese for every 5 people served (but I'm well known to overindulge in cream cheese and I'm pretty sure that's a genetic trait so feel free to make less).
Tanta Helen's Cream Cheese
This is a super easy, 5 minute fix to make your boring block of cream cheese fluffy and delicious. This is perfect for bagel platters and a delicious base for toppings.
Ingredients
8 oz. Cream Cheese
2-4 Tablespoons Heavy Cream
Instructions
Allow Cream Cheese to rest at room temperature for 10 minutes.
Add Cream Cheese to Mixing Bowl and mix on medium speed for 2 minutes.
Increase mixing speed to high and gradually add Heavy Cream to desired consistency.
Variation: Substitute half of the Heavy Cream for Maple Syrup.
Cost for Cream Cheese for 10 People: $2.50

The Toppings:

We use what we have in the house for toppings and don't usually get anything extra. If you've never spiced your bagel, you're in for a treat! My top three combinations are 1. Minced onion, rosemary and sesame seeds, 2. Cinnamon and sugar, and 3. Strawberry preserves and a little maple syrup. I usually put the toppings in the disposable 2 oz. little cups that I get from party city for about $3 for a sleeve (They also come with snap on tops). I use them for sauces and sides for packed lunches and they work great for this too. Be prepared for some interesting combinations, I once had a 3 year old mix sugar, salt, chocolate chips, mini marshmallows, parmesan, rosemary and dried onion and declare it "Yummy!" Whatever floats your boat kid. J

Here are a few of my favorite toppings:

Dried Rosemary

Parmesan Cheese

Poppy Seeds

Sesame Seeds

Bread Dipping Spices (Spice mixes with like Tuscany Blend, Sicilian Blend and Rosa Maria Blend).

Dried Minced Onion

Sugar

Cinnamon

Dried or Fresh Chives

Chocolate Chips

Cinnamon Chips

Jam or Preserves

Peanut Butter or Nutella

Maple Syrup

Sea Salt (Watch the little guys around this one!)

Cost for Toppings for 10 People: Free, just use what's in your pantry.

Total Cost of Party for 10 People? $9.50
Plan on trying this out? Come on over to my Facebook page and let me know about it!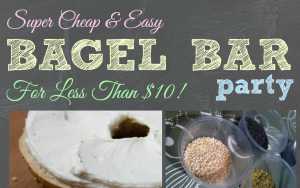 This post may contain affiliate links. If you click & make a purchase, I receive a small commission that helps keep the Busy Budgeter up and running. Read my full disclosure policy here.