This is a sponsored post written by me on behalf of Navy Federal Credit Union for IZEA Worldwide. All opinions are 100% mine.
Choosing a financial institution or credit union for your family is no small task.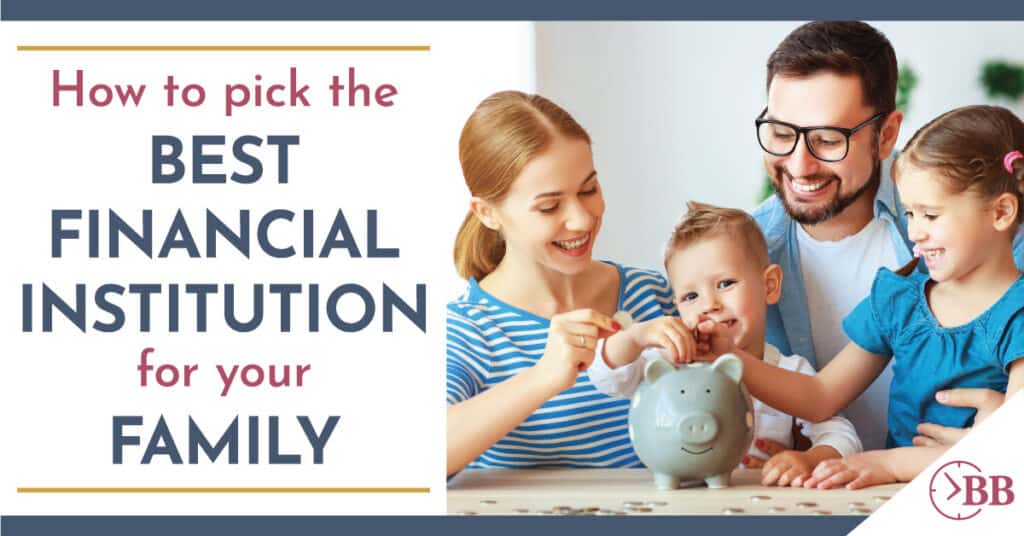 I mean, you have to be able to trust them with your money, which is a big deal in and of itself.
But then there are also the things you may not have considered, like possible maintenance or overdraft fees.
And, of course, it wouldn't hurt to earn dividends, right?
With all the potential benefits and pitfalls of financial institutions you could join, it's a big decision to make.
With that in mind, here is a quick guide to help you figure out which financial institution is best for your family.
How To Pick The Best Financial Institution For Your Family
Think about your banking needs.
Before you choose, think about what kind of accounts you need.
Do you just need the basics?
A checking and savings to pay your bills and keep your emergency fund? Don't feel like you have to stop there.

Are you married and want to have a joint account? Do you want one account for your main bills and separate accounts for fun money?

Are you divorced and need a separate account for child support or alimony payments?
Think about your spending habits, too.
Do you need an account just for checks you write so you don't forget about them and overdraft?
Would you benefit from having multiple bank accounts to do a digital envelope system, like this couple did…
Think about what you need in terms of accounts, then move on to the next step once you've taken a few notes.
Research rates and fees
Whatever financial institutions you are considering, make sure you look at their regular rates and fees, such as:
What do they give you in dividends in your checking and savings?

What do they charge for using an ATM?

What happens if you overdraft? Are there alternatives?

Do they charge maintenance fees on your account?
Just a heads up: when comparing these, you will most likely find better interest rates and lower fees when you go with a credit union like Navy Federal Credit Union over a different financial institution.
Look into online and mobile banking.
With all that we get done online now, you may want to consider how often you actually go to the bank in-person.
Online and mobile banking can be a lot more convenient, have better interest rates and lower fees, and provide other services like bill pay, mobile deposits, real-time notifications and paperless statements that can help you stay on top of your money better.
You may reject this option if you prefer the relationships that can develop when you go to a branch regularly or you just hate technology for the most part. I get that.
But for a lot of people, online and mobile banking is a great option.
Think about location.
If you go to the branch a lot or prefer in-person transactions over electronic ones, this is definitely something to think about.
One perk here with a credit union is that they often have other "in-network" credit unions that won't charge you to use their ATMs.
That can be really useful if you use a locally owned credit union yet want to access ATMs when you travel.
Look at current perks.
Everything above is about the long-term benefits of your bank or credit union, which are the most important, of course.
That being said, it doesn't hurt to take a look at short-term benefits, too.
Are there any banks that have a promotional offer for extra money when you open an account? If their rates, fees, and location works for you… why not?
This is different from getting perks from credit card companies since you don't have to risk getting interest charges or anything for doing so.
As with any offer like this, however, be sure you understand the terms before you commit!
It can be overwhelming trying to decide what bank to go with, but you can totally do this! Taking things step by step like this will help you choose the perfect financial institution for you and your family.