I used to be so frustrated that my husband doesn't help around the house.
Worse than that though, was that he constantly complained about the state of the house and how I ran it.
Nothing is more irritating than having someone else's expectations set on you.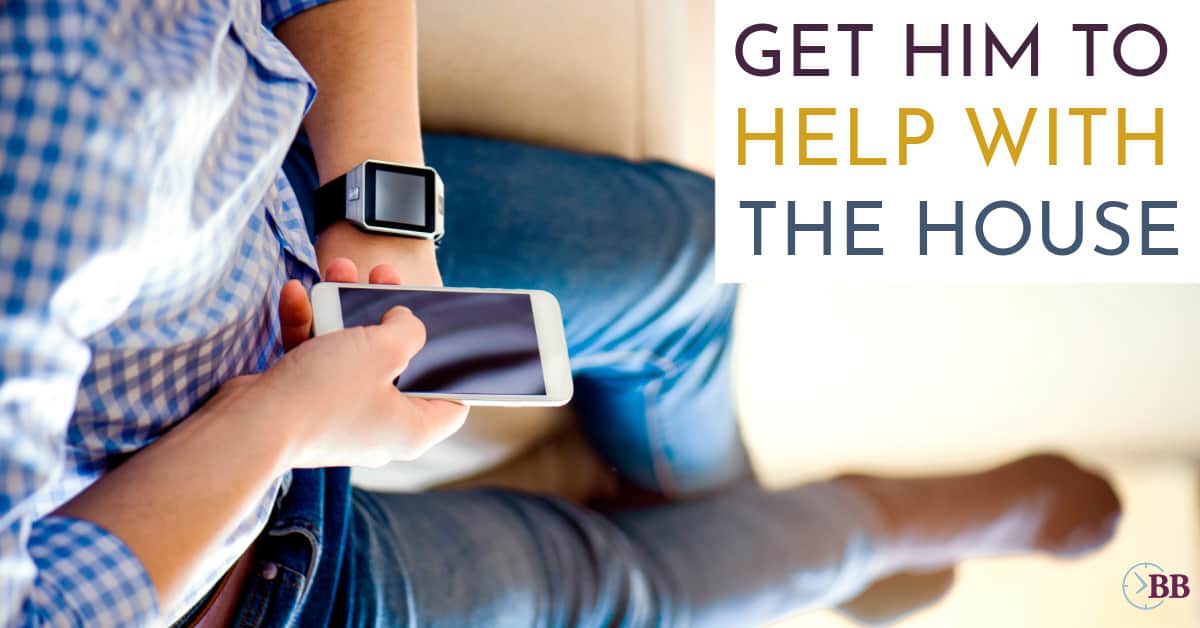 Ask any woman who has ever had their spouse come home and say "this place is trashed! What did you do all day?"
Or maybe they're more subtle, they come home in a bad mood about the house and make a comment, and then you explode.
Because obviously…. you're trying.
It's not uncommon for women to handle more of their share.
Update: 9/25/20 You asked for it and I'm delivering! Starting NOW, you can grab the Trashed to Total Home Transformation Survival Guide (Pandemic Edition) For FREE!
It teaches you step by step how to work with your personality to not only set up home routines that will work (no matter how many times you've failed in the past), but that you'll stick to… long after the pandemic is over.
We've taught hundreds of thousands of people how to use bare minimum consistent effort to completely transform their home (and life!). You're up next.
You can get your Survival Guide here for FREE…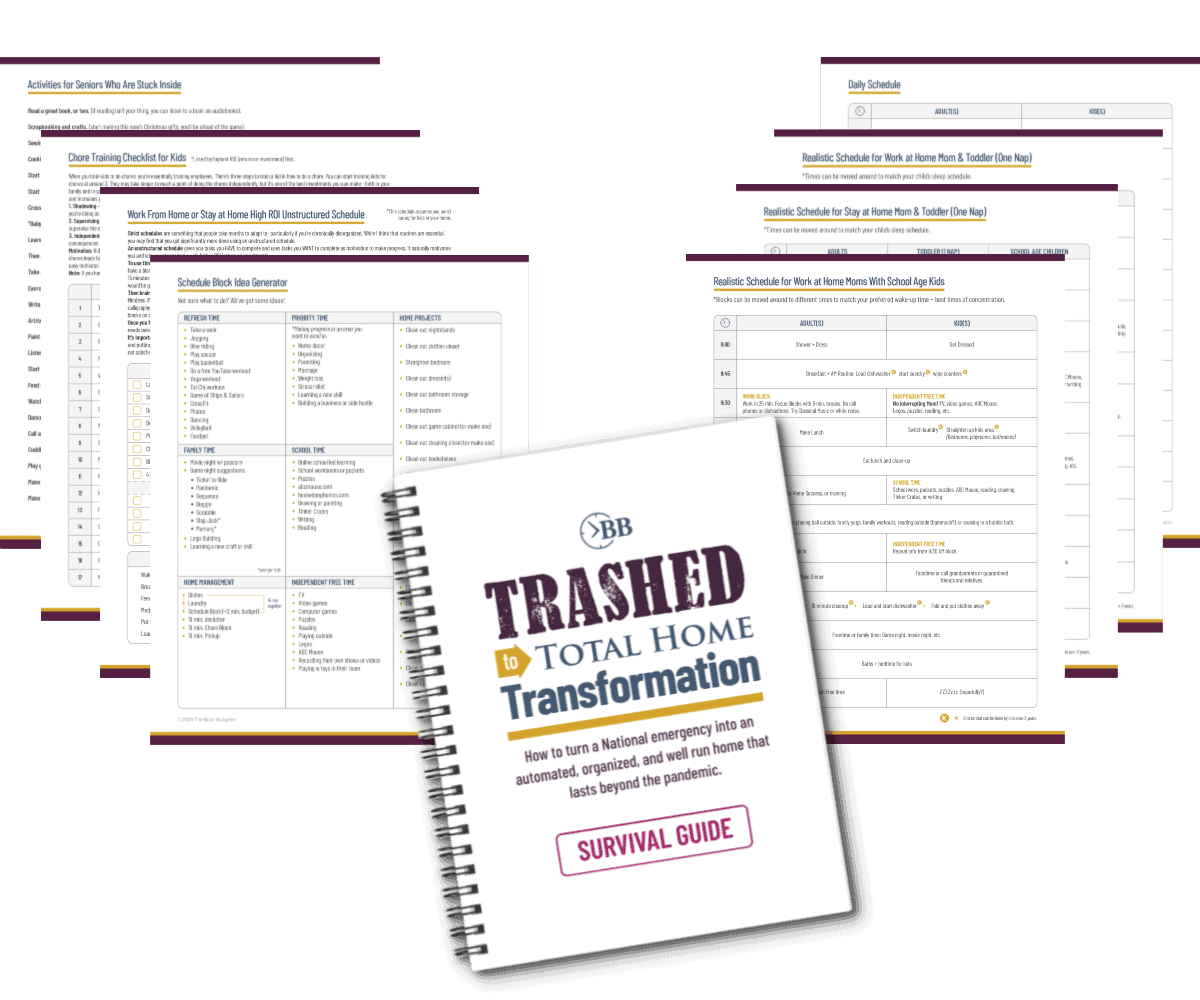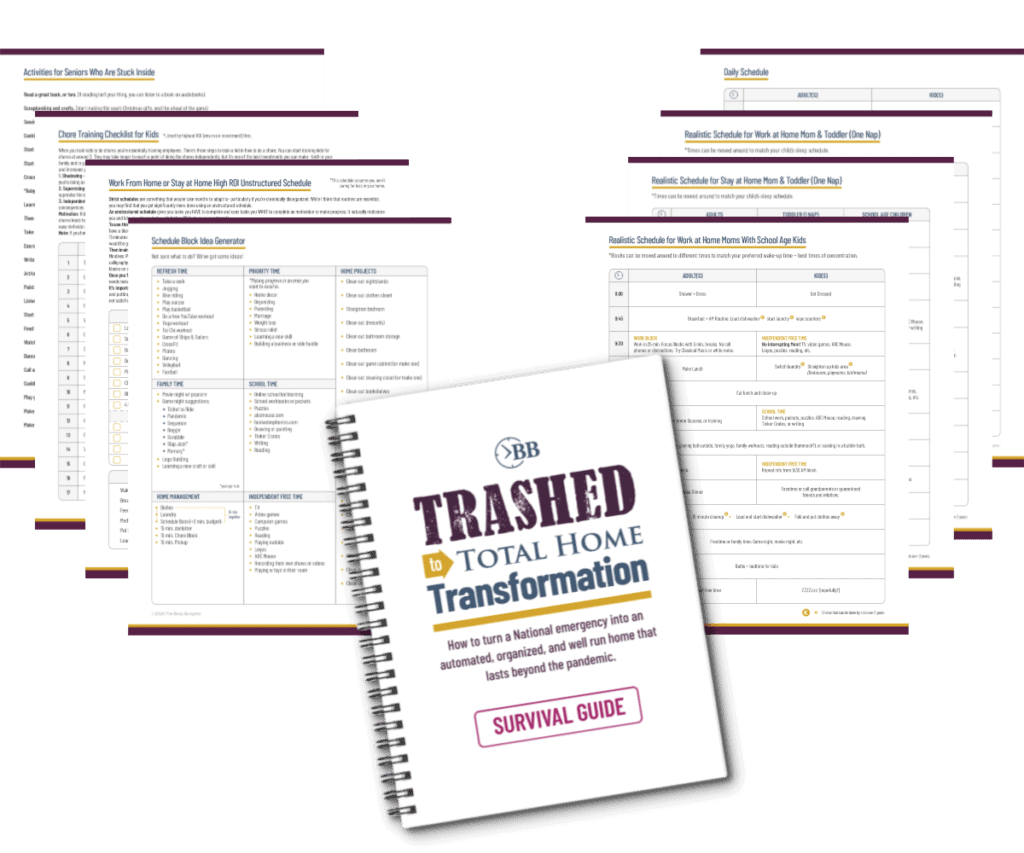 So when he says "what are we supposed to be having for dinner tonight? We can't just eat out again," or he comments on how messy the house is…
It's easy to react with defensiveness and anger.
Managed Expectations
My husband doesn't help around the house is a common complaint amongst readers, and usually comes with the question of "how do I get my husband to help more?"
Because the thing is, it's not just the comment that they said…
It's the fact that you DO ALL OF THE THINGS, are barely staying afloat and you're TRYING and he doesn't do his share! AND on top of that, he just made a snarky comment.
Which is right about when it turns into a huge fight.
Rinse and repeat over and over again.
If this sounds familiar, then you're likely stuck in the chore fight cycle.
And when you're in it… it feels like you'll never ever get out.
In the beginning, this was a huge problem for us too. But, there's four distinct things that completely turned it around.
If you need this to change and quickly, you can start this asap.
Keep Him In The Loop.
Warn him of a bad day.
This is particularly important if your spouse is naturally organized because coming home to a disaster can immediately set him off (justified or not). An easy way to head this off at the pass is to text him on his way home and let him know what's going on.
We've done this for years and call it "managed expectations."
Here's an example of one I sent Jon: "Hey Baby! I need you to have managed expectations today. I couldn't sleep last night and I have zero motivation today and then the dog threw up on the living room rug. I'm basically done with today and I can't find the motivation to care."
This gives him a heads up so he can manage his expectations of what he'll find when he gets home. It also sets you up for success (because it's likely better than what he's thinking).
And usually, it gets you encouragement, understanding, and empathy.
Fun fact: You're going to have days like this. That's part of life. It doesn't mean you're failing. It means you're human.
Text Updates.
(I find this super motivating, but it works for some readers and not for others. Really this depends on whether you like praise and whether you have a spouse that will give you that).
One of the hardest parts of home management for some people is that there's very little positive feedback (and for some people, there's a lot of negative feedback). So not only is no one verbally appreciating your hard work, they're likely criticizing the work you did (or didn't) finish.
That can lead to feeling like nothing you do is going to be good enough, so why bother trying?
What I found is that texting Jon updates of what I finished or got done is HUGELY motivating to me. I've done this on the days that I struggle with motivation for years now. And often combine it with number one on the same day.
He doesn't need to respond, but he always does… and this makes me feel like he's cheering me on, and it helps him to understand what I actually do all day, which also helps him manage expectations.
Divide the responsibilities (even if it's unequally).
Feeling like "my husband doesn't help around the house" is a struggle if you know you have too much on your plate. If you feel like he's overly critical of you, then make a list. Write down of all the things that each of you are doing. Include your jobs (P.S. taking care of kids at home all day is a job).
Being able to see the unbalance can help him realize he needs to help out more. Also, choosing chores like dodge-ball players (where you each pick the one you want most) helps even out the chores everyone hates.
Don't forget things that aren't typically seen as "chores" but still take up time, like bringing kids to sports practice, school pick up and drop off.
Control you… not him.
At the end of the day, you can't force him to take out the trash or do the dishes. Just like you've struggled with home management and budgeting for years, he may have a similar struggle.
One of the reasons why we teach our bare minimum home management program (Hot Mess to Home Success) in a way that teaches you how to do everything that needs to get done is because not everyone has someone to help, either because they're single, or the spouse of a deployed soldier, or because their spouse is incapable of helping at this time (whether by personality or skills).
You can nag him constantly, send him to-do lists and make sure you stay on top of him… But, that's likely not the marriage you were hoping to have.
Hot Mess To Home Success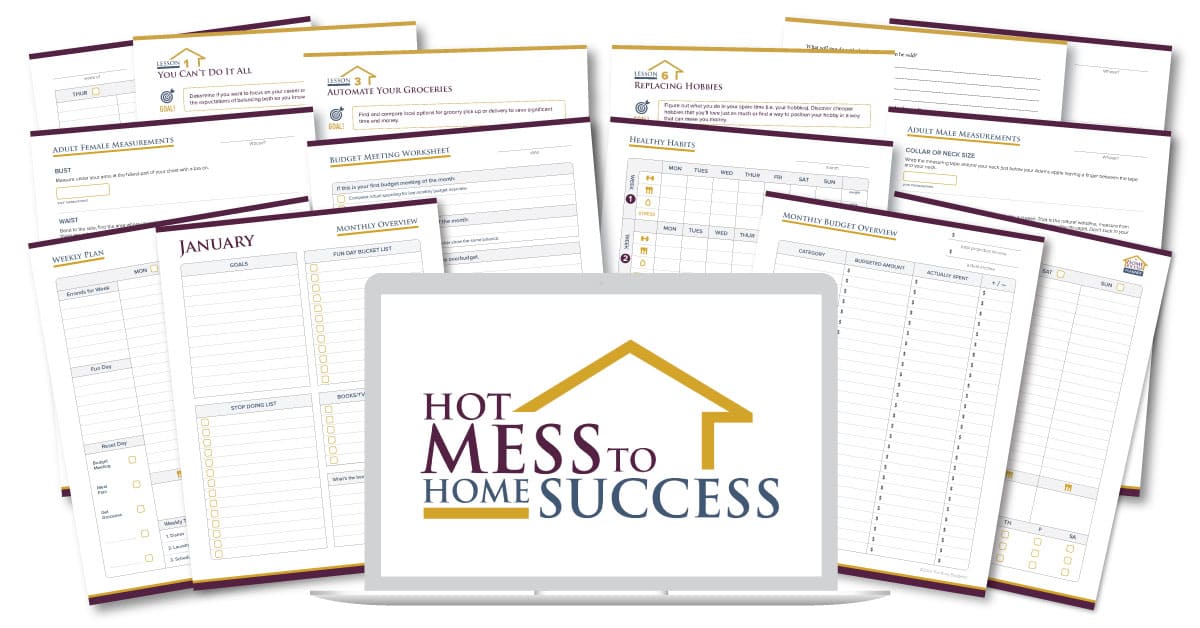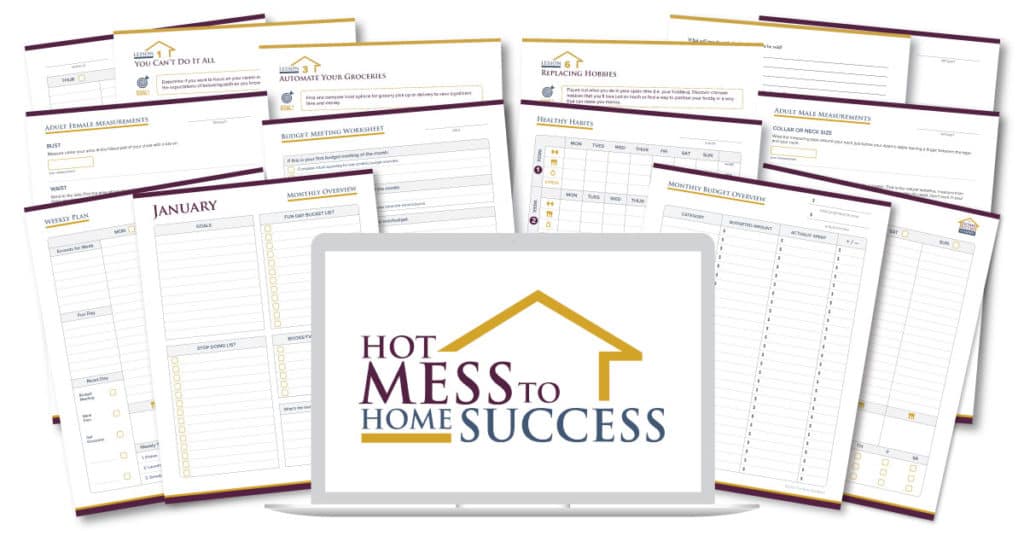 When you learn to handle it on your own, what usually happens is that they see a massive difference. They get excited and look for ways to be included because they "buy-in" to the idea that it's working. They can see the results.
Suddenly, the husband that doesn't help around the house.. turns into a guy who wants to be involved and recognized for his effort.
So, rather than starting to make the changes on your home or budget better by talking to him and explaining all the things that are wrong and telling him you both have to get serious and "do it right" this time…
You literally just do it yourself. Proving to him that you know how to do it and that it can be done. Then just "plug him" into the system that's easy and already working for you.
I firmly believe (and have proven over and over again… with myself and students) that the best way to make this stick for life is just do it yourself.
Hint: We teach you how to do this in a fraction of the time you're spending on it now. Which is kind of a key element of why this works.
You can find out more about Hot Mess to Home Success here…
Does any of that make sense? Have you ever said to yourself "My husband doesn't help around the house" or is it just me?
Comment below and let me know if that helped or if you need more details.
Not Enough Time to Manage Your Home?
P.S. If you're feeling like no matter what you do you can't get your house under control (not to mention your budget!) we completely understand. If you are sick of spending all day "catching up", only to have it completely trashed again in a few days, then you should check out our FREE training "Why Your House is Trashed: The 3 Step Shortcut to Transform Your Home For Good With No Extra Time" which will walk you through how to break that cycle once and for all.
The training will walk you step by step through the three foundational routines that will help you manage all aspects of your home no matter how bad your situation is right now.
Implementing this core foundation allows you to work with your personality (and your specific situation) to create a custom plan to manage your dishes, laundry, schedule book, meal planning, budgeting, and a cleaning routine in less than one hour a day. You read that right, ONE HOUR A DAY.
If you want to take it a step further, we can teach you how to automate a ton of stuff in your home (without paying for it), giving you back HOURS of your life (yes, even your crazy life!). Then once you get the foundation set, we move on to more complex skills like meal planning, budgeting, and cleaning.
This is a proven system that's been field-tested by thousands of people. People that have tried everything and could never keep their house clean or stick to a budget.
If you are ready to get started, you can sign up for the FREE one-hour training "Why Your House is Trashed: The 3 Step Shortcut to Transform Your Home For Good With No Extra Time" here…