If you're looking for reviews of Hot Mess to Home Success, you've come to the right place.
We have a lot of them…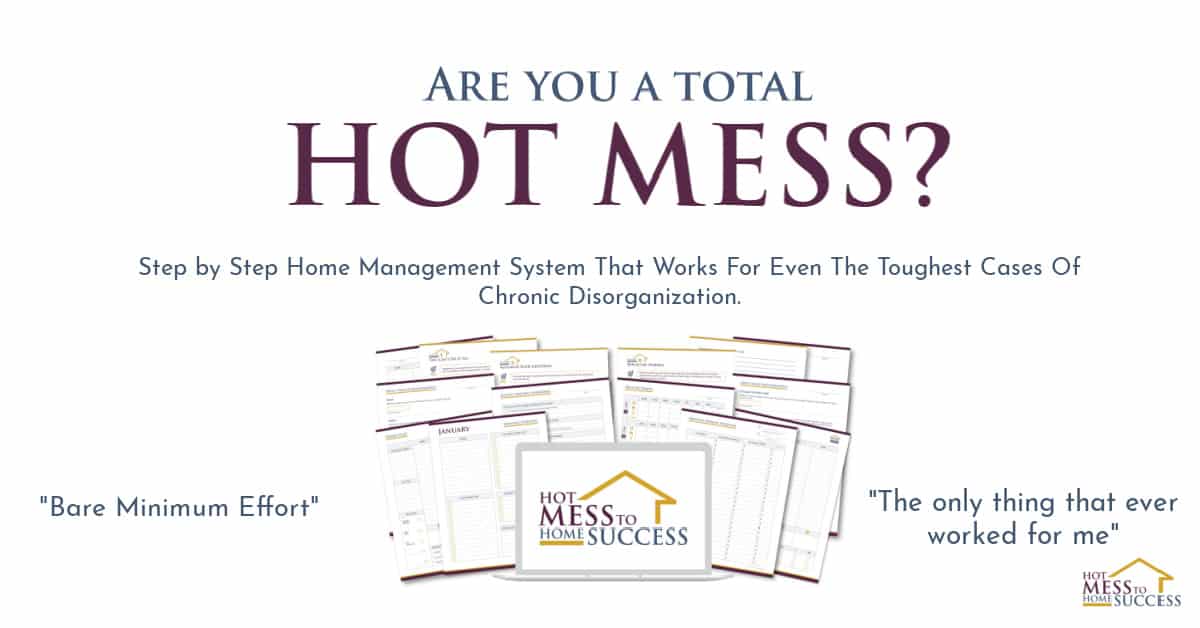 Since it would be impossible (and impractical) to add all of the success stories for Hot Mess to Home Success, we took a small sampling of Hot Mess to Home Success reviews to celebrate the incredible changes these people have made in their lives and how it's transformed their families…
For the past 7 years, I've been teaching people how to work with their unique personalities (and not against them!) to actually keep the house clean and stick to a budget even if they're chronically disorganized. I never get sick of hearing from students whose lives have completely changed as a result of our bare minimum effort on a consistent basis program.
Most of them have been trying to change for years but never made any progress. That's because they didn't understand that they'll never have the motivation to stick with a program in their weakest moments. But when you read these Hot Mess to Home Success reviews, you can tell they just needed a system that worked for them.
Any program or system that requires you to have the motivation to just do it even when you don't feel like it will never work for you.
If it did, then you wouldn't need the program (ironic right?)
What Our Students Are Saying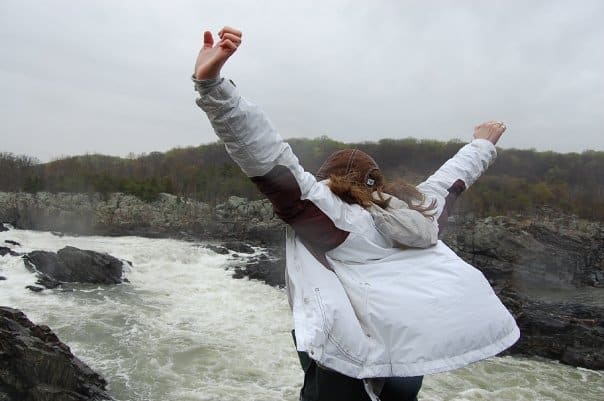 Overall, the things we hear constantly from students are…
I can't believe how easy (budgeting, meal planning, etc.) was once I finished the foundation. I've struggled with those things for years.

I'm floored by how much free time I have!

It's crazy. My (spouse, kids, etc,.) help now without complaining.

I can't believe I actually stuck to this! I never stick to anything!
We should also mention, that we really focus on the toughest cases of chronic disorganization. The people who have tried for years to change and have never been successful. We do have students who are just mildly overwhelmed (or even in some cases naturally organized) but everything we do is created for and tested with the toughest cases of chronic disorganization.
These Hot Mess to Home Success reviews are from people who have tried and failed over and over again.
Some of the toughest cases of chronic disorganization have a medical reason for struggling with routines and organization. While we've helped people with a wide array of medical issues, we have a ton of successful students with ADHD, ADD or chronic pain (like Fibromyalgia) diagnosis.
That makes sense since we focus on bare minimum effort on a consistent basis and work with your unique personality.
Why This Works
There's three reasons why this works (even if nothing else has ever worked for you).
We work with your personality (not the one you wish you had) so you don't have to rely on motivation (because that's not always available if you have no willpower). The rewards are built directly into the system and they motivate you, so you don't need to motivate yourself (yes, even with budgeting).
Only doing the things that matter.

We 90/10 everything and we get better results than people who do 100%.

Mastering things in order.

We teach you how to master simple (hint: EASY) routines that build on the next routine. It's unbelievable how easy things like budgeting, and meal planning are when you have the foundation to stick to it.

We teach home management (and really life management) in 5 stages.

We start with automation, which removes you from the running of your home as much as possible for free (often this actually saves you money). Then we teach you foundation (which are the only three chores in your home that actually matter and the hacks to do them with bare minimum effort on a consistent basis). Then we teach you simplified meal planning, easy budgeting, and finally the simplified cleaning system.
Hot Mess To Home Success Reviews
"I was literally the definition of disorganized— not only in my budget but also when it comes to managing my home. I couldn't even seem to get my kids out the door without being completely frazzled and I was constantly doing everything at the last possible minute. Now I'm finally paying off my debt and ahead of schedule (like seriously, my credit score is over 700 now!!!), you can actually SEE my kitchen counters, and I'm actually staying on top of laundry duty!"
Kara~
"WOW. My house is clean. There are no dishes in the sink. The dishwasher has the breakfast bowls in it- that's it. My husband is happy to come home (he was always happy, but now he's not stressed to come home, and he doesn't have to brace himself for chaos) The progress has made my life more full of peace, full of joy, and I don't feel guilty taking time for myself, or even spending time with my kids.
I don't feel like I desperately need a maid. I have had people spontaneously drop by and I was able to have a pleasant 4 hour visit, because I felt at peace that my home wasn't a disaster. And I feel like I can invest myself in my marriage and other relationships because I am living in the present. Thank you Rosemarie!"
Kimberly~
"Over the past year, I've taken baby steps to establish routines that work for me—my personality, my family, my home. Some areas still need improvement, but there is order and peace in our home. Our household systems are well-managed, there is margin in my schedule, and I've learned how to slowly build habits that actually stick.
So not only is our home under control–which is a reward in itself!–but there are multiple ways in which this program has set me up to achieve other goals I've struggled with for ages. It is truly a foundation for many different successes, so thank you, Rosemarie!"
G~
"I have had a clean house for a month now! For a whole month since finishing your program my husband and daughter have been taking on responsibility for our house. I am less stressed and even happy about people dropping in unexpectedly. I don't worry about other people judging my home because it's clean!
We have also been able to save up a 3-month emergency fund, which provides me with a confidence about our living situation that I didn't have before. Most important my husband and I are on the same page with how the house is run and our finances for the first time in our marriage. In fact, I would go as far as to say that this program is a lifesaver!"
Celinda~
"I used to struggle with absolutely everything. I married a man with 4 amazing kids and suddenly found myself drowning in dishes, laundry, and cleaning. There was NEVER enough money to cover everything and cooking meals that everyone would eat was impossible. Then my dad got cancer and I also became his caregiver.
The house and my stress level went from bad to worse overnight. I got this course in desperation sitting in an ER waiting room at 3 am. How could this really help me since my situation was so unique with 4 step kids and being a caregiver for my Dad? I had probably always been a hot mess, but this was a whole new low for me.
Fast forward three months into the course and I meal plan regularly and stick to it (that's never happened before), I use a planner every day, I have no dishes and laundry backed up (!) and I have significantly more time to do the things that matter (like help my family battle cancer). You don't even realize how much of a difference this stuff makes until it becomes your lifeline. I can't imagine going back to my messy house and I'm glad I never have to. I'm really grateful for that 3 am purchase!"
Jenn~
"I absolutely LOVE the laundry system!
Such a simple solution to keeping up!
My
kitchen has also been so clean
following
Hot Mess to Home Success
!
I've got those two systems in place now I need to try and get the next steps going. Thank you for sharing your methods, I hope to pass them on to my children so the next generation will already be on the road to success!"
Kris~
"Since decluttering and keeping a clean home, I have been able to really tackle the mental and emotional chaos that was sort of taking over my life. The constant feeling of anxiety and tension and overwhelm has decreased significantly. I can't say that I never feel those things, because that would mean I wasn't human.
But I find it a lot easier to deal with the emotional/mental overwhelm since I decided to take the minimalist route to my home. My home feels more open and free, and now my heart and mind feel more open and free. I've also found that I read a lot less as an escape method and more for enjoyment/self-care/relaxation/pleasure.
Life outside my home has also improved; I've felt more confident and comfortable at work and in my social circle. Basically, having less clutter has lead me to confront emotional/mental upheavals and live a more enjoyable, calming, relaxing life."
Nikki~
"My credit rating has improved by over 30 points in just a couple of months, I go out for dinner maybe once every other week on average and while I have some rough days here and there I know I will be in a great place in the end and that's what I work towards. Keeping my eye on the prize as they say."
Julie~
"A lot more streamlined, simplified, and free. After simplifying our stuff, I set up systems to work for our household. My systems have become a habit, which makes them feel like they're on autopilot. These systems cut down on the overall time spent on the chore and the mental energy it takes to do it.
I don't need to think about it each time, because I follow the system that I set up after putting a lot of thought into it. I've gotten my family on board to help me with these two areas, which makes a huge difference. It turns out that it's easier to train them to help me with these chores when I have a simple and straightforward approach.
Now, I'm onto perfect my meal planning system!"
Andrea~
"We feel so FREE! We are able to have full control over our money and do more things that we want to do. Traveling is a huge part of our life. After paying off our debt, we went on a family vacation and bought a camper."
Brittany~
"My marriage has been saved. My husband and I are the happiest we've ever been and there is hope now where there was none. We have goals to work together toward and there is no more feeling like we aren't the people we want to be. When I stopped living up to other people's expectations, my entire life changed."
Barb~
"It's such a relief to know that when dinnertime approaches, I already have a plan and the ingredients to make it happen. It's much less tempting to push the easy button (read: expensive, unhealthy fast food) when I already have everything I need to make a delicious, healthy meal for my family."
~Kimberly
"I can't believe that this is the same guy that used to make me miserable in our house. He constantly threw jabs about the house being messy, he complained about how much money I spent, and even threw in the "what do you do all day" comments. I hated even asking him to help because he always found a way to blame me for everything he did.
But now, he's complimenting me on the house, he's bringing my daughter to school in the mornings, he's making dinner, and we're doing budget meetings (we just paid off the first credit card last month!). I just wanted to say thanks. I can't tell you enough how this helped our family (and our marriage!)"
Callie~
"My life is SO MUCH EASIER!! You don't even realize how much of a difference all this makes until it becomes your lifeline. I am still a work in progress, but the important stuff gets done, I am on top of things and anything not deemed a priority gets eliminated from the list."
Jenny~ Hot Mess to Home Success Reviews
"Life is so much better than I could have ever imagined. I am so much happier now than I have been in years. I now meal prep every week and have automated my meals (I even wrote a blog post about this!). My laundry gets done every Sunday. I now put it away as soon as it comes out of the dryer. Instead of folding it, putting it in a basket, and then putting it away once it's all done.
I cook once a week for myself and have food that lasts me a whole week. I use my Living Well planner to plan my week and make time for my big important goals (blogging and exercising). I started a night time routine where I tidy up my space and get everything ready for work the next day (clothing, lunch, etc…). I clean up my dishes now as soon as I use them.
I have a budget system that works for me, and I'm working on paying down my debt. I've paid off more than $4,800 in debt in 2019. I've lost 202 pounds, and my ultimate goal is to lose another 65 pounds (I now weigh 226 pounds, from 428 at my heaviest). I have so much more energy, and I feel better overall. My ultimate goal is to make a full-time income from blogging to pay off my debt, and eventually quit my day job and be a full-time blogger. I'm also in a much better relationship with a man who is loving, supportive, and understanding."
M~
"I am actually in my above ground pool where I relax and it made me realize how thankful I am for what you have done to help me. I used to come to my pool to escape my messy house and clean my pool because it stayed clean and my house just got messy again right after I cleaned. Now I have my list done and I cleaned my pool but it is just to relax.
I no longer need a place to escape the mess. I never thought this would be possible and couldn't have imagined it would take so little work and time to maintain. This would have seemed impossible. Even with 2 teenage daughters who I'm trying to figure out how to implement this with them. My house stays clean.
I'm still working in getting through the entire Hot Mess course but WOW your course has changed my life and my marriage. My husband and I had some issues like all marriages and kids just add to that but… with the time I saved I started reading about different marriage fixes and WOW again.
My husband is doing things just to make me happy and we are closer than we have been for years. Thank you again!!!"
Jamie~
"I was struggling with every single aspect of my life, from keeping up on housework, cooking meals, spending quality time with my family, completing home remodel/repair projects, and especially budgeting!
Finally, I have a sense of relief. Knowing I am making some positive changes in baby steps. I am an EXTREMELY impulsive person and when I get an idea I need to do it now. I would not plan out things, impulsively buy what I thought I needed and, of course, would buy too much. I'm finally taking steps forward to get that under control."
Caitlyn~
"Wow. I'm walking out each morning to a kitchen with an empty dishwasher. Being able to load the dishwasher through the day (we work from home) means the kitchen is clean at dinner time, the kitchen being clean at dinner time makes it nice to go in there and cook dinner, the kitchen being cleaner before starting to cook means it's easier to clean up after dinner. SHOCKED.
I actually always knew this, but I couldn't figure out the system (duh). Onto the laundry, I'm slowing getting on top of that. I'm even just ironing a few items at a time while I'm in the room to get on top of Mount Ironing Basket. Chipping away at that. Yay!
My home stock (room) cupboard is AWESOME It's like having your own mini shop in your hallway. I LOVE IT. I still have some things coming from Amazon to put in there, but it felt so empowering to shop around for the best prices.
I'm already noticing the differences and I haven't even finished the course yet….
The biggest ah ha moment I had was when Rosmarie says "organizing is not the same as being ORGANIZED". Oh. My.
After starting the program in May I'm finally feeling like I'm making progress and getting the hang of the basics. I've just begun the meal planning module and I have managed to cook 5 nights in a row. My husband has been in shock He's been calling me on his way home from work asking "what should we do for dinner? Need me to pick something up?" And I have been able to say that dinner will be ready at 6. Feels soooo good!"
Tasha~
"First of all, I want to say how much I love your systems. Telling my boys (5yo, 8yo & hubby) that we are going to clean together as a family for 15 minutes each day and put away our own laundry, and other than that I'm not going to nag them about the state of the house.
AND I'll stop cleaning and spend time with them has made a huge difference in their attitudes. Plus the difference in the state of my house in just 2 days is amazing! I can't wait to work through your whole program because I'm confident by the end of it I will have the home and relationships that I have been craving, not to mention my sanity back."
N~
"I'm so excited because I have an empty sink! what's crazy is that it wasn't that it was hard but normally I have so many other stuff in my head that I just try to get out of the kitchen and do stuff. But having it in my mind that I needed to do the dishes made it super easy. AND since I was there, I went ahead and cleaned the counters. Bonus!"
Alexia~ Hot Mess to Home Success Reviews
"I've been slowly clearing out the closet under the stairs that has been our dumping zone since we moved in 3 years ago. Once it was emptied out, it seemed so big!
My husband threw together this shelving unit to fit perfectly on the side. It was all from materials we already had so no cost. Now I finally can gather all the stock items I've been slowly collecting into one place. All cleaning supplies except the daily use items have also moved to this instead of overflowing under the kitchen sink."
Crystal~
It's an amazing feeling! Almost done decluttering my entire house!! And still going strong on dishes and laundry It just gives a huge sense of accomplishment doing these seemingly small things. Thank you for this course Rosemarie Groner …seriously I began to lose hope for me to be able to get a handle on this stuff. Can't wait to see what's next."
Alexa~
I hope these Hot Mess to Home Success reviews have been helpful.
Ready to get the same results?
Hot Mess to Home Success has a 100% money back guarantee for 30 days and it's NOT a big commitment. I don't need hours of your life, I don't need you to commit to a huge change. I just need you to start and try to prove me wrong.
That's it. Just prove me wrong.
You can jump on the Hot Mess to Home Success waiting list here…
P.S. If there enough interest from this post, I'll push you guys through and open the course for enrollment right away so you won't have to wait.