It always confuses me when I hear people say that they can't afford to have fun. Actually, it boggles my mind. Technically, we can "afford to have fun", but we don't usually spend money on that. We believe in free entertainment.
There's so many fun and exciting things to do with friends and family or even by yourself. You just need to know where to look. I don't see spending $60 to eat a mediocre meal at a mediocre restaurant while everyone spends the evening checking their iPhones as fun.
Fun is getting together with friends, putting your little angels to bed (in Pack n' Plays or sleeping bags depending on their ages) and playing cut throat Monopoly or Cards Against Humanity until 3am, laughing so hard that your stomach hurts. Totally free and a million times more fun than anything you could pay for! (Warning: There is a downside to that when your little angels wake up at 6 am the next morning).
In fact, almost all of my favorite memories from the past few years were things we did for free.
The best list of free entertainment:
Family Game Nights:
Why do we have 20 board games but never use them? My husband I love playing Chess. Our favorite board games are Operation, Electronic Monopoly, Life, Clue, Apples to Apples, Jenga, Cranium, and Encore. We play those with our parents and extended family. For our toddler, it's mostly candy land, memory and the balloon game from Melissa and Doug.
The Gym or Working Out at Home:
We complain about not having enough time to go to the gym and being bored in the same day. Insanity. Especially if you live in a community association with its own free gym. Feeling particularly unmotivated? Just make the agreement to go for 15 minutes. 15 minutes worth of exercise is better than none! Especially when done on a consistent basis. Most likely once you start, you'll be motivated to stay longer.
The Pool:
If you have a community pool this is a fantastic option. We have a free community pool that's not even a block from our home. We keep a soft insulated cooler bag (Ours came from five below for $5.00 and looks like an insulated tote bag) stocked with our 2 beach towels, bathing suits, books, a hair tie, and sunscreen. When we want to hit the pool, we just add our water bottles and head right out.
Free Movie Opening:
This one is new to me but I'm so excited about it! The Penny Hoarder just showed me how to get free advanced screening tickets to movies. It's easy and anyone can do it.
Walking Around The Neighborhood:
One of my favorite things in the world is exploring the things that everyone passes but no one sees. I used to call up random friends to have them come over and walk through the "woods" (well, the small clusters of trees that count as woods in Northern Virginia) behind my house to see what we could find. Eventually, we found a river! I had some of my best memories from those walks!
The Library:
I know, I know. You think the library is lame. I dare you to give it another shot; it's hands down my favorite place to be. Chill out and read glossy magazines so you can find out what went wrong with Tom and Katie. They have pretty much every magazine known to man and they're all FREE to read!
It's also a great place to look through cookbooks, music and even DVD's.
If you just can't bring yourself to hit the library, then head to Barnes and Noble. They have a very relaxed magazine reading policy and comfy chairs. I suggest this only to those with strong willpower, or else you'll leave the proud owner of a $32.00 book on organic botany that you'll never look at again once its home.
XBOX:
Our XBOX is entertainment central. We can watch free movies on Amazon Prime or TV Shows on Hulu Plus (We cancelled our cable and saved a fortune by switching to these services) or we can play any of the games we have previously purchased.

If you're not really a "gamer", but your partner is… I suggest you try out the free trial of Minecraft. It's a world of infinite Lego's. You can create anything. It's very easy to play and highly addictive. Plus, you can play split screen (that means up to four people can play on one screen). If you end up liking it, the full version of the game is only $20.00 (Most XBOX Games cost about $60.00).
My husband and I have been obsessed with Minecraft now for about 3 months. That's a pretty good use of 20.00 if you ask me!
You can also Kinect Chat if you already have a Kinect. We mostly Kinect chat with my family. It creates a widescreen image of your room with everyone in it, and video conferences with each other. You'd have to do it to understand but when I Kinect chat with my family, I literally feel like I'm sitting in their living room hanging out with them. It can be a huge help if you're far away and homesick. If you have a Kinect and you have kids, there are about a million silly free games you can play that uses the kids body as the controller and takes photos while he plays.
Organize the House:
This may seem like more work them play, but we aren't talking about cleaning. We're talking about organizing. There's only one rule. No spending money. So, you have to figure out a way to use what's already in your house to get what you need. We have a list of projects so that when we have time, we can pick one that interests us.
Start a Blog:
If you love to write and you're good at helping people, a blog is one of the best hobbies you can have. Not only does it not cost anything to start, but it actually makes you money. As you get more income from it, you can spend more of your income growing the blog. Reserve a copy of Blogging for Dummies at the library for help getting started. Once you've made about $100 in income, grab a copy of "How to Blog For Profit Without Selling Your Soul" from Amazon.
Cooking Date Night:
We make a really fancy dinner on a night we're off. Put the little kids to bed early (or bribe them with a movie). Dress up a little. It normally takes us about 4 hours to make a gourmet dinner. We have a blast, learn to work together and sit down to a phenomenal dinner that we're ridiculously proud of. As a bonus, all that time without the TV encourages conversations about everything under the sun.
Since we're using whole ingredients for the recipe, the costs are low and I've had no problem keeping within my grocery budget. Plus, you typically have some awesome leftovers. For the last cooking date night, we had a loaf of Cranberry Walnut Bread, Skillet Mac and Cheese, a Herb Roasted Whole Chicken, a Spiced tossed salad, and Twice Baked Potatoes stuffed with sour cream, bacon, salt, pepper and cheddar cheese.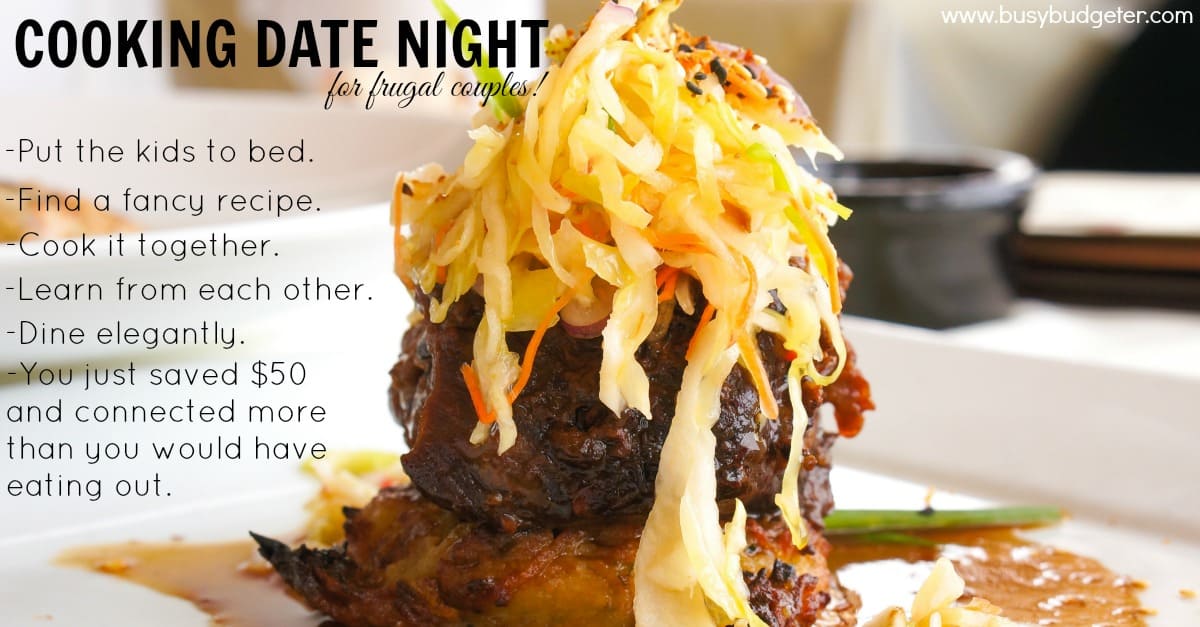 Spa Night:
Every girl in the world has an enormous pile of beauty products that she never uses. You know the one I mean, it has years of Christmas gifts and CVS impulse purchases in it. Take a night and pull it all out. Soak in a bubble bath, deep condition your hair, give yourself a manicure and a pedicure, exfoliate, self-tan, pluck and arch your eyebrows, give yourself a face mask, moisturize, and spray on the perfume you only wear for special occasions. Feel like a million bucks, because you're worth it. If you have a particularly awesome partner, and he's brave enough to join in, it can be a fun couples activity (as long as you swear that you won't tell anyone).
Poker Nights or Grown Up Game Nights:
I've been doing these for 10 years! Invite friends over to play games after dinner. If they have kids, let the kids watch a movie until bedtime then put them to bed for a fun "sleep over". You can wake them up when everyone is ready to go home. Depending on how many people you have coming, this can be as simple as monopoly, or as complicated as a poker party for change. One of my favorite game nights was when I ended up with 5 couples coming over so we made up our own version of "The Newlywed Game" and played to see which couple knew each other the best (make sure that everyone invited has a fairly happy marriage first- or this can go south quickly).
Getting Frisky:
We aren't very risqué here at The Busy Budgeter, but I'll leave you with a quick thought. Sex is free (assuming you don't procreate which can cost… a lot) and most people (especially husbands!) tend to find it pretty entertaining. So by all means, get your freak on.
Free Local Classes and Events:
Find a local blogger to follow (If you live in Northern Virginia with me, head over to Prince William County Moms). They'll keep you up to date with free local events. We have movies under the stars every summer, Free outdoor yoga classes, free festivals, a free zoo, free fishing weekends, free national park days, free museums and the list seems to grow every year. A great local blogger will never let you be bored.
What did I miss? What's your favorite free entertainment?
Pop on over to my Facebook page if you liked this post. There's even more ideas for you there.
This post may contain affiliate links. Purchasing a product using that link will not change your purchase price, but I may be paid a percentage of your purchase for referring you to the product. I never refer products that I wouldn't use myself or don't love.
This post may contain affiliate links. If you click & make a purchase, I receive a small commission that helps keep the Busy Budgeter up and running. Read my full disclosure policy here.