Whether it's your kid's birthday or your spouse's, when you're looking for ideas to make a birthday special, it's TOUGH on a budget.
Update: 4/5/20 I know how stressful finances are right now with stay at home orders and the pandemic. I also know that I'm uniquely qualified to help you. I've helped hundreds of thousands of people get out of the paycheck to paycheck cycle (after trying and failing for years), by teaching them how to work with their unique personality to actually stick to a budget.
I'm giving you access to the insanely popular 90 Day Budget Bootcamp for FREE. Because I know that this program will change every aspect of your life. Take a look around. Because this is the LAST DAY you will ever sit around worrying about money. Let's get to work.
Join the 90-day Budget Bootcamp for FREE here…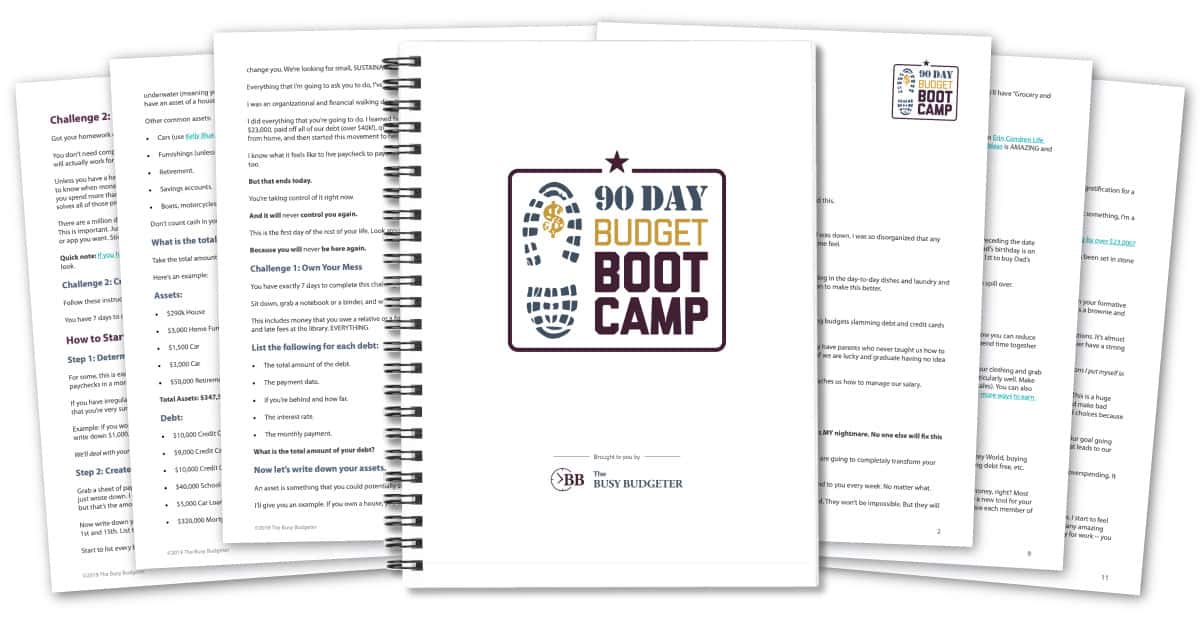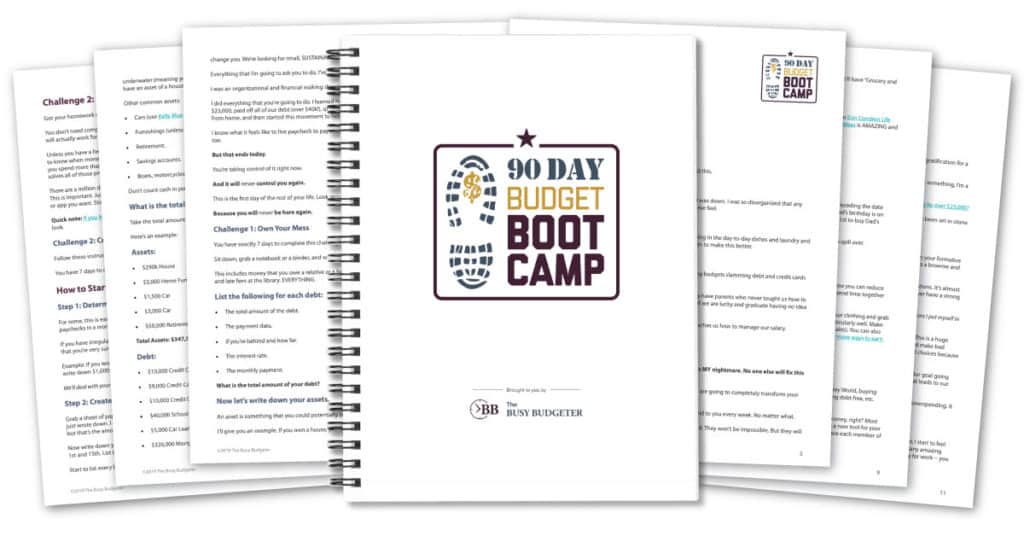 Of course you want to plan an awesome party, give great gifts and enjoy an amazing and memorable time.
Kids, spouses and everyone can enjoy an awesome birthday without breaking the bank. Use these 7 cheap ideas to make a birthday special!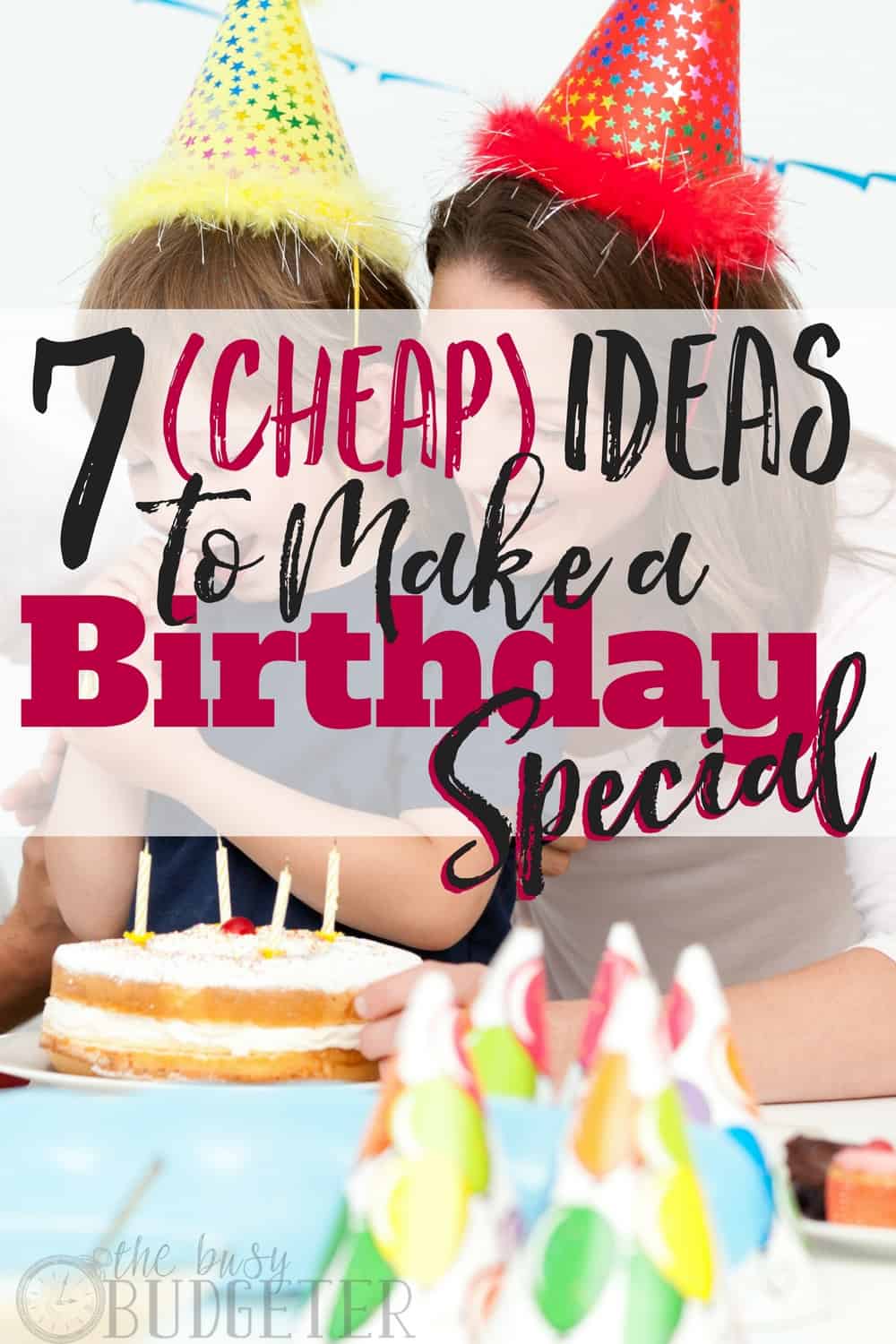 I am a huge believer of giving experiences over gifts. Of course, it's hard not to go overboard when planning a birthday party. We all want to give our kids a birthday they'll remember…but before you plan an (expensive) birthday extravaganza, take a moment to think back to your own childhood…
What do you remember about your birthdays when you were young? Probably a special cake your mom made, having a bunch of friends over or playing a game you really enjoyed. I'm guessing those memories are much more cherished than tons of gifts or decorations.
We spend money on birthdays because we want our kids to experience an amazing childhood. But dropping hundreds of dollars on a party won't make a difference. Kids will remember an amazing childhood because of the experiences they enjoy, the connections they build and the time you spend with them.
Your husband will love a great date, a yummy dinner or doing a special activity with you, much more than more "stuff" you both don't even need or want. My husband and I tried an online massage date night using a company called Melt and it was way more fun than another "gift" to shove in a corner.
It's about shifting your intentions to the experience over spending the money. You don't need to spend lots of money to show someone you care. There are plenty of ideas to make a birthday special without spending a lot.
Free Budgeting System That (Finally!) Helped Us Stick to a Budget (even with birthdays!)
If you need help making your budget work beyond just this party, then this free program will walk you through the process step by step. It made a huge difference to us! After trying for years to save money (and failing), this simple system helped us reduce our spending by over $23,000 and pay off all of our debt so I could stay home. It even taught me how to survive birthday's and sports on a budget! You can sign up for the free 90 day budget bootcamp here.
Here are seven ideas to make a birthday special and memorable, for cheap!
1. Keep it Simple
It sounds kind of obvious, but so often we start planning a birthday party and fall down the "theme" rabbit hole. Suddenly we've purchased napkins, cups, plates, a cake, balloons, wall hangings and more. I know themes are cute and fun party ideas. I know when you see all those Pinterest-pretty items at the party store it's hard not to drop tons of money.
Instead of going all-out with your theme, I want you to opt to highlight the theme with one or two items and keep the rest of the décor festive and fun (but simple). If you want to use a unicorn theme, a baseball theme or whatever the focus of the party, decorate with a festive tablecloth or wrapping paper. Keep the rest of the items colorful and fun, but don't run out and purchase every themed item to match.
Coordinate items already on hand. For example, if you own black or white plates and cups, use those and accessorize with a tablecloth or fun napkins. Use paper streamers and easy-but-festive decorations.
Use your kid's existing toys to decorate or choose a birthday party theme in their area of interest. You may already own tons of items with your favorite superhero, sports team or latest movie character, so incorporating them into your party will be easy. Look for printable clipart to jazz up your invitations, banners and more without spending money.
Your local "dollar store" is also a great resource for birthday decorations. Find balloons, wrapping paper, plates, napkins and fun accessories to decorate for almost nothing. You may also find small toys, containers and other items for your party.
2. Go Potluck!
If you're inviting several people to your party, host a potluck. Many friends and family members love an opportunity to bring a dish to share and it's a real cost saver if you want to host a lunch or dinner. If you're looking for ideas to make a birthday special, throwing a potluck is a great one!
Encourage guests to bring their favorite dish. Encourage friends of your kids to bring a favorite game or item for entertainment. Host a sprinkler party, where each kid brings their favorite water toy. I've literally seen kids spend hours of fun with something as simple as a $10 Slip 'n' Slide. You don't need to go all-out. Guests will feel special because they get to contribute and share their own personal touch.
Another great "BYO" idea is to ask kids to bring their own stuffed animal friend for a picnic, zoo, or jungle themed party. Host a sports party and ask each kid to bring or wear an item with their favorite team's logo on it or a hero (or princess) party where everyone dresses up as their favorite character.
Making a birthday party special is easy when each guest has a chance to contribute and share in a part of the festivities. You might feel like you should be the hostess with the mostest and do it all yourself, but really? Your guests will enjoy an even better time if they get to take part in the fun.
3. Keep it Action Packed!
The most inexpensive, fun party ideas are the ones where there is plenty of action and activity. I'm not telling you to go out and rent a bounce house, a clown or a pony! Instead, simply keep the party lively and fit in more activity by keeping the party short. A two-hour-long party where kids play a game, enjoy cake, create a craft and go home is much more memorable than a long afternoon where everyone gets bored or cranky.
Play music. Plan in a few more activities than you think you'll have time for. Don't plan for a long, extended present-unwrapping portion of the party (especially for kids). It turns out, kids tend to get really fussy when they're sitting and watching a friend unwrap present after present. (You know this.) This is one more reason to pack in more birthday action.
The same concept works for adult birthday parties as well. So many parties are themed around food and gifts. Instead, host a game night or a family fun night …both great ideas to make a birthday special. We love poker night with our pals and the kids enjoy running around and playing together too. It's a fun party idea and it provides an awesome source of entertainment (that doesn't cost much at all).
4. Start a Birthday Tradition
Set up a birthday "routine" or a birthday tradition to do every year. Think of how meaningful it is when you receive a single red rose for Valentine's Day or another special "annual treat." Create a tradition that consists of a simple gesture to signify the special day.
You could start a family tradition where the birthday boy or girl chooses their favorite breakfast, gets to select a movie for the whole family, or even chooses an activity they really love to do. Maybe your son's idea of a perfect day is watching dump trucks at a construction site and playing at the park. Perhaps your husband would love an afternoon of videogames and watching golf.
Carry on a birthday tradition you can revisit every year. It's fun to cook a meal they love, have a chance to bake cookies together as a family or work on a cool art project. Traditions really make a birthday special without going all out and spending a boatload. The tradition itself is a unique, fun signifier of the importance of the special day.
5. Give Experiences Over Gifts
Giving an experience is so much more meaningful than giving kids or adults a bunch of stuff they don't really need. If you're stumped while looking for ideas to make a birthday special with a cool experience, check out Groupon. You can save a ton on awesome activities, from your local theme park to a waterpark to a trip to the racetrack. Groupon offers great deals. Find extra room in your budget by forgoing presents and even selling items around the house if you need to generate income (trade in those old videogames and DVDs for example)!
For a kid's birthday, request no gifts but plan a special activity instead. An afternoon at the children's museum, a fun time at the local pool, a trip to a local nature preserve or petting zoo…all awesome birthday ideas that don't have to cost a lot. (Look for free or discount days and plan the party then!) Your fellow parents will thank you for a chance to NOT spend more money on yet another toy.
A memorable birthday experience is one of the best ideas to make a birthday special and unique. A fun, memorable activity will provide memories to last a lifetime and it's much better than a party and a bunch of presents forgotten in a few months.
6. Give Small but Meaningful Birthday Gifts
If you really want to give a birthday gift, opt for meaningful small gifts rather than big "stuff" and more toys. Find really great items at a thrift store—a pretty antique pot, a cool vintage purse, new-to-the owner books or games. Watch for jewelry and fun items at flea markets and other spots where prices are low but items are funky and unique.
For kids, watch for items that appeal to their interests. Kids love tiny items and activities requiring creativity, offering a chance to explore their artistic side. When we do give gifts (which is rarely these days), we love giving educational, creative or learning themed birthday presents.
Baskets are another great option for gifts—practical items pooled together and packaged in a fun basket or container (which are part of the gift). My family has a great $10 basket gift tradition at Christmas which you could easily use for birthdays as well. Put together creative and cool gifts specially made JUST for the recipient.
Edible and homemade gifts are another great option with a lot of meaning. Let your kids draw a card or picture for Grandma or design a game to play with their friends. Even if you aren't crafty, bake cookies, bread or another food gift, or even pick a bouquet of flowers for a birthday present.
7. Take Photos
If you want to host a memorable birthday, remember to document the day by taking lots of photos. If you're going for a special experience, a fun activity or a get-together where everyone is excited to participate, you'll want to capture the day and take pictures. Of course, as the hostess you might not have tons of time to play photographer too, so it's a great job to assign a friend.
After the party, email photos out along with a thank you for coming. You could even go old school: print the photos and tuck them into a card to share the memories with your family and friends who enjoyed the day. You won't worry about party souvenirs or take-home swag because the photos are great memories.
Photos are wonderful gifts and putting together a photo book or even framing a favorite picture is a meaningful and special gift idea and it doesn't cost a lot at all. Dollar stores offer many frame options, as do thrift stores. Print out a photo or a few photos and put them in a frame.
Birthdays don't mean you need to go all-out and spend a ton of money to create a memorable, fun or really special time. There are tons of fun and cheap party ideas out there. Put together an awesome party and give inexpensive-but-meaningful gifts (or better yet, experiences), and help your loved one feel like a total rockstar on their special day, without spending money.
Put together birthdays on the cheap. The day should really focus on the guest of honor and help them feel important and cared for. You don't need money, gifts or crazy elaborate parties to succeed! What are your go-to ways to save on birthdays? Do you know any unique ideas to make a birthday special?
90 Day Budget Bootcamp is FREE right now!
Is your spending out of control? Do you set a budget and then never stick to it? Or just have no idea how to start? I've totally been there! But the 90 Day Budget Bootcamp changed my entire life. You can now get immediate access to the 90 Day Budget Bootcamp for FREE (limited time only!) through this link. You'll learn how to create a *realistic* budget that you can actually stick to, create a meal plan of simple 15 minute meals that take less time than the drive-thru, and even get your spouse on board with the budget. Grab it here for free before it's gone!