Everyone has likely heard that A capsule wardrobe can save you time and money. (Hint: they really can).
But if you do the research on how to get started, you'll quickly get overwhelmed thinking you either need a few days (or weeks!) with nothing else to do or thousands of dollars to make this work.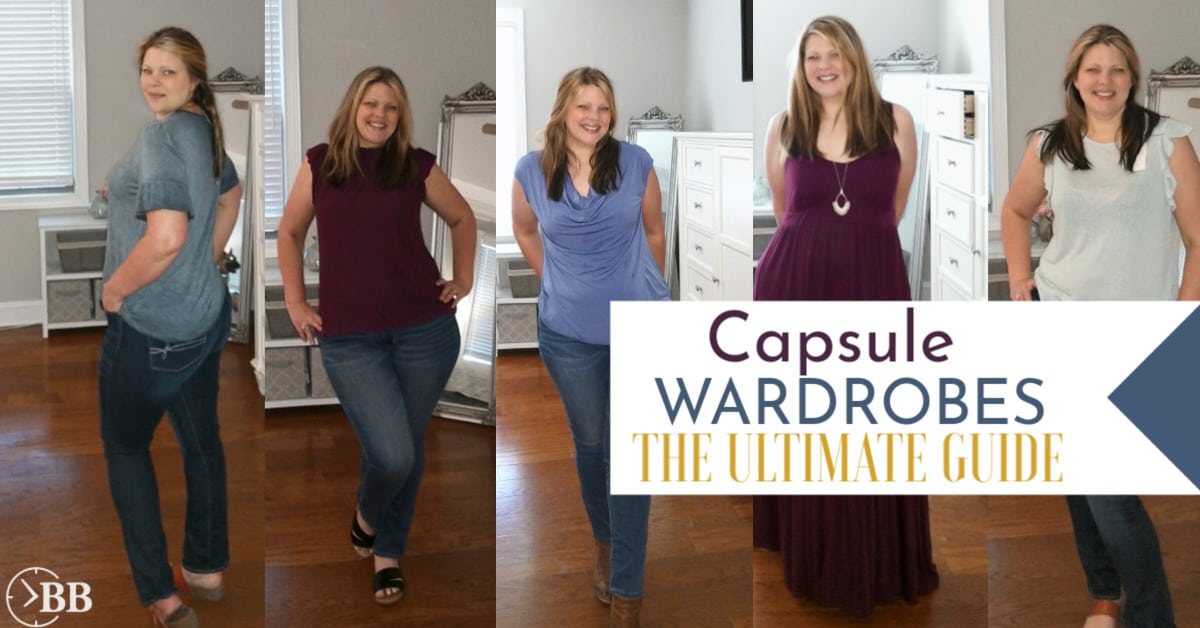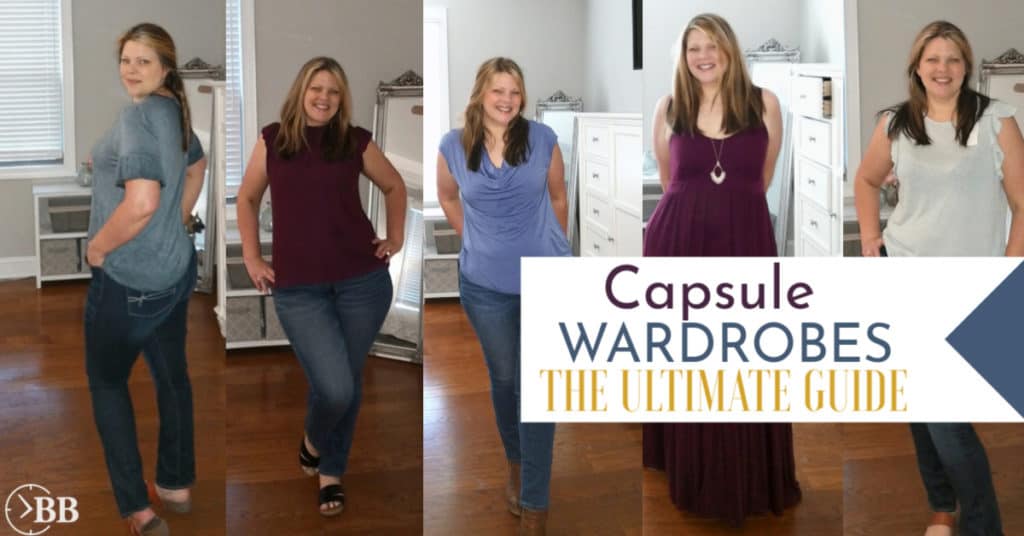 Because usually, the capsule wardrobes you see are the kind you see in magazines with ridiculously priced pieces that are meant to be interchanged. "Grab this yellow pleated jacket," they said, "you can wear it with the green and yellow pencil skirt or the navy ankle pants." I could never figure out who these people were who were so pleased to be able to use their one jacket with 2-3 other things.
Update: 5/22 You asked for it and I'm delivering! Starting NOW, you can grab the Trashed to Total Home Transformation Survival Guide (Pandemic Edition) For FREE!
It teaches you step by step how to work with your personality to not only set up home routines that will work (no matter how many times you've failed in the past), but that you'll stick to… long after the pandemic is over.
We've taught hundreds of thousands of people how to use bare minimum consistent effort to completely transform their home (and life!). You're up next.
You can get your Survival Guide here for FREE…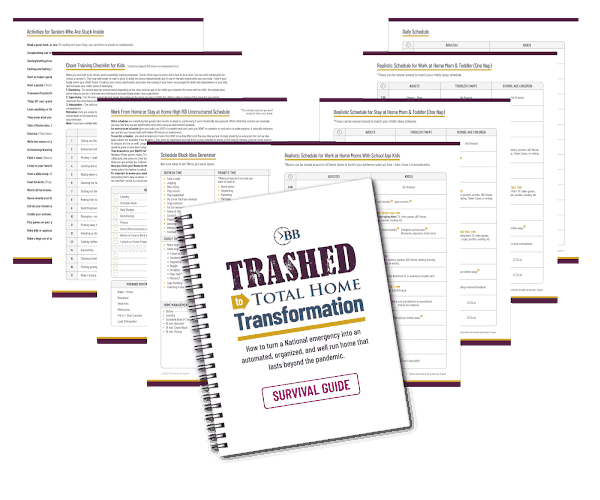 Why Choose a Capsule Wardrobe
I assumed after researching, that capsule wardrobes were for rich people with too much time on their hands, so I went about my business.
To be honest, I'd never had a closet that wasn't completely overstuffed with clothes, and my entire house was trashed and chaotic at that point (just keeping it real).
As I made progress in our other goals though, and we reduced our spending by over 23,000 a year (hint: we used this cheap budgeting program), and we completely transformed our house from trashed to consistently clean and organized (we used this free program), I kept coming back to capsule wardrobes.
There must be a way to make a realistic capsule wardrobe and saves both time and money for people with normal to tight budgets…
That was eight years ago, and I'm happy to report… It's not only possible, but easy!
Not only does this capsule wardrobe system save you time and money, but you can do it on any budget and it grows with you.
So let's get started… I'll walk you step by step through every part of this for free.
Benefits of a Capsule Wardrobe
Less laundry-

SO MUCH LESS LAUNDRY! I know it doesn't seem possible but I promise you, you'll have SO MUCH LESS LAUNDRY to do!

Easy to organize closets-

you won't need fancy systems or hangers because your closet will be super easy to organize and keep clean.

Reduced costs of clothing-

If you love shopping for clothes in cute boutiques, you can still do that with fun money, but you won't need to. Once this system is set up, you'll just replace things as they wear out.

Reduced decision fatigue-

If you're fancy enough for this to be a thing, it means you can save your mental energy for more important things. For your daily outfits, just grab one item from stack A and one from stack B.

You'll dress nicer and love your clothes –

because you only own things you love.

Saves time-

time shopping, time choosing what to wear, and time organizing your crazy closet (because it stays organized with no upkeep). Laying out your clothes the night before becomes simple and saves you even more time.

Reduced stress-

there's just something about waking up and knowing this is completely under control that starts your day off right.
Start From Where You Are
You DON'T need to take everything out of your closet to do this. Just set a timer for 15 minutes a day, reach in and grab stuff to ditch. Continue doing this every day (for between 5-15 minutes) until there isn't anything obvious to throw out.
Roadblock: What if I desperately need that again? I don't want to throw it away forever!!
In the beginning, decluttering takes some getting used to. There's some mental work that can be done to fix that (i.e. what are you actually worried about? Is it the fear that you'll need it again and not have it? Fear that you'll lose weight and fit into it?).
To be honest, there is a fairly simple workaround that's easier.
As soon as you have enough outfits for 7 days of clothing, bag up the definite no's. If you aren't comfortable throwing things away, just bag it all up and put it out of sight. The garage, the back of your car, underneath the guest bed, whatever. Label the bags with the date and the words "Misfit Clothes."
As you make progress on the rest of your house (and your life), you're going to end up running into those bags down the line. You're going to find them and laugh that you couldn't bring yourself to throw them out before (ask me how I know 🙄)
Once you have all of the obvious stuff tossed, you need to map out a reasonable capsule wardrobe.
Ultimate Goal of a Capsule Wardrobe
The ultimate goal of a realistic capsule wardrobe is to be able to grab something from each pile every day and always have it work. So if it's a casual day, you can grab a pair of jeans and a shirt and no matter what you pick… it works together.
That means saying no to those adorable green polka-dotted shorts because they're not going to go with everything you wear.
If you work at an office job, that might mean owning several pairs of blank pants, 2 black skirts, and having tops that go with all of them interchangeably.
Roadblock: but what if I find something that won't match (like those green polka-dotted shorts!?! And I have to have them!?!
Once your capsule wardrobe is set up then you DON'T NEED anything else. However, you may still want to buy something. If you have fun money and want to buy it then go ahead and buy it, it's your money. Just keep it separate from your capsule wardrobe.
What's in a Capsule Wardrobe
Women's Basic
14 pairs of socks.

14 pairs of panties.

8 bras (including strapless and racerback).

0-8 Pajamas (if you're one of 54% of women who wear them).

1 swimsuit.

1 jacket or coat.

Sneakers, sandals, basic flats, high heels.
Hint: If you prefer to have your bras and panties match, the cheapest/easiest way I've found to do that is through Soma or Target.
Most of their bras and panties are made in a basic color scheme that match.
Soma is priced at slightly less than Victoria's Secret, but the quality is similar if not better. If you can wait for their semi-annual sale you'll save about 40%.
Women's Upscale Office
8 pairs of pantyhose (if needed).

8 suits » black and gray.

14 camisoles or button-up shirts.

1 pair black heels.

Shapewear if desired.
Women's Office Casual
8 pairs of black or gray pants.

14 blouses or tops.

2 sweaters.
Women's Casual Work
8 pairs of jeans.

8 tops or tee shirts (depending on personal style).
Women's Sports/Gym
Yoga pants ( x number of days you work out per week).

Athletic shirts ( x number of days you work out per week).
Women's Date Night/Special Occasion
Dresses ( x number of days you'll wear this category in an average month).
Note: If this is rare, you can also consider renting an outfit for a special occasion from Rent The Runway.
How much should I spend on clothes?
If you're wondering how much you should be spending on clothing, the national average is 3.8% of your income or $2,440 per year (for the entire family). That's going to change wildly depending on your circumstances, how many people are in your family, etc.
We're a family of 4, two adults and 2 school-aged kids and we spend about $1,600 – $2,000 most years.
Once you've got an idea of what you want to include in your capsule wardrobe, you can move onto the next step.
Map Out Your Closet
You can do this by writing each of the things you need on paper in a box, or just grab our done-for-you capsule wardrobe charts (that's what I use).
In my case, I had to replace almost my entire wardrobe for the summer. I've lost 45 pounds since the fall (high five to Weight Watchers) and almost nothing fit me from last summer.
Once you have your capsule wardrobe charted out, go through and shop your closet. Try on everything in that category and find the things that you LOVE. When you do, pencil it into your chart and move it to a special "staying" section of your closet.
If you want to be super fancy, you can color-code your chart based on what you already have and what you need to buy. I do this by using a black FriXion pen (so I can still erase it) to add things I already have to my capsule wardrobe list. Then I write in red what I order from a store and add a checkmark when they're officially purchased, tried on and not being returned. So I know that item is set.
Take Your Measurements
Adult Female Measurements
BUST:

Measure under your arms at the fullest part of your chest with a bra on.

WAIST:

Bend to the side, find the area where your skin forms a crease. That is the natural waistline, measure from there around your waist (this should be above the belly button and below the rib cage). Don't suck in your stomach, you want to be comfortable.

HIPS:

Measure around the widest part of your hips. A trick to this is to sit in a chair with arms. The part of your hips that is closest to the arms of the chair is where you want to measure.

INSEAM:

Make sure you don't have shoes on, then measure from the bottom of the crotch to where you want your pants to fall. Most people measure to the bottom of the ankle, but that depends on your favorite fit.
We need to have your measurements on hand and in an easy to find place because that lets you easily shop online.
Online Shopping
I want you to shop online for a few reasons.
You'll have the time and space to try on multiple things without overwhelm.

You'll learn how to do easy returns and set yourself up to do this for life (saving you time and money).

It makes shopping for clothes, boutique shopping, or shopping with friends fun and not overwhelming. Because you already have a great wardrobe that you love and whatever you find will be a bonus.

It eliminates the… "I have to find a black pencil skirt that looks good" (and then having to go to 5 stores to find it).

You have a better selection and more opportunity to find cheaper clothes that you like as much as full-priced items.

You have easy access to learn what you bought (emailed receipts are the best), for reordering and to look at what styles you liked and didn't, etc).
Start Shopping
Note: here's my list of favorites…
Best Places to Shop Online With Free and Easy Returns
Nordstrom (clothing, shoes, accessories)
LL Bean (clothing, lifestyle)
Zappos (shoes)
Kohls (must be returned in-store)
6pm (discounted designer clothing)
Carter's/Oshkosh B'gosh (must be returned in-store)
Lane Bryant (must be returned in-store)
Torrid (must be returned in-store)
American Eagle (must be returned in-store)
The Children's Place (must be returned in-store)
J. Crew Factory (must be returned in-store or you pay shipping online)
Hint: If you're younger or love bare midriffs, check out Lulus. 21 year old me would have LOVED these clothes and their prices and reviews are reasonable.
My last recommendation depending on your situation is Stitch Fix.
This isn't for the uber-thrifty with a very limited budget BUT I found I ended up saving money when I use it! Stitch Fix kept me out of the store and not buying junk I didn't need. It's cool because they offer a stylist who works with you and helps you find items that will fit your body and style. (They even look at your Pinterest…how cool is THAT?!)
The other awesome benefit of Stitch Fix is you don't need to keep clothes just because they're sent to you. You can try them on, get opinions, check out the washing instructions, and see if the piece goes with the rest of your closet. You get more time to decide if it's really an item you like and you end up with quality pieces you love.
(Full disclosure: I usually fill in gaps every year with Stitch Fix. I just pause my membership when I don't have any gaps, then start the boxes coming when something gets ruined and I need to replace it. This is an easy way for me to put my capsule wardrobes on autopilot I'm not using Stitch Fix this year though because I still plan to lose weight and don't want to pay for high quality clothes when I won't use them for more than a few months. ).
Weigh Your Options
If you're on a tight budget, start with the cheapest options.
While I don't have a tight budget anymore since we're debt-free (woohoo! High five to the free 90-day Budget Bootcamp). But I have to replace my entire wardrobe for the summer after losing 45 pounds and realizing that nothing fits anymore. Plus, I'm feeling pretty sure that I'll lose more weight and need to do this again next summer.
So my goal is to grab cheaper clothing that will hold up well for this season but that I don't need to last long term. I started with Target, then Old Navy, then J. Crew Factory, then Amazon, and finally Nordstrom, White House Black Market, and J. Crew (regular store).
If you have a bigger budget (or are more interested in the time savings and having a wardrobe that you love) then I'd start with the store you love the most and work your way down.
This Will Take Time
If you do this right, you're not going to knock this out in a weekend or even a week. We're going to order clothes, have them come in, evaluate them, return the ones that we don't want, and hit the next store.
We do this slowly (wearing only the stuff we have set up already) because that's what gives us the best results. If you're working on a tight budget, that also gives you time to have your refunds applied, and the money back in your account before you make the next purchase.
For instance, if you have a $200 overall budget that lets you spend all $200 at your first store, send back returns and then you'll have whatever is leftover (your new total amount) to spend at the next store.
Tricks to Find Clothes You Love Online
As you scroll through each category you're shopping for, add anything you love to the cart. Be pretty generous here, you can filter it down later.
Shopping For Your Body Type
Now, look at yourself and think about what makes you hate clothes. For me, it's things that are too tight on my stomach or armholes that are too big and look weird. I tend to like crew necks better than v neck and like u neck best of all.
If you don't know this about yourself, that's fine, just do the best you can with what you have now and know that you'll get better at this as you go.
Next, look through your cart and remove the things that you think won't work for your body type.
Take a few minutes to figure out your body type and which styles to look for by clicking here.
Finding Your Best Colors
This is similar to reducing the clothes to our best choices in the wardrobe. I also pick and choose the best colors for my clothes. Mostly, I choose the colors I like best on myself… hunter or sage green, wine, maroon, navy, and deep brown.
That makes online ordering even easier because If I need to choose a few tops, I can look up women's tops and then filter by color and only see tops I love.
You may not know your best colors yet. So you can either just choose the colors that you like and then try them on at home or, you can cheat and do an online color draping to figure out what colors look best on you and just choose those shades.
You can find your best colors here…
I have to tell you though, that I often cheat and choose colors that I love instead of the best colors for me. 🤷‍♀️
Consider Care of Fabric
If you're at all worried about your budget (or trying to save money) avoid dry clean only at all cost (Hint: If you already have a piece that you love that's dry clean only, grab some Dryel and use it 3x before you dry clean again to reduce the costs).
But also consider that anything that's tumble dry low or hand wash is going to require extra care. You need to decide if that's realistic in your situation.
I cheat a bit. I'll get hand wash and tumble dry items but after wearing them, stick them in a small basket in my bedroom (not even a laundry basket, more like a storage bin) with the lace panties and all bras. I wash those in a special load on delicate (instead of handwashing) then hang them on our 3 section laundry sorter (which is super reasonably priced and an awesome investment) to dry.
I wash them in our laundry system every Sunday to reset them.
Consider Your Shoes
You'll notice in our capsule wardrobes we really only focus on two pairs of shoes per season (but, keep in mind that capsules are personalized to you, so you can easily choose the number you want). I do sandals in the spring/summer and boots in the winter (although you'll likely have a pair of sneakers as well).
As you look through the items you've chosen, think about whether or not you have shoes that will go well with them. I usually choose two pairs of shoes, one in brown and one in black.
If you're sticking to basic shoes (and not the magenta pumps) this usually isn't going to be an issue but it's something to think about.
Narrow Your Choices
Okay, now we removed the things you don't think will work (either because of color or style), so finally, we need to reduce the cart to whatever your budget is choosing your absolute favorite pieces and ordering them.
Toss Out The Old Stuff
Once you have enough items in your new capsule wardrobe to make 7 outfits, go through and take ANYTHING AND EVERYTHING that isn't in the keep section of your closet, bag it up, and put it in storage. If you want, you can just throw them out now or you can give yourself a cooling-off period to decide later.
Wait for your items to come in the mail and then come back to me here.
Your First Haul
Try on each piece and look at yourself in a full-length mirror. Try on a full outfit (including shoes so you don't end up loving the outfit but not having shoes that work with it) and decide what you think.
Would you love to go out right now looking like this? If not, it goes in the return pile.
If you'd love it, add it to your capsule chart and hang it in the "keep section of your closet" Be brutal in these decisions.
DO NOT KEEP ANYTHING YOU WOULDN'T LOVE TO WALK OUT IN RIGHT NOW.
Here's the deal. When you return it, you have a LIMITLESS number of other options. We can replace that shirt 25,000 times and we will eventually find one that you love. You have a limited number of spots in that closet, don't give something a spot unless it deserves one.
Best Way to Make Clothing Returns by Mail
Keep every single box you get by mail (just during this heavy return phase) in a section of your house.

Make sure you own a printer (

you can get a cheap, super dependable one here

for printing and black ink is cheap). You can also grab one off

Craigslist or Facebook Marketplace

) Get heavy-duty shipping tape and a pair of scissors.
When you need to make a return, go online to the store where you bought it and follow their directions for returns.
Print out their label

Box up the return

Secure the label (use the shipping tape to completely cover the label not just have it stick- you want to weatherproof the label).

Use the tape to secure the package.
Then go online to usps.com and schedule a free home pick up and leave it on your porch for them to pick up. If it's FedEx (or another company) and they don't have free home pick up, then find your local mailbox store to use as a drop-off spot. Usually, this is easy, you just walk in and place it in a designated area and walk out, no need to wait in line (I have my kids do this while I wait in the car at the curb).
Wait a few days until the return is processed and the money is refunded.
Then do this same process over again with your next store until all of the empty spots in your capsule wardrobe are filled up. Then you're done.
Hint: If you haven't already, get rid of anything in your closet that's not in the keep section as soon as you have enough outfits for 7 days of clothing.
Changing Seasons
You'll obviously want to dress for the winter different than in the summer so likely you'll need to have different capsules for different seasons. Most climates usually just need two seasons of capsules… Spring/Summer and Fall/Winter.
You have two options when it comes to changing seasons; you can leave all of your clothes up and out all year in different sections of your closet or you can pack away last season's clothes until you need them next season.
If you pack the clothes away, I suggest these tupperware containers because they can slide right under your bed and save you space.
Then when the next season comes to mark it in your planner about a month before the new season (don't have a planner or never keep up with it? We have a planning system for the chronically disorganized that works for literally everyone here… you can use any planner with it).
Map out your closet, write down what fits and fill in the gaps.
Hint: Unless you change sizes, you can usually skip this and just hang it up and go since you replace items as they wear out.
Capsule Wardrobe Maintenance
Because you have a limited amount of clothes here, it's actually pretty easy to take care of them. I had never in my life ironed, pretreated, or did anything special to care for my clothes until I started my capsule wardrobe.
I regularly spilled things on my clothes or got them dirty without noticing or caring. After capsules, I regularly pretreat clothes (I still rarely iron, but that's because I design capsules where I don't have to). And, now I care very much when I spill something on a favorite shirt (because they're all favorites now).
Maintenance for capsule wardrobes is extremely easy. When you spill or stain something, do your best to get it out. If you can't, toss it right in the trash and go online to order a replacement (it doesn't have to be the exact same, just find something in the same category to replace it).
I like to order it right away so I don't forget and then if that doesn't work out, I just return it and try again.
A few suggestions of things you may want to invest in…
Capsule Wardrobe Budget
If you just start reading this, it can seem like this will be an expensive project.
It's pretty rare though that someone needs to spend a lot of money setting up a capsule wardrobe. When you gather all of the clothes that you no longer want and sell them in lots on eBay or on Poshmark, you'll likely make enough (or more than enough) to purchase the few items you'll need to complete the capsule.
In general, creating capsules this way is a massive time and money saver.
Particularly if you're the type to see a bargain on clothes and think you "need" to purchase this. Using this system can help eliminate a lot of those feelings.
Can I create capsule wardrobes for my spouse and kids as well?
Yep! We teach this in Hot Mess to Home Success, but the principles are exactly the same.
Capsules especially make clothing for kids SO much easier because they can choose their own outfits (one from pile A and one from pile B) without looking too crazy. And you no longer have to spend massive amounts of time finding the purple shirt with sparkle hearts that goes with the sparkle leggings… (who has time for that?)
If you need a cheap and easy "Done-For-You" way to get your whole family started with capsule wardrobes- just grab Simplified Capsule Wardrobes so you can print out the quick guide and use the charts.
Jewelry
You can create a capsule wardrobe for jewelry in the same way that you did for your clothing.
I keep it simple.
I have a pair of super dressy earrings in both silver and gold tones (for special occasions, I rarely wear these).
Then I have a set of rings, earrings, and a necklace (or layered necklaces) in gold and silver (because I wear both) for short length (delicate) and long length (pendant style).
I probably should have narrowed it even further though because I tend to wear a pendant for everything.
Makeup
The same exact principle applies for makeup as clothing. You have all of that makeup and only a small fraction of it looks AMAZING on you.
Makeup Capsule: (full face but feel free to reduce to what you actually wear)
Primer

Foundation

Concealer

Eyeliner

Mascara

Eyebrow color

Eye shadow palette

Eye shadow blender

Blush

Blush brush

Lip gloss

Lipstick (possibly two if you have a day and a night look)

Lipliner (if your favorite lipstick is a dark hue).

Eyelashes

Eyelash glue

Tweezers

Perfume (signature scent)
Find Your Signature Scent
The easiest way to find a scent you love is to go to either Ulta, Sephora, Macy's (or another department store) and ask for a ton of samples. Take as many as you can get.
Try a new one every day… rub it on and smell it. When you find one you really like the smell of, put it to the side so you can save the card. If someone (like your spouse or your best friend) compliments the perfume, draw a star on the sample scent card so you can easily identify that one.
When you get through all of your samples, look through your pile of liked/saved scents and (if you have stars) reduce the pile down to only the stars. Then go back and ask for samples of just those scents.
Wear each for another day and rate the scent either a 5/10 a 7/10 or a 9/10 (having fewer choices further apart helps you rank things easier, trust me on this one). Again, add stars when people compliment you on the scent (multiple compliments= multiple stars).
At the end of those samples, choose the perfume with the highest rating and the most stars. You officially have a signature scent.
Hint: I only buy untested makeup at places that let me return open and tried products for free. Ulta, CVS, Kohl's, Nordstrom, Target, Birchbox, Sephora, Dermstore, and Bluemercury will all let you return used makeup according to their individual policies (ex. within 30 days, with a receipt, etc).
Here's what I use every day:
The exception to this is Ipsy, where I've had a subscription for years. Ipsy is a $12 a month subscription box that sends several good sized sample products to you monthly. The products they send are popular beauty brands based on your profile of likes/dislikes and your personal colors.
I love Ipsy because for that $12 I get to try a ton of curated products (most of my current make up capsule was discovered from Ipsy) and my goal with Ipsy is to try to "beat" my current favorite line up. So I use it as a way to discover and "play with" different styles to figure out my favorite.
I adore makeup in all its forms so I keep way more makeup than my capsule (I even have makeover nights where I invite friends over and play dress-up) but the capsule is what I keep out, on my desk, and wear every day.
Hint: If you have the budget and want to get fancy, I love using a desk as a makeup table (they don't sell mine anymore but this is similar) or you can grab one on Facebook Marketplace for cheap, and add a lighted mirror (this is mine).
If you love the idea but think you'll get overwhelmed- grab Capsule Wardrobes Simplified, which will walk you through it step by step but also has "done-for-you" capsule charts so you can just fill in the blanks and be done. It makes setting this up so much easier!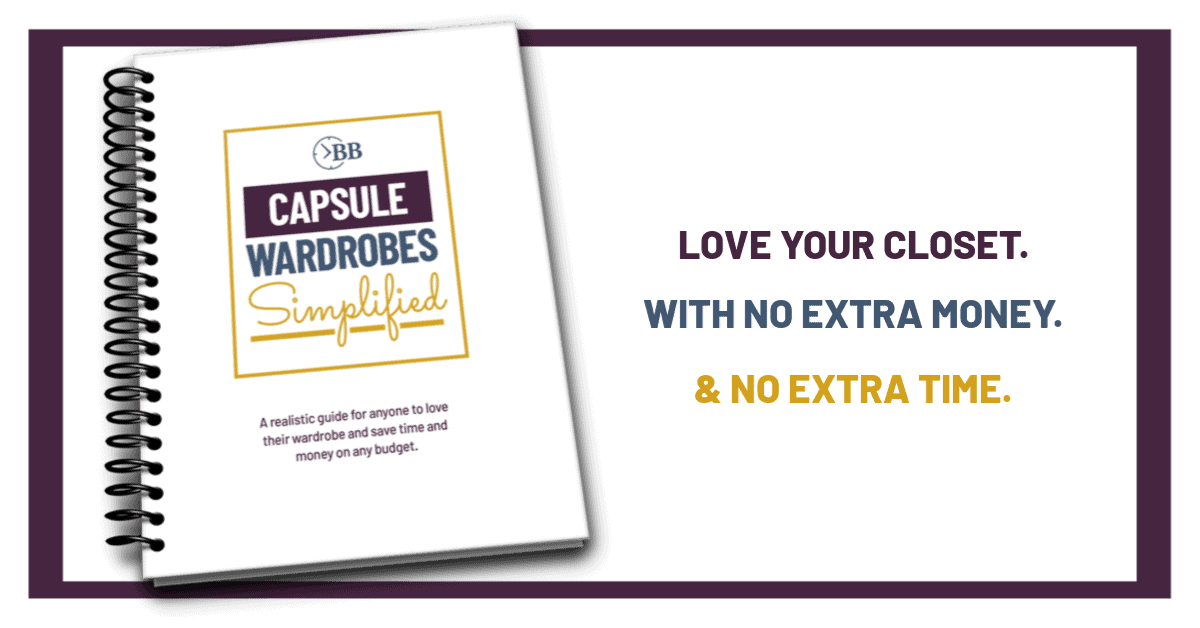 Do you think a capsule wardrobe would save you money?