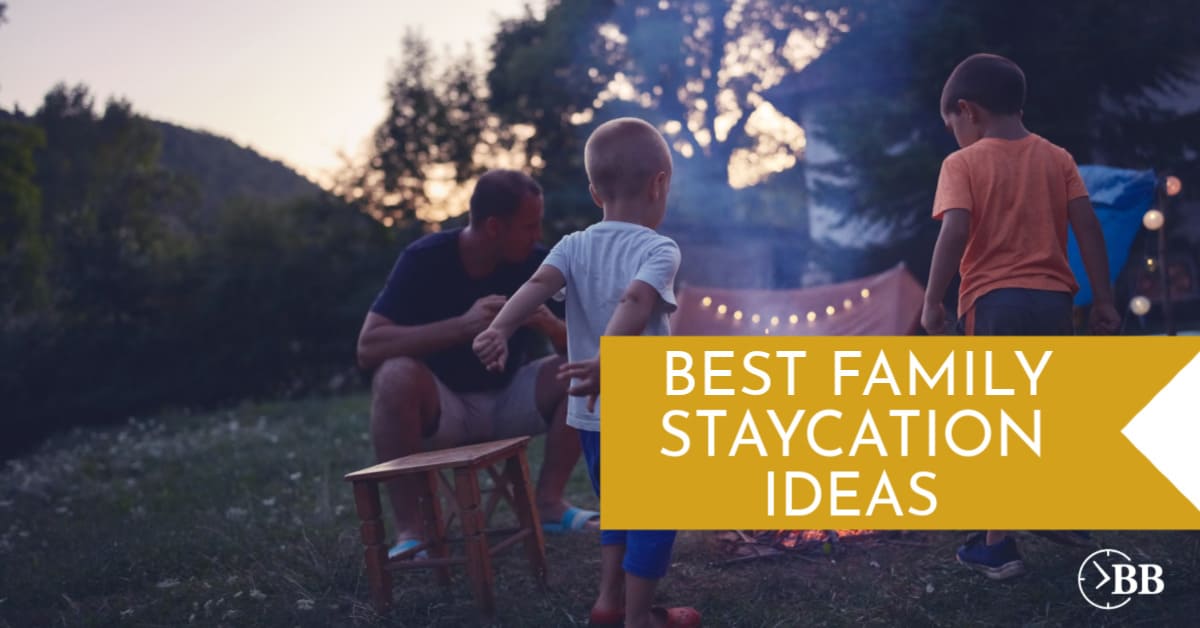 This is a sponsored post written by me on behalf of Navy Federal Credit Union for IZEA Worldwide. All opinions are 100% mine.
Ready for the best summer staycation ideas for your family?
When you're working hard to pay off debt, it can be kind of a slog… especially in the summer.
I mean, it's one thing when you're packing lunches and not going out to eat with friends at work. That can be a bummer.
But when you start seeing all the summer vacation pictures on social media? The jealousy bug can really start to kick in.
Whether it just makes you feel lousy or threatens to derail your debt payoff strategy, I want to encourage you: you can still have a summer vacation. You just might have to do it a little differently this year.
Enter the staycation.
What's a staycation, you ask? It's where you take time off and intentionally relax with your family, without the huge money-drain of a more traditional vacation.
While making it fun takes a little more creativity, I'm here to give you a few jumping-off points and staycation ideas that can help you relax, enjoy your family, and return to work refreshed and happy.
Summer Staycation Ideas
Backyard (or Living Room) Camping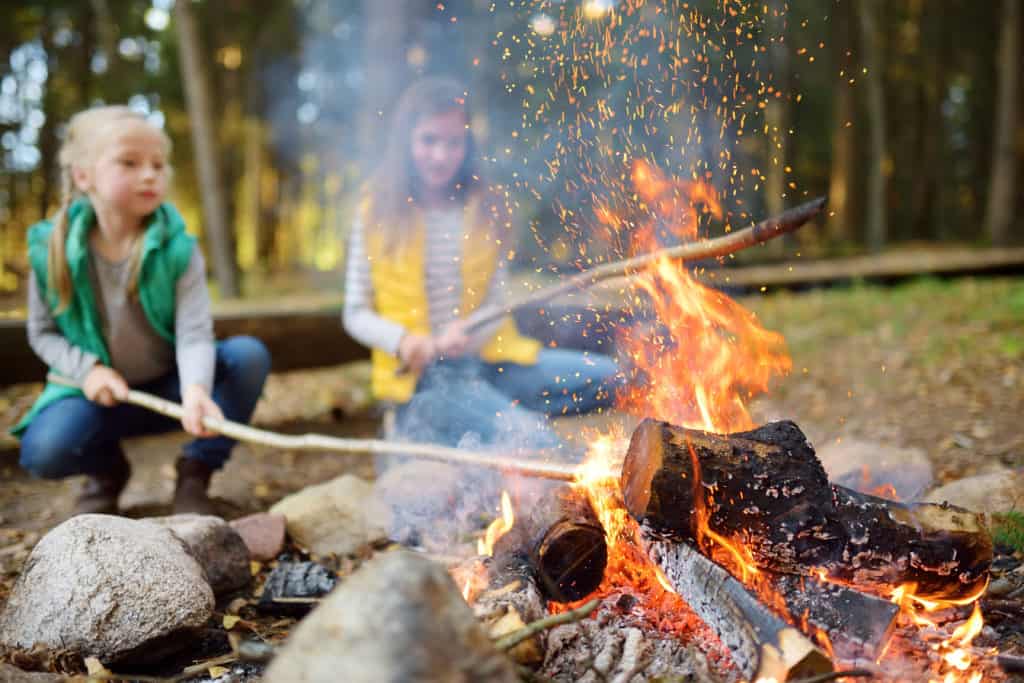 Traditional camping can be fun, but the cost of equipment, travel cost, food cost, fees from the campsite, and so on can really add up.
Plus, I like showers, toilets, and running water in general.
Thus, let's talk about backyard camping.
No campsite fees, no long drives, no hikes in and out, probably a lot fewer bugs, AND showers and toilets.
Best of all, you can still probably have a bonfire (responsibly) or use a grill to cook dinner instead. You can roast marshmallows over a grill, too, or make smores in the oven. It's up to you!
Speaking of that, you can spice up your staycation even more by trying some different smores recipes. Can you tell what my favorite part of camping is?
Movie Marathon
Pick up some candy, soda, and popcorn and spend a day (or several) binge watching movies as a family!
Not only is this a super fun and cheap staycation idea for your family, but it can also be made more elaborate if you'd like by making it a "drive-in movie" using cardboard boxes, print out fun popcorn boxes, or making themed snacks to go with the movies (like these fun Harry Potter themed snacks.)
Some ideas for a movie marathon:
Harry Potter

Lord of the Rings

Horror films

Chick flicks

Classic Disney movies (perfect opportunity to make these Disney recipes!)

Musicals
But seriously, these are just jumping off points. There are any number of themes you could choose for the movies and treats/meals to go with them!
Have a Game Tournament
It doesn't matter whether you're more into board games or yard games, either one would make a great family tournament!
If you and your family are feeling creative, you could even collaborate and each make up a game a la The Office Olympics (if you do Flonkerton I want to see pictures.)
Do it up big with brackets, prizes, snacks, mini-competitions, whatever makes it fun for all of you.
Playground Tourism
If you have young kids who wouldn't be much for sitting still at home, this might be just the staycation for you.
Start by crowdsourcing some of the best playgrounds in your area (especially ones you might never have tried before) and maybe spend a few afternoons driving around and scoping out new ones. Make a list, then make a plan to spend time going and hanging out at each one.
You choose whether to pack lunches or grab happy meals for the kids – no judgment here.
You could also do this with local pools or splash pads, of course! It's completely up to you.
Be a Tourist in Your Own City
Whether you've been living in your city for your whole life or just for a short time, I'm sure you can find some local hotspots you may not have enjoyed before and go check them out as a family.
Have just one day? Choose where you'll have meals and an activity you want to do that day and enjoy doing it.
If you have several days of staycation, spread out the activities (and possibly blend this staycation idea with one of the other ideas on this list.)
Again, this is a good thing to crowdsource – your friends and family will probably have some good suggestions for places to go!
Give Back
A little time off work is a great opportunity to help others less fortunate than yourself, and fortunately, there are plenty of ways to do that.
For instance, are you an animal lover? Maybe consider taking shelter dogs for walks and "playdates". I'm sure your local shelter would appreciate the help!
Feeling crafty? You could make some easy no-sew blankets for your local women's or homeless shelter. (You could even do this during a movie marathon if you wanted to!)
If there's a particular cause you feel drawn to, check out their website and see if they have a wishlist for donations and put together care packages.
Not only will this staycation idea give you awesome quality time with your family, but you also benefit from the warm fuzzies of helping others. Awesome, right?
It's absolutely possible to have the best summer of your life without breaking the bank. These staycation ideas are super cheap and easy to DIY.
And while you're sticking close to home, take some time to set some financial goals for your family with Making Cents. You can refinance to save money or switch to a bank with lower fees. (Navy Federal Credit Union is our favorite).
Truly, if you're in need of relaxation and connection with your family but don't want to completely derail your debt payoff efforts, a staycation is the perfect solution. You and your family will benefit hugely from the creativity… and who knows? You might find it's your favorite way to vacation anyway!
You can find more budget friendly summer ideas here…
What are your favorite staycation ideas?