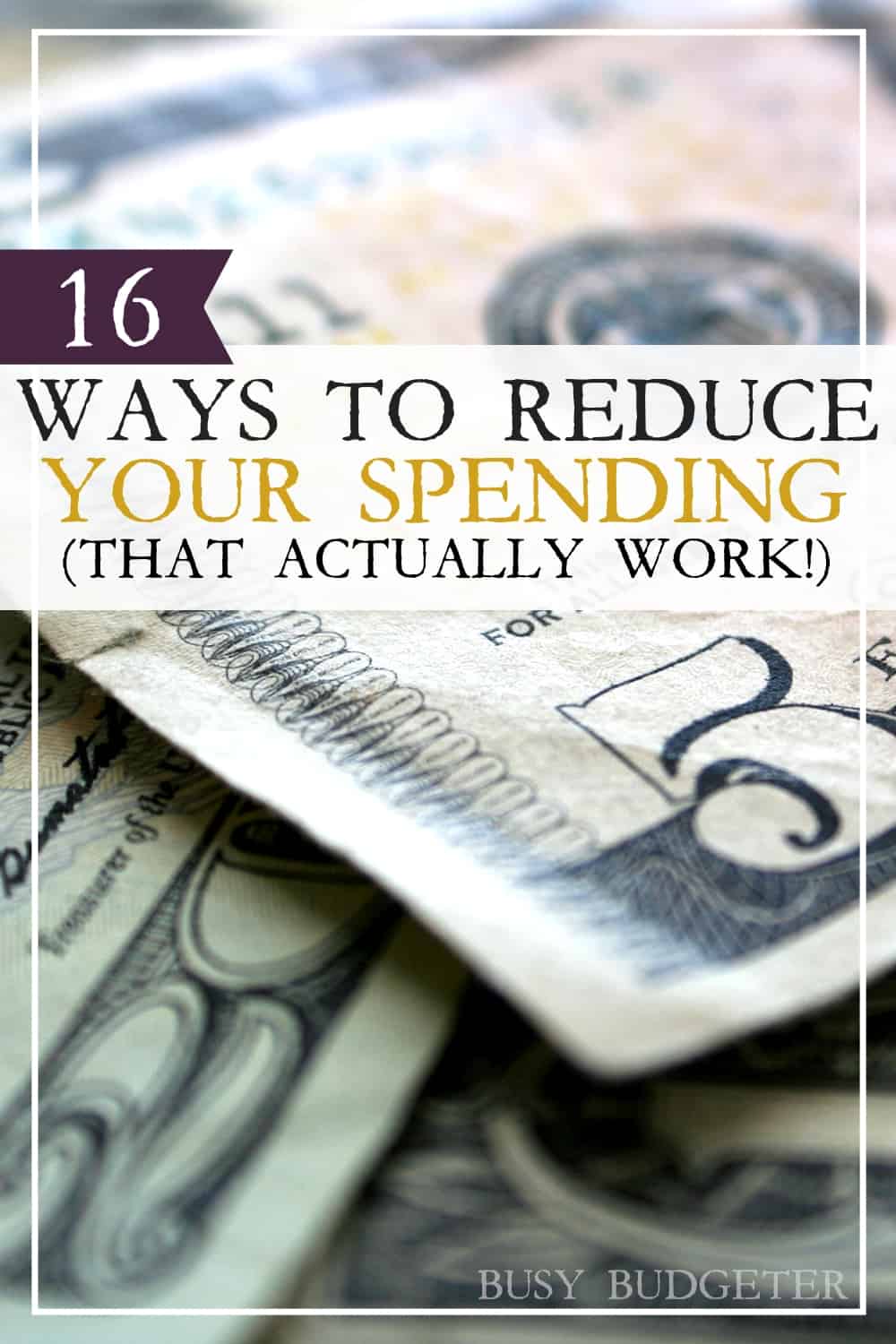 This is a sponsored post written by me on behalf of Navy Federal Credit Union for IZEA Worldwide. All opinions are 100% mine.
How much money do you think you waste per week? Per month? Per year?
I was shocked when we did things to intentionally reduce our spending and I found that in the first year we'd saved just shy of $24,000.
$24,000!
That's a lot of money.
What's really amazing, though, is that to save that money, we didn't really do anything drastic. There were a few growing pains as we got used to our new habits, but nothing we cut out of our budget felt super restrictive.
In fact, it was pretty freeing saving that money, reducing debt and putting it toward what was more important to us!
If you're struggling to stay afloat financially and overcoming debt, take heart and know there are totally ways you can do it – and they're probably way more painless than you thought. Visit MakingCents for clear, step-by-step information to help you meet your financial goals.
Pain free tips and tricks to reduce spending to pay off debt
Pack your lunch.
You might hear this a lot with money-saving articles, but there's a reason for it: it's one of the fastest ways to reduce your spending.
Eating out every day costs way more than you realize, even if you just hit up cheap fast food joints. Packing your own lunch is almost always going to be cheaper, especially if you make use of leftovers/other inherently cheap ingredients.
The other benefit is you're going to be healthier. The lunches you pack will most likely be a lot healthier and lower-calorie than you'd get eating out. The health benefits could spell out some long-term savings on medical costs, which is always awesome.
Even if it's hard to get used to, brown bagging it is totally worth it.
Meal plan.
When it comes to other meals, do yourself a favor and plan them in advance!
There are lots of simple ways to do so. FreezEasy is where I recommend most people start because it's so simple and takes an hour every two weeks to make the meals (seriously!) And even the membership cost is minimal.
For breakfasts, my best advice is to keep it pretty simple and consistent – things like oatmeal, muffins you make and freeze in advance, or cold cereal with some fruit (fresh or dried) on top are healthy, filling, and cheap (and quick!)
Even if you just keep a list of what meals your family loves and is happy to eat often, it'll help a lot. Bonus points if you also write down the ingredients you need for each, which will help with the next tip – but stay with me for a minute 😉
Stockpile when prices are good.
Here's where meal planning really comes into play: if you know what your family loves and uses regularly, you'll be able to buy stuff in advance when there's awesome deals.
For example, is your grocery store having an insane sale on peanut butter, and your family uses it like crazy? Go ahead and buy a whole case, and keep it stored properly in a cool dry area.
This is also great preparation for if there's a natural disaster or if there's a sudden loss/drop of income in general. It means you won't be left high and dry and have to amass more debt all of a sudden.
Skip the bottled water.
Not only is this a waste of money, it's way better for the environment to use reusable bottles instead.
And I get it if you hate the taste of plain tap water! Buy yourself a good Brita filter, set reminders in your phone for when the filters need to be replaced, and use that instead. You'll recoup your upfront cost in no time at all!
Plus, there's lots of super cute reusable bottles out there – and when you consider the cost savings, you might be able to splurge on one you really love and are 100% sure you'll use.
Use coupons (with a caveat).
Coupons are great! Saving money on stuff you're already planning to buy is awesome.
And the fact that they pretty much come straight to you in the mailbox? Awesome.
When it comes to online shopping, it's even better. I actually never buy anything online without checking if there's a promo code available first.
The catch is, you need to make sure you're only using coupons on what you were already planning to buy, or you'll end up buying stuff you don't need, or straight-up don't use – so think critically before you buy something way out of the ordinary just because it's a great deal.
DIY your cleaning products.
In the day and age of Pinterest, you can find endless tutorials for DIY cleaning products. Whether you need an all-purpose cleaner, laundry soap, or stuff to clean your toilet/bathtub, you can find someone industrious enough to have figured out a DIY alternative.
The simplest cleaner to start with is an all-purpose cleaner made from vinegar and citrus peels. Just put the vinegar and some orange or lemon peels in a jar for a 2-3 weeks, strain the mixture, put in a spray bottle, and dilute to about half with water. Bam – fantastic all-purpose spray cleaner!
If you're a major germaphobe, don't worry, because the vinegar kills germs. And if you hate the smell of vinegar, don't worry either because the lemon or orange peels make it smell great!
But considering a bottle of vinegar is like $1 and a lemon can be had for 30 cents or so, it's a huge cost savings over traditional cleaners.
And that's just one recipe out of hundreds you can find out there.
Get your prescriptions delivered.
Did you know there are companies that will deliver your prescriptions through the mail at a huge cost savings? Seriously. It's awesome.
In addition, most health insurance companies partner with at least one to offer an additional discount, meaning you'll save a lot of money on your medications – plus you won't have to spend the gas money to pick them up!
If your health insurance doesn't have any they partner with, I definitely recommend PillPack. They deliver your medications pre-sorted by dose, which is a huge time-saver if you have a lot of daily medications!
Make use of thrift/discount stores
Don't make the mistake of overlooking thrift and discount stores when you're buying new clothes. There are great finds to be had. I've even found name-brand stuff with the tags still on, which is always super exciting.
It's especially good when it comes to kids because they outgrow stuff so fast – including toys and books, which can be had for a fraction of the cost at thrift stores and cleaned.
If you're not into the hunt of thrift stores (and I get it!), you might try to find a local consignment store. The prices will generally be a little higher than a thrift store, but they'll usually look over clothes for stains and holes before reselling. It makes the process a little easier sometimes and still saves a lot of money.
Cancel your gym membership.
In theory, a gym membership is a great investment. It could help you work out and stay healthy, and it's a great de-stresser. Sure, I get it.
Thing is, there are so many alternatives to a gym membership that it might not be worth it.
For example, YouTube has lots of workout videos available for free, there are monthly options like DailyBurn or BeachBody On Demand that cost way less than a gym membership (though do require you to purchase equipment – but, bright side, you get to keep it!)
Even just going for walks, running, or cranking out a few push-ups while your kids play on the playground are great and free alternatives.
Also, if you live in a place with an HOA that has a gym/pool, I'd definitely recommend taking advantage of the things you're already paying for before you pay money elsewhere!
Use the library.
Confession time: before we started really focusing on paying down debt, I spent a good $70 a week on books.
No, I didn't mistype that.
I loved buying new books right when they came out, especially in hardcover – so basically the most expensive option possible.
So when we started making use of our local library instead, it added up to a ridiculous yearly savings… over $3000 worth. And I considered us pretty frugal at the time!
Most libraries will have any book you're looking for, and if they don't, ask! They might be willing to add it to their collection or borrow it from another library.
If you're more into e-books or audiobooks, a lot of libraries have systems that allow you to check those out, too, so don't discount the option if you're more into digital copies.
If you're into a treasure hunt, you might also look for Little Free Libraries near you- you never know what you'll find from these, and looking for them can be a really fun and cheap activity to do as a family!
The only exception to this is books for kids. We never get books for our kids from the library, because they'll inevitably end up torn or with juice spilled on them, which means we have to reimburse the library full price for the damaged book. So not worth it!
Reduce your music spending.
The library isn't just for books: you can also check out CDs.
Doing this is a great why to save money over a monthly music subscription like Apple Music or Spotify. And generally, you'll be the only one doing it, so you can renew/re-check them out pretty much as often as you like!
Cancel cable.
Cable is ridiculously expensive for what you get – especially when you consider the awesome cheaper options out there like Netflix, Hulu, and Amazon Prime (which comes with a host of benefits on its own, too.)
The streaming service you choose will largely depend on what shows you want to watch. Check out what's available on each and what your family will enjoy most. If you can't choose, take heart knowing that even getting the cheapest plan of all 3 is cheaper than cable, though – approximately $27/month (though note that Prime is paid yearly).
Save on video games.
My husband is an avid gamer and well, games aren't cheap. I've had to talk him out of a lot of purchases of the latest games his friends are buying. Sorry, Jon.
Instead, we try to focus on buying games that can be enjoyed for a long time, like Minecraft or Dayz. These are games that can be played lots of different ways, so it takes longer before the fun wears off.
If you're really into the latest and greatest games, I've also heard good things about Gamefly. You'd have to look for yourself to determine if it'd be worth it for you and your family or not, but depending on your situation and the games you like to play, it might represent a good cost savings.
Update your Christmas traditions.
When we were getting our budget under control, we suggested a $10 Christmas to our extended family, and it's become an absolute hit. It reduces how much we have to spend each year, reduces the clutter, and makes for more meaningful and fun gifts a lot of the time!
But that's not the only way to reduce your holiday spending. You can also implement a Secret Santa tradition, or even have a White Elephant party in lieu of traditional gift giving.
It really depends on your family and your priorities. Some people prioritize the materialistic side of Christmas, and that's okay, too! It just comes down to figuring out what cuts and changes you're willing to make.
Try a spending freeze.
A spending freeze is exactly what it sounds like – freezing your unplanned spending for a period of time. And it's surprisingly effective!
Whether you do it for a week, two weeks, or a month (or even a year – I've seen it done!) it's a great way to get into the swing of a new budget and make you rethink bad habits.
It also makes things feel more fun and less restrictive, because it's a short-term challenge, not a forever restriction.
By the end of your spending freeze, you'll likely have a good chunk of money to use to pay down your debt. And once you're debt free, you can use this method to quickly save for a vacation or something else that's fun!
Credit Counseling
There are lots of places you can go where you can work with a credit counselor for free to figure out the best way to reduce your spending while reducing debt.
This can be helpful because it's a third party looking in rather than you or someone else who's personally invested – but of course that can be hard too, because you may have to face some hard truths. Like learning the truth about debt so you can deal with it and get it paid off.
But ultimately, figuring out where your money is going and where it should go is a great way to make your life less stressful.
One place I recommend for this service is to ​Become a Member of Navy Federal Credit Union – it's free, and they're super trustworthy.
Seriously, reducing your spending doesn't have to be a painful experience! There are a lot of super simple ways you can save money each week that, over time, will become just a normal part of your routine.