This 15 minute breakfast pizza bagel recipe is my absolute favorite "comfort" breakfast. It tastes like I spent hours making it but can be prepped in just a few minutes (and you can make them ahead of time and freeze them!)
Update: 4/5/20 I know how stressful it is right now to be cooking 2-3 times a day while you're also trying to work, "home school", referee kids, and get your house under control. We created an epic inspiration binder of the easiest cheap meals. These ideas are field-tested by hundreds of thousands of our readers and are guaranteed to help even the most overwhelmed mom stick to a meal plan.
And we're giving it to you 100% free right now so you can use it to help you get through this time. And bonus: You'll end up using it long after the pandemic is over.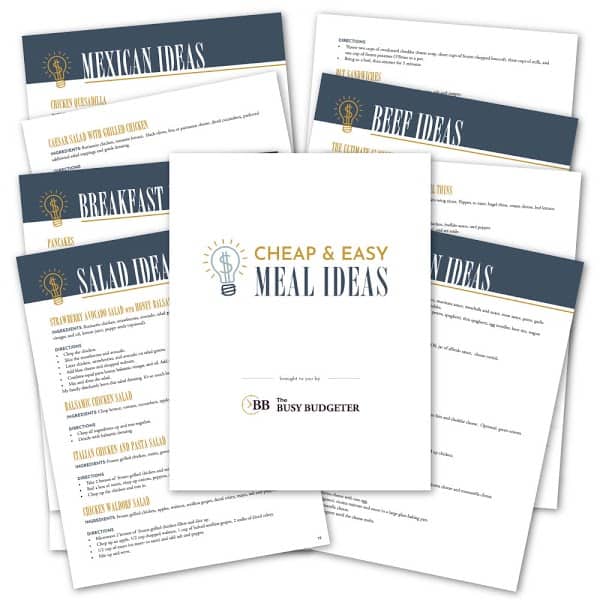 When it comes to eating well and eating homemade, one place where I really seem to drop the ball is with breakfast. My pantry always seems to be packed full of sugary cereals that have the nerve to call themselves breakfast — because it's easy. I'm also definitely guilty of hitting up the drive thru one or two too many times, especially when I'm really in a pinch for time.
Recently, though, I've resolved to do a lot more home-cooking and a lot less sugary cereal-buying. These breakfast pizza bagels have rocked my breakfast routine — they're a great way to have a home-cooked breakfast in under 15 minutes.
These mini breakfast pizzas were inspired by one of our favorite breakfasts around here, but I love that these are individual, personal pizzas, and as a bonus, they freeze very well, too! You can spend a little time prepping on the weekends and easily have breakfast for the rest of the week!
By the way, if you love the simple realistic recipes we do here (never more than 15 minutes from start to finish!) then you should grab a free copy of the "Cheap and Easy Meal Ideas Inspiration Binder". I'll even give you free access to it for life if you click this link.
So let's get started.
First,

lightly salt and pepper your eggs, add some garlic powder for extra flavor (and a splash of tabasco sauce, if you like a little extra kick), and cook/scramble your eggs in a hot nonstick skillet. No need to add any milk or water!

Once the eggs have cooked, evenly sprinkle them over the bagels.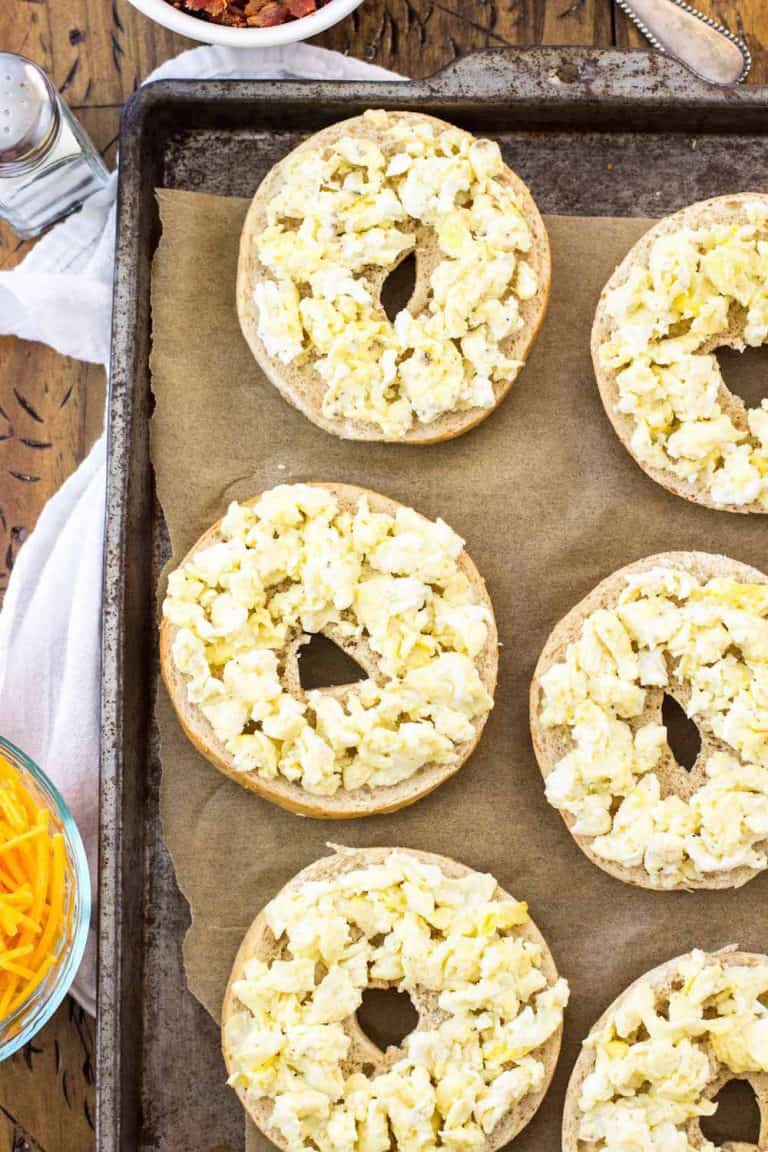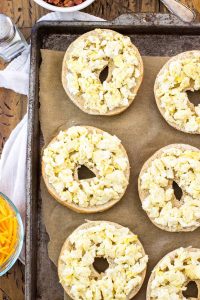 Oh, and speaking of these bagels, make sure you always check your reduced racks in your grocery store bakery!
These were $1.50 as opposed to the $4 bag in the bread aisle — they had one day left before they expired, but since I knew I was going to be freezing these the expiration date didn't matter.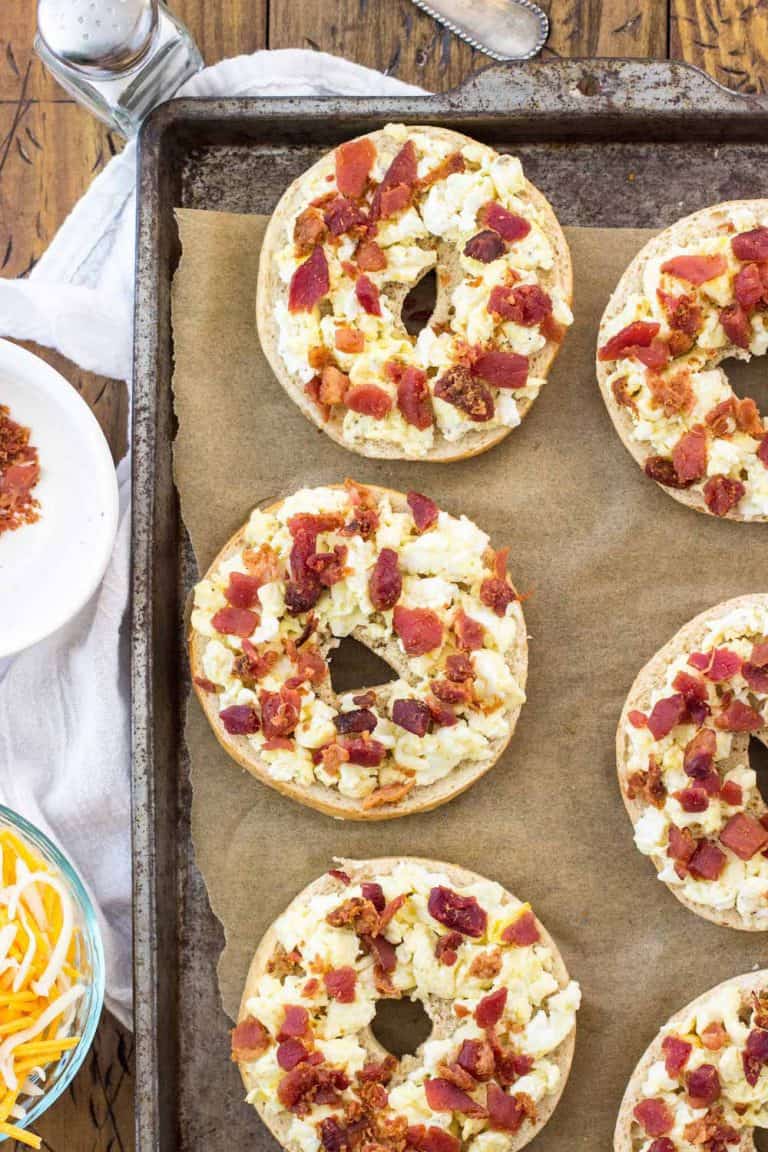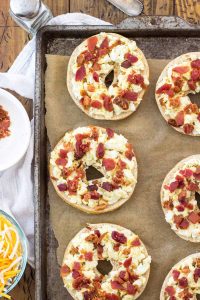 Now on to the

bacon

… lots and lots of bacon! You can cook your own on a skillet or in the oven, but I prefer to save some time and microwave it. Or, you can cheat even further and use pre-cooked bacon crumble pieces, but they tend to be a little pricier.

Just sprinkle it over the eggs, as much as you'd like (no judgment here!).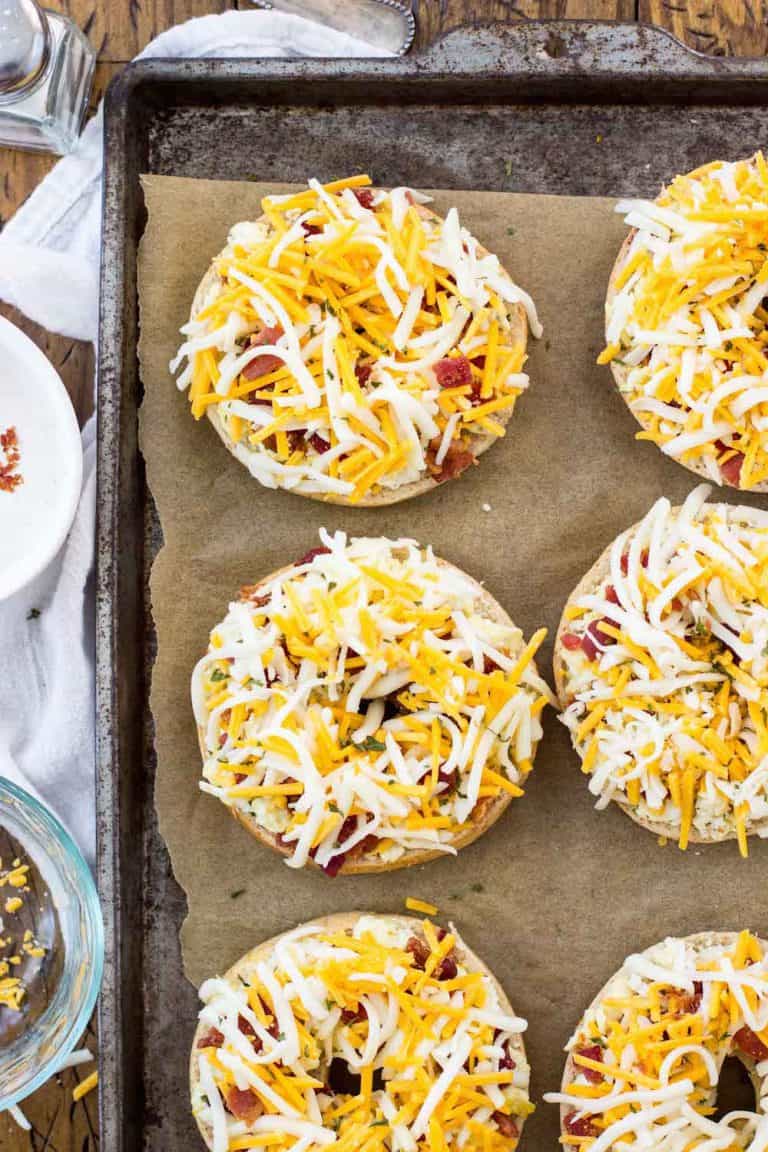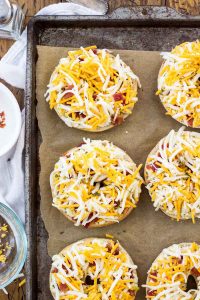 And now the cheese (I like where this is going!). Toss together your mozzarella and cheddar cheese and layer it over the bacon. Add a little dried parsley if you're feeling fancy.

And now on to the oven!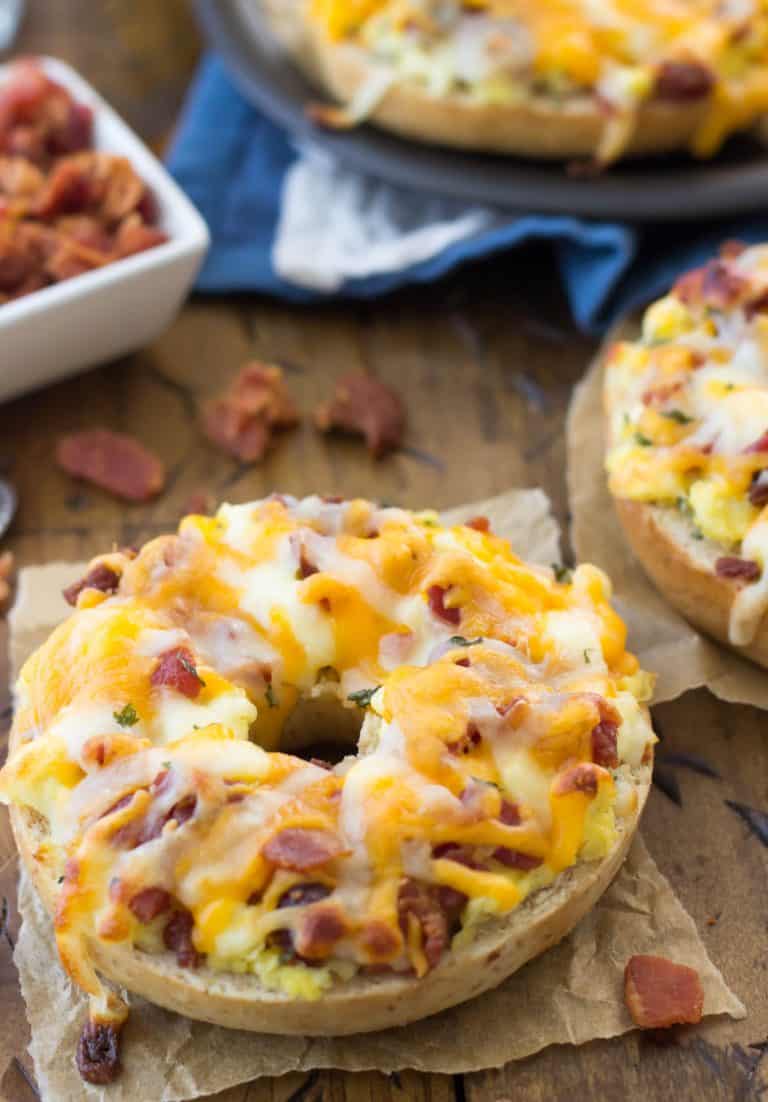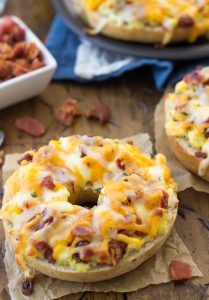 Voila! 15 minutes and you've got yourself a homemade breakfast!
The thing I really love about these mini breakfast pizzas is that they are entirely freezer friendly. If you're not going to be eating them all at once, wrap them tightly in saran wrap (Hint: I buy this bulk saran wrap on Amazon for much cheaper than in stores) Then I usually also put them in large Ziploc bag or an airtight container, just to be safe, and freeze. These work out well defrosted in either the microwave or in a toaster oven.
---
15 Minute Breakfast Pizza Bagel (Freezer Friendly!)
This 15 minute breakfast pizza bagel recipe is my absolute favorite "comfort" breakfast. It tastes like I spent hours making it but can be prepped in just a few minutes (and you can make them ahead of time and freeze them!)
Recipe type:
15 Minute Breakfast Pizza Bagel
Ingredients
3 plain bagels, sliced
6 large eggs, beaten
⅛ teaspoon garlic powder
Salt and pepper, to taste
10 fully cooked bacon slices (microwaved according to package directions), crumbled
1 cup shredded mozzarella cheese
1 cup shredded cheddar cheese
Instructions
Preheat oven to 415° F
Place bagels on an ungreased cookie sheet and set aside.
In a medium-sized bowl, whisk together eggs, garlic pepper, salt, and pepper.
Cook/scramble in a medium nonstick skillet over medium-high heat.
Remove eggs from heat and evenly distribute scrambled eggs over bagels.
Sprinkle bacon over eggs.
Toss together mozzarella and cheddar cheeses, and cover the bacon/eggs with cheese mixture.
Bake at 415° F for 10 minutes.
Pizza bagels will be extremely hot right out of the oven, allow them to cool briefly before enjoying.
These also freeze very well — wrap cooled pizza bagels tightly in plastic wrap (I usually place them in an airtight container or in a large Ziploc bag for good measure) and freeze.
Defrost in microwave or toaster oven before enjoying at a later time.
Popular Breakfast Pizza Bagel Variations:
Substitute the bagel for: Pre-baked pizza crust (like Boboli), Toasted English Muffins, Biscuit, crescent roll dough, pizza dough.
Add "sauce": Cream Cheese, Sausage Gravy, Hot Sauce, or white gravy.
Change the toppings: Ham, green peppers, onions, mushrooms,sausage, bacon, or any ingredient you like in your omelets.
FTC Disclosure of Material Connection: In order for us to maintain this website, some of the links in the post above may be affiliate links. Regardless, we only recommend products or services we use personally and/or believe will add value to readers.