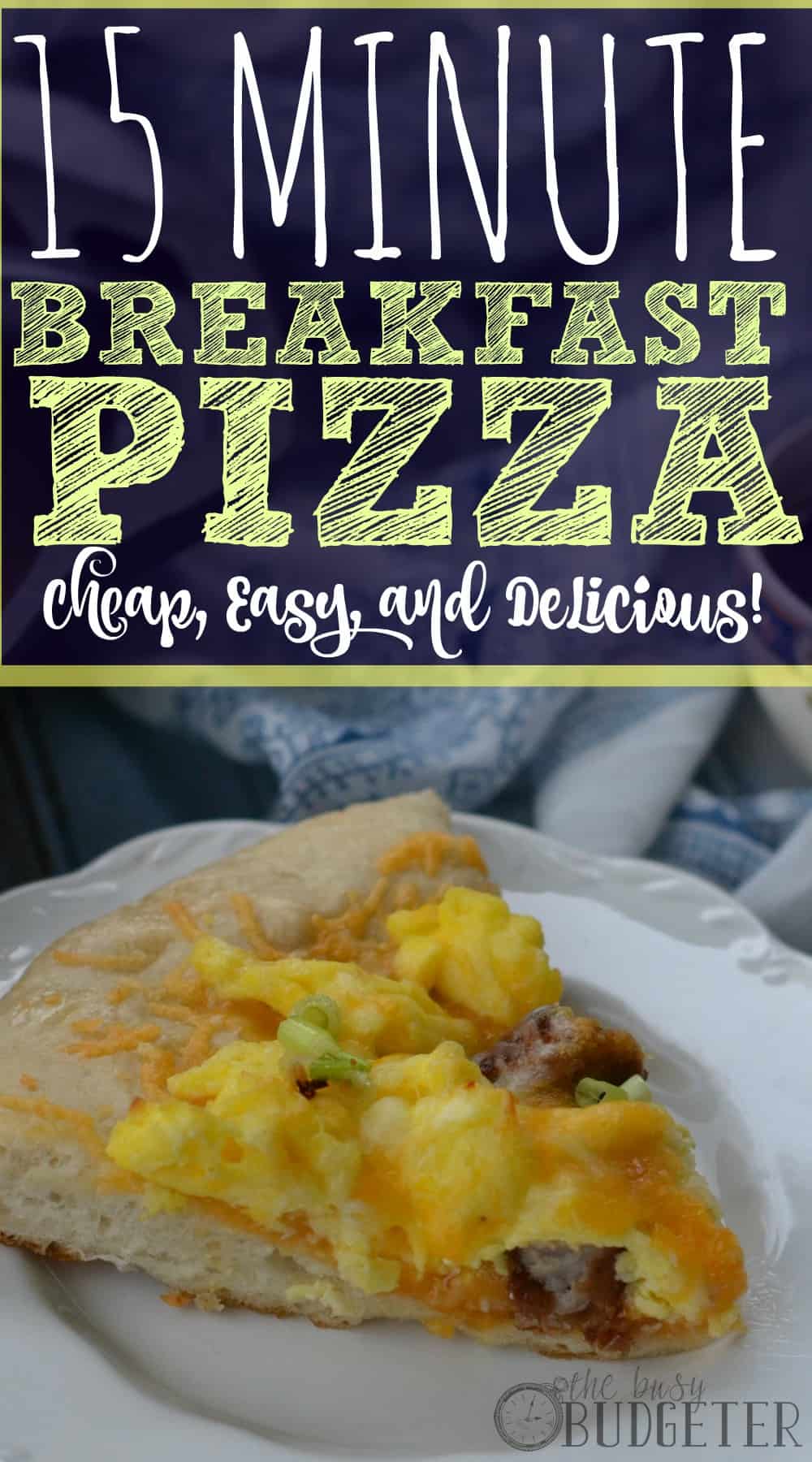 Meet Jon's favorite breakfast: Bacon Breakfast Pizza. There are as many variations of this as there are breakfast foods. I'll include some suggestions after the "recipe".
Update: 4/5/20 I know how stressful it is right now to be cooking 2-3 times a day while you're also trying to work, "home school", referee kids, and get your house under control. We created an epic inspiration binder of the easiest cheap meals. These ideas are field-tested by hundreds of thousands of our readers and are guaranteed to help even the most overwhelmed mom stick to a meal plan.
And we're giving it to you 100% free right now so you can use it to help you get through this time. And bonus: You'll end up using it long after the pandemic is over.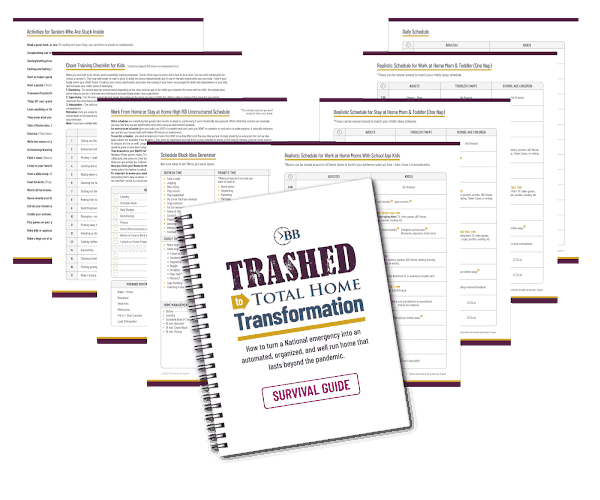 15 Minute Breakfast Pizza
Cheap and easy breakfast pizza is perfect for weekend mornings and can be customized with your favorite foods.
Ingredients
1 precooked pizza crust (like Boboli)
4 large eggs
10 slices of fully cooked bacon
1 cup of cheddar cheese
Instructions
Preheat oven to 400 degrees.
Place pizza crust on pizza stone or baking sheet.
Scramble 4 eggs in a frying pan on medium heat.
Sprinkle eggs over pizza crust.
Microwave bacon according to package directions (usually about 25 seconds for 5 slices)
Crumble bacon.
Sprinkle bacon over eggs.
Sprinkle cheese over pizza.
Bake at 400 degrees for 10 minutes.
Updated: 11/4/15: We redid the photos on this, but I kept the original photos in the post. The photo above was done with a homemade crust, photos below are a pre-made crust bought from the store.
Preheat oven to 400 degrees.
You can make your own pizza crust, buy pizza dough, or just do what we do and buy the Wegmans version of the Boboli pizza crust.
Scramble up 4 eggs and then spoon and spread over the pizza crust.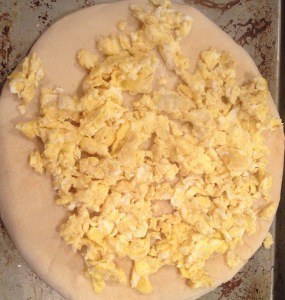 You can make the bacon from scratch, or if you're looking for a 10 minute breakfast, buy fully cooked bacon. You microwave 5 pieces at a time for 25 seconds and it's done! Cook the bacon, and crumble it on top of the pizza and eggs.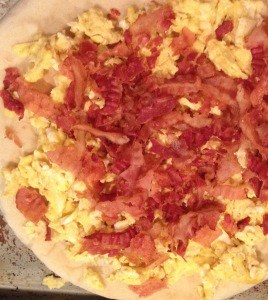 Sprinkle the whole pie with cheddar and/or mozzarella cheese.
Stick the pizza in the oven (even if it isn't 400 degrees yet). Set the timer for 10 minutes. When the 10 minutes are up- Serve and Enjoy!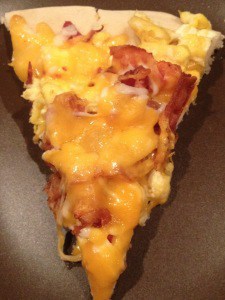 You can also try:
Sausage, egg and cheese pizza.
Sausage gravy pizza.
Ham, egg, onion and pepper pizza.
Veggie pizza (mushroom, green pepper, red pepper, onion, etc with eggs and cheese)
This post may contain affiliate links. If you click & make a purchase, I receive a small commission that helps keep the Busy Budgeter up and running. Read my full disclosure policy here.