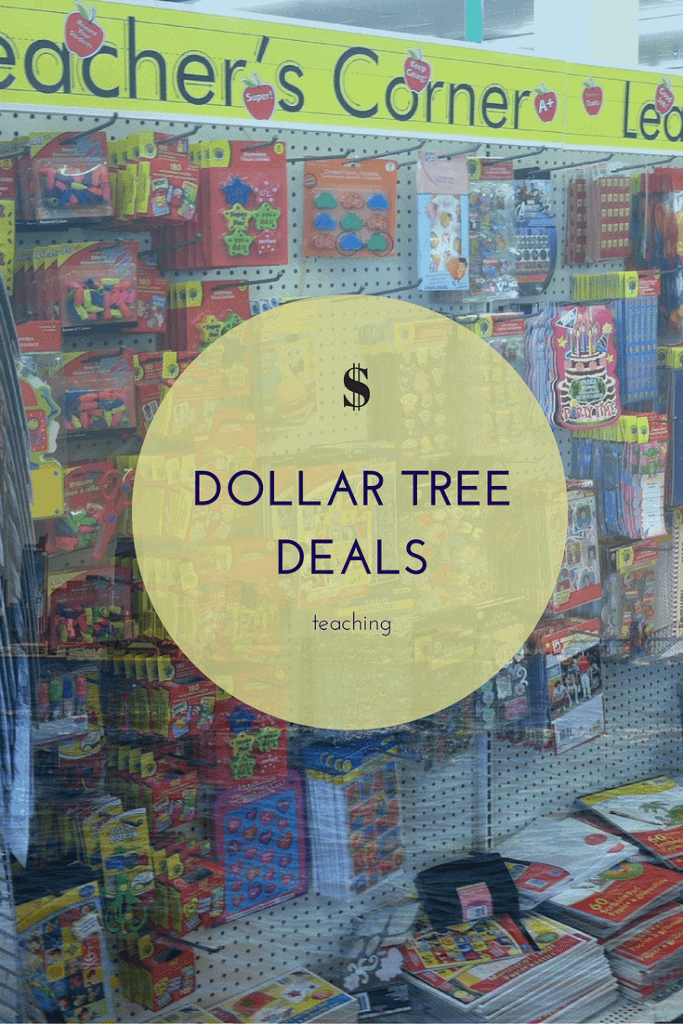 Classroom tools for only $1 at The Dollar Tree
I've always loved the dollar store. I love picking up storage containers and stationary there. When I quit my job last year to open up my own home daycare, I realized the true value of a dollar store. The local Dollar Tree has amazing resources for learning, all for $1.00! Crayons, stickers, workbooks (I love the Pre-K ones!), learning posters, reward stickers, chore charts, kids books, coloring books, calendars, clocks, hall passes, you name it!
Here's a few of my favorites from the Dollar Tree in August (their stock rotates with seasons but they always have a teacher aisle).
1. Educational Wall Posters

Dollar Tree Classroom Wall Posters
Not only do they usually have the adorable kitty posters with the "Hang in There!" motivational phrases, but they have lots of educational posters. The alphabet, fractions, counting, the periodic table, etc. They do a great job of including most subjects and all ages. For $1.00, you actually get two posters, since each poster has a different one printed on each side (usually in the same subject and always in the same age range). These posters are impressively large as well, and come wrapped in cellophane so you can keep them undamaged until you're ready to hang.
2. Hall passes, Stickers, Rewards and Awards

Dollar Tree Stickers and Rewards
Hall passes, awards, coupons, and fun handouts. If you need recognition items, they have it! They not only have tons of stickers, but they have popular character stickers too (Sophia the First, Jake and the Pirates, Mickey Mouse). Pencils, pencil toppers, you name it, they have it.
3. Flash Cards
Dollar Tree Flashcards
They have flash cards in several different categories. From first words, to numbers, colors and shapes, to easy matching games for pre-k. They also have a good selection of flashcards for older grades, like multiplication, division, and grammar flashcards.
4. Calendars, Charts and Learning Clocks

Dollar Tree Chore Charts, Tables, and Clocks
This is my favorite category! They have huge blank wall charts. You can make them into chore charts, potty training charts, subject completion charts, homeschooling charts, anything you can list! The calendars are huge, (as large as the posters), and each one has two sides so you can choose the colors that work best for your space.
5. Work Books
Dollar Tree Workbooks
I'm always really impressed with the quality of the work books here, I use the Pre-K ones with my two year old. They have a huge assortment of popular characters, subjects and age ranges. They go up to about 5th and 6th grades. For $1.00 each, you can buy several topics that meet your age range and work through them one at a time. Thats what we do. He grabs the book he likes, and we can do it together.
6. Classroom Decoration, Wall Decor
Dollar Tree Wall Decor/ Classroom Decorations
Dollar Tree has tons of options for sprucing up your classroom walls. They have matching die cut outs, like government, the alphabet, ketchup and mustard, dogs and cats, animals, signs to label parts of a classroom (Reading Center, Art Center, Music Center etc.), cowboy and wild west, etc. They come in packets with tons of items so you can fill a whole wall. A few months ago, I went in and bought die cut stars and put all the kids names on them and taped them to the wall.
Bonus!
Dollar Tree Papers and Dry Erase Calendars
While you're there, check out the other offers they have. They regularly stock dry erase boards, dry erase calendars, papers, art pads, construction paper, glue, scissors, crayons, etc. Don't forget to go find my personal dollar store favorites… stationary and Betty Crocker kitchen utensils. Click below to read about my favorite buys at the dollar store for your home.
Happy Shopping! Did I miss any of your favorites?
Like me on facebook and make my whole day better by clicking here!
This post may contain affiliate links. If you click & make a purchase, I receive a small commission that helps keep the Busy Budgeter up and running. Read my full disclosure policy here.