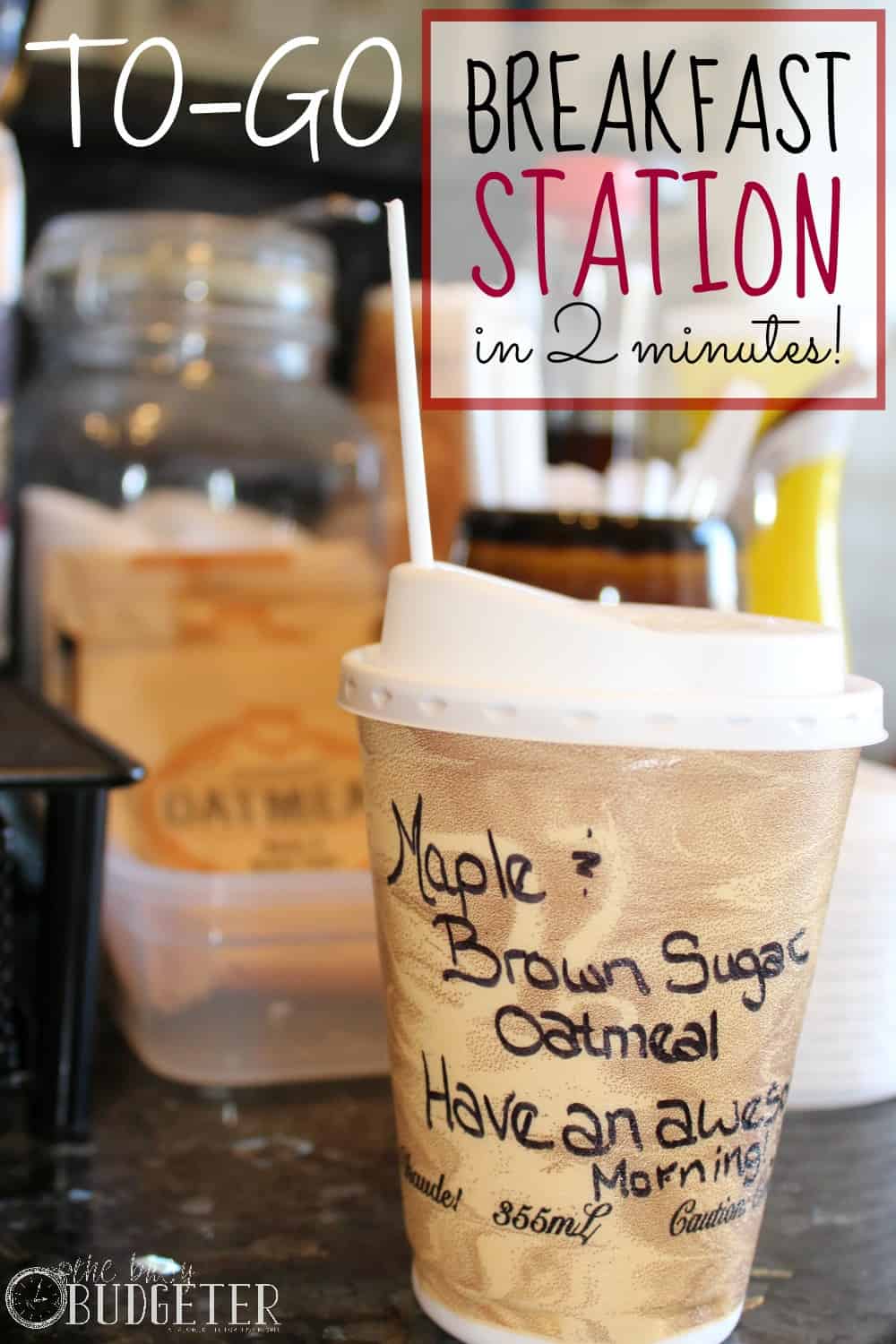 To Go Breakfast Station in 2 Minutes!
There are so many benefits of eating breakfast. But so few of us actually eat breakfast. For those of us that do, it's more likely that we're eating a fast food breakfast, donuts at the office, or a danish at Starbucks than something from our own home. Which is why we made a breakfast station.
The problem with eating breakfast out every day is that it's expensive. Really expensive! It also has a ton of calories (that I certainly don't need!) and "costs" you about 20 minutes a day in order to grab your breakfast in the drive-thru instead.
When we needed to break ourselves of that habit, we came up with a solution that worked so well that we still use it today.
We made a super quick and easy breakfast station.
The breakfast station makes it so we can have a hot and nutritious breakfast ready to go as we walk out the door in less than 2 minutes. We can even eat in the car without a problem! It's packaged to go!
Jon's a coffee snob. I prefer Mint Chocolate Oolong Tea. We have the ability at this station to make a super quick cup of coffee using a k-cup. If Jon has time to be a true coffee snob, he can use his spice grinder and french press to make the perfect cup of coffee.
We use the Kuerig to heat the water for our oatmeal. Just remove the k-cup and put the top down (with no k-cup inside). Pour 2 containers of oatmeal into a to-go coffee cup with lid (you can get these at any grocery store- we used Wegmans). Press the "small cup" water button and wait until the cup fills.
**The "small cup" water button makes 2 packets of oatmeal perfectly. If you don't want to make 2 cups, then fill an empty cup with the water, dump out half and add your oatmeal.**
Add your toppings. We love maple syrup (ours doesn't need refrigeration) and brown sugar. Stick your spoon through the top of the cup in the small hole meant to be the mouth opening.
Then put the top back on your cup, stir the oatmeal well and take it to go. We keep a basket filled with apples and bananas on our way out of the kitchen. We can grab a piece of fruit to pair with the oatmeal and be on our way.
The cup fits right into the cup holder in your car, and is just as easy to carry into work and throw out when you're done!
While I'm usually not a fan of clutter on any counters, my ultimate priority is to make sure that I make things so easy that I'll actually do it. The problem with trying to just leave myself more time in the morning is that I won't do it.
I know what my weaknesses are. I need to plan ahead to deal with myself at my worst. (Because I am totally at my worst at 6:30 am!)
This doesn't have to be a long term solution. Eventually you'll get used to grabbing breakfast at home and you'll stop relying on the drive thru. You'll leave yourself a little more time in the morning and then you can clear off that counter and stack your freezer with freezer breakfast sandwiches, chocolate chip pancakes, and muffins to go (okay, so the oatmeal's healthier, but these sound way better!).
Our goal here is to modify your behavior with a simple solution. The breakfast station works great to do exactly that!
What are your favorite super easy breakfast foods!
This post may contain affiliate links. If you click & make a purchase, I receive a small commission that helps keep the Busy Budgeter up and running. Read my full disclosure policy here.