This is a sponsored post written by me on behalf of Gladiator GarageWorks for IZEA. All opinions are 100% mine.
The Three Steps to a Clutter Free Garage
There is an area in every house that draws clutter like a magnet. In our house, it's the garage. It's the Bermuda triangle of our happy home, Anything that I think we should keep but that I don't want messing up the house gets tossed in the garage much to the horror of my husband.
We've been making some pretty big strides in the battle against clutter lately and we agreed that it's time to straighten up the Garage once and for all. We've learned some things along the way and thought we'd share.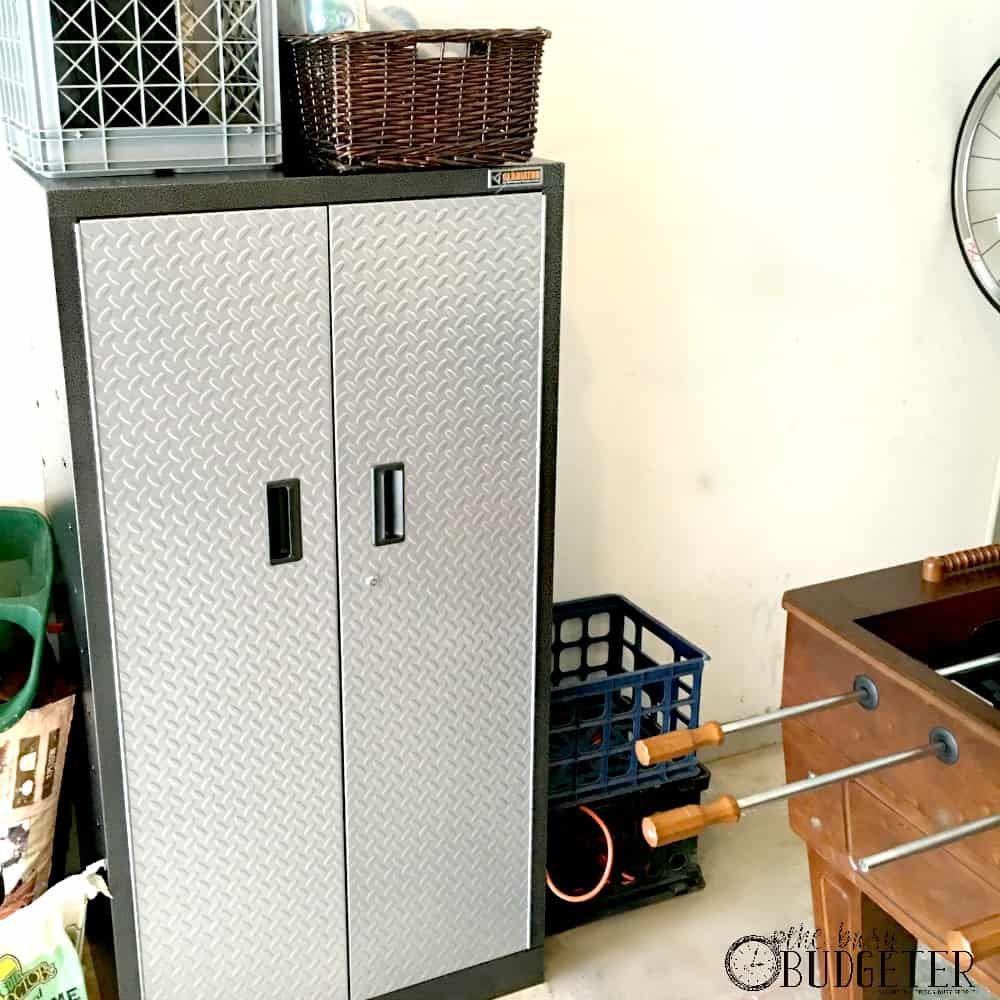 Figure out what you need your garage to do for you.
Be specific. Our list included:
Being able to park a car in there (unique idea right?)

Storing boxes of air tight memories and memorabilia.

Storing tools and outdoor items.

Storing gardening items.

An entry way with shoe and coat storage and a spot for kids book bags as well a bench to sit down to put them on.

Storing the trash can in an easy to fill spot.
It may seem silly but taking a few minutes to define what you want your garage to do for you actually makes the next steps easier.
Get the right storage solutions.
Keep the floors clear and store things vertically if you can. We used the highly rated Premier Series Tall GearBox to corral all of the tools and outdoor items.
A simple bench and shoe tray lets us keep shoes out of the house (giving us clean floors with little effort!)
Shelving gives us a place to store things that we don't use frequently.
Store like with like.
As you find storage solutions, look for ways to keep "like with like". While you are taking care of your "Spring Keeping" first look at the items you plan to keep and store them together based on category. This means that you should be able to easily find all of your gardening items together, and all of your tools together.
Put the things that you use most frequently in an easily accessible location Things that are used less frequently should be stored taking advantage of hard to reach areas and leaving the prime real estate for the things you use frequently.
It takes a little bit of work up front, but having an organized garage will give you peace of mind and save you money as you won't have to replace things that you can't find (says the girl who found 5 hammers during her clean up!). Of course organizing and creating systems that work for you always saves you time!
Plus, thanks to the smart storage solutions from Gladiator GarageWorks, I can actually fit my car in the garage!
Thanks to the generosity of Gladiator Garageworks, I even have a special offer for you! You can get $100 off and free shipping on Gladiator Garageworks products from now until May 11th by using this code: KEEP100 *
You can find all of Gladiators highly rated garage storage solutions by clicking here!
What items are you planning to keep this year at Spring Cleaning?
You can comment below or head over to Gladiator GarageWorks Facebook page and website to check out all of their products that will help you achieve your "Spring Keeping" this season.
*Offer available on eligible products from 4/25/16 to 5/11/16. Limit one promotional code per purchase. Order value for dollar off threshold and free shipping excludes applicable taxes and installation fees. All Gladiator® GarageWorks Terms of Sale apply during promotional period. Offer is only valid on eligible products purchased directly through www.GladiatorGarageWorks.com or by calling 866-342-4089. Shipping, handling, and installation fees are extra.