You want to know how you can be successful. The success you're after might be in any area. Maybe you want to finally get your house under control, maybe you want to have wealth and not live paycheck to paycheck, maybe you want to turn your small start up business into a multi-million dollar company, or maybe you want to climb the corporate ladder until your nose starts bleeding from the thin air. It really doesn't matter how you measure your success, the steps to become the successful are the same for all.
The one thing that every successful person does is to plan ahead. Don't read that sentence and stop there though, thinking that you already plan ahead. It's so much more involved than that. When you can't plan ahead, when you live in chaos, you live paycheck to paycheck, you miss out on so many opportunities.
Successful people are constantly looking at what they can do today to make their goals happen in the future. If you live in chaos and live paycheck to paycheck right now, the worst thing you can do when you get a little extra money is to spend it as a well deserved treat. It is well deserved, but that kind of entitlement thinking is exactly what will keep you in chaos and living paycheck to paycheck. When you get unexpected extra money, that's the most important time to sacrifice for your larger goal.
From finances to your life goals, the smartest thing you can do for yourself is to plan ahead. I'm going to get personal and use myself as an example.
My Story:
I spent 9 years working as a law enforcement officer, a job that I was passionate about, believed in, and was good at. I was successful in it, but my life was a mess. I had almost no work/life balance. My life was work, all of my friends were at work, I worked long hours with sudden shift extensions, with a schedule that often changed, frequently had to work on my day off, and working 10 days (or more!) in a row was normal.
Worse than all of those things was the fact that law enforcement is a tough job for a perpetually positive person (say that 3x fast!). You tend to see people on their worst days, and over time it can be hard to see the world in the same way that you used to.
When my husband and I had our first baby, everything changed. I knew, from the first moment I looked into that baby's eyes that I wanted to stay home with him. It came totally out of left field for me, but it made me really think about what my life was like now and what I wanted my life to look like.
We were still new to our frugal journey and we weren't in a position for me to stay at home. It would have been so easy to just give up and say I had a good job that made a good salary and we should count ourselves lucky. It would have been so easy to live in the now and accept the future instead of sacrifice in the now to plan for the future.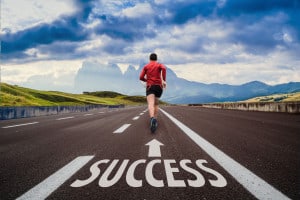 I sat down and penned my perfect life. There were some lofty goals there, and a little ridiculousness. Here's what I wrote exactly (thanks to the technology of iPhone notes where I tend to keep all of my ridiculousness).
I want to be able to stay at home with our kid(s?).
I want to have the same days off as my husband.
I want to make plans far, far into the future and know that they won't be cancelled unless I cancel them.
I want to be able to take vacations without having to hope that someone will let me.
I want to be able to earn the same income at home that I did in my career, but I want to be able to still care for our kids while I do it.
I want to have a project (or work?) that is my own that still gives me a purpose. Something to talk excitedly about with my husband at the end of the day and something that I can call my own.
I want my work and life to be able to support a healthy life.
I want to be able to home school our kids (or supplement their traditional schooling) with things like finances, life skills, cooking and more.
I want to be able to move out of this area if we choose to one day.
I want to see the world for the good in it, and not the bad.
I started that very day and set myself a deadline of one year. In one year, I would have the option to stay at home with him. We worked our tails off that year. We found ways to reduce our spending in almost every category, and then ways to make money at home.
My son's first birthday was my last day as a law enforcement officer. Through home child care and this blog, I now end up making more every month than I did in my career. As the blog grew, it replaced the child care, which sets up for the possibility of home schooling if I choose to as my oldest gets closer to school age.
I got lucky; very lucky. But I also worked extremely hard. I sacrificed almost a year of working 50 hours a week doing child care as well as 20 hours a week working on building the blog in order to get to where I am now. I sacrificed in the now to plan for the future I wanted.
Craft the life you want, piece by piece, detail by detail. Set yourself up for success. There were a million different paths that would have lead to that perfect life. I chose the path that I was the most excited about. Plan for what you want in the end and decide what you have to do now to make it happen.
The 5 Steps to Planning Ahead for Success:
Write out what your perfect life looks like. Be detailed. Be ridiculous. Feel free to be overly ambitious.
Brainstorm all of the possible ways that you can achieve that goal. Every single thing you can think of. If you need help (and your perfect life involves you working at home or for yourself), then look at www.realwaystoearn.com for inspiration.
Choose the path that balances the most possible with the most exciting to you for quick results or just the most exciting to you for the longer approach.
Be open to changing your path when a good opportunity presents itself.
Work your tail off.
Hint: A really easy start to this journey is having a hobby that makes money. If your hobby makes money it has the potential of turning into a full time job.
Hobbies That Can Make Money:
Reading – editing, reviews
Design – web design, graphic design
Writing– freelance, newspaper contributor, author, blogger
Cooking– baker, cookbooks, caterer
Gardening– farms, jams, jelly, honey, organic vegetables
Photography– selling stock photography, portraits
Crafts– pottery, sewing custom made doll clothes, painting, printables, etc.
So, what are your plans to live your idea of a successful life?
This post may contain affiliate links. If you click & make a purchase, I receive a small commission that helps keep the Busy Budgeter up and running. Read my full disclosure policy here.