-the chopped onion project-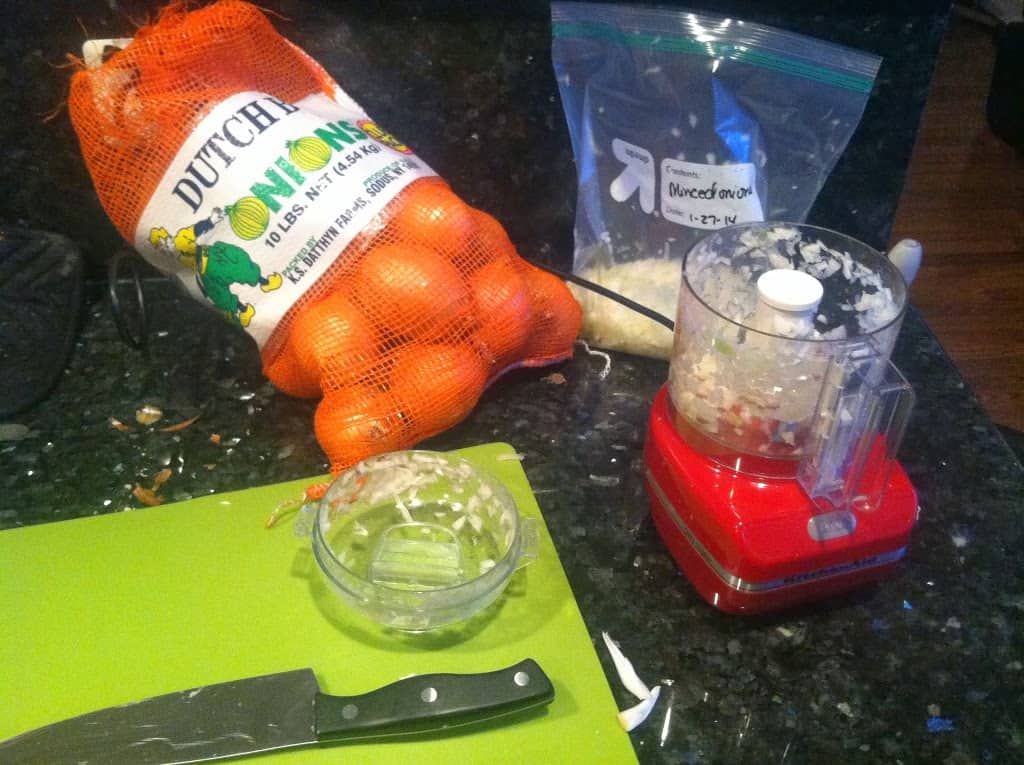 Chopping onions to save a few dollars. Seems simple huh?
I realized just how many onions we've been using lately. Rather than buying the 12oz bag of chopped frozen onions for $1.00 at Giant, I considered buying onions in bulk to chop myself. Wegmans has a 10 pound bag of onions for $6.99. I could use my mini food processor to dice them two or three at a time while I made dinner. "Easy!", I thought.
As the tears poured down my face and my eyes burned so bad that I thought I was doing permanent damage, My husband kept saying "Are you OK? This doesn't look like a good idea". Then, when I noticed my 17 month old son rubbing his eyes on the floor next to me, I realized that I actually have limits to frugality. In total, It took me about 15 minutes to chop and package those onions to freeze. Those 15 minutes felt like about 10 hours and I still feel like all I can smell is onions when I walk through the kitchen.
At the end of the day, I saved $5.81 for enough onions that will likely last me through three months. While a savings of 54% is pretty impressive on a whole food, it wasn't enough to endure the noxious fumes that plague me to this day. At the end of a year, I would have saved $24.
We'll just live recklessly and buy the frozen chopped onions, 'cause you know, we're extravagant like that:)
Don't be deceived by the ease of the mini processor… You're about to cry.
This post may contain affiliate links. If you click & make a purchase, I receive a small commission that helps keep the Busy Budgeter up and running. Read my full disclosure policy here.