When you sit down to think of everything that you spend to keep yourself looking and smelling nice, it's an eye opener. I did just that when I overhauled our budget to find ways to reduce our spending. Razors, shaving cream, deodorant, toothbrushes, toothpaste, mouthwash, face wash, moisturizers, eye cream, night cream, sunscreen, shampoo, conditioner, body wash, hand soap, and body lotion… The list goes on and on. Even for the most basic needs, these products aren't cheap.
This can work in your favor though! When you can find some substitutions that work as well (or even better!) than what you currently buy for less, then you can save a good chunk of change to put towards things that are more important to you.
These are the three changes we made that made the biggest impact on reducing our spending on personal care items:
1. Switch from buying razor blades in a store to 99 Cent Razor Home Delivery.
My husband was REALLY nervous about this. He loves his razors and wasn't a fan of switching. I signed up for the trial for 99 Cent Razor and haven't looked back since. The razors are well made, non-irritating, and are so much cheaper.
99 Cent Razor has two options; the first is a blue razor (traditionally made for men) where you can just replace the cartridge head about once a week. Jon was able to go about 10 days before needing to switch cartridges. I'm not picky about that stuff at all (maybe because I'm not particularly hairy?), and will likely use the same razor for three months.
99 Cent Razor also has a pink razor (traditionally made for women) that is a disposable razor. I used both, and liked them both. Both had a moisturizing strip and a triple blade. Neither blade irritated our skin.
In the end, we decided that having two subscriptions were redundant so we just kept his subscription and I steal a cartridge from him every few months. If you're particular about your razors though, or have thicker hair than I do, you may want to consider your own subscription. The blue cartridge was every bit as good as the Gillette Fusion that Jon used to use (ahem…and that I used all the time, but never told Jon. Shhh.) The pink razor was very similar to the Venus embrace I used to use (when I could actually find my razor, and Jon's wasn't closer).
The prices are what blew me away. We pay $6.95 every two months for 5 razor blades (the handle and handle holder as well as shipping are all free). That's WAY cheaper than what we had been spending on blades and even cheaper than Dollar Shave Club! The quality is the same or better so this was an easy switch for us.
You can start with the trial to see the difference for yourself. If you prefer your old razor blade, then you can just switch right back. I would bet that most, if not everyone, will stay with 99 Cent Razor. You can choose how often you want the blades sent to you. Monthly for heavy shavers, every other month for less frequent shavers and every three months for those that have beards or extremely fine hair.
The shipments will have 5 razor cartridges (or 5 razors if you choose the pink disposable razors) and will be $6.95, you just have to choose how frequently you get them shipped.
How much did we save with 99 Cent Razor?
We used to purchase the 12 pack Gillette Fusion manual blade cartridges for $39.99. For a years worth of blades (using one blade every 10 days), we spent $86.64 a year. With 99 cent razors we spend $41.70/year on razors! That's more than half off! If you usually just replace blades as needed without buying in bulk, you'll save even more since replacing blades from the 4 pack Gillete cartridges would be $105.88/year, saving you $64.18/year with 99 cent razor.
Head over to 99 Cent Razor to grab your trial package!
2. Switching from body wash to a bar soap in a saver pouch.
I used to love body wash, but this soap trick has made me a complete convert to bar soap. We used to buy Caress body wash (we tried Suave since it was cheaper, but it was so thick that you just ended up using more). We found a bar soap with a scent that we both love, Zest Aqua, and found these soap saver pouches. It solves the problem of letting the soap melt away sitting in water in your tub. You stick your soap in the loofah (we each have one), use it right in the loofah and then hang it on your shower nozzle to dry between uses. I like this so much better than body wash now but I never would have tried without knowing about the soap saver.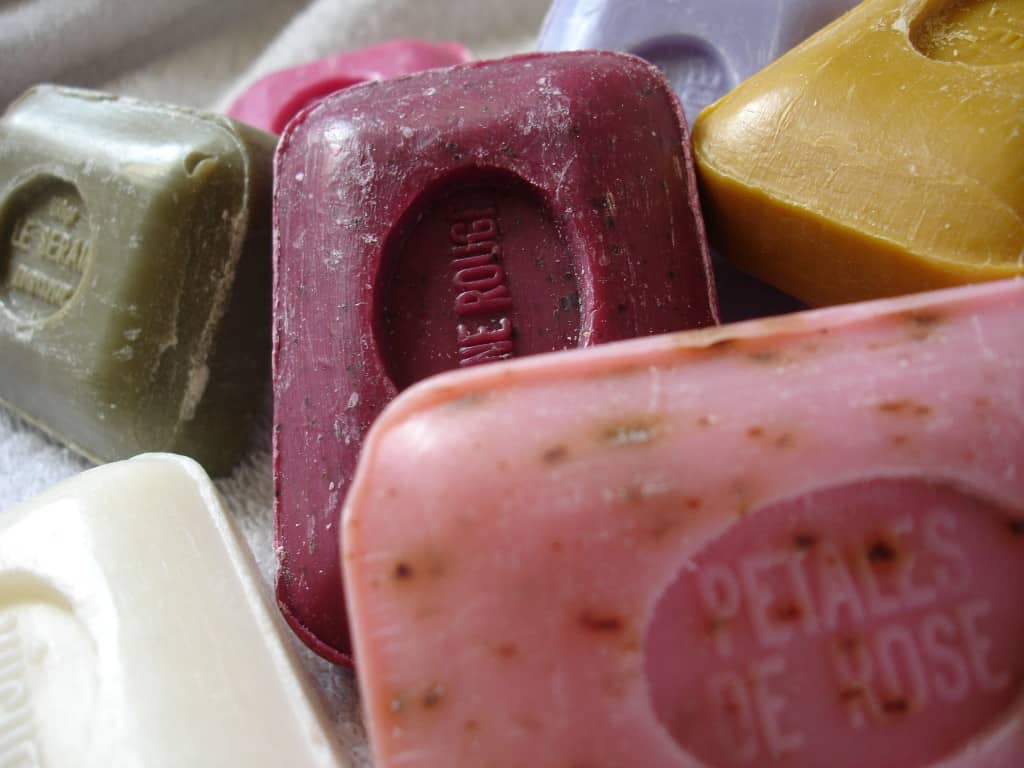 How much did we save?
Caress body wash: We used one 18 oz bottle every three weeks, for all of us plus overnight guests. At $3.47/bottle, that was $60.14/year spent in body wash.
Zest Soap: It takes us about the same amount of time to go through a bar of soap (as long as you hang it up to dry- this is key!), but the cost of a bar of soap is about 37 cents per bar (or much less if you wait for a deal). 37 cents per bar x 52 bars in a year is $19.24. You also have to add in the cost of the soap saver pouch, 6.29 for four. A total cost of $25.53/year.
You'll save $34.61/year by switching to the bar soap. That's more than 50% off!
3. Find a cheaper brand of shampoo that worked better.
We switched from Pantene Pro-V Shampoo and Conditioner to Suave Rosemary and Mint shampoo. I first tried the Suave at my parents house during a visit and completely fell in love with the scent. I also loved the way it made my hair feel. In my opinion, it didn't just do as good a job as Pantene, it did better. We go through about 768 oz per year of shampoo and conditioner combined for all of us, plus overnight guests.
How much did we save?
Pantene Pro-V Classic Care Shampoo and Conditioner each cost $4.97 for 22.8 ounces at Walmart. In one year, we would spend $167.41 on this shampoo and conditioner. (4.97 / 22.8 = .217 per ounce x 768 ounces per year = $167.41)
Suave Rosemary and Mint Shampoo and Conditioner each cost $2.74 for 32 ounces at Walmart. In one year, we spend $65.76 on this shampoo and conditioner. (2.74 32 = .085 per ounce x 768 ounces per year = $65.76)
In total, we save $101.65 per year by using a product that we like better.
When you're trying to save money, everything comes down to substitutions. I keep hearing that to save money you have to sacrifice something; but that hasn't been my experience at all and we've been cutting our expenses every year for almost 6 years. The key is to find something you like better than what you bought before. It might take a little bit of searching around, but they're out there.
We reduced our spending by $23,000 in our first year alone by doing exactly that. When you add up these three things alone, we save $177.96/year by switching to something we like better than what we used to buy!
What would you do if I gave you $177.96 at the end of the year? Put it towards your debt repayment? Pay for Christmas?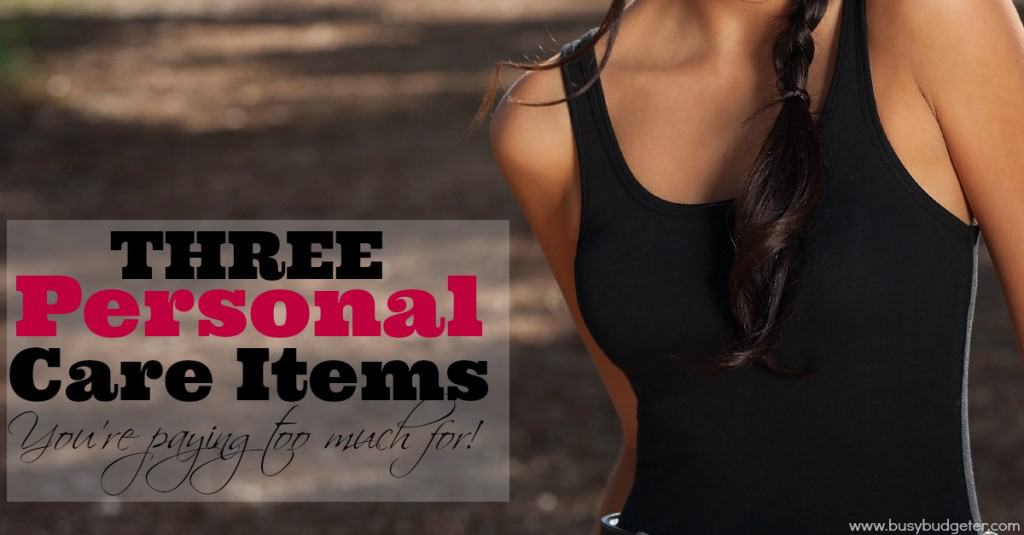 This post may contain affiliate links. If you click & make a purchase, I receive a small commission that helps keep the Busy Budgeter up and running. Read my full disclosure policy here.