Whether you're trying to figure out Sandals resorts costs, if Sandals Ochi in Ocho Rios is safe, or if it's worth the cost (and want a complete cost breakdown)… then this Sandals Ochi review is for you.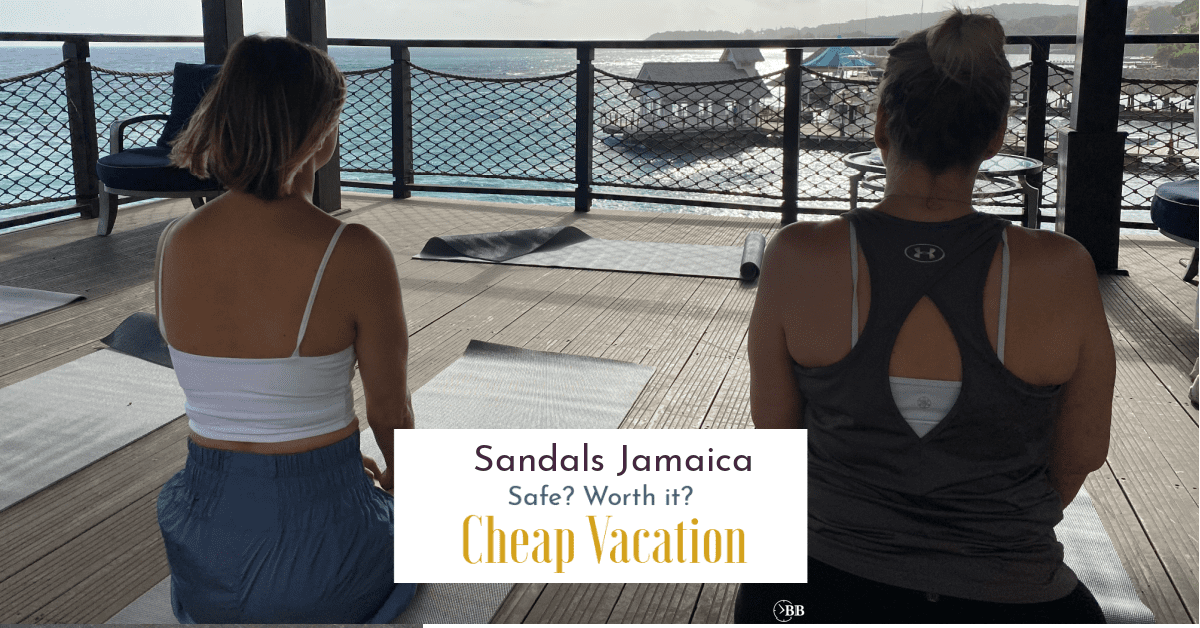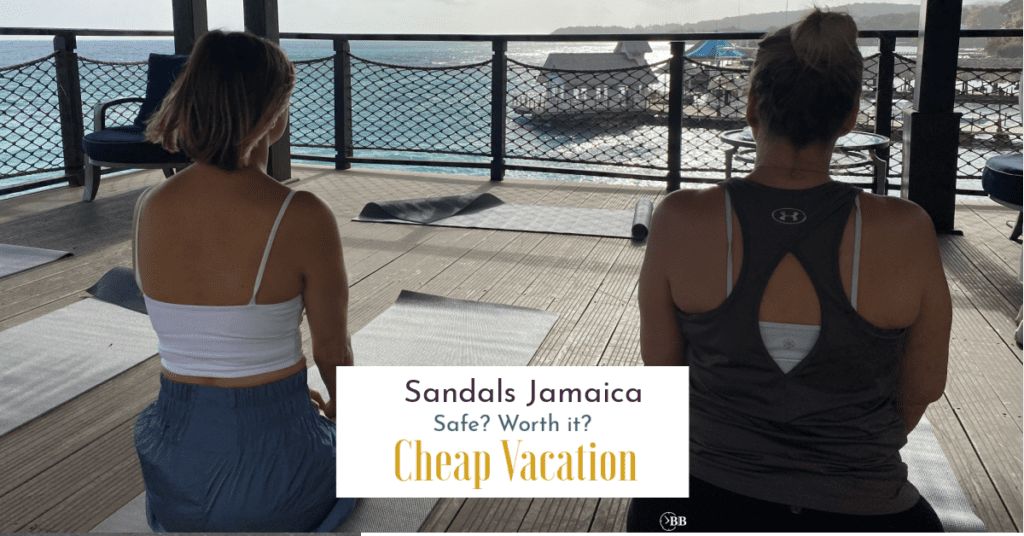 This isn't a professional review by a travel blogger.
This is your anxiety-ridden bestie, who spent 2 weeks before the trip reading about resort rapes and being held hostage for money, telling you every ridiculously inane detail about her trip in August 2022, so you can feel better about going (or cancel your trip if you're crazier than me… no judging… you're good).
I'll also break down complete Sandals resorts costs, hidden fees, what we did and what we thought of the trip, as well as give you detailed packing advice.
If you'd love to vacation at an all inclusive, but you don't have the money… This budget bootcamp is amazing at getting your budget under control and saving for things you want and specializes in people who suck at sticking to a budget and the toughest cases of chronic disorganization.
Overall Verdict
I was so amazed at how clean, safe, and fun Sandals Ochi was. I thought this was an incredible vacation and was really impressed with it, considering the budget.
I'd do it again in a heartbeat and laugh at how ridiculous I was to worry about it for so long. I will say though, that we never left the resort, not necessarily out of fear, but just because we were really content at the resort.
Is Sandals Ochi Safe? Will I Get Raped? Sexually Harassed, Roofied, or Assaulted? Can I Walk Alone at Night?
So right after we booked our trip… I started getting inundated with people warning me, "Don't leave the resort!" Which is fine. Except who wants to spend $3,000 on a vacation to a place that's so bad that everyone and their brother are telling you not to leave your hotel?
Being a "worst-case scenario" homebody (not exactly a world traveler), I started getting nervous. But the trip was so far off… that I just pushed it aside. Then my mom (even less of a world traveler than me) started sending me a never-ending torrent of articles about rapes occurring at resorts in Jamaica, including the Sandals in Ocho Rios.
There were tons of articles, so here's a quick overview of a few of the more well known cases:
An 18-year-old au pair at Beaches Negril Resort and Spa (which is owned by Sandals; Beaches is their family friendly resorts and Sandals is their couples only resorts) allegedly woke up drugged and naked in the shower after being raped (with choke marks on her neck).

A 16-year-old girl, vacationing with her New England based family, was allegedly raped in the bathroom while staying at Beaches Negril resort in 2013.

A 50-year-old Atlanta mother was allegedly sexually assualted in the ocean.

A Kansas City woman (age not reported) was allegedly sexually assaulted by a resort employee during a sailing excursion run by Sandals Ochi.

Two teens from Michigan were allegedly raped inside a laundry room by lifeguards who were employed at Beaches in Ocho Rios (again, the sister company to Sandals that focuses on family resorts).
But all of the articles have a repeating theme. The victim reports the crime, and the resorts allegedly give the victims free vacations or money and have them sign a nondisclosure agreement (which means they can't legally talk about their experience).
Travel Advisory
According to State Department statistics, resort rapes are an unchecked problem in Jamaica. They estimate one American is raped there per month.
This travel website even lets you sort out rape complaints while looking at resorts in Jamaica so that rape allegations don't get buried under complaints about weak drinks or sandy sand.
And this has become such a problem that Jamaica had a Travel Advisory (for the dates of my vacation and at the time of writing this article) by the State Department identifying Jamaica as a Level 3: Reconsider Travel.
They also have this listed under the summary for the Travel Advisory:
Country Summary: Violent crimes, such as home invasions, armed robberies, sexual assaults, and homicides, are common. Sexual assaults occur frequently, including at all-inclusive resorts. Local police lack the resources to respond effectively to serious criminal incidents. Emergency services vary throughout the island, and response times may vary from U.S. standards. The homicide rate reported by the Government of Jamaica has for several years been among the highest in the Western Hemisphere. U.S. government personnel are prohibited from traveling to areas listed below, from using public buses, and from driving outside of prescribed areas of Kingston at night.
So all of that suggested that my mom seemed to have a point (and so did everyone else with concern for safety).
I read so many articles and had discussions with so many people that I started to get really nervous. Which is not surprising considering I'm naturally fear based with a hefty side of anxiety.
I was so stressed out about safety that if someone had given me the option to just cancel the trip and not worry about it, I would have taken it.
My Experience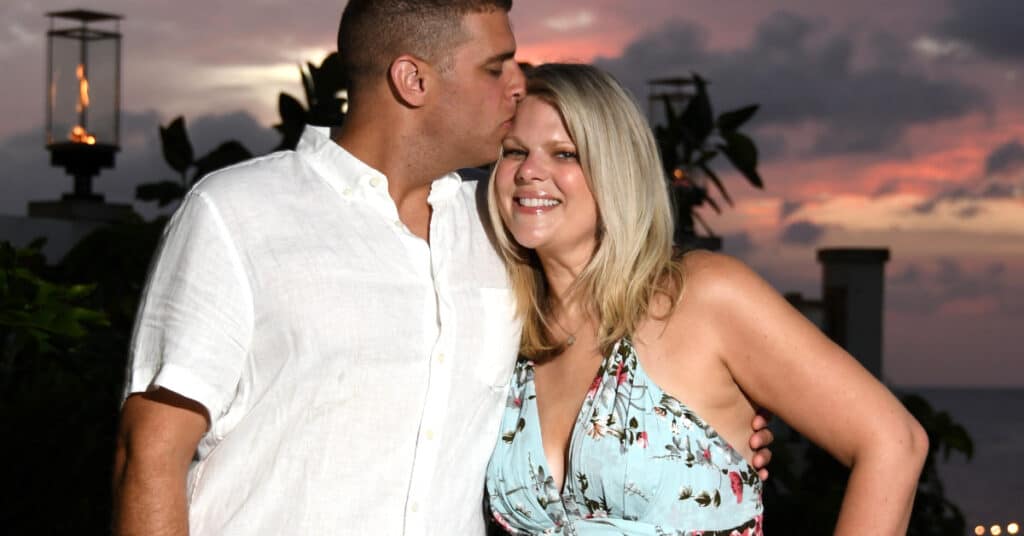 I am so happy to report that what I experienced was the complete opposite.
I felt completely safe there. The staff were warm, open, and friendly, but also completely professional. It was super clear that they run a VERY tight ship there. I obviously can't say that nothing bad ever happens there (because it has), but I can tell you that I felt perfectly comfortable walking around the resort alone at night in a semi-revealing dress (and I don't think I would feel comfortable doing that in my upscale suburban neighborhood).
I have no idea if they're hypervigilant now with all of the bad press from the slew of articles that got published around 2018 and made improvements, or if that was also the experience of the victims until a problem occurred.
Just a heads up though, we didn't leave the resort at all.
Not necessarily out of fear. But, because we were really content at the resort, and the excursions weren't enough to tempt us away.
I didn't have any interest in exploring Jamaica outside of the official excursion (I am, after all, an anxiety-ridden control freak. Honestly… they're better off without me visiting. The loss is mine, I'm sure).
While I felt safe at Sandals, I didn't have a lot of faith that I would feel safe off the resort.
Medical Treatment: Is there a Doctor At Sandals? What If I Need a Hospital?
I had heard that there was a nurse and a doctor on the resort if anything were to happen. Which gave me a bit of peace of mind, since I have a heart condition called Afib (which will only happen if I throw up, since it has a trigger), but always lands me in the hospital when it happens.

MY biggest fear was that this could happen in Jamaica and we'd have to navigate that on our own. Or in reality, by myself, since it happens without warning, and my husband and the rest of our travel party would likely be extremely inebriated from the unlimited free alcohol, and not much help.
Seeing the medical facilities on the bus ride to the Sandals resort made me double down on that concern because it was very apparent that Jamaica is an underdeveloped country. There were roofs missing from a significant number of houses, and the medical facilities we saw looked more like houses. Many of the houses were shacks with a tarp laid across.
Our Jamaican Medical Experience
But my doctor had given me the medication that they usually administer to me in the hospital before I left, so I felt comfortable thinking my worst-case scenario would be that I could see the resort doctor (who goes directly to your room) and be monitored until it resolved itself (usually in less than a day or two).
We did end up needing the nurse while we were there for an earache that my husband had from scuba diving. The nurse station was tiny and equipped with one bed, crutches, and oxygen. The nurse acts as triage and just offers to book the doctor to visit your room for $199 (although another woman I met there had an offer for $249 to have the doctor visit, so the charge likely changes based on the ailment).
They also took the time to explain how to get reimbursement for those charges with travel insurance. We didn't see the doctor for the earache, choosing instead to try sinus medication that you can buy at the gift shop.
Sandals Resorts Costs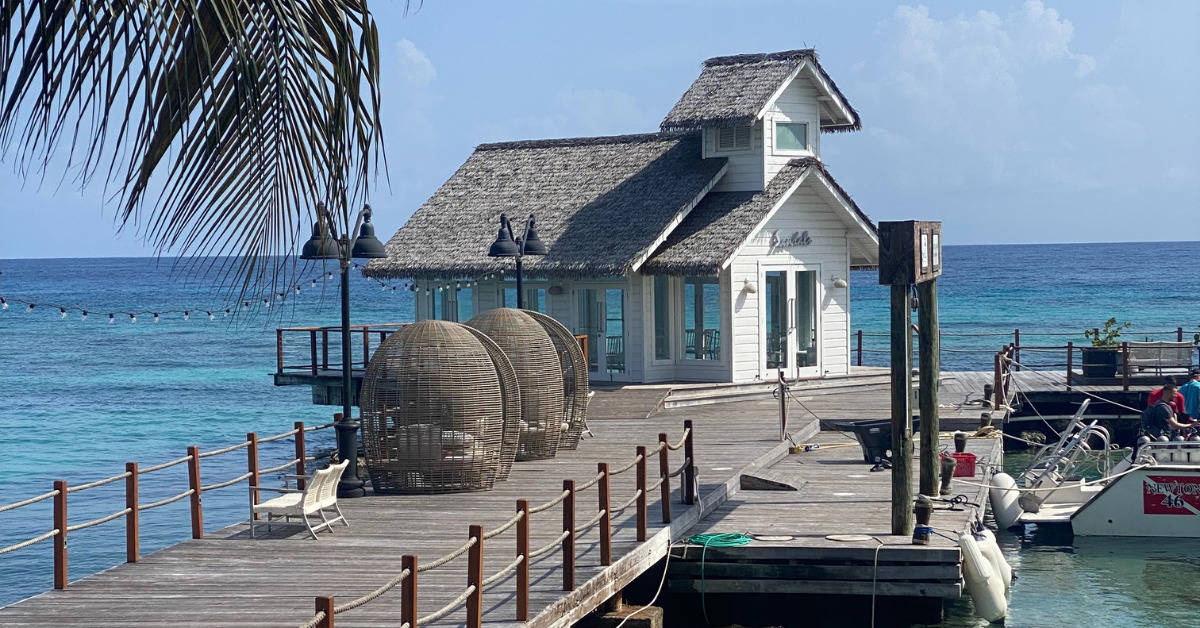 $2,800 for two of us for 8 days and 7 nights. The trip was booked during a Black Friday sale through a travel agent after our friend Ben called and hounded them (for months) to get the best prices. He painstakingly called asking about each and every available week (since we all have flexible schedules).
We booked to go with our best friends (also a couple) and were able to get rooms just a few doors apart.
This is the travel agent we used. Angie was incredibly patient. And they get paid by Sandals, not you, but it really helps to have someone who does this all the time sorting through to get you the best price.
Here's their information: Angie and Mike Stephens https://www.pleasureislandtravel.com/ 910-599-8285
We paid $386 for our round-trip, direct flights on American Airlines, plus $30 per bag on each flight. So a total of $832 for our flights.
That being said, when we first booked the resort and looked at airlines, they had flights for $189 that we didn't book thinking they would go lower, and later we really regretted that.
The only cash tips you need are for the baggage handlers for the Sandals arranged bus ride from the airport to the resort. I had every intention of figuring out appropriate tipping amounts before we came to that but never did and ended up giving them each $20.
So: $40 total when you include the return trip too. I suspect that's ridiculously high.
Total cost of vacation: $3,672 for both of us.
There are three things I'm not including in the Sandals resorts costs that we spent, since they're completely optional.
Sandals Photos
Every evening they take photos of couples as they walk by or you can book a free photo session. Then you review your photos before you leave. You can take home digital prints (with full copyright release) for $20 per photo or they can give you a quote for packages (with a lot of sales tactics like "that package is on an ultra sale that magically ends at midnight tonight").
Packages are based on how many total photos you want. (We had 160 photos taken and they quoted us $620). You're absolutely going to want some photos and I would even book a photo session. I did one with my best friend, but Jon was scuba diving in the mornings and we were busy at night so we never got around to it but I regret that.
I'd plan for an extra $100 for photos in your Sandals resorts costs, which would let you pick out your favorite 6 (approximately, since their "deals" change by the day).
Gift Store Purchases
As an impulse shopper who tends to feel spendy on vacations, I couldn't find anything I wanted to buy in the gift store (which says a lot about the options) but we ended up buying sunscreen there when we ran out for $26 (yes, you read that correctly, and yes, that was US dollars) and sinus medicine for $8.
Scuba Certification
Jon decided to get scuba certified on this trip for $340 because it's cheaper than he would have paid to do it at home and then he could go scuba diving with his best friend.
Food, Drinks, and Tips
All of the food is included in your Sandals resorts costs, including alcoholic drinks and tips. You aren't allowed to tip anyone on the resort except personal butlers if you have a butler room (which we didn't).
If your flight arrives before check-in time, food and drinks are included as soon as you get to the resort, not just after your check-in time. And they take your bags for you.
They do have some premium shelf alcohol that's only available for butler rooms, but even the heavy drinkers in my party seemed perfectly content with their alcohol options. They have the mini-fridge in your room stocked with fruit juices, sodas, and bottled water. You just call them and have them restock when you're running low. The other party with whom we were traveling had it stocked with a wine bottle as well.
Room service is only available for certain room levels, and our room didn't have room service available, but there was always a restaurant open (even overnight) so it wasn't a huge deal.
We traveled in a group with a range of diet preferences: Vegan, Italian foodies, lover of eating strange things like Octopus, and me… who has the palate of a 5-year-old who only likes chicken tenders and hamburgers.
Everyone was thrilled with the food.
The jerk shack was the most popular by far… they had jerk chicken, sausage, and pork and were a fast food outdoor eatery by the main pool.
There was a vegan option at every restaurant and it was pretty easy to eat vegan there. They were amazing with food allergies. At every place you ate, they started by asking if you have food allergies, and it was clear they had training on that. I talked to a woman who said they went out of their way to make substitutions that she could eat.
Arrival
When you arrive at the airport (both of the airports in Jamaica – Montego Bay, and Negril, are about equal distance from the resort), you go through customs and then to the Sandals lounge. They immediately take your bags, offer you free drinks and snacks, and give you an update on how long the bus will be.
There's a 1.5 hour bus ride from the airport to the resort. If you get car sick at all, pack Dramamine, which will prevent motion sickness. They plan to stop about halfway at a tourist destination with bathrooms and places to eat. The driver lets you know when it's coming and asks if anyone wants to stop. We didn't stop there or on the way back.
I have to say that I really dreaded this bus ride as someone who gets motion sick easily. I hate all road trips… but this sounded worse.
I loved the bus ride.
Dramamine made it so I wasn't sick and I got to see so much of Jamaica driving through all the different areas that I was surprisingly fascinated and couldn't take my eyes off the side of the road.
We saw a group of police officers with M-4's gather together and enter the wood line to go after someone. We saw a guy peeing on the side of the road (which granted you can see in virtually any city after 2 am, but it was mid afternoon and he didn't appear to be drunk or homeless… just like a guy that needed to use the bathroom and didn't see any reason to step away from the roadway).
Tons of houses were built with commonly found materials
like large signs used as a wall or roof. The country was beautiful and completely different from anything I've seen.
When you get to the resort, you tip the driver. He organizes your luggage and leaves it by the front of the resort while you check in. Check-in is different from normal hotels, because you're assigned a person to show you to your room. So they greet you and have you take a seat at the lounge or grab a drink from the bar and then call someone to get your luggage and take you to your room.
What happens if you arrive at Sandals before check-in time?
Because our flights were so early, we arrived at Sandals WAY before check-in time. They said that they would get a room ready early for us, but it would still be an hour or so. So our greeter brought us to a restaurant for lunch and drinks (still included in Sandals resorts costs and free even though it wasn't check-in time yet). Then they grabbed us after lunch, gave us our room keys and packets, and brought us via golf cart (without our luggage) straight to our room. He gave us a tour on the way.
Drinks
There are signature alcohols that aren't included in the Sandals resorts costs. But no one was really interested in those. They had mostly "top shelf" wines (that strangely are available in our home town for about $10 a bottle at the grocery store but sell for $100 a bottle there).
The most popular drinks in our crew were all included in the Sandals resorts costs. The Bob Marley, which is a frozen drink with layered colors that tasted like a slushy (hint: they can make this drink virgin too and it's delicious), rum and Coke, and mules (but they always ran out of mint early in the evenings) were staples for us.
What We Did: Relaxation
I had big plans when I showed up. They had an activity calendar on the Sandals app, and I planned to do it all. They have activities running every hour or so: Beach yoga, karaoke, dance lessons, tennis… Everything was included in the Sandals resorts costs and I was going to do it all.
Instead I floated and read and didn't do any of that (except yoga).
On days when they had beach yoga, we went out onto the bluff to meet the yoga instructor first thing in the morning. The instructor's a trip and it was great yoga and a gorgeous, breezy location. I couldn't recommend it more.
Every other morning, we woke up and had breakfast at the Sky Lounge.
The boys would go off to the scuba center to go on scuba excursions (if you're already certified, then scuba is included in Sandals resorts costs and is free). If you have an interest in scuba diving, then Sandals is a great place to get scuba certified. It's significantly cheaper than it would be if you wanted to do it back home. You don't need to pay for the equipment or the boat, just the extra instruction time.
A scuba certification at Sandals is about $340 (depending on deals at the time).
While the boys went scuba diving, the girls floated in the giant circular floats (complete with cup holders) in the ocean (waterproof Kindles are the best), on the beds near the ocean side of the pool (most of them are reserved for butler rooms but the two beds with no signs are first come first serve), on the couches up near the beach club looking over the bluff, or on the chairs on the walkway to the gazebo overlooking the ocean.
I can't even tell you how happy and relaxed I was.
I'm not a person that struggles with being able to relax and "shut off," but it felt like I had just discovered this "new normal" of relaxation that I never even realized was possible. I could instantly see that my "normal" carefree was actually low-level stress.
For hours and hours we floated and read books and were completely content.
The boys would come back, and we would go to lunch (one time even eating at the pool bar, literally in the pool… eating pizza).
Then the girls went to the rooms to shower and change for the evening (because I honestly think I love getting ready more than I love going out). We'd have a siesta, the boys would go get drinks and get their reading time in (since they were scuba diving all morning), and then we would do the evening activities.
There's a speakeasy hidden in a hill where the password changes nightly, which was a favorite evening spot. But they also have dueling pianos and karaoke, and a white party every week. We'd go out to dinner and head out for the night to drink and dance.
Technically, all the pools and hot tubs seemed to be closed after 5 pm. They all had signs out that said they were being treated. We asked an employee if the pools were closed at night and she said that they closed at 5 pm.
But literally every night at around 11 pm, we went to the hot tub and pool anyway. Mostly because my travel party consisted of a lot of mavericks who make their own rules. Meanwhile, I still think I'm going to get cancer from those treated hot tubs. But, those were probably my favorite evenings, and there were always a few other people who did it too.
Hint: Plenty of employees saw us and didn't seem to care.
Shopping/Gift Shop
If you're like me and tend to get spendy on vacation, you can rest assured that Sandals is extremely difficult to spend money in. The gift shops are underwhelming, and unless you love the Jamaican national colors, you're unlikely to be tempted by the decor items.
They have a few swimsuits and beach dresses, but even those weren't really appealing. Definitely pack anything you may think you need (including extra sunscreen!) because you're not going to be able to easily find it here.
Excursions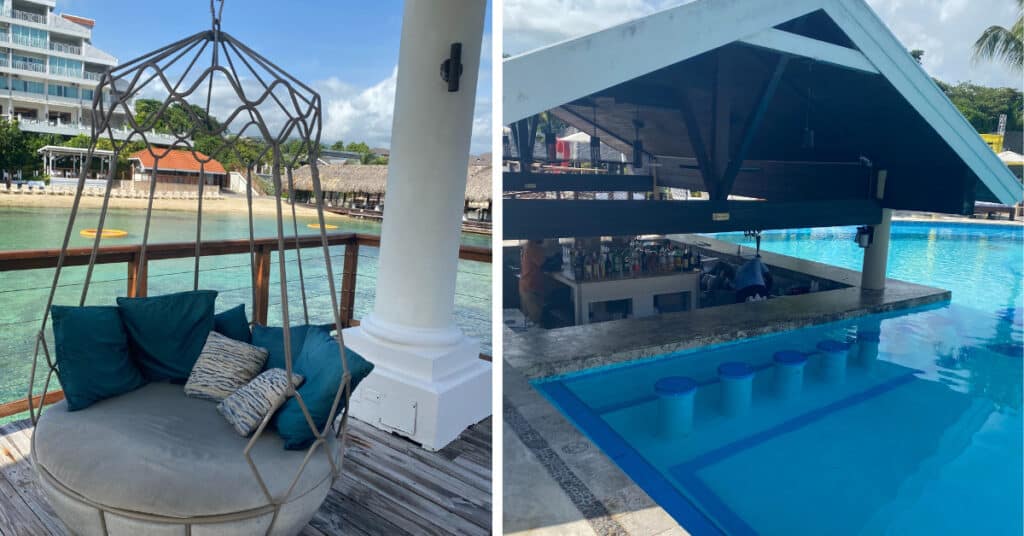 They had a lot of excursions available. We were so content that nothing really appealed to us as much as our floating and reading routines.
They had excursions (not included in Sandals resorts costs) to Dunn's River Falls, swimming with dolphins, and a party boat that went out every morning and came back hours and hours later with hundreds of people on board and minimal bathrooms (which is clearly not my jam, because I couldn't figure out how they found that many people to go, much less pay additional money for it).
Food Allergies
I don't have food allergies, but based on the menus, people that I talked to that do have food allergies, and how accommodating they were to the special diets in our group, (also, the fact that every single time we sat down to eat they asked if anyone had food allergies), I'd feel really comfortable going here if I did have food allergies.
Facebook Groups
There's an official Sandals Ochi Facebook group here and an unofficial one here. That's helpful if you have specific questions I didn't answer, because you can ask there. The most common questions seem to be…
"I have a butler, what should I ask them to do?"

(Get you drinks, arrange romantic dinners on the beach, and draw you a bath).

"Are the drinks weak?

(Definitely not, you can also get doubles or ask for extra alcohol which are totally included in Sandals resorts costs).
Should I Get a Butler?
You can get butler-level rooms that come with a butler to meet your every need. A lot of people I talked to loved their butlers. They were warm and hospitable. It's expected that you tip a butler $20-$40 a day, so that's not included in Sandals resorts costs. They'll get you drinks and do virtually anything you ask of them.
We didn't have a butler. So, one of the four of us just took turns getting drinks and bringing them back to everyone. I can't see this being "worth it" to me, even with an unlimited budget. But, if you love the idea of being pampered, that could be a fun upgrade to try.
Communication
Calls in Jamaica were free with our carrier (T-Mobile); as soon as you landed at the airport, our phones popped up with a notice that Jamaican calls were free. Service was a little spotty, but you could easily make calls.
Internet was tougher. Wi-Fi took FOREVER to load. Like "dial-up Internet" forever. Even loading the activities in the Sandals app was like a 5-10 minute process (screenshot it when you get it so you don't have to do it again that day!).
And you can forget watching movies or anything like that.
Sunburns
My best friend had a blistering, super painful sunburn on her last trip to Jamaica. And I could easily see how it could happen. Drink a little, relax a little… you think you'll be fine, but you're spending up to 10 hours a day directly in the sun.
I sunscreened up really carefully in the morning before breakfast. Then I hit the problem spots again before lunch (nose, cheeks, and shoulders). I got a tan, but no burn, and I burn fairly easily.
I wish I had packed more sunscreen though, because I bought a full bottle of SPF 50 and used that between the two of us in two days. So when you pack, pack several bottles of sunscreen. You don't want to run out and pay $26 for sunscreen there (not included in Sandals resorts costs).
Should I Stay on the Riviera (Beach Side) or the Manor (Main Pool Side)?
There are two sides of Sandals Ochi, the beach side (also called the Riviera) which is right on the ocean, and main pool side (also called the Manor), which is inland and surrounded by pools. I loved the beach side and would seriously recommend that again, that's where all the water activities are. And the relaxing spots are better there.
The pool side had a larger main pool and the jerk shack (all are included in the Sandals resorts costs no matter which side you stay on). But, there's a bus that takes you between sides every 10 minutes and it's about a 4 minute trip. So it's easy to pop over to hang out at the pool on the other side. But I thought the beach side was nicer by far.
Other Things to Consider
There's a LOT of Stairs
If accessibility is an issue for you, and you have problems with stairs, do not go to Sandals Ochi. There were so many stairs and no ramps or ability to get around them. I routinely got more than 30 flights of stairs on my Fitbit every day during that trip. Which was more work than the vacation challenge we did to get here.
The resort is built directly into hills and bluffs and looks amazing. But, you're going up and down stairs to get anywhere. (Note: there were more stairs on the beach side, but the poolside also had a ton of stairs).
The building where the rooms are does have an elevator, but there wasn't any workaround for the stairs I could see. I asked an employee about it, in anticipation of writing this article, and asked what you did if you had mobility issues, and she said there really wasn't any other way except the stairs.
Then I asked if they made the accessibility issues clear when you booked, and she said that they should, but don't. I was able to easily find an accessibility guide where they pretty much say that Sandals Ochi isn't as accessible as other locations, but the issue was prominent enough that it would affect someone who is not necessarily "mobility impaired" but still struggles with a lot of stairs.
There's a Lot of Cats
.
I loved the Jamaican kitties! They were everywhere because the buildings were often open with no doors. So, cats just wandered in and out as they pleased. They'll curl around your ankles while you're eating dinner or wander up to you while you're at the pool. You'd see them basking in the sun on a bed while you walked around.
They made the trip for me. Everyone feeds them at dinner (there weren't signs that you can't and everyone seemed to do it). Surprisingly, the cats were well-behaved and didn't jump on tables (even though the photo above indicates otherwise – we spend a long time with him and made him feel comfortable to do that).
Open Buildings and Heat
Jamaica's pretty hot and humid. The temperature was 80-90 degrees every day of our August trip. And it felt much hotter than the 80-90 degrees that I'm used to (I live in a southern coastal town known for its high humidity). The buildings feel similar to the outside because most of them don't have doors and are just open (though obviously some restaurants have doors and your hotel rooms have doors).
It's beautiful but don't even think about packing jeans or light sweaters or anything. And that's coming from someone who is always cold. That being said, I didn't find the heat unbearable because there's so much shade. And the ocean was perfectly warm but still cooler than the air temperature.
If You're Lesbian, Gay, Bisexual, or Transgendered
Being gay is apparently illegal in Jamaica. We talked to a same sex couple who said they loved their experience at Sandals but they had heard from friends that it was a "Don't Ask, Don't Tell" policy at the resort and that they shouldn't kiss or hold hands if they leave the resort.
Don't Wear Camoflauge
Wearing Camo is also apparently illegal in Jamaica and the resort has a similar "Don't Ask, Don't Tell" policy.
Order Extra Food
You can order two meals, several appetizers, or whatever you want. The food is unlimited. We had someone in our party who often ordered multiple appetizers to try, which was really fun.
Shirts and Shoes are Required
Wear shirts and footwear to ALL dining places (even pool-side). We ended up at the pool-side pizza place trying to sit down and eat. But, because one of the guys didn't have a shirt, they wouldn't feed us. They didn't explain that we could just get it to go without a shirt.
We got around this by having him wear his wife's very frilly teal boho mesh beach cover up (which was hilarious). But if that happens to you, just don't sit down. You can walk up to a pool-side place dripping wet with no shirt and shoes and ask for a pizza to go. Then you can eat it in the pool (at the pool bar of course… Because you're clearly dignified).
What Should I Pack?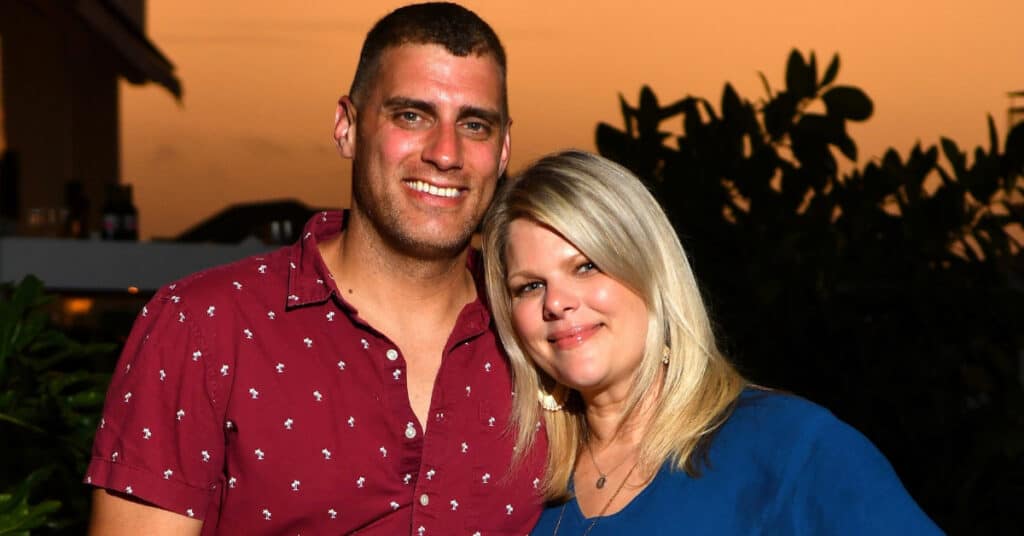 The packing list found here… wasn't super accurate for me. They suggested things like chair clips, bringing your own pool float, and a Yeti mug (or cooler mug) for your drinks.
I brought all of that and never used it. Truthfully, I can see the usefulness of the Yeti mug. But no one in our group used them because then we'd have to cart them around all day. The chair clips seemed pointless because we switched locations pretty frequently and used couches and beds more than chairs. And the pool float wasn't even worth bringing to the scuba center to blow up because I liked the floats Sandles had even better. Also, they were included in Sandals resorts costs, (and I didn't have to cart them around).
And they suggested seriously suggested one dress?
I had seven dresses, one for every night we went out, and I wished I had brought more.
Here's what I wished I had packed but didn't…
More hair ties
So I could keep my hair up but still look cute. I had one telephone cord hair tie with me and that's it. I wish I'd brought claw clips, or anything to do a better updo.
More makeup and home spa stuff
I loved my siesta and getting ready time. I wish I had brought more things like face masks and peels or more make up options.
White outfits
I had a white dress that I didn't love. But also assumed I'd be able to find one in the gift shop (which didn't happen). I wish I had spent more time finding a white dress I loved for the white party.
Books!
I ended up reading 3 books on vacation which, because I had a Kindle, was no big deal. But I wish I had downloaded them all ahead of time. It was a huge pain to download new books with the incredibly slow Wi-Fi.
Ridiculous amounts of sunscreen
We used a bottle every other day for two people, and we weren't even that diligent about the sunscreen.
Beach bag
We tended to head out in the morning and change locations frequently. I wish I had brought a beach bag. It would have been nice to keep my Kindle, shoes, and coverup in so I didn't have to always carry everything. Plus, we had to carry drinks too.
Best Spots: Our Favorite Spots for Reading
Ask where they do beach yoga (it's in a gazebo on a bluff overlooking the ocean). They have such comfy couches and chairs there. It's breezy and cool and we once stayed there for 6 hours reading.
The cushioned chairs from the bar at Kelly's Dockside (before they open for the day) could be dragged over to the ledge of the gazebo overlooking the ocean so we could put our feet up on the banister while we read.
We preferred the giant circular group floats anchored to the ocean in the protected area inside the pier that goes into the ocean (obviously you need a waterproof Kindle for this or a book you're okay with getting splashed). Hint: Don't try this at the unprotected ocean on the same floats because it's WAY rougher there and your Kindle will get soaked.
Overall, I loved this trip and would happily do it again. If you have any questions I didn't answer, ask them below and I'll try to update.
P.S. If you really want to take a trip like this but you don't have the foundation of budgeting down, then I can help. If you need to get the foundation under control first, I can teach that to you in this free 1-hour training (reserve an hour and a half in case you want to stay for the Q&A at the end).
"The surprising reason you can't stick to a budget (and how to fix it for good)." You can reserve your free seat for that here…