This used to be one of my favorite breakfasts and I recently rediscovered it! We make our own waffles since we have a pretty hardcore waffle iron. I use Krusteaz Heart Healthy Instant Pancake and Waffle Mix (just add water and mix for a few strokes). Once the batter is made, the waffle iron cooks these up in under two minutes. Much quicker than pancakes! If you don't have the time though, you can use frozen waffles as well.
After the waffles are made, I top them with 1/3 cup of Lucky Leaf Apple Pie filling and then sprinkle on a little bit of cinnamon. I serve them while they're still warm. You can drizzle on maple syrup if you want, but it really isn't necessary.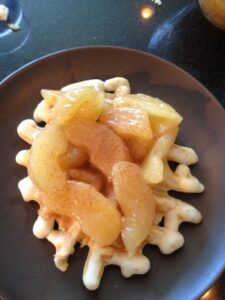 I used to make a chocolate dessert waffle (that I would eat for breakfast and dessert!) by just adding a little bit of cocoa powder to the waffle mix, topping with Lucky Leaf Lite Cherry Pie Filling and then sprinkling with powdered sugar and mini chocolate chip morsels.
This post may contain affiliate links. If you click & make a purchase, I receive a small commission that helps keep the Busy Budgeter up and running. Read my full disclosure policy here.