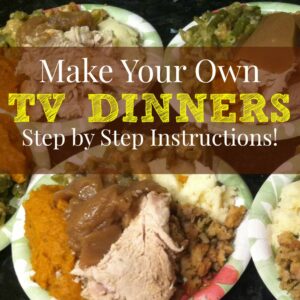 I'm pretty sure everyone has had a TV dinner. The concept is fairly genius, even if it's not the healthiest. These pre-portioned meals can be ready in about 5 minutes and typically cost about $3.50. You can make your own at home for less though! They're perfect because you know exactly what goes in it, it's cheap (or even free since you likely would have thrown out those leftovers!), and requires no extra cooking. I like to make huge dinners in our house and then we use the leftovers for lunches the next day. Often times, we'll have more than we need for that. We turn those extras into TV Dinners.
We pack our leftovers individually in a waxed heavy duty paper plate, then vacuum seal them. Don't have a vacuum sealer? You have plenty of options… we'll talk about those in a minute. These come in handy so often for us! When I forget to defrost dinner (this happens more often than I'd like to admit!), when my husband needs an extra meal for a late work meeting, when my husband leaves his lunchbox and cooler in the car (or, you know, hypothetically does this three days in a row so we don't have any more freezer packs!) this makes it so he can grab a frozen TV dinner and drive it straight to the office to stick in the fridge, no need to have a cooler or freezer pack. They can be microwaved directly in the bag from frozen or thawed.

Want to give it a shot? Let's break down the steps and what you need:

Equipment Needed:

A freezer (I'm just going to assume you have this one).

Heavy duty wax sealed paper plates. By wax sealed, I mean something like this. If your grocery store doesn't carry heavy duty, no sweat! You can use regular paper plates, it just makes it less sturdy after microwaving.

One of the three methods of sealing the plate:

A gallon freezer bag and a plastic straw. Wrap the dinner plate in plastic wrap. Place the wrapped dinner plate with food carefully into the bag and use the straw to suck the air out as you seal.

Carefully wrap the plate with food in plastic wrap, ensuring that you covered the entire plate. Then double wrap the plate in heavy duty aluminum foil rated for freezers. (This is the least secure method, I would aim for one of the others, but if you run out of vacuum seal bags and gallon bags, don't let the meal go to waste!

A vacuum sealer and make your own vacuum bags roll like these below… Just cut a section of the roll to the size of the plate, place the plate carefully into the bag and seal using your machine. It makes an air tight seal and your TV Dinner will now last 1-3 years in the freezer depending on your ingredients. You can see this chart to determine food storage times with a food sealer versus a freezer bag.
Fill Your Plate: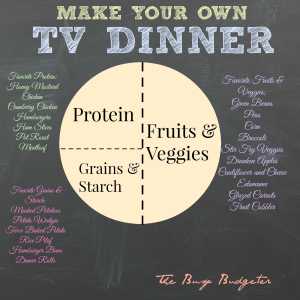 To Reheat:

From frozen: I usually microwave at 40% for 6 minutes and then on full power for 2 minutes. From thawed, I microwave for 3 minutes on high power. Once you try this a few times and know the exact times for your microwave, you can add the reheating instructions to your package as well so others in the family can reheat easily.

Tips & Tricks:

Don't be afraid to freeze bread! It freezes beautifully, but it won't need as long as the other food to cook, so I would pack that separately. We actually keep a gallon freezer bag with individually wrapped hamburger and hot dog buns in foil. You can thaw at room temperature for about 30 minutes or remove the foil and microwave at 40% power for about a minute.


A really easy way to add veggies to your meals is to keep a bag or two of frozen veggies in the freezer. When your dinner has cooled and you pack your plate, add some frozen veggies, seal and immediately stick in the freezer. Label and date them.


Remember the rules for safe freezing. If something raw is frozen, either keep it frozen, or cook it before refreezing (which is why if we add frozen veggies to a plate, we immediately freeze the plate to keep those veggies frozen).


You can specially make a few meals with the sole purpose of making TV Dinners, but if you just pack up the leftovers of your normal dinners, you'll have a stockpile in no time.


Holidays and parties are fantastic ways to utilize this, we got 10 TV Dinners just from Thanksgiving day leftovers!

Give it a shot, it makes life so much easier when you don't have to stress about a dinner back up plan and you don't have to do any extra cooking! Just use what you have. Have a favorite TV Dinner? Let me know about it!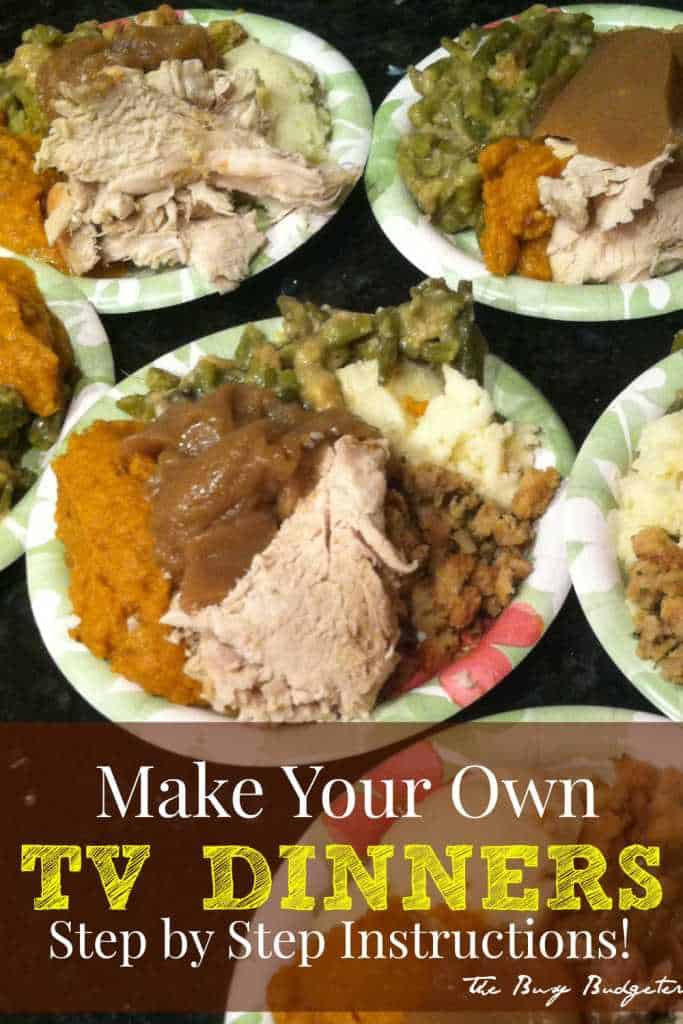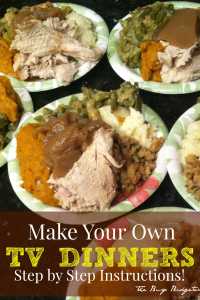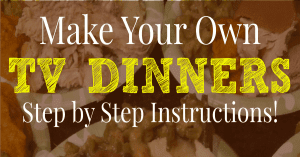 This post may contain affiliate links. If you click & make a purchase, I receive a small commission that helps keep the Busy Budgeter up and running. Read my full disclosure policy here.