If you happen to live in the Woodbridge, Virginia area, check out my list of places that save us a ton of money:
1. The Village Thrift Store: 13770 Smoketown Rd Woodbridge, VA 22192
Ok, I'll admit it. I'm a huge thrift store fan. There are a few rules that I follow religiously. 1. Only go to thrift stores that organize clothing by type and size. Bonus points if they also organize by color. 2. ALWAYS go to the local thrift store when your traveling in a wealthy area. Thrift Stores near Boca Raton, Florida will have much better donations than Podunck, Virginia. 3. In an entire store, there are about 2 pieces in your size at any time that are amazing. Ignore everything else. It takes time to find them. You're looking for well made, high quality clothing in designs that you adore. Things you would happily pay full price for. Rookies always make the same mistakes. They fill a bag with clothing that they like, but not love, with clothing that is just a tad too small or too large but that they love the style of, and with clothing that they don't even like but they can't believe it's so cheap! Take my advice and skip this. If you wouldn't pay $60.00 for it, put it back.
The Village Thrift Store is one of the best thrift stores I've been to. All the clothing is separated by type, size and color. It's well organized and has fitting rooms. All thrift stores are a bit dingy, but this is one of the cleanest. They have a maternity and uniform section (though a very small one – check out B-thrifty below if your looking for either of those). Prices are low, but keep in mind that the people who price in most thrift stores have no idea which brands are which. You can find a perfect condition Target dress for $9.99 and a perfect condition BCBG dress for $2.99. Honestly, that's what makes it so fun.
If you're a weird size, thrift stores like this are perfect for you. Jon is a huge muscular beast. His clothing options drive me insane. I detest big and tall stores, the clothing there makes him look like a middle aged banker. By going to the thrift store, you can go straight to his size and see selections from everywhere. It's easy to find things that fit him and that he likes.
2. Aldi: 13782 Smoketown Road, Woodbridge VA 22192
Aldi is one of the best grocery shopping secrets in the world. If your lucky enough to live by one, pencil that into your shopping day, My shopping day consists of a trip to Aldi and then to Wegmans to get the things I couldn't get at Aldi. I keep it simple at Aldi, I buy staples, snacks, paper towels (I adore their paper towels!), produce and an occasional frozen product. The prices are much cheaper than the lowest price anywhere else. For instance, a few weeks ago, I picked up whole wheat hamburger rolls on sale for 29 cents. Baby carrots are 59 cents per bag. Staples like flour, sugar, canola oil, spices (most are 50 cents!), chocolate chips, potato chips etc are a huge bargain! I can shave 20-40.00 off my 120.00 weekly budget my stopping here before Wegmans and I don't even buy anything that's refrigerated or frozen (so I can take my time in Wegmans and not rush to get the food in the fridge.).
3. B Thrifty: 13412 Jefferson Davis Highway Woodbridge, VA 22191
This is another thrift store in the area. I prefer The Village Thrift Store because B Thrifty is a bit sketchy. They do have an unbelievable assortment of maternity clothes though. Everything is organized by type of clothing, and you can tell that they try to organize by size but it's not really reliable. The store itself is divided into two sections. On the right side is the general thrift store. On the left side is an open market. Think Chinatown, but less counterfeit. I would stay away from the left side and stick to the thrift store.
4. Little Ceasars Pizza: 14079 Jefferson Davis Hwy #107 Woodbridge, VA 22191
Every once in a while, when your in desperate need for pizza and want to splurge in calories but not money, visit Little Ceasars. They have a $5.00 large one topping pizza that's "Hot n Ready", meaning you don't have to phone ahead. Just walk in and grab it. They sell so many that they're fresh no matter when you go. I'm hardly a pizza expert, but it was pretty awesome!
5. Wegmans: 14801 Dining Way Woodbridge, VA 22191
Wegmans is one of the biggest surprises to our frugal lifestyle. It feels a bit like your grocery shopping at the Ritz Carlton Hotel. Like there should be no way that this store can be frugal in any way. Wegmans is amazing! There are two main reasons that Wegmans allows us to save money over the Super Walmart. One is that they have a Wegmans brand for almost product and they meet or exceed our expectations. Not only do they create their own product lines, but they don't go for the basics. They create their own unique flavors. I've tried the Wegmans brand for everything that I routinely buy and the only thing I haven't liked better than our normal national brand is mayonnaise. I had to stick with Hellman's. They also have a guarantee for all of their products. If your not impressed, return it and get your money back. The other reason that Wegmans excels at saving us money is their online shopping list. Once you register for the website, and you choose your store, you can search prices on any product in the store and create a shopping list that they separate by aisle for you. I create my shopping list each week, and if I'm over my budget, I can change a few menus around and adjust the shopping list until I'm below my budget.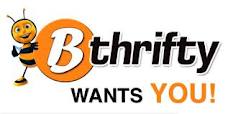 photo courtesy of bthrifty.com
This post may contain affiliate links. If you click & make a purchase, I receive a small commission that helps keep the Busy Budgeter up and running. Read my full disclosure policy here.