Who doesn't love a glass of home-made lemonade? As summer rolls in, and our evening conversations start to move out to the deck or the back yard, lemonade starts creeping into my thoughts. I started the summer early this year when we made Chicken Picatta, and had 2 leftover lemons. Not one to let food go to waste, I was planning how best to use them. Then it hit me. One delicious glass of lemonade, of course. Then the only question is who gets to drink it!
Update: 4/5/20 I know how stressful it is right now to be cooking 2-3 times a day while you're also trying to work, "home school", referee kids, and get your house under control. We created an epic inspiration binder of the easiest cheap meals. These ideas are field-tested by hundreds of thousands of our readers and are guaranteed to help even the most overwhelmed mom stick to a meal plan.
And we're giving it to you 100% free right now so you can use it to help you get through this time. And bonus: You'll end up using it long after the pandemic is over.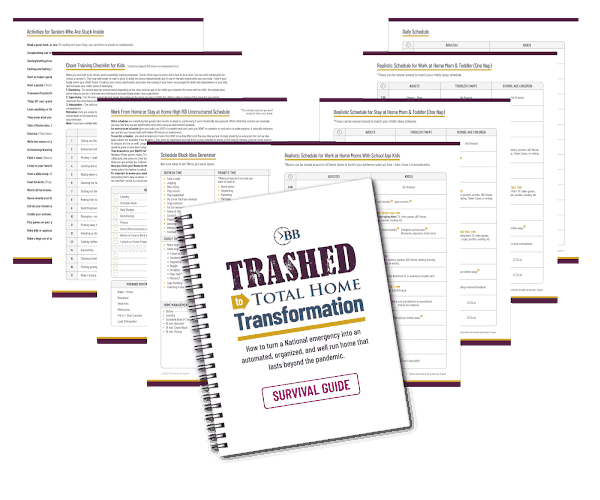 Lemonade For One: 60 Second Lemonade Recipe
This is perfect to use up leftover lemons or if you're craving lemonade but don't want to make a full glass. It's so quick and easy!
Ingredients
Juice from 2 Lemons (6 Tablespoons)
6 Heaping Tablespoons of Sugar (or ⅓ Cup plus 1 Tablespoons)
¼ cup Hot Water
2 Cups Cold Water (or 16 oz, I just fill a large glass)
Instructions
Juice Lemons into large glass, use a fork to remove seeds.
Add hot water and sugar.
Stir well until sugar is dissolved.
Add cold water and stir well.
Add ice and enjoy!
This recipe is perfect for us, because we don't drink soda or keep it in the house. Our drinks are water or… water. If we made a full pitcher of lemonade, we would probably drink the whole thing in an hour. All two cups of sugar of it! Having one delicious glass is a much better option.
If you don't feel like messing with the hot water/sugar syrup, by all means skip that step and mix it right away. The quick syrup that you make by mixing the sugar and hot water helps the sugar dissolve into the drink better. I've had it both ways though and sometimes I just skip the syrup step because I'm lazy. 🙂
If you're looking for more than just a glass, Here are a few of my favorites from around the web…
1.) This Frosted Lemonade by Mommy Octopus tastes just like the Chickfila Frosted Lemonade! But cheaper!
2.) Watermelon Lemonade Slushy by a Cedar Spoon looks so good!
3.) Pink lemonade by Cincy Shopper is delicious.
4.) I can't wait to try this Pineapple Lemonade Punch for our next kids party.
5.) Feeling Fancy? You can't get fancier than Lavender Lemonade! Except maybe tea with the Queen.
6. Looking for something more filling then lemonade? Tropical smoothies are EXACTLY what you need!
Have you tried to make lemonade at home? What did you think?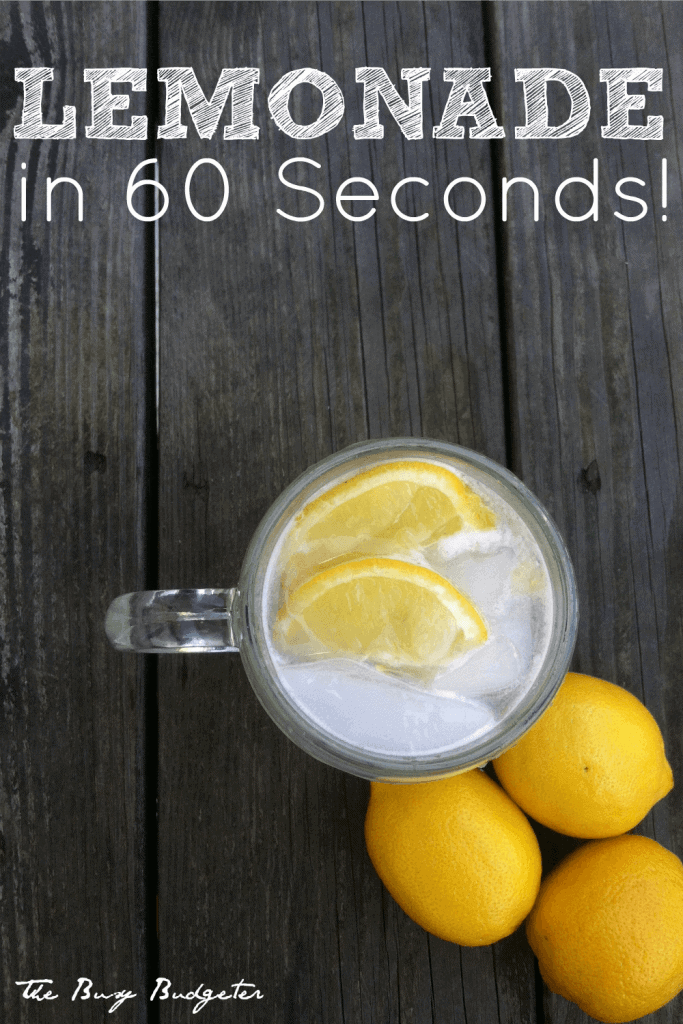 This post may contain affiliate links. If you click & make a purchase, I receive a small commission that helps keep the Busy Budgeter up and running. Read my full disclosure policy here.