When Jon and I moved into our new house, we acquired an extra living room. At first, being ever so frugal, I tried to convince Jon how great the open space was in an effort to avoid furnishing it. I dubbed it the "Art Gallery" and started random games of kick ball with cat toys in the open space to show him how great having an enormous room with nothing it it was. He wasn't buying it.
My first thought was to hit craigslist to furnish the room, but we had just received an unexpected check for $1,400.00. I caved and said we could furnish the sitting room with that. Thanks to Ikea's great prices, It was an easy budget for the whole room.
Here's the result: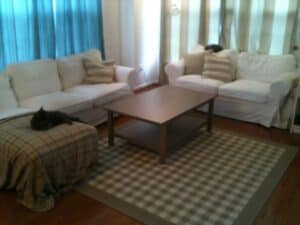 Here's how we achieved it:
Ektorp Love Seat and Chaise Lounge: $499.00
Ektorp Cover for Love Seat and Chaise Lounge: $99.00
Ektorp Love Seat: $479.00
Hemnes Coffee Table: $99.99
Millinge Rug Low Pile: $79.99
Pillows: No Longer Sold, but I believe they were around $9.00 per pillow
The throw blanket on the chaise came from the local thrift store for $2.99 and I adore it!
Total Cost of Sitting Room: $1,293.99
You can purchase or view the above Ikea pieces by clicking
here
.
Obviously, you can do much better by shopping thrift stores and craigslist. I can't complain though since we stayed under budget and the sitting room is my favorite spot in the house.
White may seem like a brave choice with two kittens and a baby on the way, but we actually preferred white for those reasons. The covers easily remove and we can just bleach any stains right out. In the case of a disaster, It's nice to know that we can replace the covers for a minimal amount, without having to trash the entire piece.
You should also consider stopping by the Ikea restaurant if you're heading to Ikea anytime soon. Besides their famous 99 cent breakfast of eggs, potatoes, and bacon (free on Mondays at our local Ikea from 9am to 11am), they often have weekends where you can eat for free if your spending over $100.00. The Ikea restaurant is a great value and has something for everyone. If your looking for something even cheaper, they also have 50 cent hot dogs at the cafe on your way out.
Ikea Swedish Meatball Combo, includes salad and drink for $5.99!
This post may contain affiliate links. If you click & make a purchase, I receive a small commission that helps keep the Busy Budgeter up and running. Read my full disclosure policy here.