If you want to know how to return online purchases without forgetting, Then we need to talk about tasks versus systems.
Ever intend to return online purchases to the store for a refund but it never actually makes it there?
You're not alone.
If I handed you a shirt and told you to return it to the store… you could probably do it.
That's a task.
And it sounds easy, right?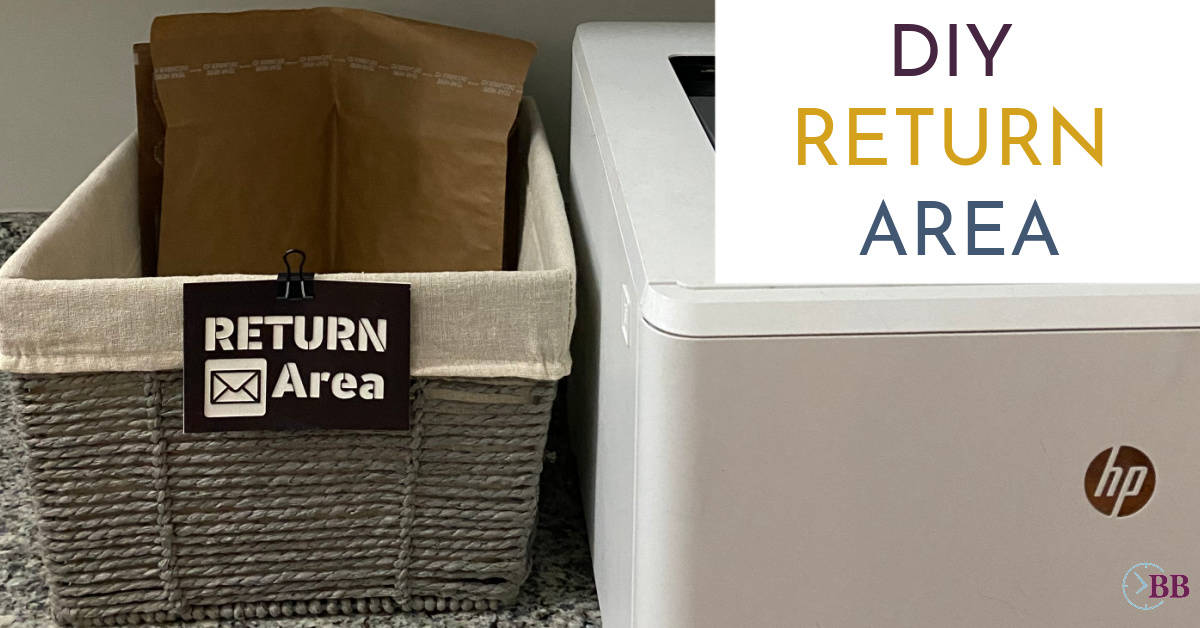 Yet most of us have had returns sitting in our house or car until it's too late to return them. And for some of us… that's the norm.
Because while that task sounds simple, in fact, it's one task among dozens you do every day.
And since most of your other tasks are urgent, this one gets pushed off or forgotten until it's too late.
Not to mention that it's overwhelming to get all of the things you need to return online purchases.
You need a box to send it in.

You'll need shipping tape.

You need a printer to print the label.

You'll need to find the return instructions.

You need to remember your log-in to start the return.
​And if it's not an online purchase, you have to find the time to actually go back to the store to make the return (and basically open yourself up to more impulse purchases while you're there).
Hint: That's one of the (many) reasons why most of my purchases are online now. Returns are easier. I can shop around for better prices, I avoid impulse shopping, and I increase my time margins by never needing to go into the store.​
It's a whole thing.
That's why we teach systems. Specifically bare minimum effort systems.
When we turn that task into a simple system, it gets done.
WARNING: This is an advanced system. If you don't have your dishes, laundry, and schedule book systems set up first, this won't work. Systems have to be taught in order or you won't be able to maintain them.
Dishes, laundry, and your schedule book are foundational systems. If you don't have those, you can attend our free training to learn them here or if you're a student in Hot Mess to Home Success, you don't need to worry because we teach all of the systems from scratch in the order you should implement them.
Return Online Purchases System.
Step 1: Set up a return area.
For this you'll need…
A printer and a way to connect the printer to a computer.
Hint: You can buy a Wifi printer that will connect straight to your cell phone for about $35 on Facebook Marketplace. This is an awesome upgrade because as long as your phone and the printer are both logged in to the same Wifi, you can print return labels straight from your iPhone either through email or the shopping app (like Amazon or Kohls, etc).
Shipping tape on a dispenser.
A small assortment of boxes

(2-4) in case you need one and can't use the box it came in.
​Step 2: Process incoming items ASAP.
As items come in that you ordered (online) or purchased (in person) process them right away. That means if you ordered clothing online, try them on as soon as possible to see if you want to keep them. If you want to keep them- put them away right away.
Until you process them, keep the items in their boxes in a prominent place so you don't forget about them.
I put mine right on top of my planner, because I've been using this schedule book system for total hot messes for a long time (a foundational habit), so I'm used to checking every day.
​
​
Step 3: Start the return process ASAP.
As soon as you decide you don't want to keep something, start the return process with the store right then and there. (Suck at remembering passwords? You can keep them organized easily for free with Lastpass, which will automatically log you on with your phone or computer).
Then add the return to your planner on your next errands day to either bring it back to the store or drop it off at the mailbox store. (Hint: I love mailbox stores because they take all packages, FedEx, UPS, USPS and you don't have to wait in line. Just drop it on their counter).
Step 4: Prep the boxes.
Once a week, on reset day (the day that you reset your schedule, easy budget, and simplified meal plan), just grab whatever is there, print out your labels, and tape up the boxes (I just put shipping tape over the entire printed label to make it waterproof).
Hint: Amazon returns need to have one item per box and each needs a different return label because they go to different places. And the return label will print an additional sheet with a barcode that needs to be stuck into the box with the item.
Step 5: Drop off the boxes on your errands day.
On your next errands day, drop off your packages to the mailbox store or return your purchases to the store.
I've done this for years now and it's the only system that's ever worked for me. Most weeks I won't have returns, but this makes sure that if I do, It'll get sent back and refunded without me needing to remember it on top of everything else I do.
​​
P.S. "I know how to make a return lady… I just never do it. This doesn't help!"
I get that, I do. I've taught hundreds of thousands of people (many of whom are extreme cases of chronic disorganization) how to work with their unique personality to get the results they want with bare minimum effort.
Here's why you won't actually do this (and it's not your fault if you don't!)
In order for this system to work for you, you already need to have mastered the following systems to work with your unique personality:
Schedule book system.

Laundry system.*

Dishes system.*

Meal planning system. *

Password management system.

Reset day system.

Decluttering system.
​If you know what to do but never actually do it… it's not because you're hopeless or "broken" (which is what I thought about myself for years), it's because you've never learned how to work with your unique personality (not the one you wish you had!) to get your home and budget under control.
When we teach you these systems in order, personalized to who you are and how you think… everything changes instantly.
Learn the Foundational Systems
If you need to get those systems in place, we have a FREE 1-hour workshop that will teach you the foundational systems that work with your unique personality. You can sign up here. ​
Every time I teach this workshop we get flooded with emails from people who say that it's the only thing that's ever worked for them.
Sign up here to take the "Why Your House Is Trashed (And How To Fix It For Good With No Extra Time And Money)." ​
​​​
*Why would I need a laundry and meal planning system in order to send out returns?
Because if those systems aren't working, then you're always going to be prioritizing those tasks last minute and pushing non-essential things like return online purchases or "refunds" to another day. It sounds strange but we've tested this over and over again.
​